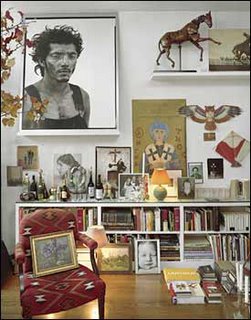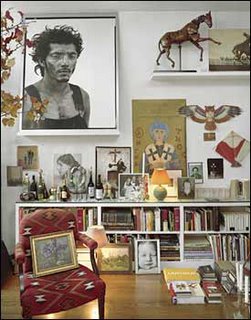 I had to do some research this week on Richard Avedon since I've been looking for a print of his, and I came across a unique look at his former home in New York. For those of you who don't know him, Richard Avedon is a famous fashion photographer, born in NY in 1923, and is known for reinventing photographic portraiture. In 1946, he was discovered by Harper's Bazaar and quickly began producing work for them, as well as Vogue magazine. His photography is famous for it's minimalism, and simply lovely. He's photographed the famous throughout his career, and as result, became famous himself. I spotted an older article about his home, a carriage house in the Upper East Side of Manhattan that was for sale about a year ago, along with a photo tour of his space. Again, it's dated, but still very interesting and visually appealing. Enjoy!
One step into haus and you know you're not in Kansas anymore. You're not in New York, or Massachusetts either. In fact, you're feeling a bit nostalgic for shopping in Europe. When you enter haus, you are transported to splendid Germany, where children's toys are made of wood, and whimsical colors flash before your eyes. haus + haus kids is a dual-duty boutique situated in quaint historic downtown Lowell, MA in the artist's district. A cobblestone street leads the way through a large glass door with a tinkering shop bell. As you enter this open airy space of sheer magic, you may hear the soundtrack to, "Amelie", as I did the day I visited. The store owner, Mirja Troppenhagen, is from northern Germany, which comes as no surprise; most of the children's items are from Germany or other parts of Europe. The store has a unique charm and an atmosphere created for lingering since Mirja is very helpful, but also allows customers to have their space to shop around. Half of their retail space is dedicated to the kiddies (or kids at heart), and the other half features stationary from companies such as Eggpress, along with other beautiful things like Angela Adams bags, candles, serving ware, and some Lotta Jansdotter items scattered about. If you don't live locally, you can shop their website for children's items; they don't sell their home accessories online since thier inventory changes so frequently. If you have children, or have friends with children, they'll love the charm and practicality of European toys. You'll find Haba, Steiff, Selecta, Wendt + Kuhn Collectibles, and more. If you're in the Boston area, take a trip up north to haus and see Mirja, she's usually in the store, often with her beautiful blonde toddler helping mommy run things. Mirja is very sweet and takes time to talk to her customers, even gift wrapping your purchase upon request at no additional fee — just as German boutiques often do. Viel Spass beim Einkaufen!
(photo: Wendt & Kuhn Angel with Baton, $20)
A Design Boom addict, I came across a poster on their website that I just had to chair. I mean, share. It's amazing to look at the illustrations of rocking chairs on this poster and not be semi-shocked. Sheesh. Did you realize that so many variations of this rockin' design even existed? You can purchase this 27″ 3/4x 39 1/2″ poster, "The Illustrated History of Rocking Chairs" (shown in photo) for $10. It would be a fun conversation piece to add to your walls, especially if you're into design and enjoy educating your non-design guests who are pretty fascinated by your amazing eye for style. Design Boom has a great online store featuring all kinds of posters; even vintage sunglasses from Alain Mikli. So Jackio O.!
Rock on!
(Photo: BELOW: "The Illustrated History of Rocking Chairs". Click on photo for larger image.)
In addition to cows, sheep, pigs, and that lonely old cock-a-doodle-doo, it appears Old MacDonald had some art on his farm, too. Check out The Art Farmer to view their affordable collection of unique hand silkscreen printed wall art. They carry a great line from Maro?shka, featuring, "Maidenhair Fern", a 12×24″ original handprinted art canvas stretched over a 1.5? gallery frame for a mere $36 (shown in photo). This is most surely a fresh find! Artists featured by The Art Farmer are linked below for your viewing pleasure:
Ima Fraze
Joe Bakuna
Kiddo Smith
Lulu Moon
Maggie and Friends
Maro?shka
Oshimoto
Ee-I-Ee-I-OH!