This aussie crafter creates some of the prettiest things in limited batches, making them even more special. One Girl is so talented, I'm always watching her store for new things because I think some of these would make the best gifts.

Random acts of kindness are so appreciated, I remember how happy cards and flowers made me when I found them left on my desk at work. I often miss these times when I'm working from a home office now, although my husband brings me tea each day and I do appreciate that. But cards and flowers from colleagues was always such an unexpected treat.

Sadly, flowers fade and die, and with the slew of crafters online now offering their wares, why not treat a friend at work with something soft – like a totem doll – and a pretty card, wrapped in natural linen tied in red and white baker's string? I certainly would appreciate a kind gesture like that! And it's not childish, as most of the ladies I worked with would have cherished such gifts.
(image from one girl)
Blue Bell Bazaar has lots of funky finds for entertaining in her shop, Gosia just sent along some of her recent goodies and I couldn't resist posting them. I love this vintage tray so much, I may have to break down and buy it because it's just darling and the color is perfection.
Thank you Gosia for the updates!
(image from blue bell bazaar)
notNeutral is so L.A. with their bright colors and modern graphics, which is why I think they appeal to us no matter where we live – just owning one gives us a crack at having a little California sunshine in our own home.

And we're in luck because when most companies are rolling out deep, rich colors in their collections for Fall, notNeutral is in eternal summer mode launching bright, hot colors and hand screened graphics in their latest designs on 14 x 18 pillows with down inserts. Aren't these the best?
(images from notNeutral)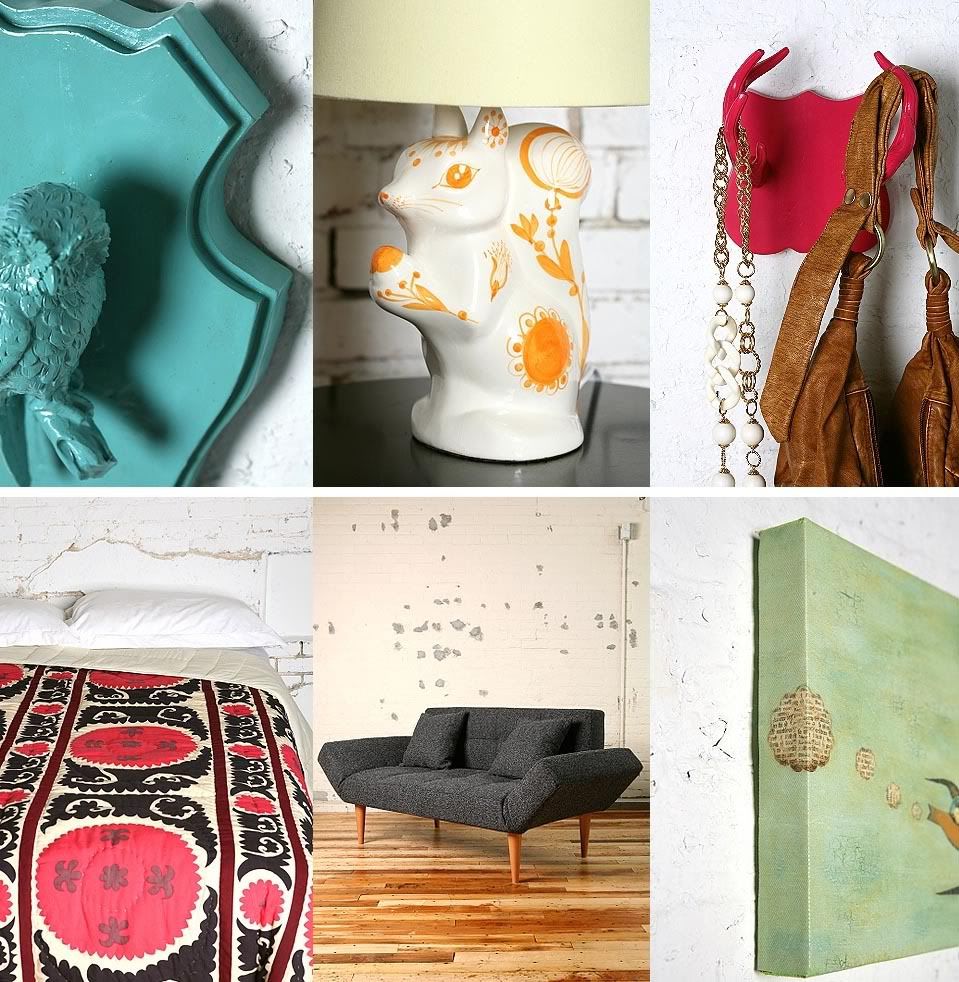 Urban Outfitters just added a ton of cute things for Fall over on their newly redesigned website (so much easier to navigate now), you have to check it out.

Lots of great deals and sure, most of it is geared towards the college crowd, but there's nothing wrong with scoring a few things to mix in with your more grown up decor. And gifts, let me tell you that some of these things would be darling as gifts, especially the iGrowbot. Did you see the new clocks (owley, koala, and pengy) designed by Eleanor Grosch? This lady is all over the place!
Does anyone own any of their furniture and care to comment? I'm looking for a few reviews, as I'd love to see how well it holds up.
(images from uo)