Did you know that this chair and ottoman can be found at Pottery Barn Kids in these lovely Hable Construction prints? It may be for the nursery (it rocks, literally) but I still love it. Wouldn't you like to see Pottery Barn expand to include benches, shower curtains, sofas and dining room seating using Hable fabrics?

I have a soft spot for this chair, it looks so cozy! My husband thinks we already have enough seating in our home (I have this thing for chairs you see) and I have no children to justify purchasing it for evening lullabies. I could easily turn my home into a sea of art, pillows, stationery, and chairs so he has a point. So let's look at the ottoman as a second option. I would like it in sky blue beads for instance. It would look so nice in a living room topped with a white lacquered tray, a few design books and a vase filled with peonies.
(image from pottery barn kids)
Are you ready to see what's shakin' at Etsy this week? We have a little anthropomorphism, a few ceramics, some children hanging out with their imaginary pals, giddy London, and a pair of black and white striped tights that, admit it, you'd love to wear with bright red wellies!

First up is ceramicist Jasna Sokolovic. Born in Yugoslavia and now based in Vancouver, I found her while searching for ceramics recently on Etsy and couldn't wait to share her work with you today. Her etsy shop is called Jasna Ceramics and she also has a website where she shows us her process and work studio. Her ceramic bracelets are to die for. Love this lady!
Now it's time for a little human/animal hybrid action! Runny Bunny is a full-time studio artist in North Carolina who mixes man and beast using clay and paint to form rather unique pieces of art. Many artists are working with animal heads on human bodies, it's been quite popular for a long time if you think about it, consider myths and the stories you read as a child, gods and goddesses of times past… I like to see how contemporary artists interpret such stories into their work and think that Runny Bunny does a rather nice job. Etsy recently covered anthropomorphism as a trend right here.

Jessica is the talented lady behind Vol:25, a completely self taught artist who genuinely loves creating and bringing joy to her customers. Her fresh, modern prints are youthful and spirited, they evoke feelings of being a carefree little girl… Attending the town fair, eating so much cotton candy that your tummy aches, chasing fireflies… Her work is imaginative and charming.

Here's a little more cuteness for you today. This time it's Tollipop, an artist I just found last week and bookmarked right away. I have a feeling that you will like her as much as I do. Her drawings feature creative kids on the go who seem to have quite active imaginations. The artist claims that as a child she had imaginary friends, so I'm guessing her little drawings are of how she remembers her own childhood. These are very sweet.

I really love the mood here in this photo, it brings me back to the first time I visited London 12 years ago. I swear I stood at this same spot admiring the double-decker buses that my beloved Morrissey once sang about. I recall the rush of the morning commute as I stood there completely jet-lagged yet loving every minute of this city called London. This great photo by NestaHome combines both hand drawing and photography, something I hope to see more and more of in the Indie art + craft world because I really love the idea of altering photos in this way. It reminds me of this children's book that I like called Knuffle Bunny. Have you seen it?
If you've missed previous Take Five Tuesdays, please click here to check them out.
(images linked to sources above.)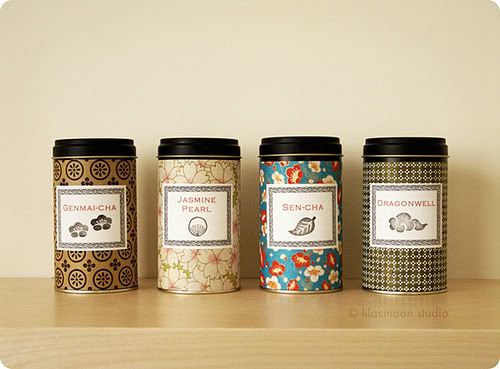 I've been hopping around Boston's Chinatown scouring markets for tea tins to use in my new kitchen. I'm installing open shelving and decided that with all things exposed I should consider storing the pretty products there (and the ugly stuff in the lower cabinets). I found a few tins in Boston but I felt a little uninspired since the designs were pretty generic looking. Nothing came even close to the lovely visions of colorful tea tins dancing in my head. Then…

This lovely photo appeared today in my flickr stream. The very dear Anahata Katkin posted this after finding hers at Pearl River in NYC! Anahata was looking for tea tins too. I just mentioned Pearl River in January when a reader wrote in looking for Chinese lanterns so I'm not sure why I didn't think of them as a resource. This is why we all need our web friends. The best part about the tins Anahata found is that they are exactly what I wanted, are priced under $3 each, and they'll ship 'em to me so I don't have to drive down to Chinatown in New York. Not that I mind but it's super convenient to shop them online. Anahata thank you!

Outside of storing your tea in them, you can also store office supplies or use them for q-tips and cotton balls in the bathroom. I like to use them as vases but tea tins tend to leak so I always place fresh flowers in a juice glass and then conceal the glass inside of the tin allowing for the flowers to peek out.
OR If you are feeling crafty, try Lilac Moon's recycling project. She took tea tins that would have otherwise landed in the trash and taking pretty papers and handmade stickers with stamped images, she designed her own tea tins. How clever, inexpensive, and easy!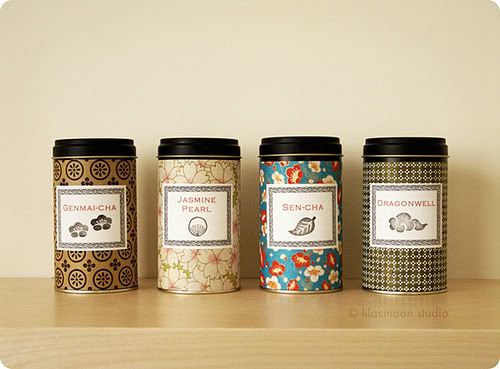 You can view more photos of this project here. Oh, and here's a link to her blog and etsy shop. Thank goodness for our web friends and all of the constant sharing that takes place.
(image top: ana bottom: pearl river)
Jane just opened her new store All The Luck In The World today and sent over the news. First of all, congratulations Jane! The moment I clicked on her site I fell in love because it is so Jane, it perfectly fits who she is and how she decorates. I've talked about this talented creator many times before on decor8, I've admired her work for quite some time, so watching Jane grow into a web shop owner makes me happy.

Her site is currently in Dutch but she's soon to have it translated into English. ATLITW is all about recycling and collecting vintage finds for the home, plus Jane sells things she makes by hand, including jewelry. I'm sure you'll find her shop very special.

Jane shares such a bounty of pretty things with us and makes it easy to picture them in our space because she takes the time to show them 'living' in her own home. You can view many inspiring photos in her inspiration pages or try visiting her Flickr collection of photos. They are loaded with design ideas.

I'm inspired by how she styles objects to look so casual and welcoming, very Jeu de Paume (the Japanese decorating books I wrote about last summer). This vintage chic meets gypsy caravan style appeals to many of us because it looks like someone actually lives in these spaces, imagine that! I also get a strong sense of who this woman is when I look at what she owns, she takes time to find special things, she's creative, and a little unconventional — she's not afraid to have fun. Did you notice the top image of her outdoor patio, is it not divine? Who doesn't long for a spot like this to relax in the summer?
Thank you Jane for sharing so many lovely things with us today!
(images from all the luck in the world)