I'm honored to take you into the home of a lady that I admire in every way, shape and form… someone that not only has followed her heart so freely but who generously invites thousands of her fans to follow dreams of their own through her inspirational book and blog, as well as the classes she teaches where she inspires others to paint from their authentic place, to paint from the heart. This lady is artist and author Kelly Rae Roberts and she's altogether lovely. Her home radiates her personality so perfectly — one who knows her cannot help but see her spirit dancing through every room of this colorful, positive space. For those of you just learning about Kelly, please take a moment to explore her world and if you're out there feeling a bit lost, stuck in a creative rut or in need of finding a path in life, Kelly has a new book that I've listed at the bottom of this post that just may get you started as you take flight.
I was thrilled when she contacted me today to share her new home in Seattle, Washington with decor8 readers. In the photos and words that follow, you will be transported to Kelly's happy place as everything she touches feels very alive and soulful. I've asked her to complete a few sentences about her home, my words are boldface and hers are italicized. I hope you'll follow along… Let's go visit Kelly together!
My first name is Kelly Rae but I've always loved the first name Storie Rose but, oh well.
My home has 3 bedrooms and was built in the late 1800's (before they started keeping records in 1900 so we're not sure on the exact year).
The architectural style of my home is farmhouse.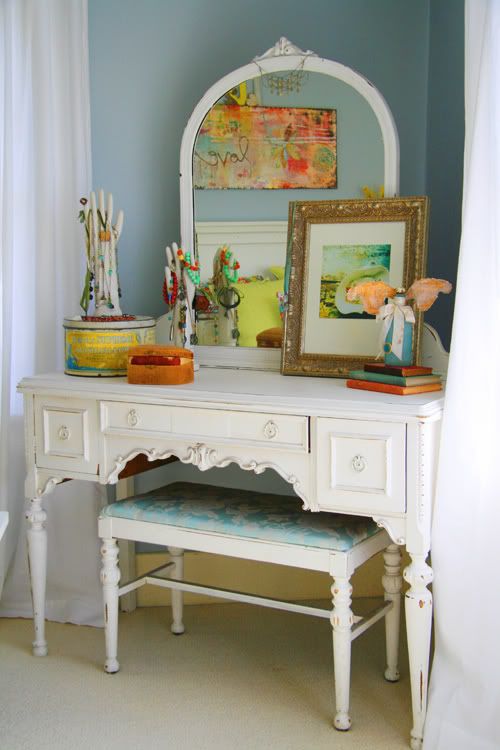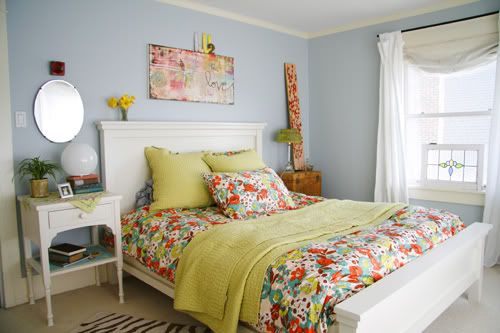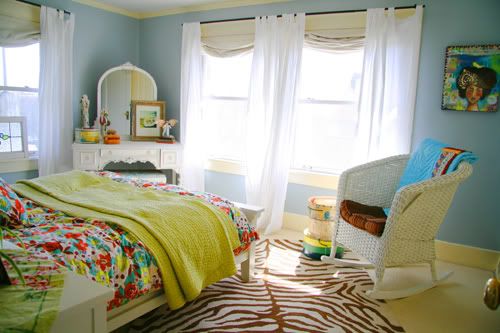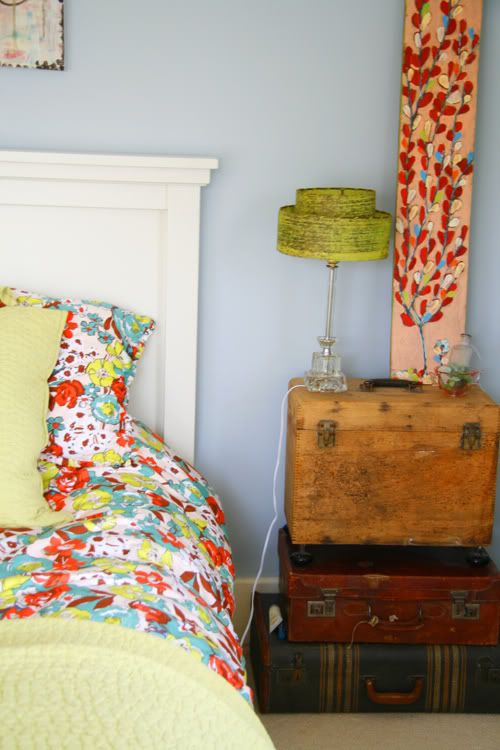 I would describe my personal style in three words: colorful, vintage, and creative.
My office/studio design was inspired by blues with greens with browns (so calming).
I am an artist for a living but wish I was doing more painting (where does the time go?).
I live in Seattle but would love to live in New Zealand or maybe Italy.
In my house I love to lounge on our green couch, paint in my studio, make tea in our kitchen, and CHILL OUT on the weekends and during my free time.
My real passion is painting, and writing, and decorating.
My favorite cleaning tips are: spend 15 minutes a day picking up, share house duties with your partner (50/50), and listen to music while doing your 15 minutes a day.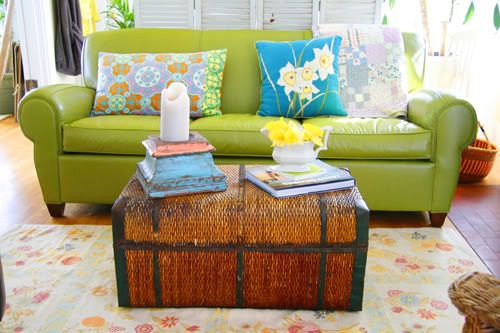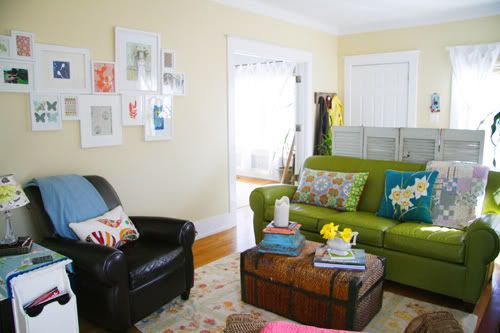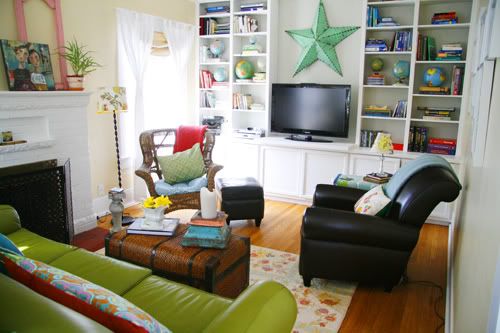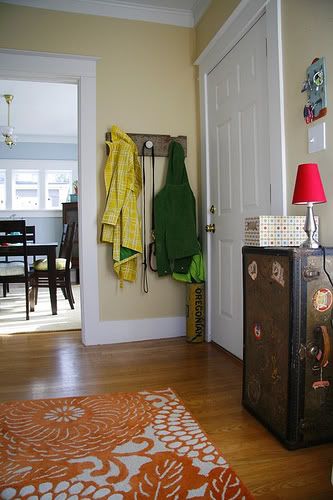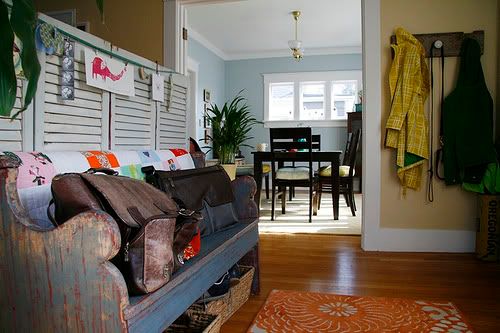 My favorite objects in my home are the original art and our photo/memory boxes.
In this house I live with my husband and our sweet hemophiliac dog, Bella.
My favorite place to hang out in my home is in the bedroom because it's sunny and cozy and it's where i can read in bed (so relaxing).
This house is different from other places I've lived because it's bigger. We've always been in tiny one bedroom apartments so a three bedroom home feels incredibly deluxe.
My decorating philosophy is the same as my painting philosophy: there are no rules. no mistakes. just you and your creative spirit coming out to play.
I stay organized by not letting things pile up, mail or otherwise.
If you visit my house, these are my only rules: Relax. Make a mess. Get in the hot tub.
I plan to live here for a long, long time.
My tips on renovating on a budget: one room at a time , only buy things that you are absolutely in love with, and always take risks, be bold. You won't be sorry.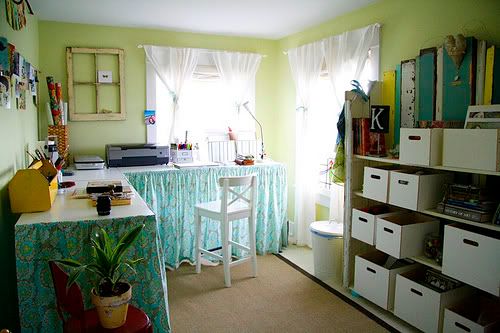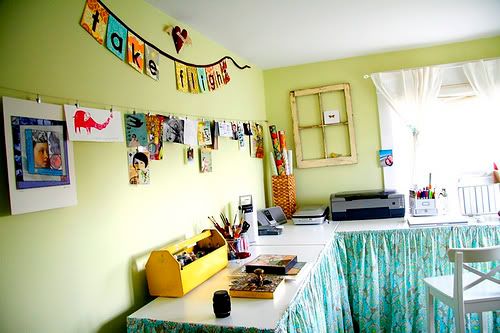 You can view more gorgeous photos of Kelly's new home right here.
Find Kelly online: Her book Taking Flight, Stationery/Magnets, Flickr, Etsy, Blog, Website.
Thank you Kelly for writing to me and sharing with us your gorgeous living space. Congratulations!
(images from kelly rae roberts)

I just read about Danish designer Rie Elise Larsen over at Just Beautiful Things and wow, what a fantastic talent she is! So much beauty comes out of Denmark… and I'm happy to know she's located just over the border from my little apartment in Hannover as I someday wish to open a retail shop in Germany and so I'm adding this company to my growing list of potential lines I'd like to someday carry in my little decor8 shop.
These patterns and colors really appeal to me, especially her quilt collection. So vibrant and happy with that handmade look and old-fashioned charm. Interiors accessories, wrapping paper, clothing, children's toys and gifts, Rie Elise Larsen is a gorgeous website to browse and be inspired by!
(images from rie elise larsen)
I'm so sorry I was a bit neglectful today, but I have good reason. My hosting company had major problems, something to do with the data center, so my happy little blog was a bit sad all day because it kept working, not working, working, and then…. fizzle fizzle, snap, crunch. Flatline. Super frustrating for me and I'm sure for you, too. Makes me smile though as we are all so super dependent on technology and our gadgets, only noticeable the moment we don't have them… My husband said to me today, as I expressed my frustration with our hosting company, "A Book Can't Crash". I smiled, immediately knowing what he meant and it's true. While it's easy to access a truckload of information online the printed stuff is a lot more dependable because it can't 'crash'. Funny thought but so true.
I feel better now that I've explained my brief absence today. I know you aren't sitting around waiting for ME but in case you did stop by here earlier today and the screen was all white with big error message at least you now know why. I'm sorry for that.
* * * * *
Now let us get back on topic, shall we? Okay so I heard from Selina Lake today. You know Selina, I've mentioned her a few million times on this blog. Well it seems Miss best selling interiors book author slash interior stylist diva has now moved into becoming a triple threat — she just launched a blog! Eek! I was so excited to hear about this because we need more stylists out there blogging in my opinion. I really love to read up close and personal musings from the professionals out there. I wish that Rita Konig would start a blog, and I'd love for Amy Butler to jump on the blogging bandwagon too. I'd also really like Clinton and/or Stacy from What Not To Wear to start a blog. Kelly Wearstler too, especially now that she's fallen a bit out of the spotlight (at least until the next Top Design kicks off – if it does that is – has anyone heard either way?). I wonder what Kelly is up too. It would be nice to read a blog by Kate Spade. How amazing I imagine her life to be. Maybe Emily Chalmers, Jonathan Adler (mostly because he is witty) and Ruthie Sommers too. I'd like it if Anthropologie started a blog with posts from their buyers and stylists, I would visit them daily for sure. Gosh there are so many which leads me to wondering… Who would you LOVE to read?
Here's a link to Selina's blog. Definitely go check it out. She will be posting images of her published work, mostly tearsheets from magazines and she'll have a section called Selina's Spring Style Tips that she will update seasonally. There is also a My Latest Love and a news section. Enjoy!
(image from selina lake)
Jeni Crawford from gorgeous online interiors shop Rian Rae is a total sweetheart who just-so-happens to have fabulous taste so I always enjoy hearing from her when she sends along shop updates. I recently asked if she'd give decor8 readers a special Spring discount since she just got in some extremely cute things and yay! she said yes! If you visit Rian Rae you can take 20% off of your total upon checkout simply by typing in 2decor8
.
Thank you Jeni!
This offer is valid until April 13, 2009 so hurry!
(photo from jeni crawford)