Hello Friends, it's Leslie with Color Me Pretty and this time around I wanted to work with red, white and kraft paper brown for a simple and slightly nostalgic approach to the winter holidays. There are lots of vintage bottles, twine and old newspapers combined with apples, pine cones and a few berries. I hope you enjoy this series I made for you.
It is always nice to turn wrapping into a tiny design project – right? For the few gifts I choose to give, no matter how small, I love the creative challenge and the result of having a gift show care and attention. If you give yourself a little extra time it is amazing what you can use up from around your home – scrap papers, brown lunch bags, extra buttons, kitchen twine or whatever else you can find to add a little extra love to your gifts.
Holiday decorating can be so elegant when done with simple gestures that speak about what you love. Like a bowl of crunchy red apples waiting to be eaten or made into a pie. Lots of pie cones gathered from walks and sprinkled around the house. A few sprigs of berries or a small bunch of roses on the table. Whatever you love and whatever helps you settle into what the holidays mean for you. Of course some yummy smells from the kitchen are always good too!
I really hope you liked this collection and I will be back soon with one more holiday series, until then, all my best to you. – Leslie.
(images: leslie shewing)
I am thoroughly in love with the January issue of Livingetc. It's fabulous and was thoroughly worth the (gulp) $15 that I paid for it at the train station. At first glance I thought it would be rather uninspiring as it appeared quite thin and for that amount of money, I want something that I'll refer to again and again versus a quick one flip. This is what my morning looked like, candles are a must this time of year as it is so cold and gray.
When it comes to design glossies I'm happy to say, size does not always matter! This slim issue is loaded with inspiration… from a fun apartment in Cologne to an eclectic home in England and a gorgeous Copenhagen flat — I felt connected mainly since a few are rentals and let's face it, with a rental home one is limited so more creativity is required to make a house a home. I believe that the space I'm sharing below is owned, but still… I loved the color scheme so much — bright and punchy – that I must share it.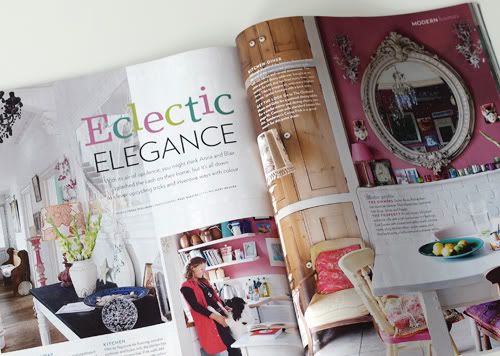 Above is a glimpse into the whimsical East Sussex coastal home of stylist Anna Richardson and her singer/songwriter man Blair Mackichan who has worked with music giants like Lily Allen. This home was photographed by Paul Raeside and styled by Mary Weaver from Livingetc magazine who is also an editor at the magazine. Paul is an amazing interiors and lifestyle photographer based in New York with an impressive portfolio online that you can view here.  You can view Anna's gorgeous home on the Livingetc. website here. Enjoy!
(images: holly becker for decor8)
Want to see a little loot from a recent shopping trip? I mentioned last Friday that I hit Hema, a Dutch department store with eight locations in Germany, one of which happens to be near to me. I first discovered it while vacationing in Amsterdam (my travel review here) last Fall and I've been hoping to get back ever since to spend money I don't have. :)
My friend and I hopped the train and headed up to Oldenburg (charming old city, great shopping district) where we spent the afternoon drooling in Hema where things have the most adorable packaging, the prices are right, and the selection is great. Here is a glimpse of some of my loot, what I could fit in my tote anyway — I'm so glad that I don't have a car, I'm certain I would have spent a lot of money on more cute ceramics!
My favorite departments include the home accessories and kitchen goods, stationery, kid's toys, and the snacks & candy! Oh the candy! I love the prices too – super affordable. For instance, the small blue cups were under a euro each and the aqua mugs were under 3 euros. All of the ceramics shown above, including the gray bowl, white doily-patterned plate, and the snowflake silver/white bowl was only around 13 euros ($20 USD)! That's a great deal. And the white candlestick holders were around 10 euros for the pair. I love them, they look great with my aqua candles I think. :) I love using aqua in my home in the winter, it's an unexpected color to add to my lilac, black, grey and white/cream mix but with the silvery accents that I have around and the ethnic prints and patterns I think it's a gorgeous hue to work in to my wintery look.
I am so glad that I found a Target equivalent here though I think Hema is smaller and has a bit more to choose from when it comes to cute stuff like postcards and ceramics. If we had taken the express bus from Oldenburg over the border to the Netherlands I heard that we would have been able to shop at a much larger Hema — but we did not have the time so we've agreed to head back in a few months, perhaps with a car, to hit the next one. I am already excited for my next Hema trip!
Have you shopped at this store? Did you like it? Aren't their postcards the best?!
(images: holly becker for decor8)
How much is that doggy in the window? And have you heard of Best In Park? The name is great, right!? Best in Park is a curated collection of high quality home objects, dog leashes and id tags that are designed and made in Australia.
I rarely talk about pets because I currently do not have any cutie dogs or cats so I wonder how much of a review I can truly give of something I know so little about. The last time I was in a home with pets was with my parents, which has been awhile! And pet "stuff" has changed remarkably throughout the years. Today pet ownership is a whole new experience filled with everything from organic dog food to luxury items like tiny designer rain coats and real gemstone collars. While some of it feels a bit over-the-top to me, I support what Best In Park is all about: quality, stylish leashes and my favorite (and what fits the theme of this blog) — decorative doggy hooks for the entryway to hang them.
(images: best in park)