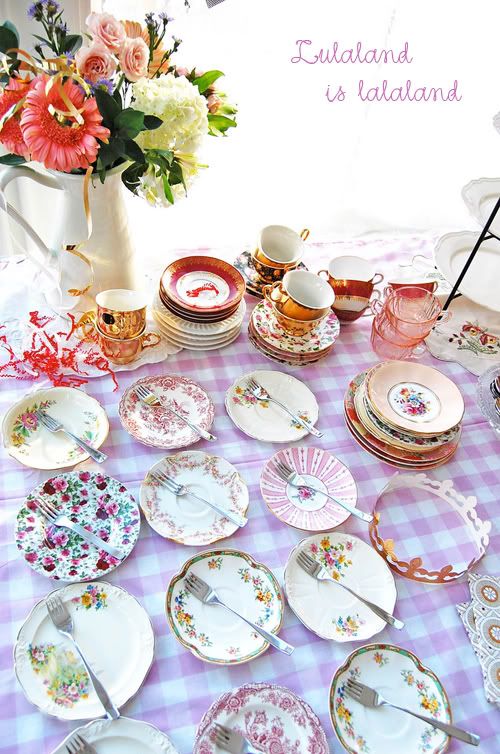 Will someone please invite me to a party with cupcakes served on the most beautiful vintage china ever? I found this image taken by stylist/designer Lula Aldunate (aka Lulaland) in New York and simply must share! What a visual treat this is.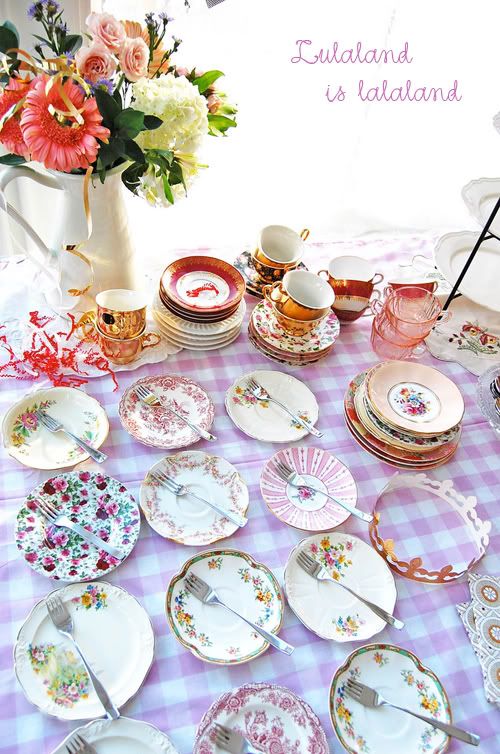 Tea and cake please! Which reminds me, I really need to start working on my china collection again. Can you believe I sold all of my mismatched china a few years ago at a tag sale? I could kick myself. Have you ever done something like this? Sold an item/s only to regret it later? It's not what I do as a habit, I'm quite particular about what I let go of, but at the time I sold my china because I felt like I had way too much in my house and it overwhelmed me. Clients were giving me everything that they no longer needed and between that and my own "stuff" well… it felt a bit insane to have so much. I felt like I was being selfish to have so many things that I was not using regularly.
I've now decided to start my china collection once again, only this time I'm keeping it and cherishing it forever. The photo above inspires me as to why I should, how beautiful. Though I wouldn't mind learning how to screenprint on china like Nina does. Maybe I can ask someone to teach me. It would be fun to buy beautiful vintage china and then personalize it a bit in a fresh, modern way as so many great designers out there are doing right now. Of course mine would not be for sale but it would be nice to make my flea market finds more bespoke.
Do you know how to print in color on plates so that they can also be used for eating rather than only display?
(image: Lula Aldunate)
Today I want to share a sweet space that I recently discovered on Flickr. Would you like a little "real home" inspiration? Good! Me too! After this one, I'll share another from Sweden, but first we're going to England. So! Let's visit Lova and her whimsical home + sewing space, shall we? Her colorful, authentic decorating style is refreshing and natural. Lova was born in Madagascar, grew up in Paris and now lives with her partner just outside of London where she works as a Therapeutic Counselor. I can really see some French influence here, can't you?
I'm so inspired by how she speaks of her life and so I'll just quote her because she says it so well.
"I have made a conscious decision a while ago to truly enjoy life and be happy and as a result I made a lifestyle choice where I stay at home most of the time (doing what I love which at the present is sewing, baking bread… enjoying being a domestic goddess) while having some part time activities such as counselling and various studies (I love studying). This will surely change once I start considering having a baby, but for now I love my life."
I think these few tiny glimpses of her home reflects her words so well, don't you? Lova makes a lot of the things that you see in the photos — you can purchase them in her etsy shop. Lovely!
(images: handmade with joy)
We all go through phases from a Moorish design craze to a navy blue stripe obsession. It's perfectly normal to be passionate for pink today and big on black tomorrow. Truth is, we're all curious creatures and these phases keep our blood flowing — without them I personally would be bored stiff. In addition to phases, memories often guide me forward because with them, I have inspiration for new dreams to dreams and plans to plan.
This is why I love the work of so many great interior and still life photographers — their work shows me glimpses of these phases trapped in time from the past to the present and is why I'll never tired of browsing their many online portfolios. Take Paul Costello for example, whose photos are shown below.
Breathtaking glimpses, right? They made me remember my foo dog phase, all the times that my mother told me stand up straight, my former love of faux Zebra rugs (I hold Domino magazine responsible for that phase), my vintage velvet boxy sofa obsession phase, the canopy bed I had to have a child, making out in an actual car (ha ha, that's not something you tend to carry on for life!), and how much I loved that bedroom in Domino with the blue and white striped cotton rug. It also reminded me of a passion I once had that I'm considering picking up again — collecting vintage feminine mismatched china to use and display.
I invite you to visit Paul Costello's portfolio online to see if you can find spot some memories and phases lurking in there for you, too. If so, mind sharing them with me? :)
(image: paul costello photography)
Oh my God (or shall I say ZOMGZ!) I totally cheated on this week's Etsy Take Five Tuesday because 3 out of my 5 finds I spotted on the Etsy home page today. I know, I know, my head is low in shame. But I couldn't resist, a few that I clicked on just blew me away and I thought, "Hey, I'm DOING this!" so here are my five finds for the week. Ready, ya'll?
Gorgeous, colorful fine art photography by Mina Georgescu of depuis. I just love her in-situ shots, seeing them living in a space totally helps doesn't it?
Cottage Farm in San Francisco has some lovely vintage finds in her shop, her French countryside sensibility makes me want to pack a cute little fiat and head out to a stone cottage ASAP. If only I had a stone cottage and it was about 900 degrees warmer!
I adore my leather bags but in the summer months I like to mix in fabric totes as I find them lightweight and easy to care for. These handbag goodies are designed by Creek Bed Threads in Pennsylvania. Her most recent designs and product shots are just great!
Sweet Beaker in Georgia has some sweet and simple handmade papers, and I even spot a little chevron action there, too!
And Plytextiles. Ah. Be still my beating heart, this is the good stuff. Handmade modern textiles for the home created from 100% recycled wool sweaters, made into felt, in Chicago. I'll take… ten!
(images: linked to their sources above)