This is certainly no breaking news of a trend report or anything but I simply must call attention to the chevron pattern (also known as herringbone) that is still going big and bold in the world of interiors. I'm glad they're not saturating the scene because the second something is everywhere I tend to get really, really bored and over it. But the bold, geometric zigzags aren't in every single home out there yet so I feel safe sharing some inspiration. I don't know… something about the pattern really has me feelin' Springy today, in fact this morning I ordered some chevron prints designed by Paula Prass in yellow/white and black/white over at Volksfaden. Then I started to have a look around the web to see who else was digging chevrons still and here are some of my findings…
Sabbe's cool DIY walls
Jess and her DIY chev-art over at Make Under My Life.
Made by Girl has a lovely black/white chev-rug.
And Made By Girl cards in her Etsy shop.
Linda & Harriett has cards too.
Feeling crafty? The orange and white chevron patterns handpainted by Leslie from A Creative Mint may inspire you! Painting the pattern in your favorite colors is relatively easy with a steady hand or a template (try a stencil). Frame them for instant art. You can paint your own chevron pattern on cotton rugs and pillows with fabric paint!
Madeline Weinrib's organic blockprint fabric is available to the trade by yard or cheat and by her pillows instead!
Fabrics from Rubie Green
Paint the top of your desk in a zizag, complete instructions on the Sunset magazine website or paint your rug like Nick Olsen did.
The top left room is designed by Mary McDonald as seen in Domino magazine, the floors are painted in the best soft blue/white chevvy pattern ever. Here are some other Domino rooms with a little zagzag. The fabrics in yellow and black are from Volksfaden as mentioned earlier – I now own them and will soon do a little somethin' somethin' with these beauties.
Seems this pattern is best used on the floor, an accent wall, or as throw pillows or upholstery on a seat. I'd love to see a little chevron in the cabinets, as shelf liner, painted on a vintage soaking tub, or on the ceiling – oh my! And I must highlight, I think chevrons are more of a thing in America because I don't see a ton of this pattern on this side of the pond in interiors magazines, stores, I don't think it's all that popular over here. Anyone in Europe have an opinion on this?
Not shown: More zigzag love with the chevron end table in the Sparrow's Nest, chev-Queen card from Anne Chovie and gift tags from Every Jot and Tittle.
(images: linked to their sources above)
With fresh snow on the ground, an enormous clear blue sky above, and warm sunlight streaming onto my desk as UK singer James Morrison sings to me in the background I have found my bliss. These moments are so precious. Living within this very minute — these are the best ones! How are you today? Yesterday I took off to work on some projects and to enjoy the day — and after spending 6 hours teaching my class last night it felt nice to wake up to sunshine and blue skies.
Ready for some inspiration today? I sure am! I just added a new blog of the week and would like to officially welcome new blogger Will Taylor in London who works at the Anthropologie UK web team in addition to authoring his new decorating blog called Bright Bazaar. I first heard about Will today as his blog was suggested to me via Twitter by Leslie who is a fan of his work. The photos in this post are from his blog which already tells you one thing: Will is colorful. Make sure you give this guy some blog lovin' and cruise on over to Bright Bazaar when you have a chance to visit him. We need more boy-bloggers out there in the world of design.
(images: bright bazaar)
2/15 UPDATE: Today is Presidents Day so I'm taking off but I'll see you in the morning. In the meantime, enjoy the rest of your day!
Have a most pleasant weekend my friends and be sure to indulge yourself in a little something special. What will you do?
Thank you for spending time with me here this week, I've enjoyed our time together and some of the comments were so funny, I think everyone is getting a bit of cabin fever and feeling kooky because it really came out in the comments section so thank you for making me laugh a lot. I'll see you on Monday Tuesday morning you gorgeous things, you!
(images: my flickr faves, you may view them here.)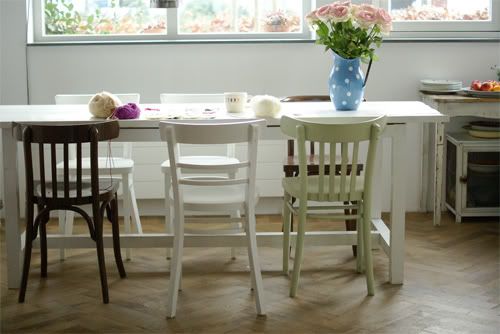 I'm about to sign off for the weekend but before I do please spend a moment looking at these inspiring corners that I found in the decor8 Interior Styling group on Flickr. I'm so excited to report that the group currently has over 1,200 members, Sha-zam! Each one of these photos was contributed and shared within the group pool and though they're all quite different in style, color, mood… they made me feel energized and inspired. Must be all of the splashes of color! I hope that they do the same for you.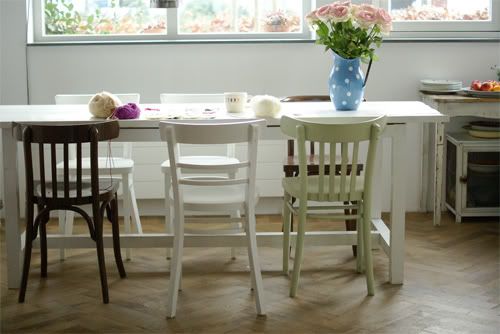 Ivy Style, Haust and Anja Mulder.
Sandra Juto, Ich & Chi and Dottie Angel.
I'll be back in a moment with a happy weekend goodbye post! :)
(images linked to their sources above)