We all love pretty + REAL homes because they inspire and motivate us to get off our humps and do something creative at home! I hope I'm not promoting the decor8 Interior Styling Group on Flickr tooooo much but I'm just so proud of what we've all done with it – the images are so inspiring and at least 30 new ones are added daily and now we're up to 1,852 members worldwide with over 2,600 images submitted to the pool so far! Yeah, wow is right!
All images are taken from Flickr members of their own spaces and contributed voluntarily, and we have monthly styling challenges posted in the Discussion section on the first of each month and some members can participate if they'd like while others can simply enjoy watching from the sidelines. There is a lovely range of homes to see that represent so many different decorating styles though I have to admit the focus is really on fresh, modern living, vintage modern, bohemian, eclectic, retro… I'm not opening the group to styles that fall outside of those areas because I want the group to have some visual harmony. Not all photos submitted are approved (I have to play the bad guy moderator) based on a number of reasons (too dark, not taken by the person submitting it, text/borders on images, product shots meant for promotional purposes, two many of the same photo, etc. but I do my best to allow as many as possible without the group becoming out of control as so many Flickr groups often do. And that always bothers me because I join a group with promise and hope and then in a few months it's a mix of so many different things that the overall excitement is gone for me and I usually leave the group. I think this is because many groups are either not moderated or they are moderated by people who are scared to deny certain photos to the group – they don't want to offend or hurt anyone's feelings and trust me, I'm a sensitive soul myself so I understand how this can be challenging. BUT if you run a flickr group you are doing a huge disservice to your members if you start approving every single submission. It's almost like blogging, you cannot possibly show everything that you see or that is sent to your inbox. I suggest Flickr group owners taking their groups as seriously as their blogs — it's heard I know, but your members will really, really appreciate it and your little group will blossom into a beautiful, inspiring space online.
Here's a glimpse above from one of the members, Jillian Frances, who took the time to create the above collage of 9 images from the following flickr members who contributed to the group: 1. me, decor8, 2. dottie angel, 3. fifi mandirac, 4. i L'aria, 5. die frau im haus, 6. the new domestic, 7. fensismensi, 8. i L'aria and 9. designace30. Don't you love the bold, energetic palette!
To see all of the images, or to join the decor8 Interior Styling Group, please click here.
The work of ceramicist Kathleen Hills is truly impressive. Her innovative ideas, patterns, and overall product line is captivating. She combines both modern design with vintage in her collections of tableware, lighting and kitchenware. Some of my favorites include these gorgeous decanters below with porcelain tops and the porcelain vases with glass tops. Fun!
After graduating from Central St Martins and the Royal College of Art, she established her company in 2002. About her work Kathleen explains, "I have a passion for conceptual thinking and narrative. I'm interested in how relationships are formed with objects within our domestic spaces, my work explores products that may have inherited family tradition and domestic ritual." This is quite evident as you can see below.
So many beautiful works! Contemporary, organic and somewhat clinical forms are beautifully balanced with added bonuses of traditional patterns applied onto them to bring in a fresh, modern touch. "'My work often explores emotional attachments that exist with certain products or materials, products that explore inherited family tradition and culture or domestic ritual", Kathleen adds.
If you like what you see, her work is sold mostly in Europe and the US, so please check her stocklists here.
(images: kathleen hills)
To continue a bit more on our floral theme, there are so many simple yet stunning ways to present flowers in your home. One need not go crazy spending hundreds of dollars or even $20+ on bouquets. You can pick a few stems from your yard or balcony, grab some from a nearby field, or even ask a neighbor who may have many wild flowers in their yard if you could pick a handful for your home (our neighbors use to let us have our pick – literally!). Perhaps you could even find some fallen branches to arrange in a tall vase or pluck a few magnolia blooms (which are everywhere over here now, in full bloom) and pop them into a vase, tea tin, tea pot, anything really.
A simple peony bloom can be all you need for a bud vase, or one of those gorgeous cabbage roses which is a favorite flower of mine. There are many, many options so don't limit yourself to pre-made arrangements or clustering flowers together perfectly… again, simple touches can make an impact! Think of pearls with a black dress, or diamond studs with a button down blouse and some jeans. Simple elegance is what made Coco Chanel so famous as not every arrangement, whether fashion, interiors or floral designs need be over-the-top!
I found this beautiful porcelain shop recently called Rou Designs in New York who makes very simple bud vases in a feminine bubble shape that would be perfect for putting together something small and pretty by your bedside or on your perfume tray, or perhaps in the bathroom next to all of your pretty soaps and hand towels that you may have neatly folded on a shelf. You could even arrange several of the Rou Designs vases on a fireplace mantle or on a shelf in your entryway. If you're having a dinner party (or getting married) you could consider adding several down the center of your table. I can see doing this and then popping in a big peony bloom in each in various shades of pink from pale to dark. Or mixing things up with a different color in each vase – imagine that!
Do you use small arrangements as a budget-friendly decorating accent in your home or office? I have some mini glass bud vases but get annoyed by how the water becomes dirty and you can see an ugly water line from the outside. For this reason, I've grown more and more fond of solid vases or colored glass lately vs. transparent glass.
Do you have mini bud vases in your home and if so, how and where do you arrange them? Here is how I usually arrange mine… I have mini porcelain vases and cups, glass mason jars, mini jam jars, and little glass bud vases — some are shown here, here, here, here and here.
(images: rou design)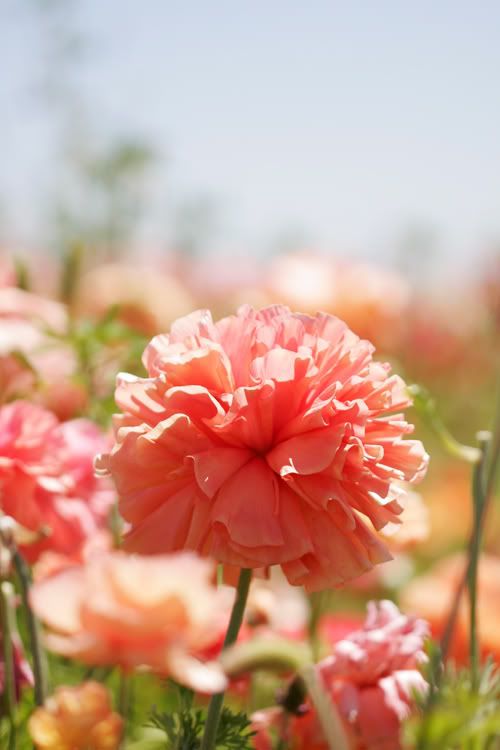 Hello Friends! It is Leslie with this month's Color Me Pretty. A few weeks ago I had the pleasure of visiting a Ranunculus farm just south of where I live and I got really inspired with all the gorgeous colors.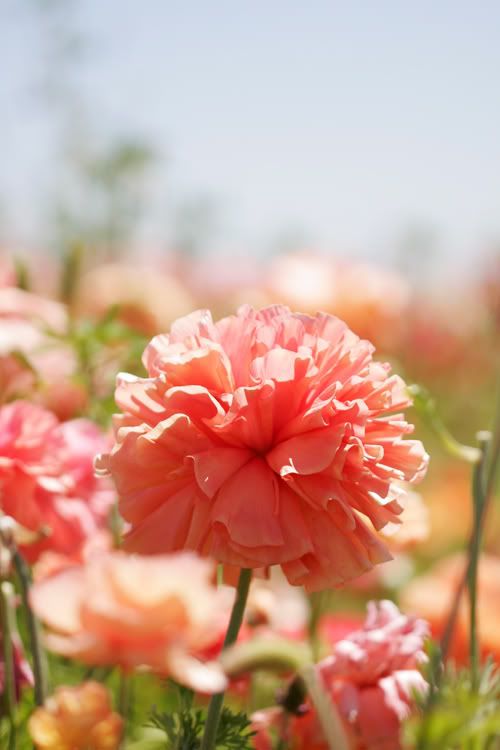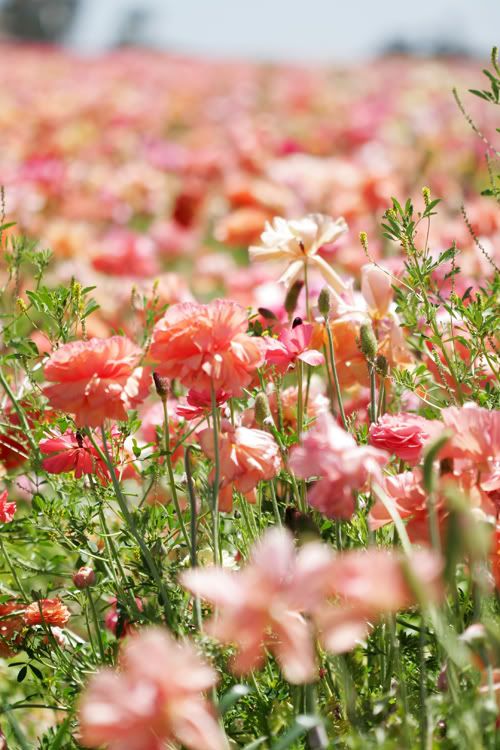 I was really impressed with the coral toned variety and decided to use some of the photographs I took there as my inspiration for this column. I think the spring greens, light melons, darker corals and the light blue sky are so fresh and beautiful. I wanted to use this combination to provide you with some little ways to incorporate different palettes into your home life.
Over my desk I have two medium sized cork boards that I got from the Container Store and I love changing what is on them all the time. Sometimes I have a color idea on them and other times it is more about an idea -like desserts! I like to use my eyelet puncher to hang envelopes on my board to hold little scraps or as a holder of visual ideas that I may want to work on later. I also like to use larger clips to hang art work so that I am not putting holes in some of my favorite cards, like the bird and bloom one by Hadley Hutton.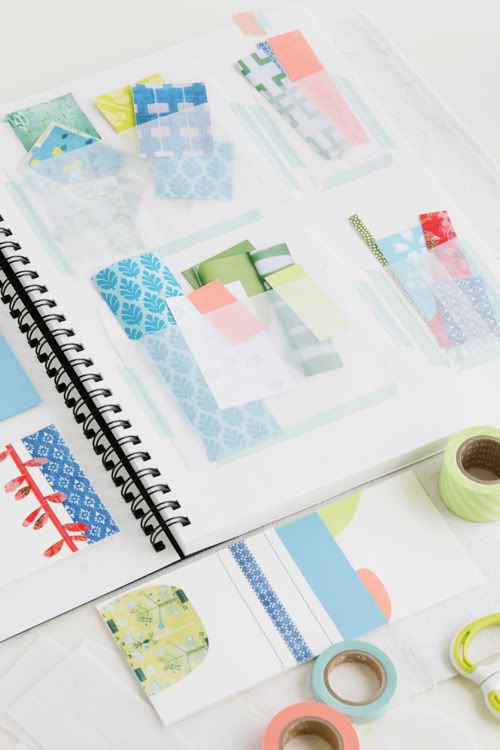 I keep some of my paper collection in inexpensive cylinder trash cans. It is nice to be able to see what you have in order to use and be inspired by your supplies. Of course some of my papers are kept laying flat in a proper box but I must say I end up using what is out and visible first! I also have a hard time parting with some of my scraps as I like to make cards for my family and friends. A simple way to organize your scraps is by cleaning up the shape of the piece (with a pair of small, sharp scissors like this) and then popping it into a glassine envelope. I taped the envelopes into a new journal so that I can reference the colorful bits for future paper craft projects.
Sometimes it is fun to experiment with a different color scheme by incorporating some new colors into a little entertaining idea. A couple fun colored bowls for dips or how about straws and goody bags? Yes, even adults love goody bags after a nice lunch or dinner!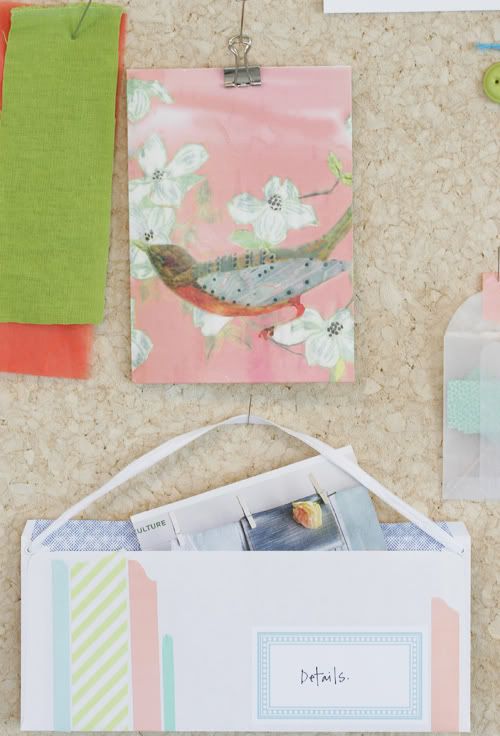 I wanted to take a friend some flowers recently and decided to use an old mason jar.  To dress it up I tied some paper ribbon around the jar and fastened a clothes peg to it to hold the card. This could look good on a table as well and is a fun way to add a table number or even some fancy scrap papers!
I hope you found some ideas to incorporate more colors into you day and I look forward to seeing you here next month.
Take good care,
Leslie