Hi there! My name is Brigitte, and I blog over at Covet Chicago. I'm here to chat with you a bit about white spaces, while Holly is off writing her best seller. I hope it's ok to confess that I'm unbearably nervous, because Holly is like a rockstar to me. But, luckily, I am uniquely qualified to share some tips on designing dazzling white interiors, because I cannot have white walls in my own home. And, of course, we tend to obsess about what we can't have, don't we?
I've always known that those gorgeous white walls (and glossy floors!) that I lust over in design mags and on my favorite blogs won't work in my home. And, I always had a hunch that it had something to do with the very minimal natural light that I get.
But my resolve wavers. Until a few weeks back, when one of my favorite bloggers, Penelope Trunk (who does not write about design at all, coincidentally) tipped me off to the blog Colour Me Happy. I heart the interwebs. A few reads in, I hit gold with the post White is a Snob. Finally, truth acknowledged. In the post, Maria laid out advice from the book All About Colour.
According to the book (and Maria), good white rooms always meet three demanding criteria. They must have: 1. Good light, 2. Harmonized proportions, and 3. A few attractive objects artfully arranged. Sadly, my home is lacking the first condition, which I find to be the most important.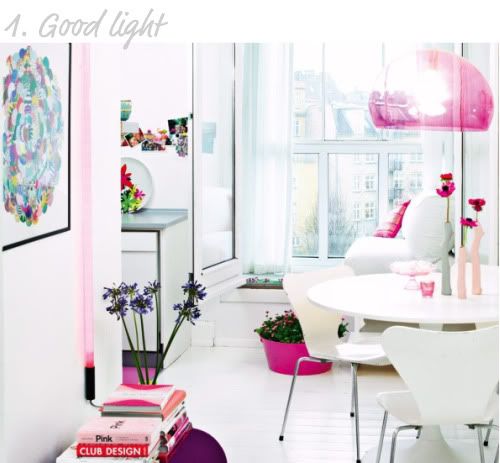 See what I mean? I want to pack up my cats and move in! Not only is this image, found in BOLIG magazine, flooded with dazzling white light, but the hot pink accents are killer .
The next rule is one I actively avoid. Mainly because I'm a perfectionist who could all too easily become overly adherent to the rule. But!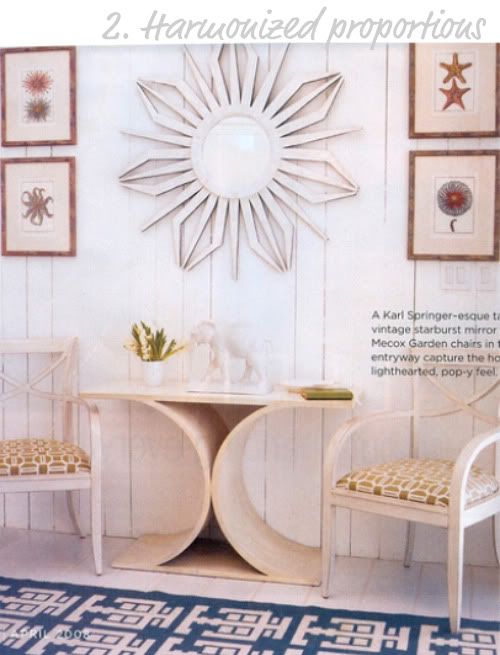 Or…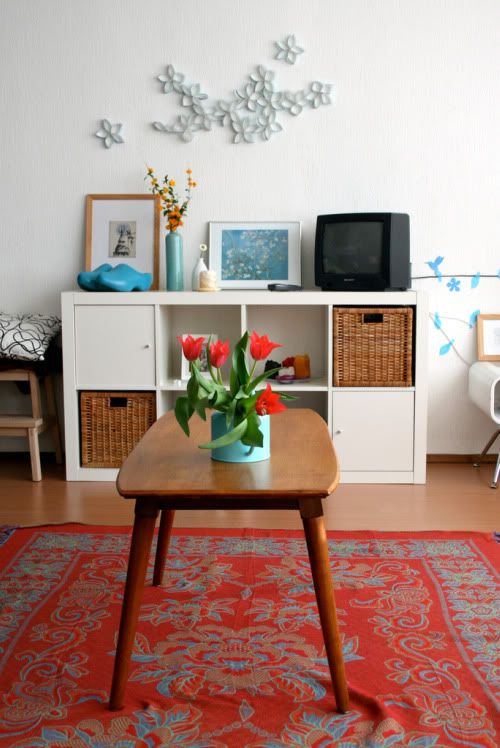 Perfect proportions by i l'aria.
Which brings me at last to #3. The biggest challenge. The styling trick that slays me, even though I purport to write a design blog myself. Ha!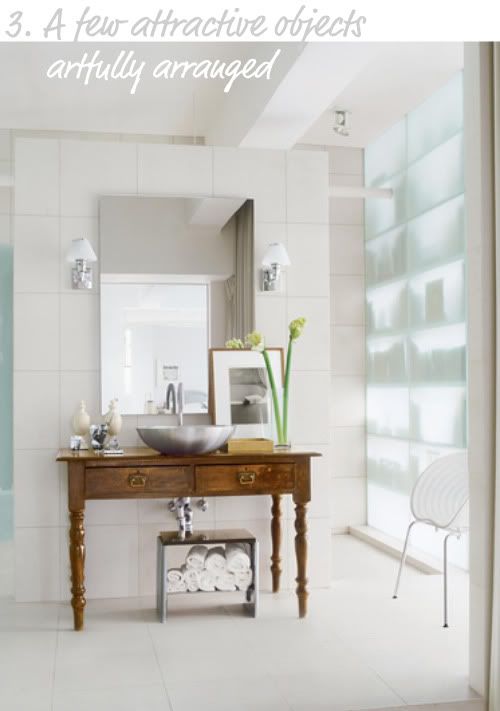 And!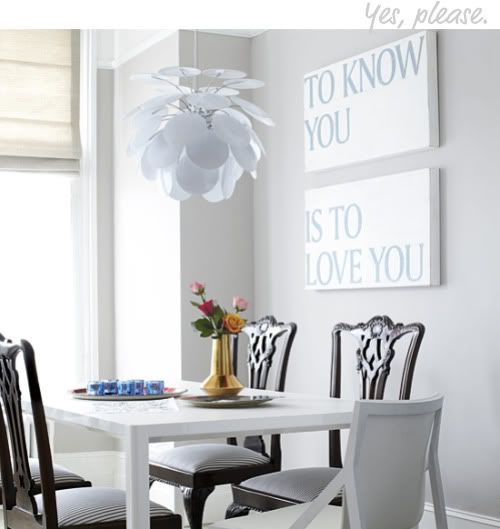 There is one rule that I would add, and it's evident in all of these images save two. It's a taste thing. I like my home to feel eminently livable.
1.Veranda. 2. BOLIG 3. Country Living 4. Domino
Now that I've teased you with these images, I'd like to know…how many of you are in my boat?
And, what would you add to these criteria?
– Brigitte

Well this is it, I'm off to London and I won't return until May 21st though I'll still post from time to time and I have two guest posts for you while I'm away so next week decor8 will be on schedule with daily goodies, though a bit light because I have much to do while I'm away.
I have my house sitter here all ready to sit (ha ha), my bags packed, camera batteries charged, iPod Touch prepared to do some tweeting, and well… so long to you and have a really nice weekend! Tomorrow (Friday) will be quiet here (you may hear crickets if you visit, or perhaps frogs in a faraway pond) but please visit again on Monday for the usual fare. See you soon!
(image: The London Cushion)
There are many design e-magazines popping up, also known as online magazines, paperless magazines, or digital magazines (I vote we drop the name game and call them simply: e-mags!) that I decided to pull together some of my favorites in one place. When it comes to e-mags, some say that they are the future of magazines but I don't believe that they will replace print but I think that they can easily live alongside our favorite glossies, don't you?
In today's fast-paced world, you really need both with so many of us online receiving and sharing information at the speed of light. Exclusive content is becoming more and more of a hot topic with the bevy of blogs out there and this is where e-mags can really deliver as they have the staff and sponsorship to run almost exactly like a print publication without most of the major financial stresses that have sadly forced some of our favorites to fold. Many bloggers are talking about their favorite e-mags lately so my goal is to give you a mini round-up of the ones that have blog authors a-buzz with hopes that you'll help by adding your comment to include those I've missed that make your heart go pitter-pat too! Here we go…
Sweet Paul NEW! – Food + Entertaining
Lonny – Decorating/Design
Antler – Fashion
BY FRYD NEW! – Scandinavian Lifestyle
Paper Mache – Kid's
Small Magazine– Kid's
la petite – Kid's
Utterly Engaged – Wedding
TIP: If you are considering to author an e-mag yourself, I've noticed a trend when you're out shopping for a domain name — Add "mag" after your magazine name — Lonnymag, antlermag, sweetpaulmag and so on… It's a good thing!
I'm heading to London now so while I'm traveling these links will provide you with plenty of inspiration to last until Monday when you can stop by decor8 for a few guests posts (I'll drop in to say hello as well) to hold you over until I'm back in full gear on May 21st.
Out of those listed above, what do you read and why? Do you like digital magazines better than print, if so why? If not, why? Did I miss an e-mags that you read? If so, please post the name and link in the comments section below – all I ask is that you list only those about decorating, design, art, craft, kid's, food, wedding, fashion…
(images: linked to those mentioned above.)
Sweet William is one of my favorite shops because I adore their prints and handmade goodies and really like the illustrative characters, patterns and colorways. My current favorite is the print of the chairs on notebook paper shown below, it's the best! I bought some things from them over a year ago as gifts for some friends in Germany and they loved their Sweet William pouches and prints! I kept a print for myself and cherish it so much. I really get the sense that all of these nice things were created in love and it makes the purchase feel good because the items come from a happy place inside of one's soul — produced out of passion and a genuine love for handmade craft.
Sweet William is a very small company formed by sisters Shelley Gardner in New Zealand and Paula Mills in Australia and though they live thousands of miles apart they share a connection through Sweet William, "We share a passion for all things creative, we make, draw, sew and collect lots of lovely, sweet things and we are so excited to share them with you."
Above there is another print that I like in addition to the hand drawn chairs, it's with a girl and an elephant (I happen to love elephants) and it says, "When choosing friends one should be wise." This is a very good reminder even when you are all grown up! We often tell children to choose their friends carefully but it's equally important that this pattern continues into adulthood because friends can really make or break our spirit. I was watching a TED lecture recently (do you watch TED? I barely have time but try to when I can) about social networks and how we can impact one another negatively or positively and why it is important to consider who we call our friends for this reason. I don't believe in dumping friends when they are going through hard times simply because it could be hard to deal with — but I do believe in distancing myself from those with whom I am not close to through years or blood if I sense that the friendship is weakening me in a way that begins to negatively impact my life. Online this can happen in the social networks we form and so it's a good idea to watch how certain interactions impact your health and well-being. It's tricky sometimes isn't it? But this sweet print is a nice way to remind us of how vital good friends really are.
If you like what you see above (I know you do!), you can also follow Shelley and Paula on the Sweet William blog.
(images: sweet william)