I recently came across the June issue of Martha Stewart Living magazine and read the Vive la Tarte article which features yummy pastry AND the work of Miyuki Sakai — my heart jumped out of my chest – gorgeous! I thought these backgrounds were hand drawn with yummy things placed on top (brilliant) but then I read further to discover that these drawings were created using a sewing machine (Oh yes, I kid you not)  and I had to learn more about them. For those without access to this issue, feast your eyes…
Imagine the patience, skill and overall awesomeness of this artist? Miyuki lives in San Francisco but grew up in Osaka, Japan where she observed her mother making clothes for the family from a very early age. After attending art school in Kyoto, she moved to Tokyo to pursue a freelance career and then relocated to San Francisco where she currently lives and works. Aren't these deslightful? Now I'm dying make these yummy desserts — this video is a good one to watch if you'd like to make some of your own tarts at home.
(images: martha stewart living)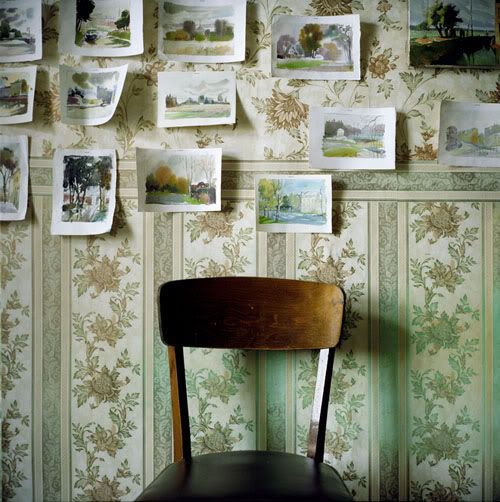 This wallpaper (I bet none of us would look twice at until now), those small nature-inspired watercolors with the white borders, the rustic wooden chair… it's so charming. It was taken by Flickr photographer/blogger Dennis Homenkrov in Russia and it totally speaks to me — which surprised me a bit as this is not a palette I naturally am drawn towards. Does it speak to you? If so, what does it say?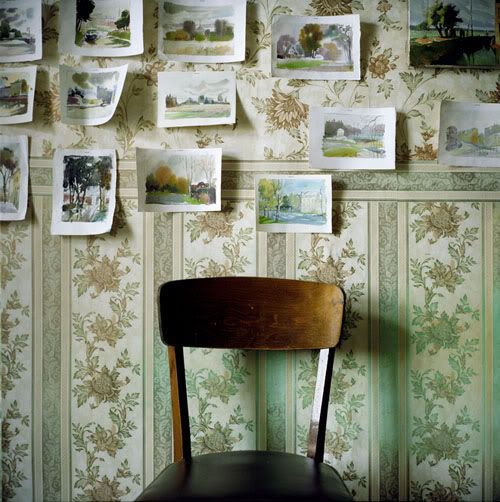 It says to me that most of us need to totally loosen up when it comes to how we arrange things on the wall and more specifically, what we use to display our pretty things in on the walls. I think it's easy to assume that all art must be framed to look good but this photo clearly proves otherwise. If you pin, tape, staple or tack things up with some thought, neatly even, you can place things on your wall that inspire you and you don't have to spend much money in the process. I love a collection of framed art or even a single framed piece on the wall, don't get me wrong, but now and then it's fun to just go with something a bit more freestyle and random.
(image: Dennis Homenkov)
There's a nice decorating book that recently came out here in Germany called So leb' ich – which also is the name of a relatively new German homes website where people living in mostly Germany share their homes in an online community where they meet other homeowners and share their space, rate it, and leave comments.
This lovely new book is authored by interior designer Nicole Maalouf from Urban Cocooning and contains the homes of some past decor8 home tours guests like Nicole, Kerstin and Carolin inside! Congratulations, ladies and I wish you great success with your book Nicole! :)
(images: nicole, kerstin and carolin)
The time has come! I'm packing my bags and heading back to the mothership on Saturday – the U.S.A., baby! I can't wait to be in both New York City and Los Angeles for 17 days. I'm working or at meetings for most of them, but that's okay because I still have my evenings free to chill, meet friends, roam around with my camera, do a little flea market hoppin' and hit some of my favorite stores. Like Purl Soho who just moved to a pretty posh space…
It will be nice to watch the fireworks in NYC on the 4th and to celebrate my wedding anniversary in LA with my #1 man as he is flying over with me and we can spend a work-free weekend together before flying back to Germany. I have a mini must-see list for New York and LA, but I want to surprise Debi and take her to some great spots for eats and drinks and also for shopping so if you are in New York or LA and have some great suggestions for meals and shops, please let me know! Debi hasn't been to LA yet and I really have no clue where to go there for dinner so any suggestions would be just lovely. Also, I'd love a great spot for a romantic dinner with my husband for one night. xo
Now back to Purl Soho. I love this recent entry on their fabulous blog about Hawaiian prints and how totally modern they can look when done right. "Hawaiian quilts are one of those amazing traditional arts that look totally modern. They are usually made by folding a solid fabric from the center and cutting it the way you would cut a paper snowflake, but into a beautiful and wild looking tropical shape. Many of the traditional patterns look like pineapples, plumeria or palm fronds." Check out these fab pillows and great how-to. Inspiring!
I can't wait to fly over to the states — I'm sooo excited and a really big bonus is that I've booked some fantastic spaces for Decorate and so I can't wait to meet the homeowners and see these beautiful properties up close and personal. This trip will definitely be a highlight for me someday when I look back on my life, I can't believe how fortunate I am — I feel completely honored and a little bit nervous but excited still!
So… any NYC/LA tips for us? Oh, please! You guys are so well-connected, I'd love to know what you know! I'd love to know of some shops in NYC/Brooklyn that sell Japanese books/stationery, please tell me where to go for bubble tea, a great cupcake bakery, good restaurants & food carts in the city, cheap eats, flea markets to hit, semi-fancy eats, great parks, lovely flower shops, design-y shops that must be seen, stuff like that. I haven't been to these cities for a few years (2008 for NY and 2005 for LA)… so I'm rusty!
(images: purl bee soho. psst: the lovely illustrated map is by wonderful lena corwin.)