Hello Friends, it is Leslie here for July's Color Me Pretty series. This time around I decided to explore black, white, silver, grey and yes, neon pink. I do not think I have gone totally eighties on you. I have just been a little obsessed with this color combination since I saw the cover of Inside Out magazine last month.
This magazine inspired this mood board below… and this series today!

You can sneak a little neon pink into a neutral interior and have it feel really fresh and summery with a simple pillow as an accent as shown below.
Of course it is a trendy color, which is what makes it so fun, just use it in small dosages! Handwriting, beads and tape were also brought into the mix this time around. I hope you enjoy what I have put together for you.
I love photographing chalkboard menus when I travel in Europe. It is more about the handwriting, less about the menu. Chalkboards are fun in the home and I like the idea of sketches or poems written on them, maybe even a fancy frame around their edge. Even if you are nervous about showcasing your own handwriting, go for it. That is what the eraser is for!
I have been sticking Rob Ryan's tape on everything. As most of you know, tape can instantly personalize a plain journal or a blank card.
On my mood board I combined some Japanese tape with a little neon pink stitching to make a card. I also combined Rob Ryan's tape with some Japanese tape to make another card.
Recycle tip: An empty food can is painted white and then spruced up further with a little note and some ribbon to hold a plant for a gift.
Craft Idea: I tried using stencils this month as well –to go along with my eighties investigation because weren't stenciled walls big back then in the US? Do you remember the do it yourself grapevine stencil kits? Well, stencil kits are back better then ever! I loved using the kits by Ed Roth of Stencil 1. Lotta Jansdotter makes some nice larger scale stencils that I tried too. You can also check out Lena Corwin's chapter on stenciling in her book "Printing By Hand".
I used stencils from both Stencil 1 and Lotta Jansdotter to create images on some small square canvases. I realize I am not the best stencil student as I like to paint myself but it was fun to have a guide and the results were very fast. I did not have a stencil brush, which I think I will use next time around. I especially liked making some cards for my mood board collection on heavy paper using the stencils.
Have you tried using stencils? Any tips you want to share with us beginners?
Thank you for joining me here and I will see you again next month with a Color Me Pretty series for August! If you would like to see previous CMP columns please click here. Bye!
(images: leslie shewring)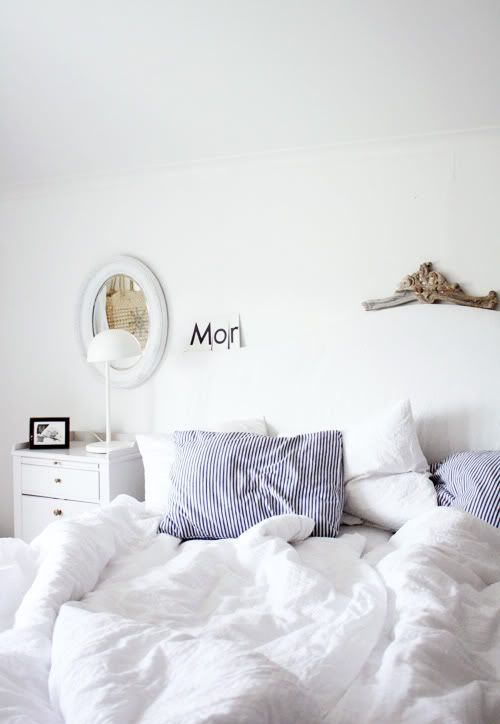 The Me And Alice blog is so charming with a lovely country home as the focus, located in Dalarna, Sweden. The homeowner is Susanne, a talented stylist and writer who infuses her home with many clever ideas that, whether Swedish Country is your style or not, you can still find some great ideas from some of these photos below because many of them can cross over and be applied in a home that looks very different – be it mid century or a modern ranch. If you don't believe me, I think you'll be convinced once you've had time to see for yourself…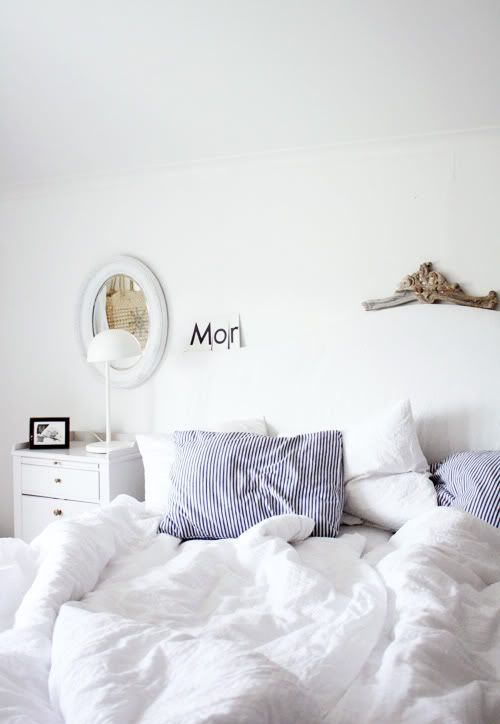 The casual beauty of this scene makes me smile. It's my favorite of the bunch because it feels so inviting and reminds me of the naps I once took (when I had time!) on Sundays after spending the morning on the beach, coming home for a cool shower, and smelling like coconut and salt as I climbed into my bed for a cat nap. I particularly love the stripey pillows, without them it wouldn't be the same photo! I also like the black letters on the wall.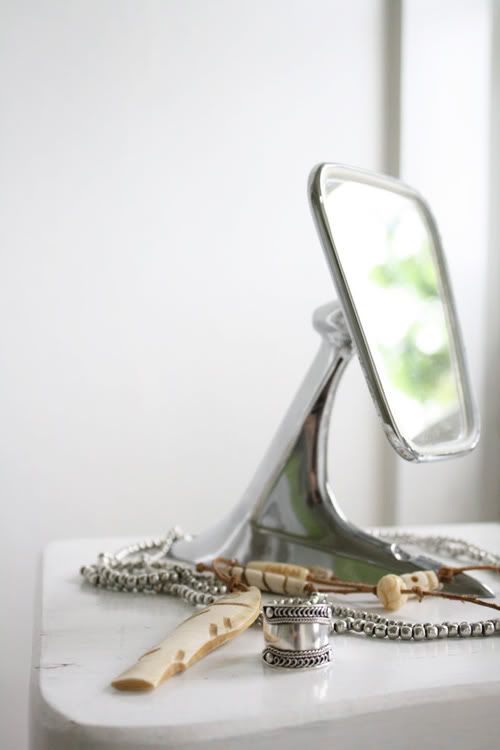 This is a vintage mirror from a car that has been repurposed into a makeup mirror. What a smart great idea for something that would otherwise not be used and abandoned in a junk lot!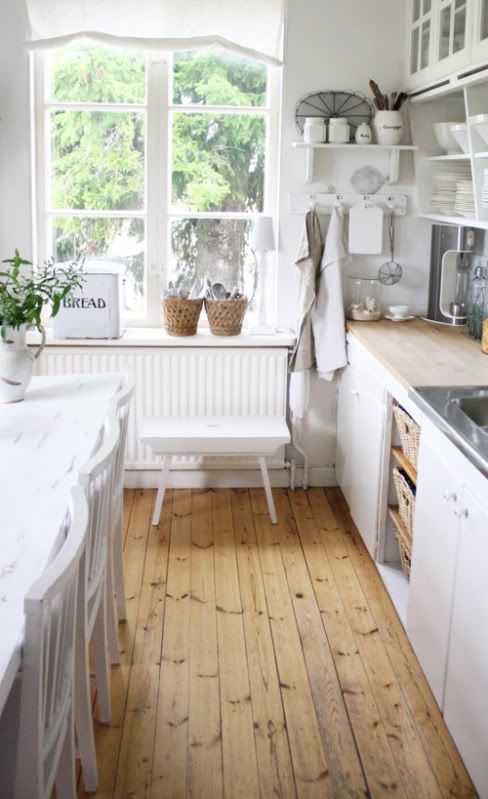 Just look at these floors! I know they are your standard hardwood but look at that color and texture, it really warms up the all white space and how many of us would love to have them!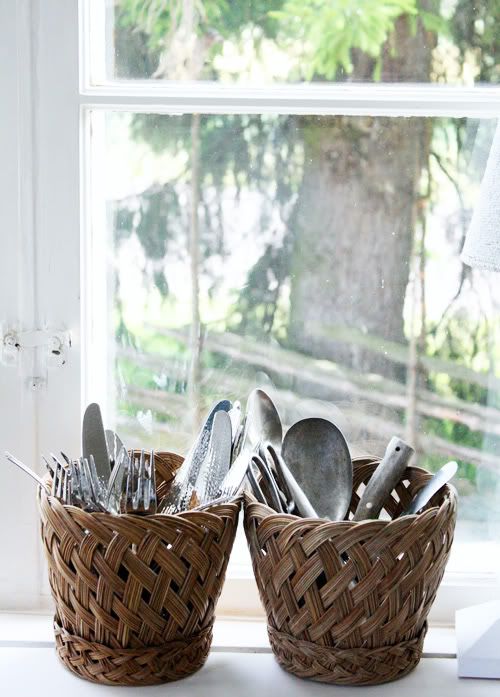 Using baskets to store vintage cutlery is a nice idea. You could do the same with your modern tableware too, especially if you have decided to serve a very casual buffet-style meal at home whether indoors or out.
Lovely storage ideas on this kitchen shelf but mostly I am impressed by the styling – very casual yet there was obviously some thought behind it. This is how I style things and decorate my home, casually but at the same time, you know that I put a little effort into the arrangement. :) I also like how there is a chair that tiptoed its way into the table arrangement, hoping no one would notice he has made himself a guest at the family table. Well, we notice him and I think he looks quite smart there, don't you? I like a little tension in mostly white space, you really need it!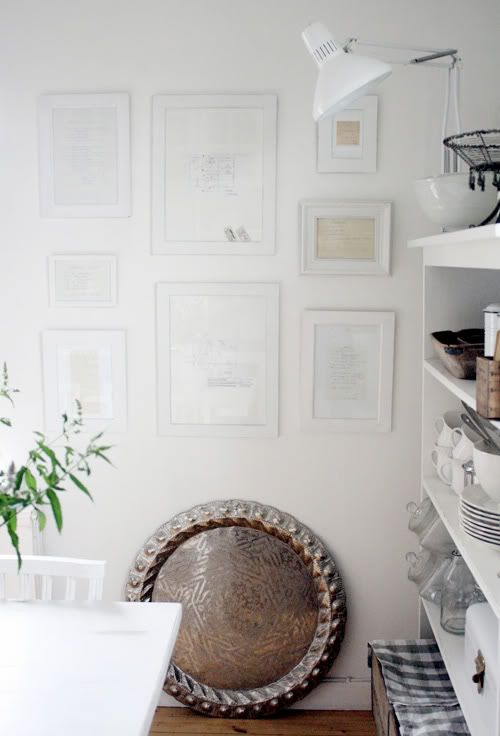 I like the floor plans and various papers that she has framed for this quiet corner. There are many things in this space, but it doesn't feel cluttered because the tones used are mostly white so the eye perceives this as less busy than say, if there were many colors and patterns used.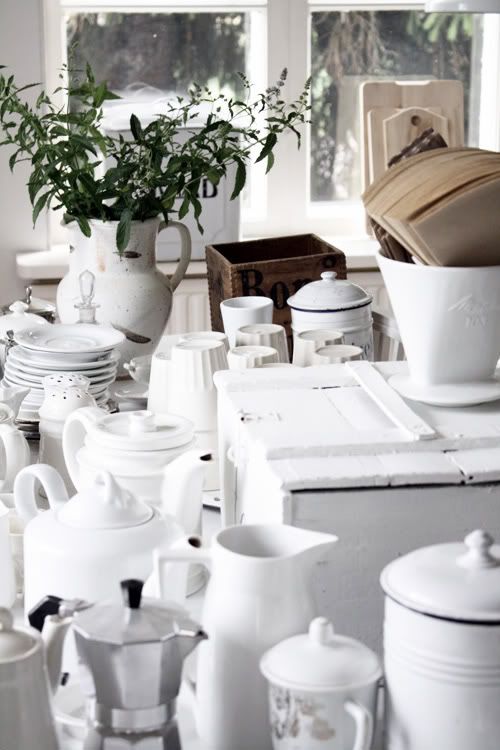 So many goodies here, I spot several nice jugs and jars. I think the mostly white palette is a hard one to stick by, but if you love white and really enjoy living in a space with lots of it, then go for it!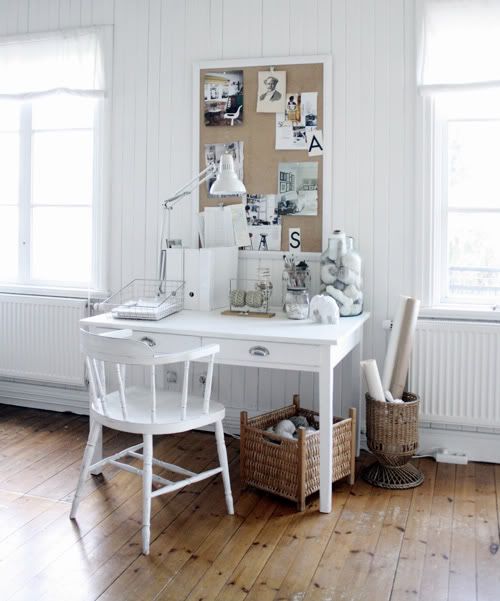 Susanne's writing desk is such an inspirational spot! Storage in glass containers, while nothing new, always looks fresh to me depending on what has been chosen to be on display. From candy to shells, spools of twine to buttons, crayons, and bath soaps… there is no end to what you can collect, store and display! Her yarn basket is lovely on the floor, too.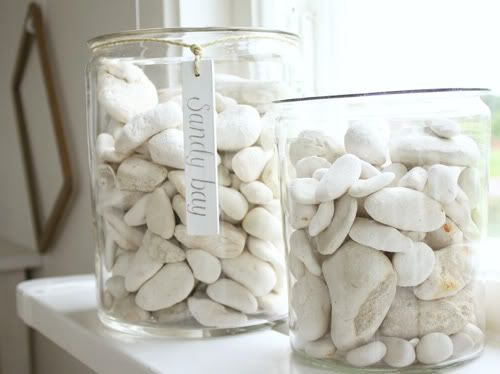 While in Cyprus, Susanne gathered these beautiful stones and has now arranged them in a few glass jars – a simple, inexpensive yet special decoration because no doubt memories of her trip wash over her whenever she sees them. Much nicer than memories of buying stones at some department store and filling jars, right? I think it's important to put some extra thought in the way you decorate your home so that objects tell a more personal story. A jar like this also creates lovely conversation opportunities for when guests have stopped by because when they ask you where you found something that you have on display, you can tell them about your little (and big) adventures.
Any ideas above that you'd like to take away and use in your own space? Which ones? Could you live in a white space? If not, why? If so, do you currently?
(images: me and alice)
No you are not seeing things! It really is Wednesday but I missed posting this yesterday – better late than never I guess! How are you today? I hope that you are well. I've been quite busy as I'm on deadline with my book and I leave again on Monday, this time for Belgium and the Netherlands AND London, so I feel a bit hurried to get everything done before I go. But enough talk about work, let's focus on some Etsy shops that I want to share with you for this week.
Lauren Brady of Two Shoes Studio sells original paintings and prints and I'm loving her paintings of shoes. I'd love to see her list more originals, I love the brushstrokes and colors, but most of all, shoes make me happy and I love seeing them painted in this way. P.S. Her new website is finished, and it's lovely!
Valero Doval is a talented mixed media artist from Valencia who recently had his work in the Pool Gallery in Berlin! His work is attracting attention and for good reason… he is brilliant. His "Aerofauna" series, or birds and planes, would be great in a boy's room.
L'Daim Fille is artist Jennifer Parks who lives Portland, Oregon with her son and creates art, "for arts sake". I think her hand drawings are interesting and would love to see some of them in vintage oval black frames arranged on a wall.
Bink & Boo live in coastal southern California and they love to scour thrift shops and estate sales for vintage fabrics to incorporate into their designs, from these fab pocketbooks shown above to bibs and baby shoes. I think all of these patterns could easily inspire a retro kitchen decor, don't you? I love the thought of having a little country cottage with plaid cafe curtains, chairs that don't match painted in bright colors like chartreuse and coral around a vintage modern white tulip table, and some fun tea towels with trims resembling some of the floral patterns above.

Hillary Bird in San Francisco has a very strong brand, the moment you see her work you know its a Hillary Bird creation! If you happen to be in her city this weekend, you can catch her work live at the Renegade Craft Fair at booth 171 from July 31 + August 1 from 11-7 p.m.
(images linked to their source above)