Traveling gives such creative inspiration but also a lovely opportunity to explore a different culture. Of course, there is the added bonus — we tend to learn more about ourselves as we venture new grounds — there are spiritual discoveries, emotional breakthroughs, I could go on and on but if you travel you must know what I mean…
One small but interesting fact that I learned about myself in both Marrakesh and Istanbul is the kind of shop environment that I enjoy the most. I found shops of all shapes, styles and sizes — kiosks, carts on the street, ladies with handmade goods displayed on blankets in the park, men selling bread that they carried on their heads, souks, bazaars, flea markets, you name it I shopped it. But what I found fascinating was that in each country I was easily lured in by the shops (and flea market tables) that had a more western sense of merchandising – where displays were carefully thought out, merchandise curated, and the selection being moderate — not too much of a single item but more of a mix of things to discover as I shopped. When products were shown in ways that got my creative juices flowing, I had no problem buying them. In stores where I found thousands of the same item, or things just tossed randomly in baskets or pinned to walls, or stores with aggressive sellers, I shopped very little and found them to be a bit depressing and ho hum.
I also found the more western sales style much more inviting than having to barter when it comes to pricing. I prefer items with tags on them, so I know where I stand, and I like to be told a little about a product but then left on my own. That way, I could see an item and have the mental space (and quiet) to imagine this or that piece in my home, where, how I would use it, etc.
When bartering is involved well that is also fine to a point but if I say, "No, thank you" I really don't want the reply to be, "But lady look at this, I can give you a better price" followed by more and more of the same… I also don't like to have a seller tugging on my arm, and I don't like shop owners chasing me after I leave their shop trying to offer me the same goods at half the price. That is one thing that I found very annoying when I shopped the souks in Marrakesh, after the first day the excitement of bartering really became stressful and draining because most of the souk sellers are in your face the minute you enter the medina and you have little to no physical or mental space as you shop — it's just one after another coming up to you trying to lure you into their shop and some even pull you in — grab you — and this was not enjoyable after the "new" wore off.
I found Istanbul a much more delightful place to shop because the Grand Bazaar wasn't nearly as intense as the souks in Morocco when it came to the sales approach, also more stores had a fixed price. Some of the bazaar shop owners were also be a bit intense (mostly the young guys), but they seemed to know when to back off and let you have your fun, go your way, etc. And I loved how hospitable they were — always offering us tea and if we purchased something, closing the deal with tea and conversation. I could really think when I shopped in Istanbul — I could take time to imagine, create and design things in my head as I walked around and browsed each shop in the Grand Bazaar and in the Spice Market — this made the trip very special to me. Istanbul is more expensive compared to Morocco though, so I guess you have to decide what matters most to you, price or peace! :) Though I'm first to admit, if invited back to Morocco I'd go in a heartbeat because I loved it there, too. :)
In addition to the 4,000 + shops in the Grand Bazaar, you also have many small privately-owned shops peppered around in the same neighborhood. One such shop, shown in the photos above and below, is Tulu located in the old part of the city called Sultanahment. Tulu is owned by American textile dealer, Elizabeth Hewitt, and has three floors of gorgeous items for the home as well as fashion accessories that I highly recommend. I left with only a few things, though my husband purchased a beautiful rug from Tulu for his office. We both will go back to Tulu when we visit Istanbul in the future.
I first discovered Tulu online in October 2009 and blogged about it here (thanks to Raina's tip), so I've been wanting to visit for a year now and so walking in and seeing it was quite exciting for me and certainly did not disappoint. The selection ranged from Turkish finds to gorgeous Indian textiles and the shop was loaded with pattern and color — I have to vote Tulu as one of my top five favorite stores in Istanbul and a definite must-see if you ever travel there. You can find bags, bracelets, fabrics by the meter, rugs (mostly vintage), pillows, tin heart mirrors, hand-painted boxes, ceramics, plates, journals, so many beautiful things that your eyes won't know where to look first. And their staff is so helpful and lovely — and no pressure — they offer help and then let you alone to wander and imagine. I love that.
And good news for you if you're not traveling to Istanbul anytime soon… You can buy Tulu goods at select stores in the US, like Layla in Brooklyn (another favorite shop of mine) and Nest in San Francisco.
A special thank you to Azmi for being such a great help in this shop!
I hope you enjoyed my photos — I took them at night so forgive the exposure… I did my best! :)
(images: holly becker for decor8)
I don't normally blog about children's rooms but this classy teen bedroom makes me smile today because it is just so cute, isn't it? It was decorated by former Domino market editor Tori Mellott who designed it for contest JCPenney was running along with Teen Vogue magazine where three teens won a bedroom makeover. The first one is my favorite room below, I love the juicy pink and yellow – it's very fresh and inspiring! A mostly pink room with a burst of yellow is so energizing. Tori did such a fab job on this sweet space. Bravo, Tori!
I loved reading that the fourteen-year-old who won this new room cried when she saw it! Pink is her favorite color, though Tori Mellott didn't want to turn it into a Barbie dream room — so she avoided frilly pieces (ruffles, scalloped edges, etc.) and went with clean lines (desk, roman shades, etc.) along with a stylish more grown-up geometric rug that the teenager can definitely use for years to come.
Read more about all three of the rooma and see what Tori used to create the look here.
(images: teen vogue)
Ready to travel with me to Istanbul, Turkey? First, you may want to brush up on the history of the city which is quite fascinating because everything that you see below won't make much of an impact unless you do. This is the case for me anyway, just knowing something about the patterns, colors, architecture, people, history — it makes everything really come together and gives greater meaning…
Having some knowledge of textiles is also helpful when you visit a city like Istanbul — personally as I visited various shops I felt that even my limited knowledge came in super helpful. If there is any travel tip I can give you that I could call the greatest travel tip of all it is to either learn about the history of a city, it's people, it's crafts, etc. before landing on new shores or immediately hire a recommended guide and let them educate you when you arrive or else you can really lose the essence and for me, there is just no point in leaving your homeland to simply fly somewhere to shop and eat and leave with bags full of pretty stuff that you have no real clue about. I know, I've done this before! Learning about the culture makes even the food and the shopping better, there is this foundation laid for then layering your experiences — the foundation is undeniably the most important to have in my opinion.
So let me begin by showing you some beautiful imagery and then I'll pull together another post tomorrow taking you to some gorgeous shops, at least a few, so you can see a few places that really inspired me (and emptied my wallet!)…
I was really intrigued by these Ottoman-style miniature paintings, they are painted onto vintage book pages, and were quite colorful and beautiful. I bought a few of them, I'll show you maybe tomorrow. I'd love for you to see them. I also found some gorgeous shops loaded with sumptuous Turkish towels for the bath, hands, kitchen, every shape and texture and pattern… Gorgeous Suzani pillows were in many shops and quite inexpensive when compared to the prices you'd find them selling for in Europe or America. I bought two pillows and they're quite lovely, mine were made from vintage Uzbekistan Suzani textiles and quite gorgeous. If you like them, you can see more here and also buy them online at this shop.
These bowls are from my personal collection, I've had them for awhile but I wanted to show them to you again in the photo above since they are quite pretty and you can find them everywhere in Istanbul.
I was fortunate in that I did do some light research before I left but I also have a friend who is Turkish, her name is Esra Celik, and she was kind enough to plan our adventure so that I was able to see some landmarks but also discover some of the nooks that I longed to find along the way. Having a friend to guide you certainly is a luxury because they not only know your taste well enough to take you to places that you'll actually like, but they are fun to simply be with! Plus, Esra speaks fluent Turkish so whenever we ran into a language barrier, she started speaking Turkish and everything was fine. Plus, she's just so sweet and cute and very, very generous and open-minded — the best things you could desire in a travel partner. It was a great time!
Here are some more impressions from Istanbul — of course these are just snippets so if you want to see full size images and more impressions feel free to visit this folder on Flickr that I've set up specifically to share with you. I hope that you enjoy it!
Lots of the photos above where taken in the Sultanahmet (Hippodrome) district of the city, the historical area where the Hagia Sophia and the Blue Mosque are located — and where we also happened to stay. In fact, the roof dining area of our hotel overlooked the Blue Mosque – it was such a pretty view of the mosque and the sea with fresh salty air, seagulls, and gorgeous fog in the morning over the city (and late at night) which I loved so much… The room shots above were taken in the gorgeous Topkapi Palace – an Istanbul "must see" attraction. Sadly, the palace kitchens were closed for renovations so we missed them but we saw the rest of the palace, including the Harem, and it was just lovely.
I hope you enjoyed these tiny glimpses into my vacation. Tomorrow I'll share with you more lovely images and some fantastic shops that you simply must visit while in this gorgeous city by the sea.
(images: holly becker for decor8)
Hello everyone! I am so pleased to share with you Color Me Pretty for November, styled and photographed by decor8 contributor Leslie Shewring from A Creative Mint. We skipped October to give Leslie some time off as she was traveling but now we're back on schedule with her monthly columns and surprise! Leslie will continue her column here on decor8 for 2011 so you have lots of CMP inspiration ahead of you. And remember, if you missed any of her work on decor8 in the past you can simply click here to view all of her color stories for lovely palettes that may inspire your next project, room scheme, party, outfit — whatever you fancy! And so with that, Leslie, take it away!
Hello Friends, it is Leslie here with Color Me Pretty for November. Last month I joined Holly in Morocco at Peacock Pavilions for a wonderful week of creative time organized by Angela Ritchie of Ace Camps. The gorgeous surroundings decorated to the nines by Maryam got me really inspired to continue painting yet more Moroccan patterns. It is kind of addictive and as you may know I have done a couple Color Me Pretty series in the past inspired by Moroccan patterns. They don't get old for me but I do hope I am not boring you with more! To keep it fresh I used a warm grey for the patterns and then added a little golden yellow, dark olive green and pink to the mix. I really hope you enjoy the combination.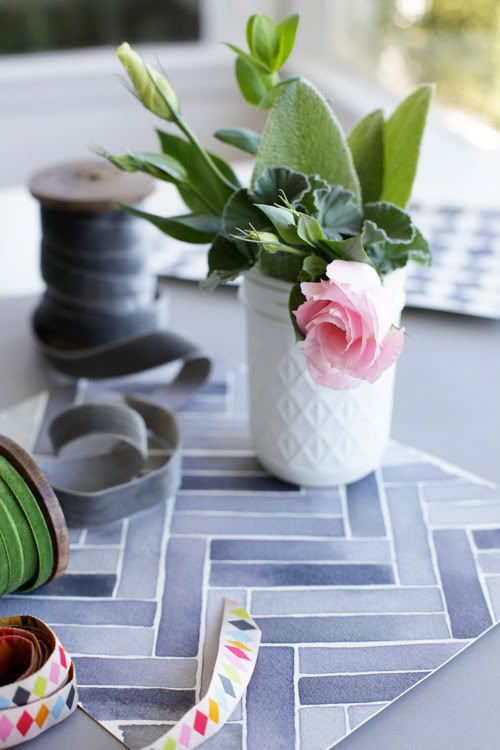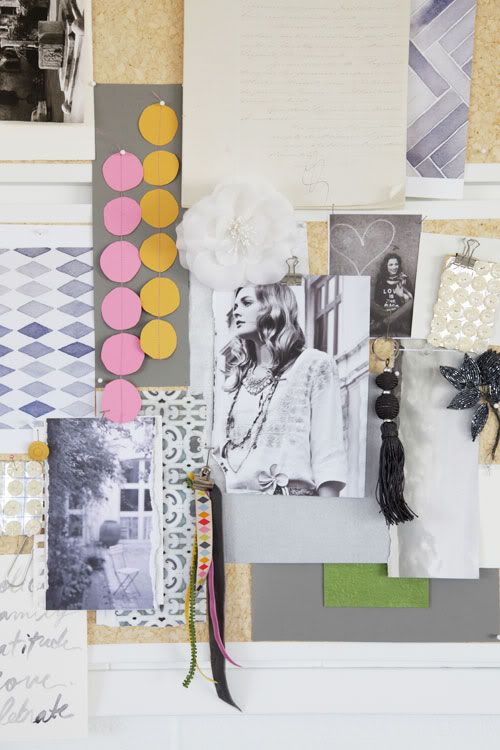 I have tried to use the patterns for some crafty little projects for you. With holiday entertaining time upon us, I thought I would spray paint a bunch of old glass bottles and jars to make an interesting floral display for the table or mantle. I can imagine them filled with red berries or evergreens, however I used a bunch of Lisianthus this time. After I had finished spray painting the bottles I couldn't help but paint a few with some tile patterns. You could really apply any pattern to the finished painted bottle. I used acrylic paint for the pattern and a matte white spray paint for the glass bottles. Metallic paint would also be lovely to use for the holidays.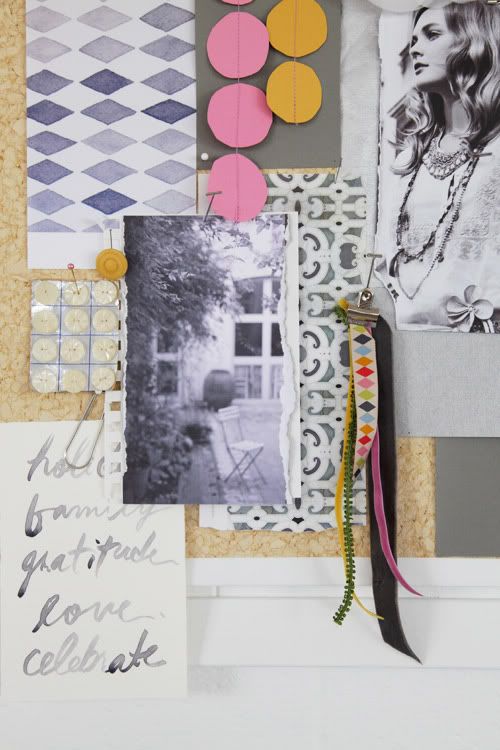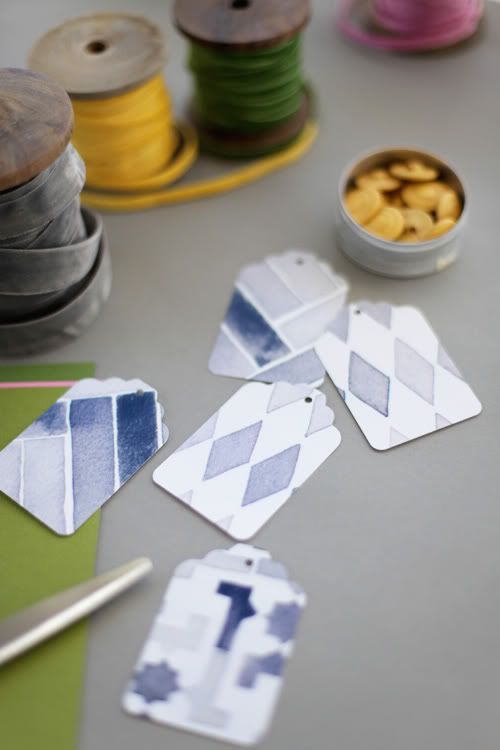 I thought it would also be nice to give you some more wrapping inspiration. I took photographs of my water colored painted patterns and then printed them out on matte photo printer paper. I then used the printouts for wrapping accents and for some tags. I use a Marvy Uchida craft punch for the tags. I love it because I am able to use up scrap paper for the tags. I also use catalog envelopes that have an adhesive strip for my wrapping because they are fast and simple. You just pop your gift into a large envelope and then fold over and seal where needed. No taping! Then you can just decorate them as little or as much as you want. The envelopes are readily available in 6"by 9", 9"by 12" and 10" by 13". If you are interested in learning more about Moroccan patterns a fabulous but pricey book called Zillij The Art of Moroccan Ceramics is excellent.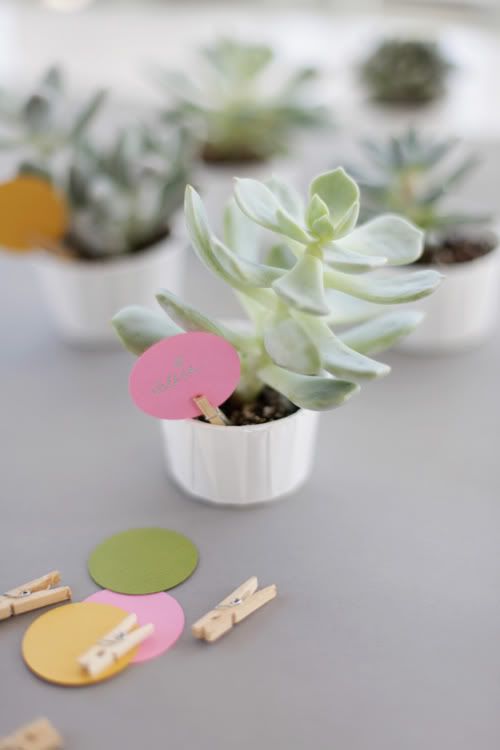 Lastly, I used some "Nut and Party Cups" from Michael's to hold some mini succulent plants I picked up for under a under a dollar each. I thought they made a sweet inexpensive display or gift. The cups could be cute with many different kinds of plants in them and you can easily punch a hole in them for drainage.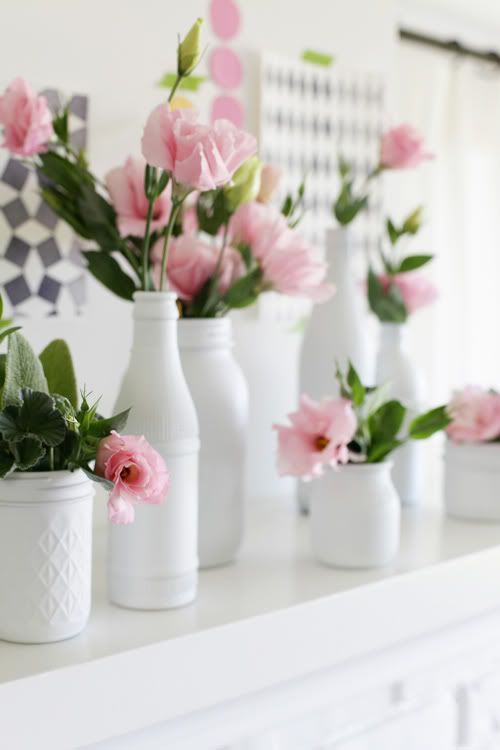 I will be back next month with many more ideas for you in a holiday inspired Color Me Pretty post. Until then Happy Thanksgiving or Happy November and thank you for joining me here today. – Leslie.
(photography by Leslie Shewring)