Today I received a thoughtful gift from fellow blogger Anh-Minh Le who is now the co-founder and Editor In Chief of Anthology magazine (yay!). What did she send? A copy of the premiere issue of Anthology for Fall. It's lovely!
The magazine encourages, "Living With Substance & Style", words I agree with 100% — especially the "substance" part as good style is nice but being a person with substance, now that is what seals the deal for me when it comes to selecting friends and when it comes to what I read — I want to feel as though I'm getting something for my money because let's face it, there's a lot of information out there. In order for me to pay for what I could normally get for free online, it has to have substance. Anthology looks as though I'm going to get that and I can't wait to dig in and read it. I did have a look at the images and they are quite dreamy…
Thank you Anh-Minh for sending me a copy way over here in Germany. You did a great job, both you and your creative director, Meg Matteo Ilasco. I wish you both the best of luck with your publication going forward and I will definitely order your next issue. Bravo, ladies!
(images: holly becker for decor8)
Hello Friends, it is Leslie here with Color Me Pretty for December. I am really inspired by some of the soft colors used for decorating for the holidays. Hues like aqua, soft lavender, butter yellow and silver. It is a pleasure to experiment with a more subtle hued approach. With the help of a few sparkly ornaments and some candles, I can already feel my holiday spirit being lifted.
Wrapping gifts has always been a real joy for me. I love seeing parcels nicely wrapped and tied with ribbon. I also cannot seem to throw out pieces of nice paper, as I tend to save them all. Lately, I have been into making paper quilts to use as wrapping paper for special friends who enjoy paper like I do.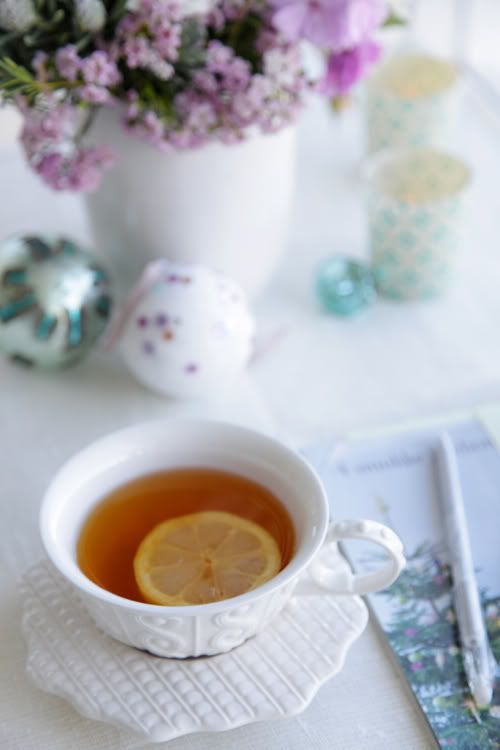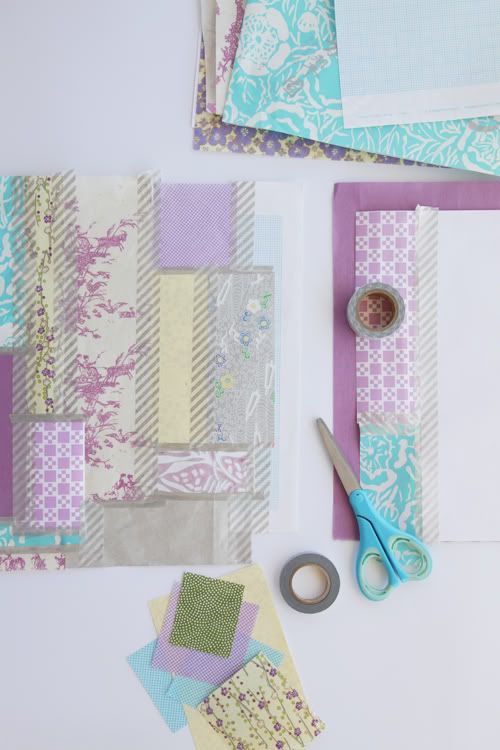 I use tape to quilt together pretty scraps of paper to make a larger piece of paper to then wrap presents with. The process does not take very long and I like the effect after a simple ribbon is added. It is a nice way to use gorgeous bits that may have otherwise gone in the trash.
I had to include this photograph of a special bag I purchased in Amsterdam in October as it has been hanging in my studio and I have been staring at it for some time. You can see how the palette has been influencing me! The bag was made by the hands of Leslie Oschmann an American designer living in Amsterdam who I had the pleasure of meeting. She is a lovely, warm and very talented designer who turns old unwanted paintings into new tote bags. Leslie also breathes new life into chairs and jewelry. You can read more about what she is up to on her website. Some of her bags are also available at Anthropologie.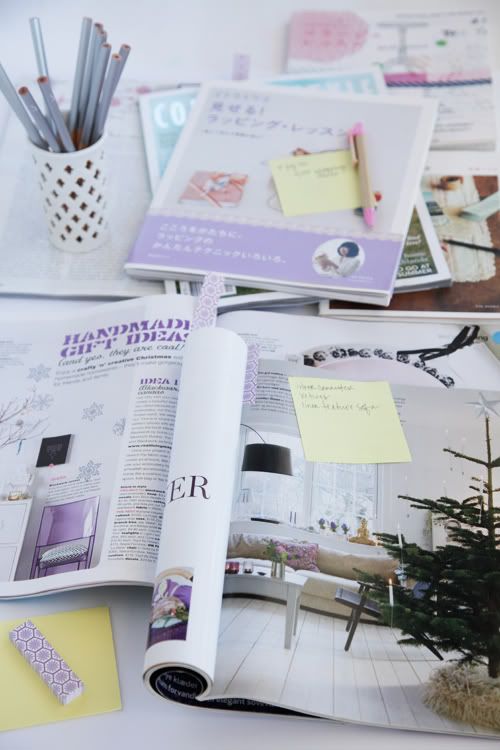 It is my wish for you (and me) to fit in some "slow" moments this season as they help make a hectic holiday routine more manageable.  Create space for a lingering cup of tea, a little time to savor yummy books or magazines, an afternoon for organizing or at least a minute to indulge in the scents of fresh flowers. Whatever holidays you celebrate I hope these last few weeks of 2010 are filled with joy. See you next year and thank you! – Leslie!
(images: leslie shewring)
I thought it may be fun to pull together a little gift list of sorts, not really MY personal gift list but one based on what lots of my dear readers (you!) have responded to in the past when I've shared some of these shops on my blog. To have a little fun, I've created an imaginary recipient for each grouping for a good laugh. Here are 24 Etsy Finds for this week, have fun!
For the fun, social type who can't be bothered with negativity, this girl is frequently called a Pollyanna, loves pastels, puts stickers on her $2K iMac and still enjoys sending handwritten cards: 1. Let It Go print, 2. Soundless Symphony print, 3. Mini fabric stickers for the computer and 4. Clocks, cakes and keys card.
For the organized girl who hasn't changed her haircut since middle school, she enjoys strong tea and graphic patterns in two-tone colors only. She's really into the mustache-as-motif trend and adores her pug, Rufus Winkledink who secretly wishes she'd get a boyfriend because he feels like, so smothered. 5. Summer print, 6. 2011 Chevron Monthly Planner, 7. Blue Vintage French tea cups and 8. Custom oil painting of your pet (love this!).
For the cute couple who hold hands constantly while the rest of us gag,  she "deals" with his two cats, Frisky and Whimpers, who enjoy swinging from the drapes and turning her Room & Board sofa into a scratching post while he "deals" with her love of affordable Etsy art that is on every.single.wall of their home. The nude Native American, however, wasn't an issue and no eye rolling ensued when she popped that fine female into a frame. Go figure. 9. New Mexico print, 10. Fox and Hens Chase limited edition print, 11. 2011 wall calendar and 12. Custom family portrait, just send photos!
For the dreamy, spaced-out friend who lives in her own little bubble floating on feathers all day (she annoys you, face it), her favorite childhood book was anything by Beatrix Potter and Mad Libs was her passion while everyone else was playing Spin The Bottle. Graceful and sweet, she is addicted to Glee and loves ballet, still displaying her pink shoes proudly from the 8th grade over her bedroom mirror. 13. How to set a table print, 14. Tulip Bib Shirt, 15. Ballerina print and 16. Feathered ceramic cup.
For the mid century modern fan who likes to add a little quirk to the mix, this guy has 15 Eames chairs, only eats organic, works in an art gallery, and is crazy about Mad Men, Depeche Mode, walks on the beach, and romantic poetry. 17. Funky Diamonds print, 18. Doll print, 19. Our Little Friends print and 20. Pomegranate tree cushion.
For the sensitive, sweet crafty friend — her idea of the best night ever is to stay home writing, crafting, cuddling and chowing down on amazing cookies with a tall glass of icy cold milk. Hey wait, isn't that most of us? 21. Little Bear original painting, 22. Felt Wool Petit Mascots Japanese craft book, 23. Earl Grey Sandwich Cookies (I've ordered these many times and love them!) and 24. Color Keys print.
Ha ha, aren't my descriptions lame!? I think so, and I'm giving you the permission to agree. So, did you see anything? What did you fave from my finds above? Care to share?
(images: linked to their sources above.)
Knack Studio in my home state of South Carolina really has the knack for making my day (I know, corny intro) and making me feel super inspired when it comes to giving old furniture a new life. Designer Barb Blair is so talented, whenever I peek into her etsy shop I find some cute piece of furniture given a creative face lift that I wish I could order and have shipped over here to me. I always find something I like. For instance take this blue gray distressed piece…
Cute, right? It is called Aziel and goes for $625 so while not exactly bargain basement prices, you have to remember that these pieces are vintage and have one-of-a-kind paint jobs with unique hardware so no two are alike. Try that at most stores… Making $625 seem really worth it considering what time and effort must have been invested in restoring this little girl…
What made me think about Knack today? Easy. She commented earlier on my blog! I love when people comment because often it's a reminder to a very busy me to have a peek in on someone that I've been a bad girl at keeping up with. In this case, Barb's comment connected me back to her amazing world (Thanks, Barb!) and now I can share the good vibes by showing you her work in case you've not seen it before.
Next there is Imogen in pumpkin orange with blue knobs, Nelly in sunshine yellow (so cute!), or the Rachel in gray with yellow knobs. But wait! There's more beautiful pieces to be inspired by… Like this incredilicious black dresser with the floral motif and this stunner of a dresser in turquoise. I mean seriously Barb, it's not fair that you are so creative – you make us look at those curbside finds in a whole new light.
What do you think about Barb's work? Did you catch the store tour that I shared here on decor8 in March of '09? If so, you don't have to miss it a second time. CLICK HERE to see the gorgeously inspiring Knack shop. Enjoy!
(images: barb blair)