Hello everyone! I am so pleased to share with you Color Me Pretty for November, styled and photographed by decor8 contributor Leslie Shewring from A Creative Mint. We skipped October to give Leslie some time off as she was traveling but now we're back on schedule with her monthly columns and surprise! Leslie will continue her column here on decor8 for 2011 so you have lots of CMP inspiration ahead of you. And remember, if you missed any of her work on decor8 in the past you can simply click here to view all of her color stories for lovely palettes that may inspire your next project, room scheme, party, outfit — whatever you fancy! And so with that, Leslie, take it away!
Hello Friends, it is Leslie here with Color Me Pretty for November. Last month I joined Holly in Morocco at Peacock Pavilions for a wonderful week of creative time organized by Angela Ritchie of Ace Camps. The gorgeous surroundings decorated to the nines by Maryam got me really inspired to continue painting yet more Moroccan patterns. It is kind of addictive and as you may know I have done a couple Color Me Pretty series in the past inspired by Moroccan patterns. They don't get old for me but I do hope I am not boring you with more! To keep it fresh I used a warm grey for the patterns and then added a little golden yellow, dark olive green and pink to the mix. I really hope you enjoy the combination.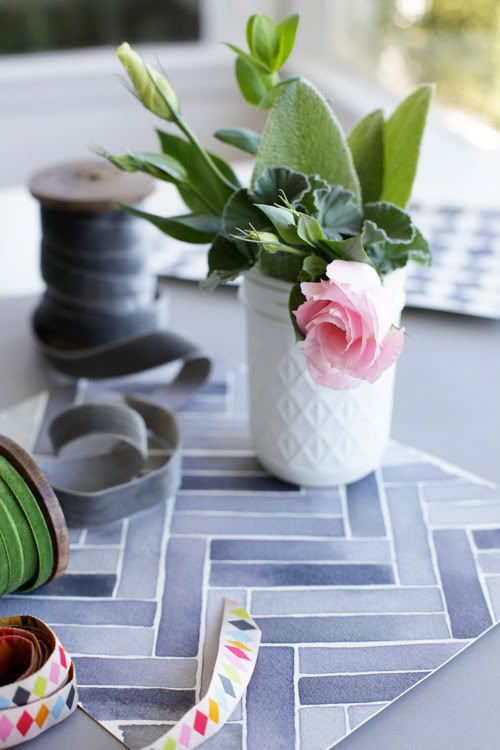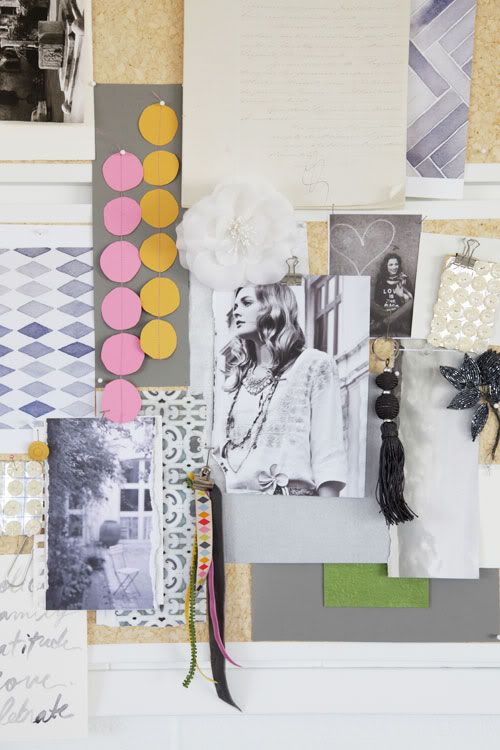 I have tried to use the patterns for some crafty little projects for you. With holiday entertaining time upon us, I thought I would spray paint a bunch of old glass bottles and jars to make an interesting floral display for the table or mantle. I can imagine them filled with red berries or evergreens, however I used a bunch of Lisianthus this time. After I had finished spray painting the bottles I couldn't help but paint a few with some tile patterns. You could really apply any pattern to the finished painted bottle. I used acrylic paint for the pattern and a matte white spray paint for the glass bottles. Metallic paint would also be lovely to use for the holidays.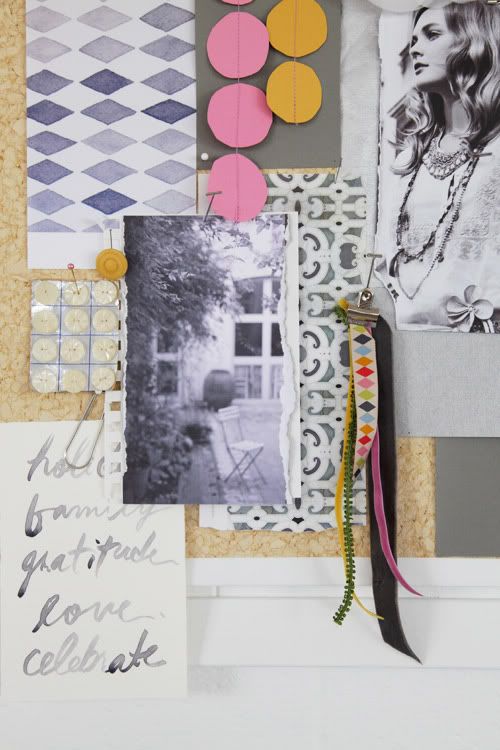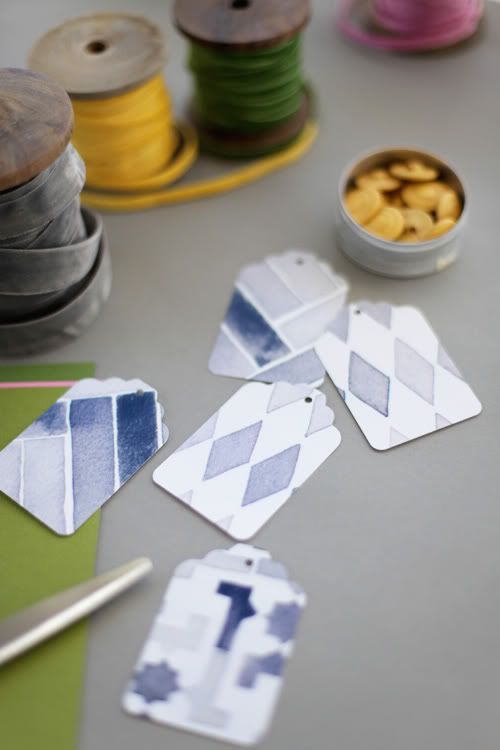 I thought it would also be nice to give you some more wrapping inspiration. I took photographs of my water colored painted patterns and then printed them out on matte photo printer paper. I then used the printouts for wrapping accents and for some tags. I use a Marvy Uchida craft punch for the tags. I love it because I am able to use up scrap paper for the tags. I also use catalog envelopes that have an adhesive strip for my wrapping because they are fast and simple. You just pop your gift into a large envelope and then fold over and seal where needed. No taping! Then you can just decorate them as little or as much as you want. The envelopes are readily available in 6"by 9", 9"by 12" and 10" by 13". If you are interested in learning more about Moroccan patterns a fabulous but pricey book called Zillij The Art of Moroccan Ceramics is excellent.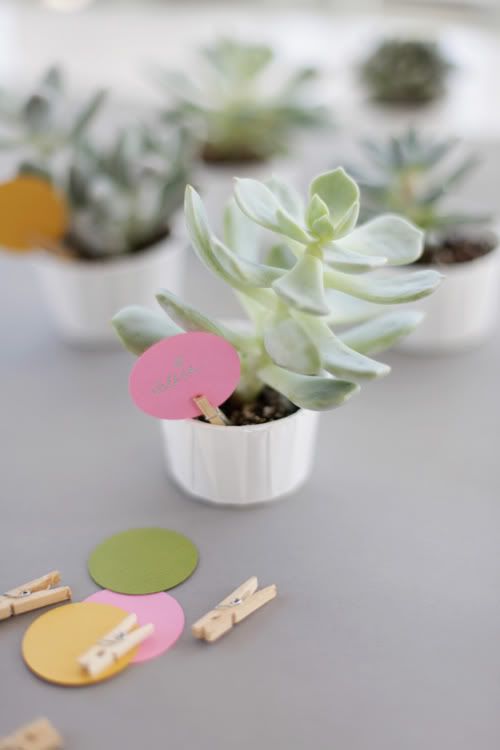 Lastly, I used some "Nut and Party Cups" from Michael's to hold some mini succulent plants I picked up for under a under a dollar each. I thought they made a sweet inexpensive display or gift. The cups could be cute with many different kinds of plants in them and you can easily punch a hole in them for drainage.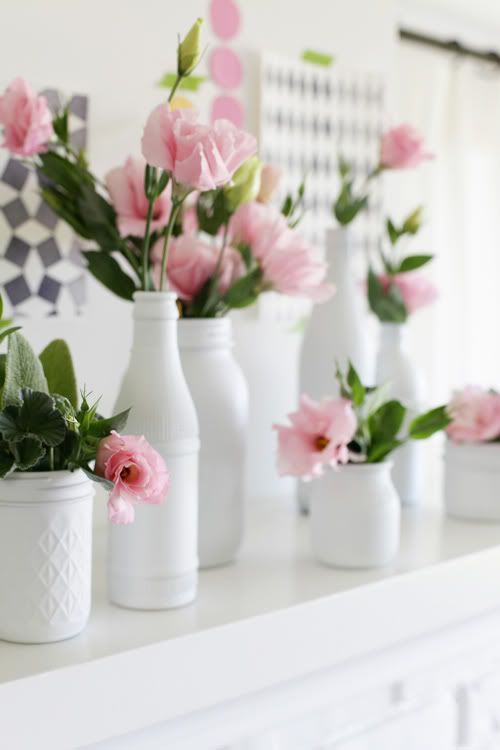 I will be back next month with many more ideas for you in a holiday inspired Color Me Pretty post. Until then Happy Thanksgiving or Happy November and thank you for joining me here today. – Leslie.
(photography by Leslie Shewring)
Ready to be inspired by a pattern and color-filled industrial meets feminine loft? Oh I bet you are, open space, clean lines, bursts of color, industrial meets girly with loads of white… oh my stop! I'm getting all tingly! When Crystal Gentillello from Rue magazine sent in some gorgeous images to share with decor8 readers today I couldn't refuse — this is a special sneaky peek of their gorgeous issue #2 which will release on Sunday, November 21st right here.
This loft is super amazing and I thought it would be fun to share some glimpses to whet your appetite for the magazine so here's my favorite home from issue #2, in fact this homeowner (you can find out who she is later today when the issue is live) has a very similar look going on to what I'm pulling together in my own house currently (which is why I have been traveling so much, to collect!). She has several things that I've purchased already on my past few trips to Istanbul and Marrakesh and so for me to see her space in my inbox this morning (I got to see the entire loft, full room views, just wait — you'll die when you see the issue) I felt so encouraged and motivated to finish my own home.
Love the dessous! Love the back of that gorgeous chair! This is a great space in my gushing opinion. So what do you think? Amazing right? To see full room views and to learn all about the homeowner, be sure to visit the Rue website on November 21st when issue #2 goes live.
(images: emily anderson)
It's time to share five of my most recent favorite Etsy shops! There are many beautiful things to enjoy that are handmade with love by some very talented creatives out there. Handmade is the big holiday theme this year, have you noticed? Interiors magazines from Australia to England, the Netherlands to the US, Germany and beyond are all a-buzz about handmade – no doubt due to the influence of bloggers who have been heavily promoting handmade arts & crafts for years now. More on that below my finds…

Peggy Wolf – This German artist is one I've shared before but I can't take my eyes off of her gorgeous watercolor-y collages of lovely ladies. Great prints, fun colors, adore!

Blushing Pearl – Custom design and letterpress cards, tags, business cards, wedding ephemera and more!

White Owl – This sister duo makes some of the most feminine yet edgy pieces of jewelry with lots and lots of vintage charm (and charms!).

Sweet Harvey – A design studio that prints their designs on textiles, papers… so many sweet things to choose from!

Helkat Design – More union jacks! This studio run by two textile designers in England churns out gorgeously tactile hand printed pillows and others that show a combination of both hand print and applique work. I love seeing these two techniques combined.
Handmade crafting as a trend in holiday decor is all the mainstream rage this season. If you cannot make things by hand yourself due to limited time or perhaps you are self-conscious about your work, you can try a craft that is relatively easy but still fun and somewhat challenging – use a kit or try a DIY exercise online from one of your favorite websites or blogs. Remember, the more you make things and practice, the better you will be become and with each accomplishment your self esteem grows and soon you'll be making beautiful things completely on your own.
Of course, time is always an issue and some simply don't have extra moments to sit down and take time to learn a craft, especially during this hectic season, and if that is the case then you have thousands of talented sellers to buy handmade products from. Be on the look out for indie craft fairs in your local city, or when you travel try to find them because cities like Boston, New York and London (to name a few) usually have many arts & crafts shows this time of the year.
Of course, you can also scout for handmade products online through your favorite blogs and online marketplaces, like Etsy, DaWanda and so many others…
See anything that you love this week? Any etsy shops that you'd like to share with us in the comments section below, including your own? Will you be attending a handmade market this season in your season or elsewhere? If so, please put a link to it below!

(images: linked to their sources above.)