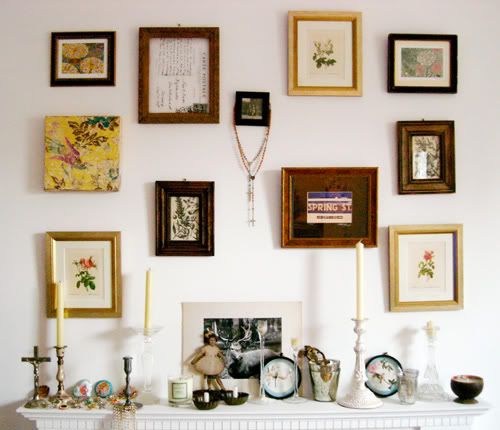 It's images like these that keep me coming back to the lovely Lobster & Swan blog again and again and again. Jeska Hearne has such a girly, romantic, cozy home… Her arrangements of things are so beautiful and it really is a photo of a living room like this that makes me want a fireplace so badly… Her mantle just melts my heart! But we can't have it all which is why we visit the blogs of various virtual friends to find inspiration through the things that they have that we wish we did! :) ha!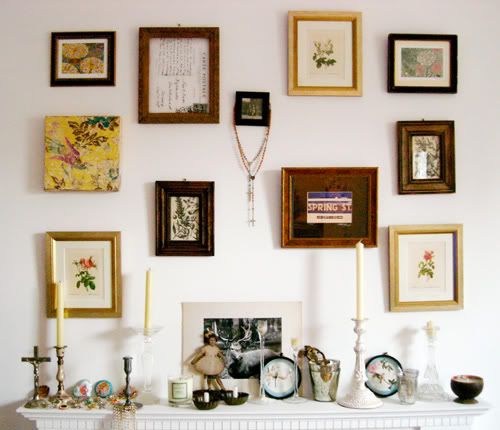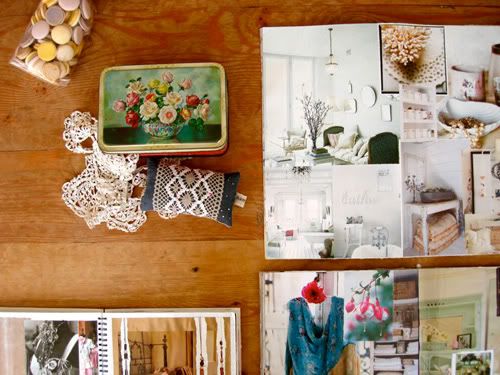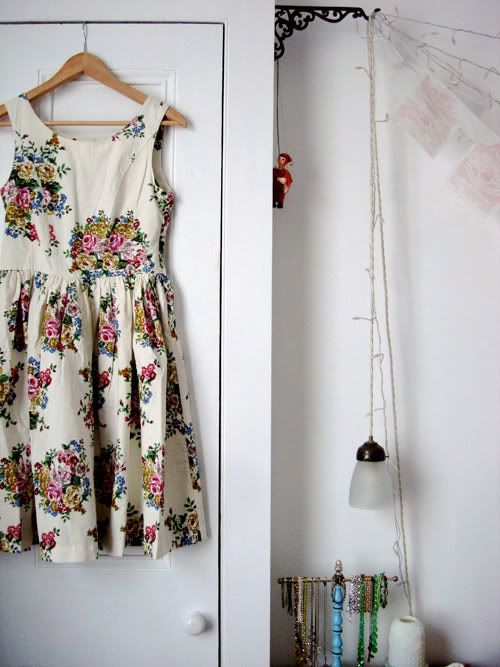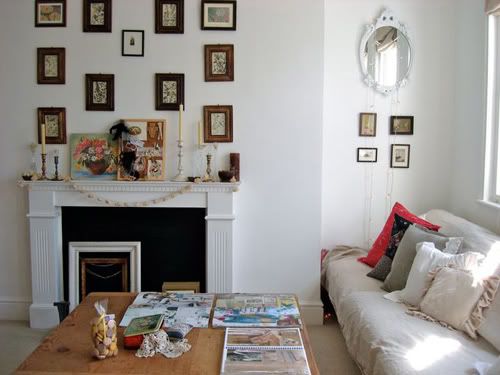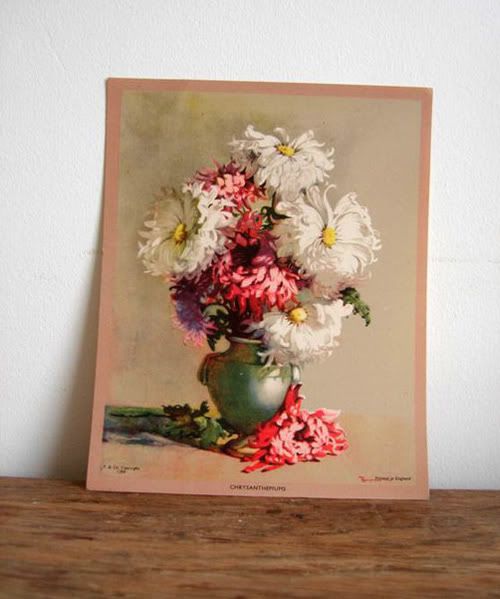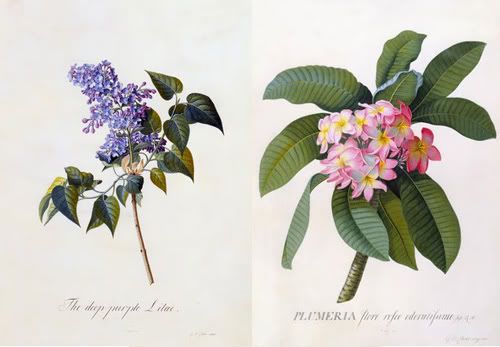 I especially LOVE the prints she pointed out over at the V&A museum shop online… Jeska if you are reading this you make me happy always. :)
(images: Jeska Hearne)
I love throw rugs so when I read about Florian Pucher and his Land Rugs over on the Livingetc blog this morning my eyes popped wide open and my jaw dropped. These are so awesome! A little too bright for my taste, but the concept is amazing and I'd love to have one in more understated hues. But even still, these are fabulous.
Pucher was born in Vienna where he studied architecture and then went on to practice in Shanghai. Next, he decided to try something new and is now designing products alongside partner Sophia Liu Bo. His designs range from tableware to jewelry, sofas and everything in between — including these gorgeous hand-tufted 100% New Zealand wool Land Rugs which won the Elle Decoration International Design Award in 2009 for best floor covering.
I love these country-cool aerial views of the countryside of America, Europe and Africa. Very fresh!
(images: florian pucher)
I have a beautiful, inspiring shop tour to share with you today shot by Australian photographer Jillian Leiboff who loves to shoot stores and very often, she'll send them to me to publish on decor8 which I simply adore. Australia is the second spot on this planet that fascinates me the most outside of Japan and so I'm always keen on seeing what's going on down under…
I love Jillian's shop tours, her work is strong and clear, and her eye is sharp for details — light, texture, the little things… nothing goes unnoticed by her trained eye. Together you and I can stroll down to Bondi and pretend we're on an Aussie adventure together, okay? The store is called Miljo and is filled with Scandinavian good that will have your pulse racing if clean, organic, modern, minimalistic and natural excite you. This is such a gorgeous collection of images, I just know that you'll love seeing this terrific store.
"miljö is a highly edited Scandinavian design store with many products exclusive to miljö in Australia. We represent some of the best designs and designers Sweden, Scandanavia and Australia have to offer. miljö is a sister store to funkis swedish forms. Our main focus is on lighting, tableware, fabrics and wallpaper. There is also a large variety of other lifestyle products such as clothing, bags, clogs, hand crafted brushware, jewellery and furniture."
This shop is so serene, stylish, designed to be so calming… a real oasis. I imagine bringing some of these things into the home, particularly the bathroom where I like things quite spa-like, would make for a lovely retreat. I love the Le Klint lighting! Thank you Jillian for loaning me your images to share on decor8 and a big thanks to the Miljo store for allowing this store tour to appear here. Just lovely!
(images: jillian leiboff)
Hello everyone! I'm packing today (not heat, boxes!) but I was able to escape the sea of brown boxes for a moment to write to you. This is truly my happy space — whenever I need a place to escape, writing here gives me such a boost! How are you today? Yesterday was a very special one for us because we received the shiny new keys to our place and then went out for dinner at one of our favorite restaurants to celebrate. The mood was so perfect too — the air was fresh and crisp, it was slightly foggy, light showers… the smell of wood burning in stoves… so cozy. And dinner by candlelight made it even more memorable and special. More than ever before, I can't wait to move in a few days!
My husband and I feel so relieved to have found a place after so many months of intense searching. You know how hard it was for me, especially if you follow me on haus maus. Today I will have an engraved name plate made for our doorbells – yes plural – we have two of them with a fancy intercom and wall phone in the front of the house and in the back – it feels kind of posh to have two but as you get older there is ONE truth you come to realize = time is precious! You have to have at least a few things that you want in life today because mere expectation (all work/no play) can really take its toll on you emotionally.  So yes, we have two doorbells – one for decor8 (ha ha, my blog has a bell!) and one for us – isn't that cool? This will make it so much easier now for package delivery though because many times people forget to address things with my name on it, only decor8, and because we have several different couriers there is usually confusion. It's funny how the little things, like a name plate, can mean so much. The comforts of home.
Speaking of the comforts of home, I must show you some glimpses into the new catalog from Danish brand Villa Collection. These things are available in Germany at shops as well which is good. I own some products from Villa Collection and am very happy with them – I buy them from my friend Daniela at Sommerflugl in Hannover – she is great if you are local, and she can order things for you if they are not currently in stock in her store (like furniture, lighting, etc.).
Villa Collection has four specific moods this season, all accurately reflect the trends that you see in stores in my part of the world, northern Europe. One of their moods is Hot House, which is Asian minimalism meets industrial elements of the west with dots of fresh, energizing citrus hues. Another mood is called Scandinavia Today and it is a young, fresh trend rooted in nature. It is care-free, modern, minimalistic… Lots of natural wood tones, white and gray with silver accents along with lots of texture so that it feels warm and comfortable. Their next mood is called Pale & Pure which is "soft living with a modern, classy touch". The foundation colors are dusty, chalky tones… Lavender, coral… along with natural woods and materials like raw silk and wool. It can also be less girly by using tones of green and blue. Their final mood is called Tribal Tasting. This is a colorful, spirited and spicy collection. It's very bohemian but also quite modern with a focus on fine craftsmanship with indigenous roots. Here are some glimpses below of these moods. The nice thing is that you can mix and match elements from each to create your own custom work – something I encourage to personalize your space.
I hope that you enjoyed this glimpse into some northern European trends — which one do you connect with the most? Or perhaps you see yourself merging a few and if so, which moods would you mix? Hot House, Scandinavia Today, Pale & Pure or Tribal Tasting? Mine is a mix between Scandinavia Today and Pale & Pure for sure.
(images: villa collection)