Hello Friends it is Leslie here for Etsy Take Five Tuesday. I am filling in for Holly while she is busy traveling and working on her book. I just know her book is going to be an incredible collection of inspiration and I cannot wait to read it! Today I could not narrow it down to five. Instead, here are twelve finds from eight different Etsy shops that will be a delight for you to visit. I have had blues and greens on my mind but each shop has loads of colors for you. I really hope that you enjoy it!
1. Handmade Modern Baby Quilt made by Blue Elephant Stitch. A wonderful shower gift for someone special and I must say I just love the product photograph –really brilliant. 2. Poolside Limesicle Cushion made by birds in chandeliers. I really want this pillow! I love her attention to details, which you can see better when you visit her shop. 3. Vintage Mid Century China Dinner Plates at seesaw vintage finds. These have a nice pattern and would be easy to mix and match with other blue toned plates. 4. Vintage Mod Flower Serving Tray at seesaw vintage finds. I love how graphic this tray is! It would look great in the middle of a dining table all the time or on the wall.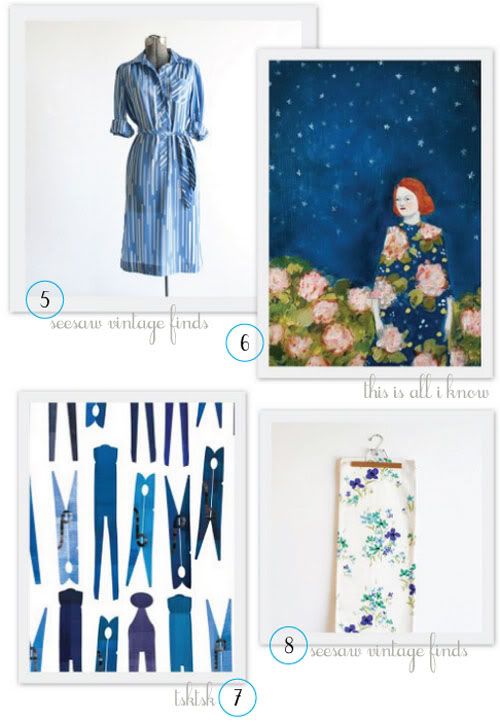 5. Vintage Blue Patterned Lines Dress at seesaw vintage finds. This shirt style dress is cute for summer and looks easy to hem if you want to wear it shorter or over jeans or leggings. 6. Original painting on birch panel –"sophie was a part of everything" by this is all I know (Amanda Blake). I enjoyed browsing through the incredible work by Amanda who works out of Portland, Oregon. 7. Limited Edition Giclee Print – "days a week in blue" by tsktsk. This print is also available in an earth toned palette. 8. Vintage Floral Fabric at seesaw vintage finds. A gorgeous, almost two yard piece of medium weight cotton that could be used for a cushion or whatever creative project you can imagine!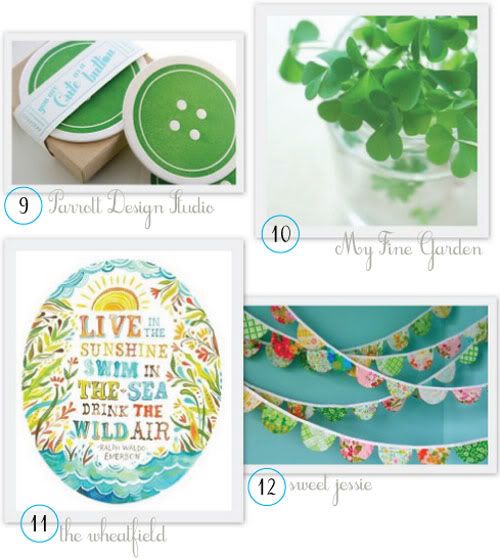 9. Button Letterpress Coaster set of 8 by Parrott Design Studio. These cute coasters are letterpressed by hand and would make an excellent hostess gift or present for someone special. They even come in a cute box! 10. Fine Art Photograph -"Lucky" by My Fine Garden. I am a fan of Shanon's work and this photo is just so sweet. 11. Print – "Wild Air" by the wheatfield (Katie Lombardo). I love how she illustrated this quote in watercolor her work/shop is really uplifting. 12. Vintage Scalloped Garland made by sweet jessie. These cheery garlands are made from vintage sheets and would make a great shower gift along with Shanon's "Lucky" or Katie's "Wild Air" print. I could also see these garlands hung outside for a festive summer gathering.
(images linked to their sources above)
Well hello there friends! I hope that you are doing well today, I'm running around like a nut trying to pack and organize everything since I'll be in NYC by this time tomorrow and have quite an adventure laid out before me. Just so you're in the loop, decor8 will still be up and running while I'm on the road though with a bit less intensity as I won't have a lot of time between shoots to blog but I'm going to do my best to write whenever I can and report in as I'm bringing my trusty macbook along for the ride.
Monday, July 5th is a holiday so decor8 will be closed but you can expect daily posts to show up here each weekday until I'm back at home in Germany on July 19 so no worries — I have the lovely Leslie Shewring helping me out — she'll be covering Take Five Tuesdays for the next few weeks and she will have Color Me Pretty up in a few weeks and lots of inspirational posts in between so Leslie and I promise to keep you occupied between now and the 19th of July.
I can't wait to get started on the US locations, we have so many to shoot between New York and Los Angeles that I'm wondering at which point I will pass out in exhaustion, but I think adrenaline and lots of bubble tea will hold me over until I'm back in Germany. I have some gorgeous homes to visit with Debi, we have lots of nice surprises that you'll see when the book is out next Spring that I've decided to add in last minute — and fingers crossed anyway, you will like them too. I can't wait to see what magic Debi will make with her camera, she is brilliant.
I'll be checking in here on Tuesday so until then, have a wonderful weekend and I'll meet you back on July 5th!
xo,
Holly
P.S. We will know if we have a new home on July 22, we just found out more good news today and everything looks very promising. I can't wait to know for sure, then I can decorate it and you can be a part of the process on this blog. I'd love that. :)
(image: holly becker)
Do you have a favorite sofa? One of mine is the Poeten by Finn Juhl. I would love to own this sofa in all of it's curvy glory. To me, it's feminine and modern… and simply stunning. I imagine owning one and displaying it proudly in a sitting room, near a beautiful large window. Finn Juhl is a Danish designer trained as an architect, not a furniture designer, who was born in 1912.
Best known for his furniture, he regenerated Danish furniture design in the 40s with designs that set him apart from his contemporaries. He sadly passed away in 1989, however since 2001 the the license for his furniture belongs exclusively to Danish company Hansen & Sorensen and the Poeten is one of them. "Poeten is made to the finest manufacturing standards with hand-sewn upholstery, and its legs come in several different types of wood."
All I know is that I want one! I imagine it in turquoise velvet with a patterned seat cover, or in white leather (ahhh), or even in a gorgeous Designers Guild fabric… Ah. Such an eye-catcher. Imagine having buttons that are covered in a different color fabric — like a gray sofa with mustard-color buttons? :)
(images: jansen & sorensen, living & more)
If you love Scandinavian design and bold brights then the new Swedish design company Camp Cirrus may just be what you need to inspire you and thoughts of redecorating today! Decorating is all I think about lately since we have two flats that look very promising and both are beautiful… if we end up moving into one of them I will be the happiest woman on the planet because then I can decorate it! Weeee! I have so many ideas for my next place. I can't wait to see where we ultimately end up moving but it looks like September or October I will have a permanent home. Then the things I write about can expand into some of my own home projects which I'm dying to share more of since I'd like to add new features to decor8. Okay… I digress. Now back to Camp Cirrus in Sweden. These bold patterns would be great on a patio or in the kitchen, wouldn't they? They do look so very Swedish to me…
This is their first collection shown above and it includes textile "jars" for storage, pillow covers, trays, totes and small bags. The pillow covers and bags are hand printed and their design is geared around making beautiful things that are also functional and make people happy. I like that!
(images: camp cirrus)