I'm so happy and proud of Ishtar in Madrid today because she has opened her etsy shop after much thought and preparation — I hope that you will browse her designs and perhaps even find something for your home from her small yet sweet shop because I'd love to see some decor8 readers support her new venture. She has totes and art and all of the fabric that you see is organic cotton. So cute. Ishtar named her new business Belart because it is her mother's last name and she just likes it…
Don't miss Ishtar's lovely blog, too! A big hug of support from me to you Ishtar. xo
(images: ishtar olivera belart)
I recently came across the June issue of Martha Stewart Living magazine and read the Vive la Tarte article which features yummy pastry AND the work of Miyuki Sakai — my heart jumped out of my chest – gorgeous! I thought these backgrounds were hand drawn with yummy things placed on top (brilliant) but then I read further to discover that these drawings were created using a sewing machine (Oh yes, I kid you not)  and I had to learn more about them. For those without access to this issue, feast your eyes…
Imagine the patience, skill and overall awesomeness of this artist? Miyuki lives in San Francisco but grew up in Osaka, Japan where she observed her mother making clothes for the family from a very early age. After attending art school in Kyoto, she moved to Tokyo to pursue a freelance career and then relocated to San Francisco where she currently lives and works. Aren't these deslightful? Now I'm dying make these yummy desserts — this video is a good one to watch if you'd like to make some of your own tarts at home.
(images: martha stewart living)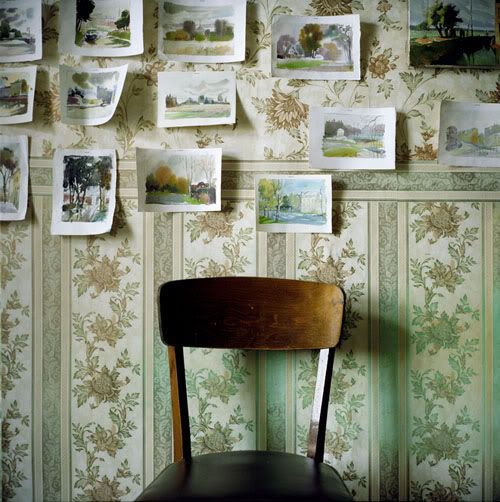 This wallpaper (I bet none of us would look twice at until now), those small nature-inspired watercolors with the white borders, the rustic wooden chair… it's so charming. It was taken by Flickr photographer/blogger Dennis Homenkrov in Russia and it totally speaks to me — which surprised me a bit as this is not a palette I naturally am drawn towards. Does it speak to you? If so, what does it say?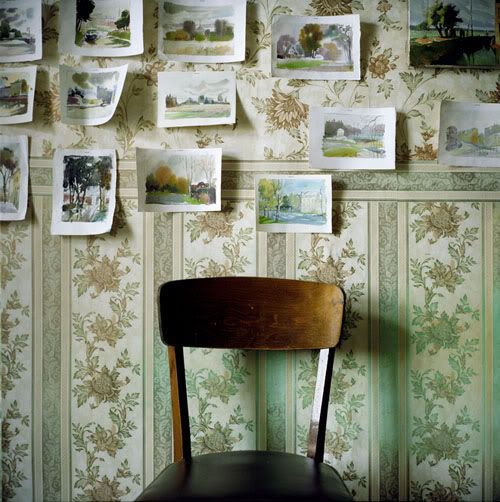 It says to me that most of us need to totally loosen up when it comes to how we arrange things on the wall and more specifically, what we use to display our pretty things in on the walls. I think it's easy to assume that all art must be framed to look good but this photo clearly proves otherwise. If you pin, tape, staple or tack things up with some thought, neatly even, you can place things on your wall that inspire you and you don't have to spend much money in the process. I love a collection of framed art or even a single framed piece on the wall, don't get me wrong, but now and then it's fun to just go with something a bit more freestyle and random.
(image: Dennis Homenkov)
There's a nice decorating book that recently came out here in Germany called So leb' ich – which also is the name of a relatively new German homes website where people living in mostly Germany share their homes in an online community where they meet other homeowners and share their space, rate it, and leave comments.
This lovely new book is authored by interior designer Nicole Maalouf from Urban Cocooning and contains the homes of some past decor8 home tours guests like Nicole, Kerstin and Carolin inside! Congratulations, ladies and I wish you great success with your book Nicole! :)
(images: nicole, kerstin and carolin)