Hello Friends, it is Leslie here with another Color Me Pretty series – the June edition. This time around I played with fruity pinks and purples along with a little chartreuse. Since summer is here for some of us why not liven things up!
In this collection I attached some goodies to a manila folder inspired by Holly's post here. The cute card of the girl's head is by Fifi Mandirac who has a fun and color inspiring line. You can also check out more about her in this post with glimpses of her home in Paris. The other pretty floral card is by Elum Designs.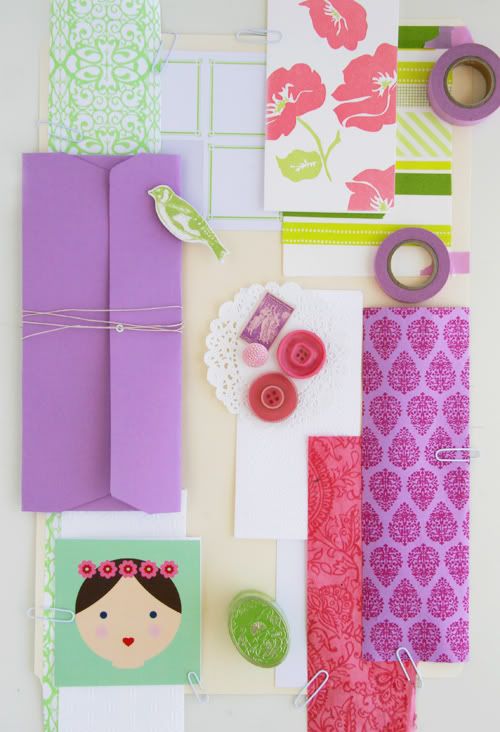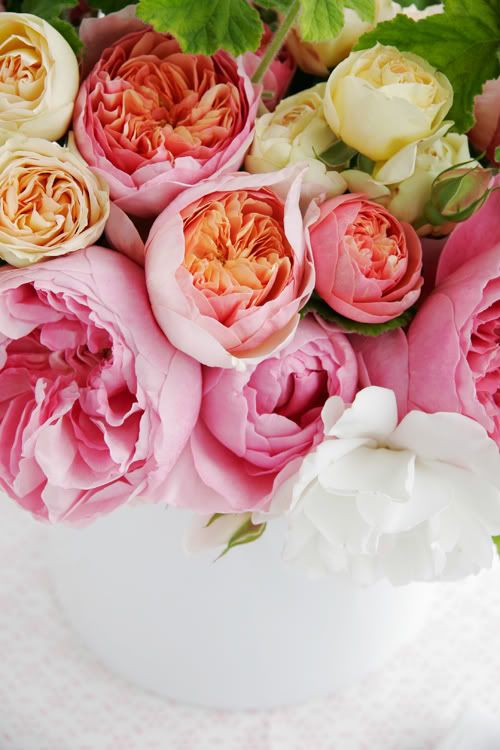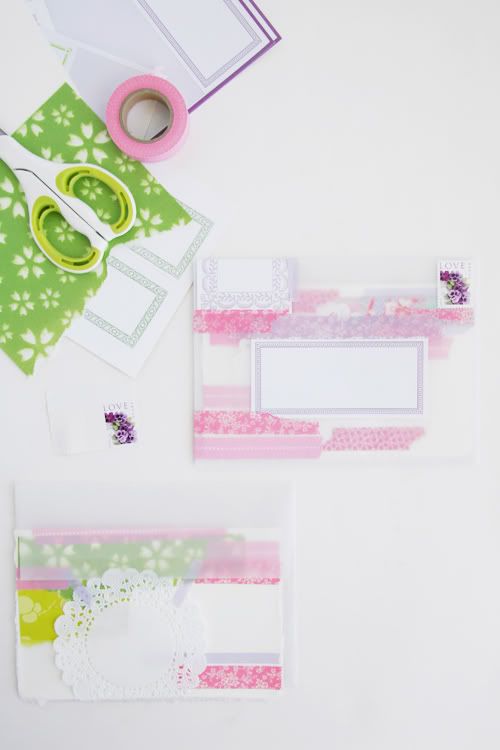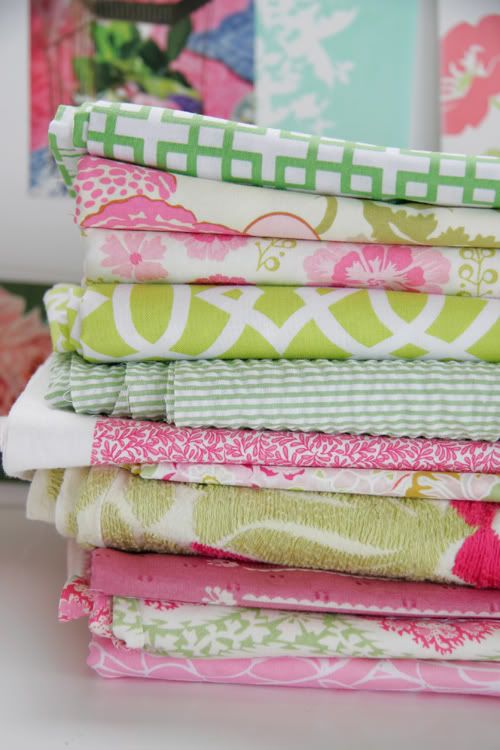 My daughter and I have been mailing out lots of collage work to her grandma's and aunties lately. It is a fun project for her and keeps her busy while Mommy is trying to work. We use semi-transparent glassine envelopes so that her artwork shows through and then we continue collage on the exterior of the envelope. The little works of love have the potential to bring a smile or at least a glance of interest to those who see them along the way to their final destinations. She loves going to the post office or finding a mailbox to drop her treasures into and I love witnessing her process.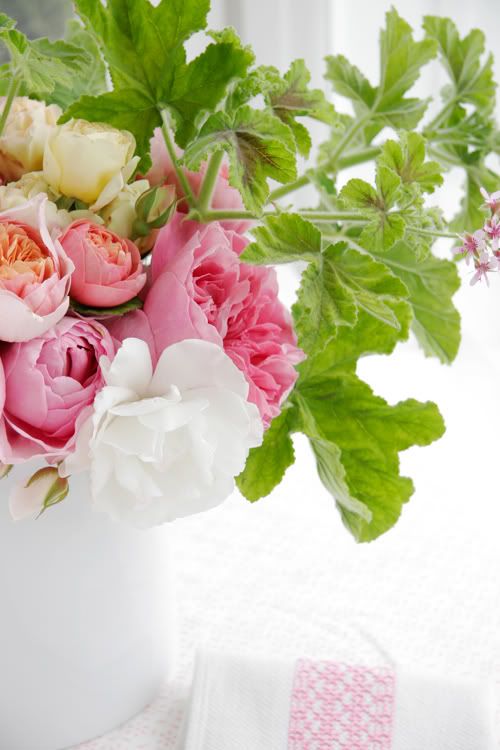 I am still obsessed with roses after my visit to Rose Story Farm last month. All the fragrant varieties are available right now at the flower markets and I have a hard time resisting! In the bouquets some of the roses are David Austen's Phoebe rose which has a strong sweet scent and Yves Piaget, which also smells divine. Both would work well for a special occasion bouquet.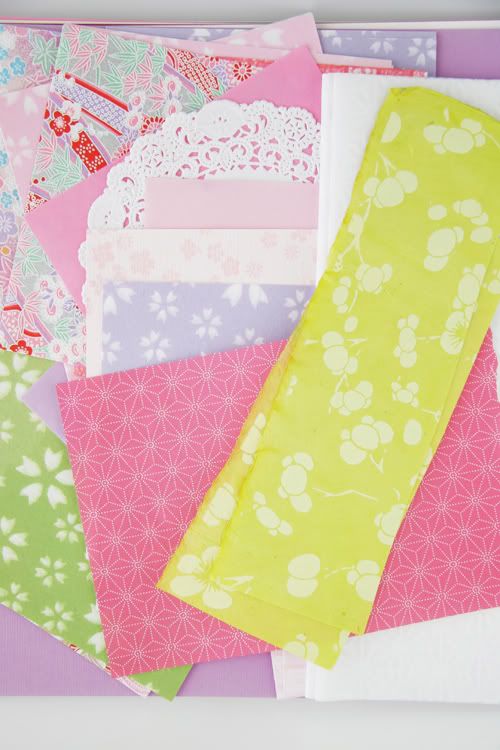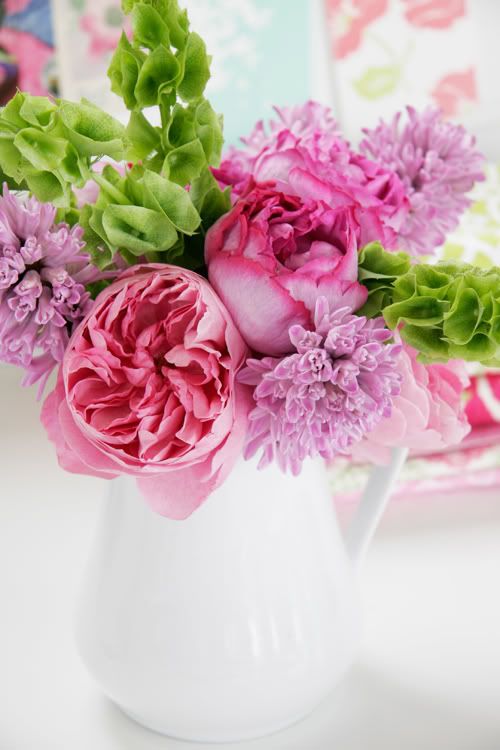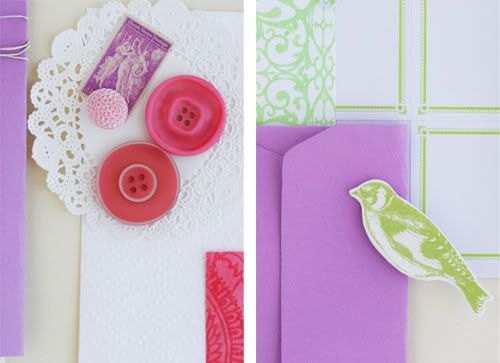 I hope you have enjoyed this series today, a fresh way to kick off a Monday morning! I look forward to seeing you back here with a few more posts tomorrow and Wednesday while Holly is working on her project. Until then, take care. – Leslie
(images: leslie shewring)
It's Friday, the weekend is at our door! Let's look at some inspiring interiors shall we? What a nice way to celebrate a new weekend — to be inspired by interesting spaces. Today we will peek into the portfolio of German photographer Janne Peters who lives in nearby Hamburg. I've been following Janne's work since 2006 and love her eye and the diversity in her portfolio — diverse yet a very noticeable aesthetic that makes it all work together – it's a cohesive body of work. She has a very clear vision and it's crisp, modern and fresh.
Janne works with two of my favorite German stylists too – you must check out their creative and fun websites! You can click on these links below to be carried away to fun places to explore and enjoy.
P.S. The top two images are my favorites — I love the walls and floors being a bit rough around the edges… Sometimes we can't have shiny, perfect white wood floors or gorgeous walls and it's funny, I'm fine with that as I'm rather liking rooms more and more that have imperfections. I especially am into old peeling vintage wallpaper lately…
(images: janne peters)
Heavenly. Just so heavenly. That's what I thought when I read an email this morning from Bianca over at Pergolina, both an online shop and storefront in Toluca Lake, California which is in the heart of Los Angeles. Bianca shared some of their latest stock from Roost and there's nothing I don't like or wouldn't own — it's all simply lovely. Fancy a peek?
matsuri sake set
grove bar collection (Don't you love the linen accent wall? Great DIY project!)
fruitwood boards
bird in tree hat stand – do you see the bird?
marble salt & pepper cellars
serving utencils, flatware and hammered silver collection
About Pergolina, "Pergolina is a lifestyle boutique filled with hand picked treasures ranging from jewelry to homewares to art. We are committed to showcasing functional artful objects that are not found everywhere. Paulanna the owner has been in business for over twenty years and is n inspiration because of her personal style and creative courage."
Do you spot anything that you love? I like the matsuri sake set and the idea of applying linen to an entire wall!
(images: roost)
Onszelf (Ourselves) is a lifestyle brand founded by Astrid Nieuwenburg and Claudia Drübe, two Dutch designers who grew up in Amsterdam. I first heard about them when I was visiting Charlotte who founded the Danish company RICE – she gave me a personal tour of her company and showroom when I was recently in Denmark and a sneak peek of their outlet sale – which was amazing (I found the cutest crochet vest!). Charlotte had Onszelf wallpaper in her building and immediately I asked her where she got it because it was so unique and looked as though it had been illustrated by hand. It was from Onszelf.
About Onszel, Astrid attended the Amsterdam fashion academy Vogue and then she became an interior stylist and her last position before launching Onszelf was when she worked with Eijffinger, a renowned wallpaper and fabrics supplier.
Claudia completed her training at the College for Wood and Furniture in Rotterdam. After a short career as a window dresser at Bijenkorf (large department stores) she also started working at Eijffinger. Then they left to form their own company three years ago creating mostly wallpaper and linens for the kitchen.
If you live outside of the Netherlands you can order the wallpaper directly via Janoli Design Store or by sending an e-mail to info AT janolidesigns.nl. They are the official exporter of the brand Onszelf.
Thank you so much Charlotte for telling me about these talented ladies!
(images: onszelf)