I've been following the work of Atlanta-based photo stylist Annette Joseph for several years, she is both a stylist and producer who specializes in lifestyle editorial images for American print magazines such as Better Homes & Gardens. Annette has been doing this for over 15 years and is currently working on her first book and a television show based on her book about style and entertaining.
When I read her bio I enjoyed learning more about how she produces editorial images, "Her special production products include conception of projects and storyline. This can include anything from simple craft projects to decor tips and recipe and entertaining ideas. From presenting the initial story idea to producing and styling the final product. Annette can handle it all bringing style and creativity to your projects."
Do you recognize her work? Some of these images I've had tacked to my inspiration board over the years from time to time. I particularly like her pages that involve craft layouts and floral arrangements because they feel casual and creative — when I see her layouts I feel like doing something creative too which is a sure sign that I need to surround myself with more of this person's work!
(images: tear sheets from annette joseph)
Let's pause for a moment and think about the good friends in our life as you scroll through the portfolio of Ericka McConnell. Are a few faces popping into your head of those whom you admire and respect? I'm sure that you value your close friendships and this post is a little celebration of the wonderful people in our life who make everyday a bit sweeter. From childhood to today, we all value those who have entered our world and made an impact on our life.
Here in Copenhagen I'm forming new friendships, which feels really sweet, but I also like to take my friends with me as I travel in the form of memories because then I never feel lonely or far from home. I'm really enjoying Denmark so far. We were in Sweden yesterday and now we're back at our base in Copenhagen where I'll be for several more days. I've been finding some fantastic shops and cafes, I feel like I'm walking around in a city that is a bit like a giant blog — so many pretty things collected and shared in a single environment — it's just grand! But mostly, I am on trains traveling to a variety of beautiful homes working hard but having fun as I go. When I return next week I'll share some of my finds from shops to cafes with you but until then you'll just have to take my word for it – working and playing in Copenhagen is fun stuff!
So yes, let's celebrate good friends and good times for a moment now, shall we? Think of your plans for summer, your girlfriends, upcoming travel plans… oh the fun that you'll have! Allow these photographs from the talented Ericka McConnell, who is represented by Judith Miller Inc., to transport you to your happy place. Ericka's work has been published in national magazines and is quite lovely – her portrait work of both adults and children is described as both flirty and fresh but I'd like to add to that — I think her style is also very casual and "real" which I appreciate so much in modern portrait work because those Sears studio shots and Olan Mills photos that I have from the late 70s/early 80s of myself make me a bit annoyed that a more casual approach to mainstream portrait photography didn't exist back in the day, ha ha! And if you are "vintage" enough to remember those backgrounds printed on roll up shades that they'd pull up and down to give you a new scene to pose in front of then you must totally appreciate modern portrait work just as much as I do! Oh my, I remember some very ugly backgrounds in some of my school photos…
And I guess, in closing, I should ask this: what are some of the qualities in your closest friends that you admire and cherish the most? When you look at these photographs what words come to mind that have to do with forming and maintaining friendships?
I would love to read your comments, I find it so fascinating to see what people often appreciate the most about their friends.
(images: ericka mcconnell)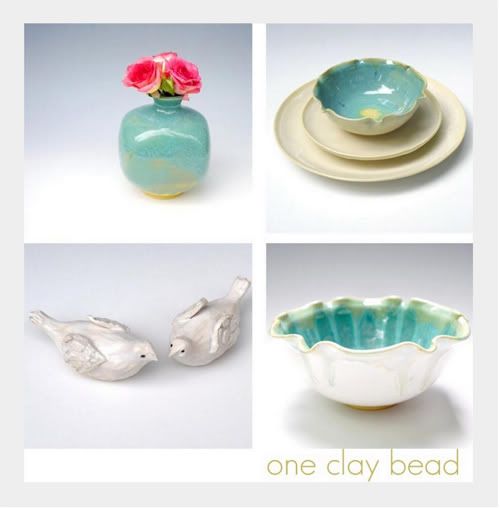 Hello again decor8 readers. This is Heather from Gathering Spriggs and I am back today to share with you five stellar Etsians while Holly is away in Copenhagen this week working on her book project. As I gathered these treasures together like a wildflower bouquet from a wooded walk, I realized my intuitive attraction to each shop came from their reminiscence of days gone by filled with the color of faded robin's egg blue, scalloped edges, and a simple connection to nature. So without further ado here are few treasures to share with you today… (hope you enjoy this gathering of simply stated wares as much as I have).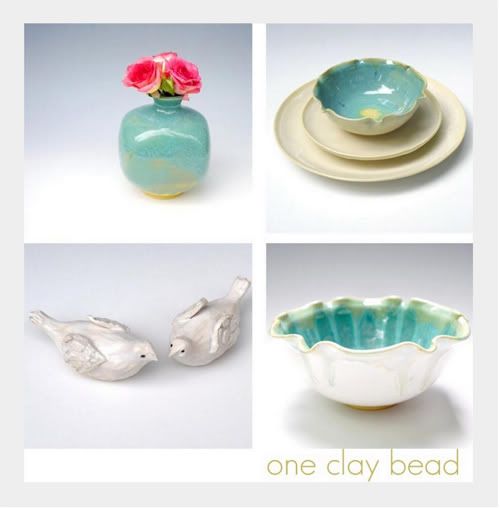 The first shop plucked from today's bouquet is One Clay Bead, the functional handmade stoneware serving, dinner and home decor pottery pieces from Asheville, North Carolina. Each piece is handcrafted from a life long artisan whose creations are honed from the natural surrounding of the Blue Ridge Mountains and consciously created with environmentally friendly processes. These pieces are not only beautiful, but durable, functional and sustainable.
Another such artist inspired by nature is Tricia Brink of Lynden, Washington, who wears many different creative hats including three Etsy shops, and a brick and mortar store shared with her mother and sister. But today's feature is her etsy shop, Wesley Asher, which focuses on all things natural, textural and pastoral. To me these works breathe timelessness with upcycled elements and a nod to past yet updated by Tricia's incredible eye for design.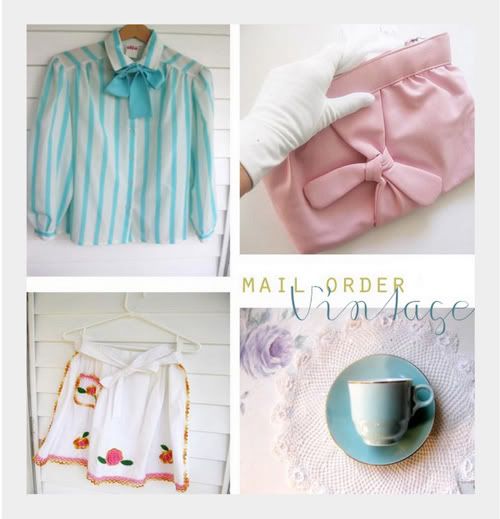 Next posy to pluck is Mail Order Vintage a fun vintage shop whose shopkeeper has a similar addiction as mine, hunting and gathering at second hand stores bringing home faded objects and making them new again with a feminine touch. She dabbles in clothing, vintage linens, housewares, and accessories, from Hamilton, Ontario, Canada all with a subtle granny chic vibe.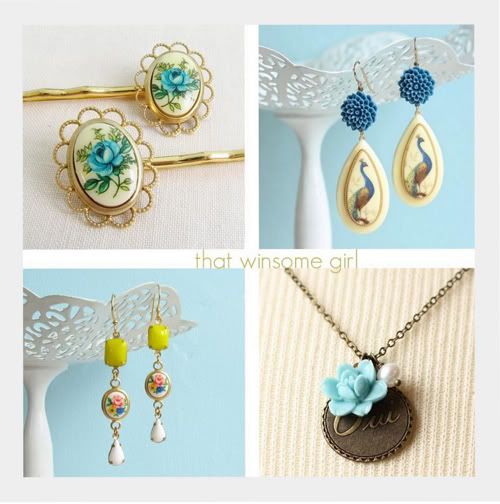 Another one of my personal favorite jewelry makers on Etsy is Amy Kelly of That Winsome Girl who creates soft, feminine pieces with a touch of vintage. Based out of Lexington, Kentucky, Amy crafts as a way of life, a passion which comes as naturally as her love for baking.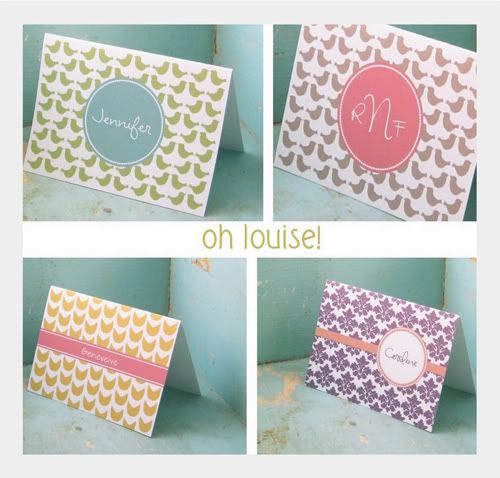 Lastly but certainly not least in today's gathering is the well-designed personalized stationary products of Oh Louise! This Dallas, Texas stationer, Eleanor Louise, gives creative credit to her grandmother for inspiration and the name sake of the store. Although she learned from her grandmother using Print Shop as a child, Eleanor now creates each custom card design in Illustrator but her work still holds a timeless quality and nostalgic color palette that I adore.
Thanks again Holly and dear decor8 readers for having me back today!! Hope I see ya around again soon. – Heather.
(images linked to their sources above)