Hello and happy Monday to you! I've slowly been coming down from the whole food poisoning bout that I had… I thought my illness was a cold but no, it was definitely something I ate and it nearly landed me in the hospital. I will visit the doctor tomorrow just to make sure I'm nearly over this. It's been a tough week! Yesterday I was able to get out for the first time in days and went to a garden festival (link here) and enjoyed the beautiful flowers, plants, tents filled with vendors selling their wares, and wonderful food tents though I wasn't able to eat a thing as my appetite is gone for what feels like forever. But I did find a pretty spring blouse, a small silver bird and a watery blue-green ceramic planter in an organic heart shape that I just love. A few nice things always lifts the spirits! The festival, fresh air, sunshine was all very nice but after a few hours I was exhausted and ended up home on the sofa with a pot of tea and a stack of magazines and a DVD which ended up being equally very nice. I love lazy Sundays!
In my stack 'o mags, I pulled out the June issue of VTWonen magazine and on page 130 I stopped and stared at the wall believing it to be vintage wallpaper with doilies on it. Then I checked the sources and nothing was listed but noticed instead that it was not wallpaper at all but a vinyl tablecloth cleverly adhered to it! Well imagine that… I love seeing things used in ways that rebel a bit against their intended purpose… almost like this tablecloth told the homeowner, "Hey you, loosen up a bit and stop following tradition and just throw me on the wall already, will ya?" and the homeowner followed orders.
Don't you adore this idea? I'm wondering how, long term, you'd adhere a vinyl tablecloth to a wall without ruining the wall? Ideas? And in what rooms would this be practical as it wouldn't work in a formal dining room and certainly not in a bathroom. I imagine this working though in a child's play room or in an eating nook as shown, especially if you have little ones, this would be a great easy-to-clean budget idea for sprucing up dull walls. It may also be a nice touch in the mud room, laundry room or entryway. And now this has me thinking of alternate ways to use vinyl tablecloths and I wonder how well they'd work as throw rugs (may be a bit slippery so I imagine you'd have to put thought into this before just tossing one down). Could also work as flooring on a small covered balcony if you adhered it properly… Hmmm. What do you think? Where do you see a vinyl tablecloth other than the table? Perhaps you could cut one and frame it as art too?
This photograph was styled by Judith Dekker (does anyone have a link to her portfolio online?) and photographed by Alexander Van Berge.
(photo: vtwonen)
I'd like to wish you a very happy weekend! Next week I will be reviewing a book that I know you'll love, Leslie will be back with an inspirational Color Me Pretty post, I'll round up some "London must-see" stops for those of you planning a trip there in the near future, and I'll be sharing some of my highlights from London as well including a few favorite cafes that I know you will love (I did!). I'll see you back here on Monday for a new week of inspiration and beautiful thoughts + things to inspire you. I also want to talk about something next Thursday that was inspired by a recent article that I read in a woman's magazine that I think many women reading this blog will want to read so stay tuned for that — it's a heavy topic but I feel like posting it anyway so next Thursday I will!
Above is a bit of a glimpse of what afternoon tea looked like for me in London. I loved the gold teapot and had to capture the moment. Another thing I must tell you is this… you know when you travel there is always one song that will forever remind you of that particular journey? Well my "theme song" for my London trip is Guns and Horses by Ellie Goulding (it has a great hook). I picked up her CD (you may like it?) and think it's just grand… And this leads me to a question because now I wonder if your last trip also had a theme song.
Where did you travel last and what was your "theme" song?
See you in a few days on Monday!
(image: holly becker for decor8)
I'm back from London and so glad to be here on decor8 again because I've missed you very much! I really dislike being unplugged for so long but I hope that you have enjoyed a few of the guests that have posted while I was away. How have you been? I caught a virus while away, so the last half of my trip was a bit of a downer as I spent wayyy to much time in my room but what can you do?
At least I enjoyed the first part of my trip and so next week I'll be back here blogging full-time and also talking about some of the places that I visited including a bit of a "Best of London" through my eyes so that if you plan to visit you will have some special addresses in your pocket while you're there. The first must-see that I'll share before we begin the weekend is Squint, an eclectic atelier and shop that I visited and enjoyed very much though I wish I had spent more time there but was in a bit of a rush between appointments Just look at the beautiful things that I saw up close + personal. Inspiring, or what?
Seeing Chesterfield sofas and Egg chairs covered in a melody of patchwork in some of my favorite fabrics was such a delight. I briefly spoke to the owner/designer Lisa Whatmough and also had a quick conversation with a lovely designer whom I was able to watch create a patchwork pattern on a dresser which inspired me so much! I was told that they use a combination of fabrics that range from new prints from companies like Designers Guild to vintage prints that are no longer being produced. Each piece is an original and I fell in love with the magical colorways and overall cheerfulness that you couldn't help but feel when looking at any of the Squint items.
If you are in London I highly suggest dropping by (178 Shoreditch High Street, London) — it's such a delight! If you'd like to learn more about Lisa Whatmough, you can read an interview that Mydeco had with her here.
Would you like to have something from Squint in your home? What would it be? I would like a bench for my entryway. :)
(images: squint)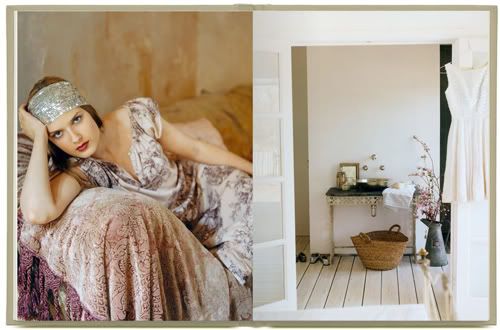 London-based stylist Twig Hutchinson never fails to sweep me off of my feet. Whenever I visit her website I feel as though I've stepped into a magical book filled with delightful stories set amidst deliciously dreamy surroundings. As you know, I'm currently in London and as I walk around here, popping into stores, visiting with some friends that I've made via this blog, I'm reminded as to why so many who live in this gorgeous city as producing equally lovely work — you cannot help but do great things in a place like London!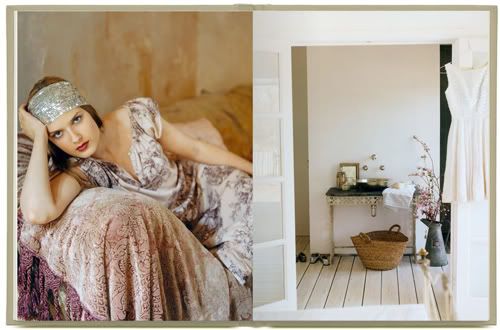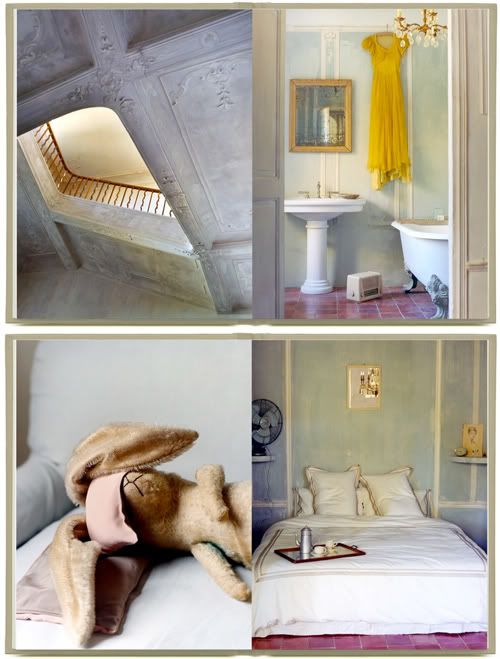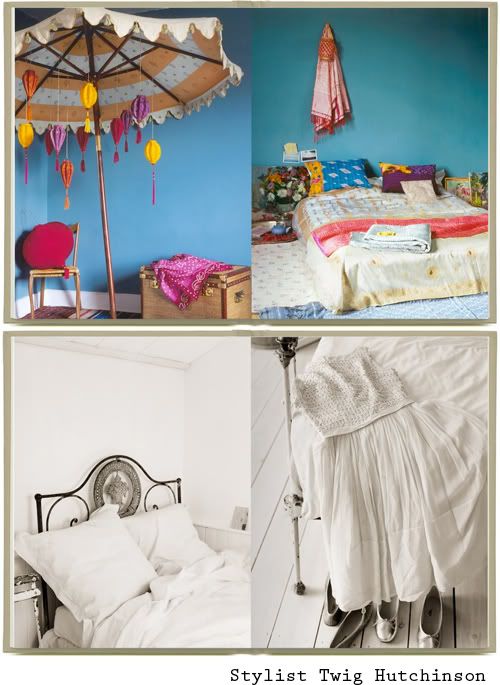 I'm having such a great time, but still reading your comments and tweeting as I am able. There is much happiness in my life currently… I hope that my joy is contagious and that your days are filled with good things too. I wish I could have placed you in my pocket for this fantastic journey, and I can't wait to tell you more about what I've done here in London but this will need to wait until my return on May 21 because I have to run off now to meet a friend in Hampstead. See you! xo, Holly
(images: twig hutchinson)