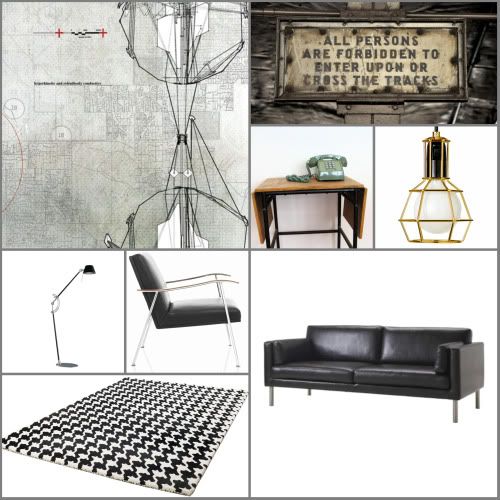 Hi there! It's Brigitte again. Apparently my last guest post tricked Holly into thinking you'd enjoy another post. :) Today, I'd like to take on a different topic. You see, I may write about design, but I am a bookworm to my core. And, recently I read a book that drove my mind in a thousand directions. The Girl with the Dragon Tattoo. Have you read it? WARNING: It is not for the faint of heart. Seriously. But…in my mind, the payoff is worth it. Intriguing mystery. Interesting characters. And a little (ok, a lot) of social commentary mixed in. And, the "girl" is pretty interesting. She's anti-social, a bit punk and generally counter-culture. And the book is set in Sweden. The land of put-it-on-an-alter decor. But this girl, she's not exactly rich. And she wears t-shirts with messages like "I am also an alien." Much of her decor comes from a dumpster. Of course I immediately set to designing a living room for this intriguing character which I'm gong to show you now.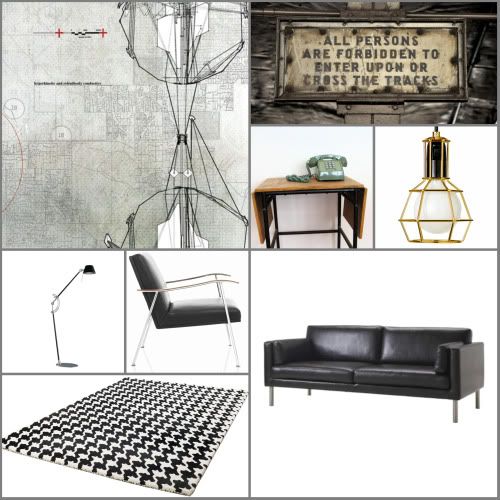 It's a little punk. A tad bit edgy. And very industrial. And then I noticed, much of the Swedish decor we so admire is a bit industrial — and even a little hard.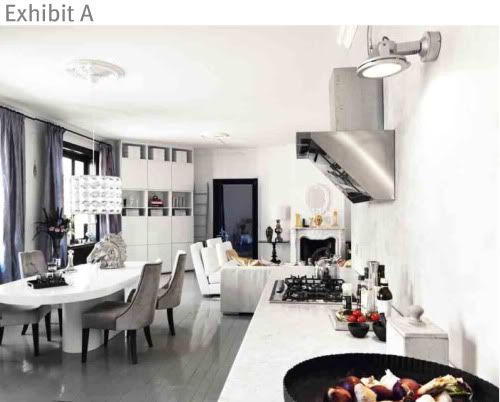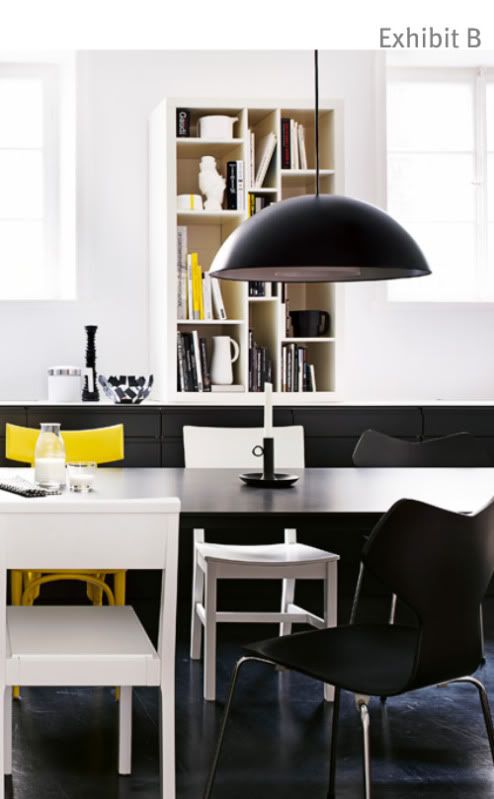 Collage sources from first image: Hemispheric Disconnect Print, Cross the Tracks Print, Rustic Industrial Typewriter Telephone Table, Work Lamp – Gold, Compass Desk Lamp, Sahara Chair, Hundtand Rug and Ikea Leather Sofa.
I like the idea of actively seeking out the outliers in many of the design styles idealized around the world (French decor also comes to mind). And, as a former punk myself, I loved designing an edgier type of room.
Who else harbors these same counter-culture tendencies? Don't you think it keeps things fresh and interesting? I'd love your thoughts! – Brigitte.
(images: linked to their sources above)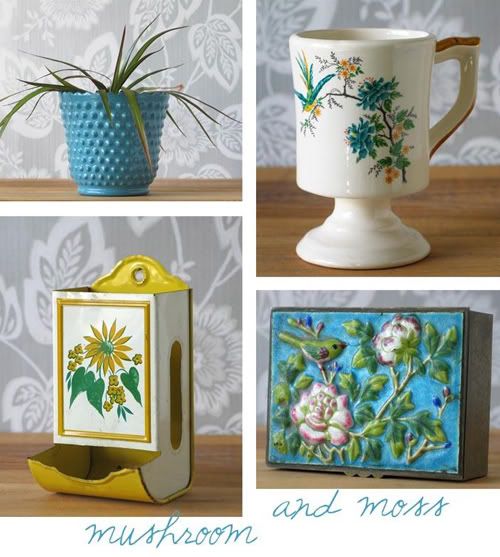 Greetings decor8 readers! This is Heather Spriggs Thompson from Gathering Spriggs based out of Nashville, TN and I am here today as a guest columnist presenting Etsy Take Five Tuesday with some of my personal favorite etsy sellers! What an honor to be here filling in for Holly while she is in London for her book. I will be back next month (June 1) for more favorites when she is working in Copenhagen. Yippee! Hope you enjoy this collection. Can you tell I heart pink, aqua and golden tones? Its the theme today… dreamy spring pastels.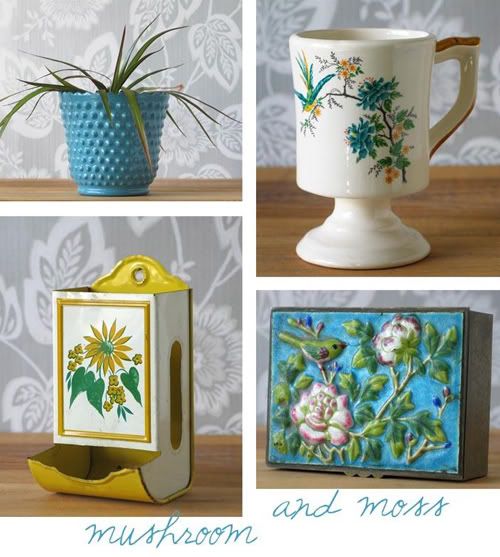 You may know the beautiful work of photographer Cori Kindred but did you know that she also sells vintage housewares in a shop on etsy called Mushroom and Moss Vintage? Her familiar style and love for nature and thriftiness shines through in this colorful, quirky mid-century shop. Based out of Portland, Oregon she is part of a creative circle and I especially love the styling of her vintage finds and of course the photography is perfection!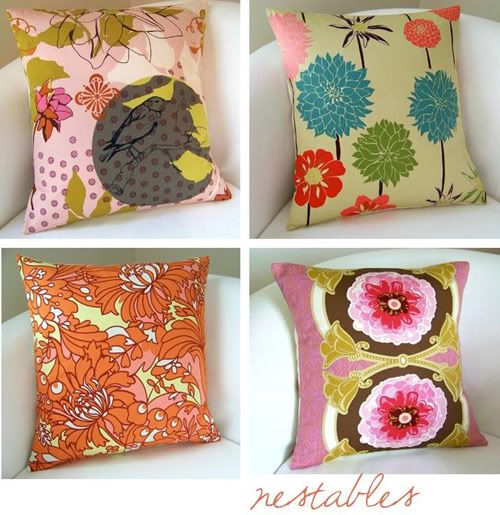 Nestables has beautifully sewn objects for the home such as pillows and banners from many of my favorite textile designers like Amy Butler, Anna Maria Horner, and Joel Dewberry. Based in Ohio, this crafter loves to nest and create sweet lovelies for her home and yours too.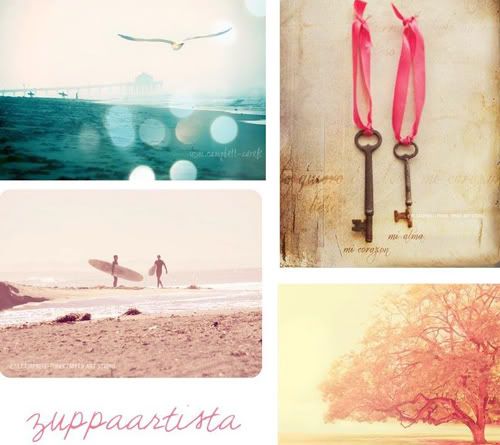 The dreamy work of Los Angeles artist, Zuppaartista, makes me start California dreamin'. This is ethereal photography with an artist's eye and a nostalgic hue. If you love LA or need a souvenir of your recent Pacific Coast visit then this shop is for you!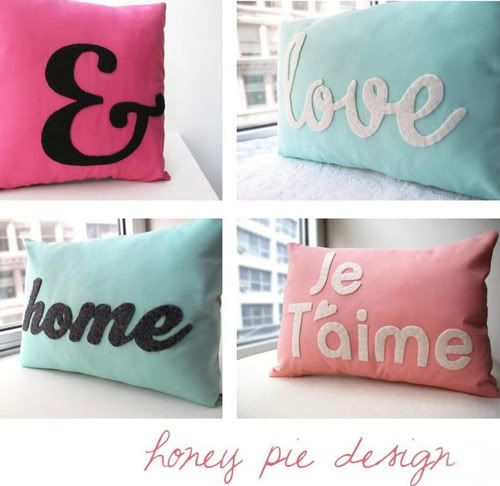 What is not to love about these precious toss pillows? Pastel hues, graphic and whimsical typeface sewn on with words of comfort… Ahh… heavenly. I could just curl up right now. These treasures are handmade by Lana of Honey Pie Design who is a New York-based graphic designer and stay-at-home mom extraordinaire who sews for her daughter and for the love of crafting. "I love working with my hands and am inspired by colors, patterns, textures, be it paper, fabric or yarn," Lana says.
Margot Bianca is the shop of an incredibly talented textile designer who is a practicing studio artist that also enjoys selling functional products. I fell in love with her work about a year ago as I was looking for some napkins for my home and spotted her Seedling Dinner Napkins (shown above) in my favorite color: coral. Her work has a global flare that works perfectly for summer dining alfresco. Her designs are influenced by Indonesian and Indian designs and created  using traditional batik techniques. For more info about her process read her profile page.
Blessings today and see you back in a couple of weeks! – Heather.