One of my readers, Shannon, reminded me recently of Kerry Cassill's work and I thought I'd show some of her pretty Indian-inspired fabrics for a moment. Kerry's shop, Lala, is located in Laguna Beach, California and I had the privilege of visiting her beautiful city in 2005 and loved it — but didn't get to stop into her shop. I drove by Lala and I still recall how disappointed I was that it had already closed for the day! Once you see her incredible patterns and colorways before you'll see why I was so sad… I love this laid back boho vibe because in the middle of February all I can think about right now is springtime!
Kerry lives in such a gorgeous part of the world and I love how she takes her light-filled natural surroundings and combines the beauty of coastal southern California with her love of Indian prints and patterns to churn out what feels very much a mix west coast bohemian meets the pattern and color-filled streets of Mumbai. I would gladly flaunt Kerry's textiles in my home and wish they were available in Germany because I'd love to design a Cassill-inspired guest bedroom.
Psst: You can shop for her lovely home things here.
(images: kerry cassill)
It's Thursday, almost the weeeeekend! Yay! How are you? I've been working on a few projects which includes a little book tourand launch party so that has consumed lots of my time recently. It feels surreal to be a debut author and to be able to take it to the streets very soon. I'm not sure where or when yet, but as soon as I know more about my mini book tour I will be posting about it on decor8 (and on the Decorate fan page over on Facebook) and inviting each on you to come play! Now let's talk stylish commercial spaces.
I don't write alot about commercial spaces because most of them don't do it for me if you know what I mean. Seems lots of places follow very specific formats when it comes to bars, cafes, shops and though I understand why I often wish some designers could still follow codes to the letter yet manage to bend the rules ever so slightly to develop a few new concepts. That is why, when reader Mia sent me a press release announcing the fabulous Mikkeller Bar in Copenhagen located in the heart of Vesterbro (I love it there) and I had to share it on decor8 the moment I saw the photos. It opened last May and looks fantastic, wow!
Mikkeller is one of the world's best microbreweries known for experimental brewing and they recently teamed up with Danish design agency Femmes Regionales to create an elegant, charming spot to socialize and grab a beer in the center of Copenhagen.
"We found the contrast between the classical pub interior and something more modern really interesting," says Caroline Hansen, one of the founders of Femmes Regionales.
The bar is a casual, quirky and yet sophisticated space with wooden tables and benches, a shiny wall of black tiles and gold details found in lighting and hardware. They wanted to make the setting a bit tranquil so the crowds that it draws would chill out vs. bang their fists on tables and behave like your typical sports fans that you find in most pubs. "We like to demand something from our audience – beauty generates beauty", Caroline explains. This pub is one posh place to grab a glass of ale! We need this in my city of Hannover! I love the fresh green and yellow accents, definitely not what I'd expect to see in a pub and is a very refreshing change for sure.
(images: mikkeller bar)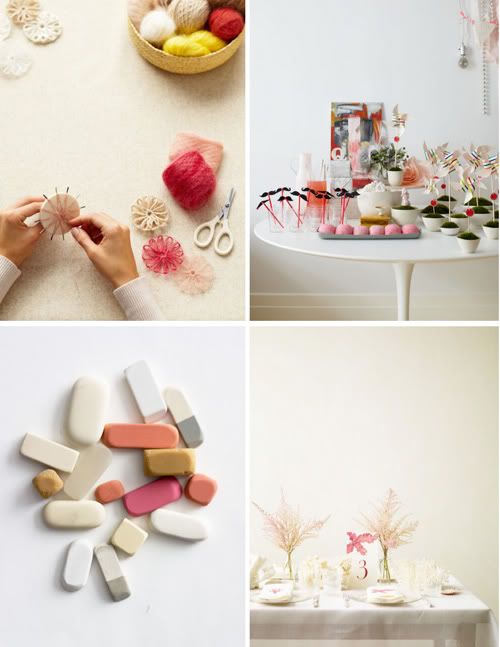 I was reminded recently of Johnny Miller's work from event planner Amy Atlas since she is documenting her new book project and recently revealed that she has teamed up with him to shoot some of it. Johnny is a true genius, he is definitely one of my top ten photographers in the world and Amy is a very lucky lady to have his creative vision for her book — but then again, he is very fortunate to have Amy because her dessert tables are stunning. Together Amy and Johnny make a winning team!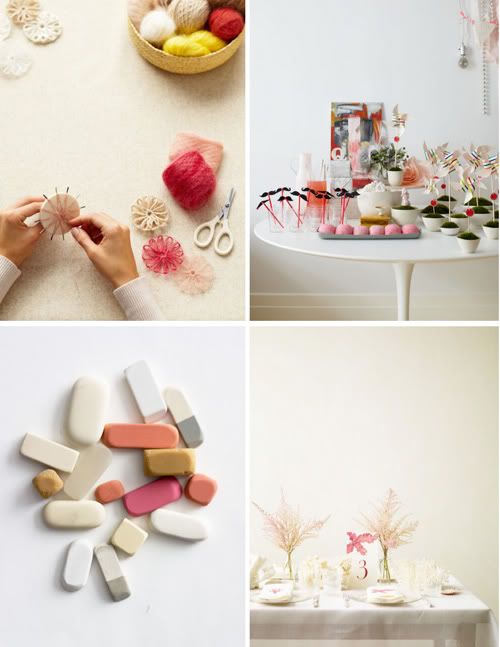 Johnny also photographed the newly released craft book, Paper & Craft, authored by the fabulous Minhee and Truman Cho (love this video of them and their cute baby) who run Paper + Cup — the book is available at Chronicle. I have a copy and I really liked the Mommy + Me Flower Shoes project and the Cone Wreath project, both show below.
Johnny is from Kansas but now lives in Brooklyn and works with some fancy pants clients like MSLO, Kate Spade and Anthropologie. He earned his BFA at the highly regarded Parsons School of Design and then went on to assist photographer Mary Ellen Mark for nearly three years which was no doubt the experience of a lifetime. Johnny blossomed into quite the photographer with his work in numerous ad campaigns, catalogs, magazines (Martha Stewart Living comes to mind), books and has been exhibited at the Center for Photography, New York Historical Society, Museum of Contemporary Photography, Museum of Modern Art and the Museum of the City of New York. Not too shabby!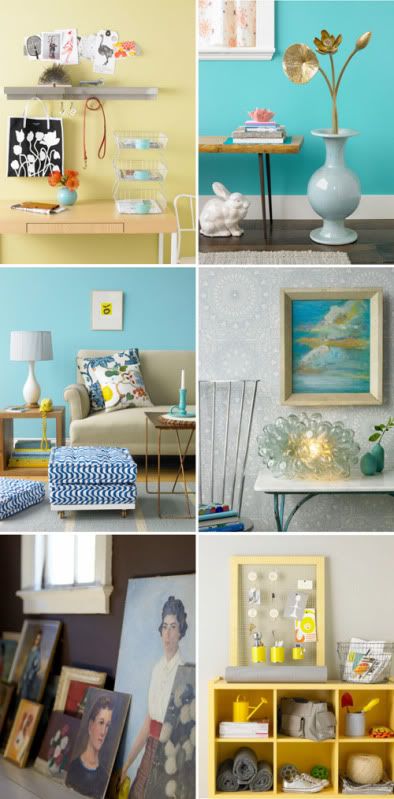 If you aren't already impressed and slightly jealous, there's more! You can even find Johnny's photography included in the permanent collections at the Library of Congress, New York Historical Society and the George Eastman House. What an amazing career Johnny has going for him and well… from the looks of things, he deserves every bit of success he's earned.
(images: johnny miller)