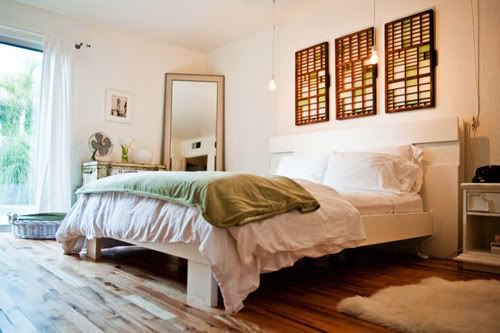 Love green and white? Need bedroom decorating inspiration? Looking to give your sleeping quarters a spring makeover? I have a great budget bedroom to share with you today that decor8 reader Marlise Kast-Myers wants to share with you. She wrote in from San Diego to tell me about her recent decorating project — her five bedroom home! When you think about decorating such a large space, you instantly imagine investing thousands of dollars and going wayyyy outside of your budget, don't you? Think again…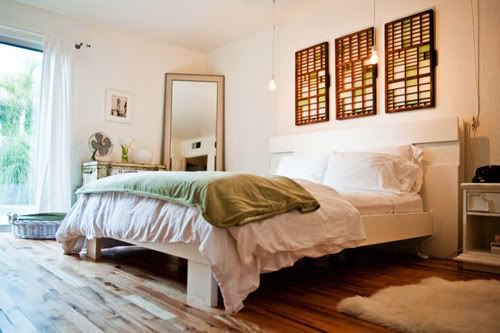 Marlise was determined to stay within budget so she was smart about it — she did a lot of her own work alongside her husband, graphic designer Benjamin Myers. Together, they installed floors from Lumber Liquidators, made their own light fixtures, Benjamin made the framed art and the work above the bed. They also handcrafted their bed frame and headboard and sourced for furniture at antique/vintage shops and craigslist. For a personal touch, because every room decorated from scratch needs a few items that connect you with cherish people or memories, Marlise incorporated a special trunk given to her by her parents to serve as both functional and beautiful storage. The entire renovation of their five-bedroom home was under $4,000 and their bedroom was less than half of that!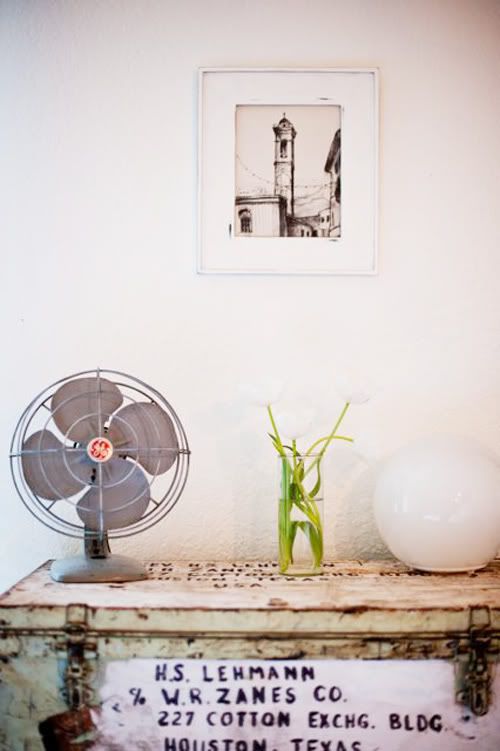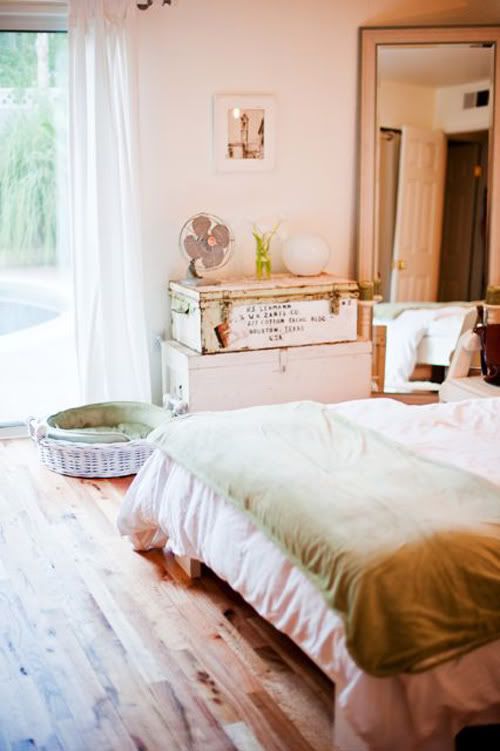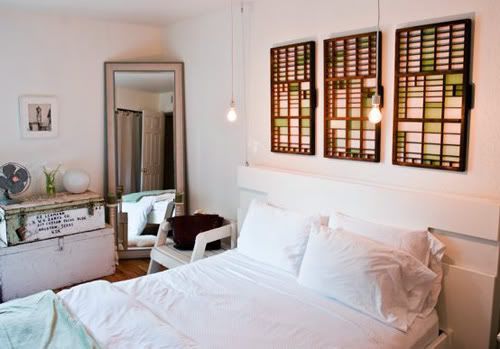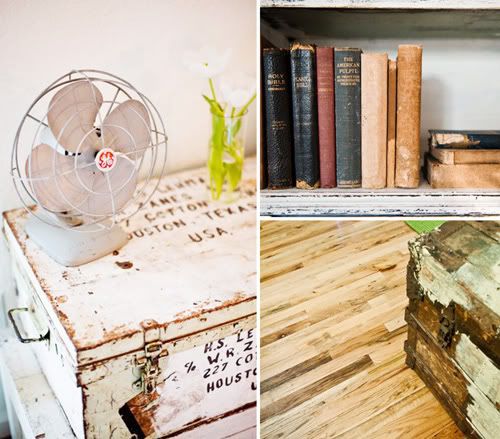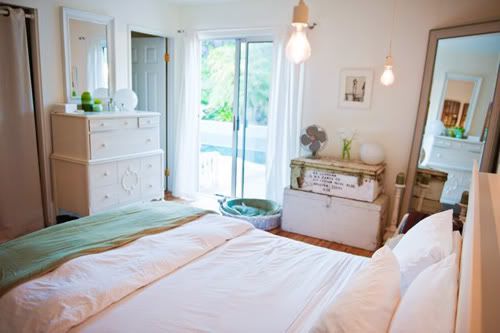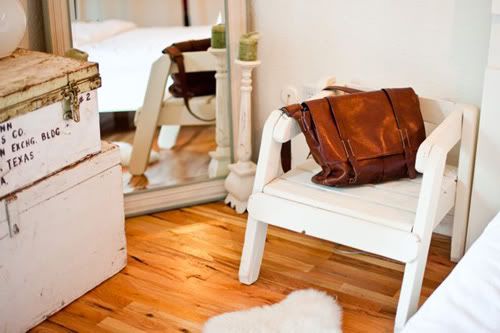 Going for a vintage modern vibe, Marlise explains her jumping off point for her bedroom, "Our inspiration came from the boutique hotels we have visited around the world. Ben is naturally artistic so sometimes it is difficult for me to see his vision until it all comes together. I sort of go along for the ride! He loves the clean fresh look of white with only a splash of one other soft color so we tried to keep the room somewhat minimal so that the design could speak for itself." It's not surprise that Marlise has stayed in a lot of hotels — she has co-authored several travel books including many Fodor's guides!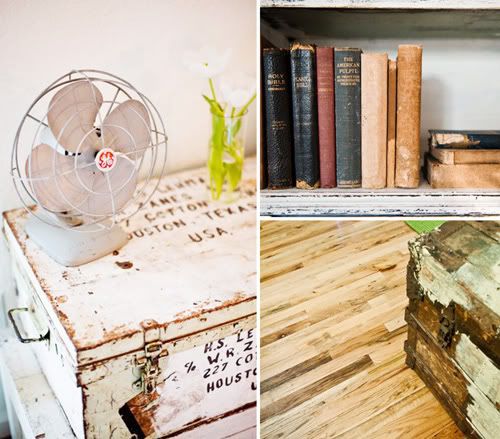 One her favorite pieces in the room is the mint green metal steamer trunk that carried her grandparent's belongings when they migrated from Africa to the United States, you can see a peek of it above. I love the patina. The antique tiered dresser is gorgeous too and I like how they cleverly used vintage printing press drawers as statement art over their bed. Her husband is a fan of green so he opted to paint some of the squares in the drawers in green to tie in with the trunk. An old metal fan, other shabby worn trunks with handwriting on them in black ink, sheep skins from IKEA, candles, and soft flowing drapes give the room a warm, tactile feeling. The various tones of white that are used range from pure white to cream so the room is not at all stark but warm and inviting. This budget bedroom looks lovely and proves that you don't have to sacrifice style to stay within your budget. Beautiful!
(Images: dna wylie photography)
West Elm contacted me last week with their latest offerings for spring (wowie zowie, so pretty!) but I've been a bit behind this month since I'm also teaching a huge class online so I'm reviewing this a bit late (eep!). I know that it's been hopping around blogland already but I feel inspired by it so I'm posting anyway since I'm a huge David Stark fan, I know who isn't, and the David Stark Collection for West Elm is gorgeous!
David was inspired by the Mediterranean light and the clear blue sea along with his own roots as a painter — so he decided to combine raw canvas and gesso to create baskets and bottles wrapped in artist's canvas and porcelain soup cans that can be used as vases. I love his dinnerware splashed with gorgeous blue tones with that painterly vibe to them — it's a treat to see this! Blue and white is such a great palette for warmer weather, I always feel so invigorated when I view various blues that resemble ocean water, they can range from moody blues to exhilarating blues. Paired with white along with modern lines and lots of natural texture and the look can suddenly become quite nautical chic with a more high end Greek resort vibe.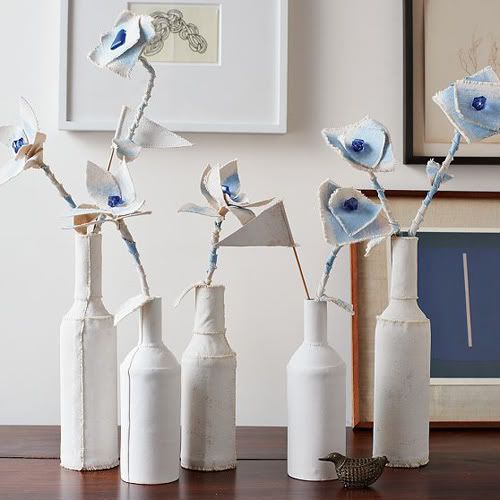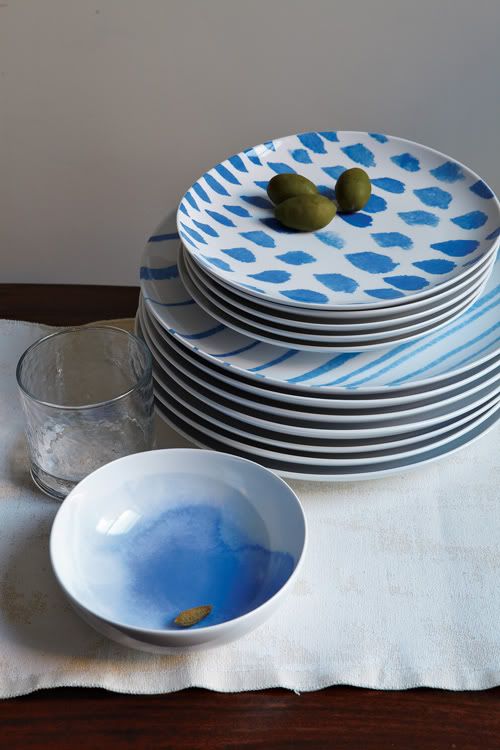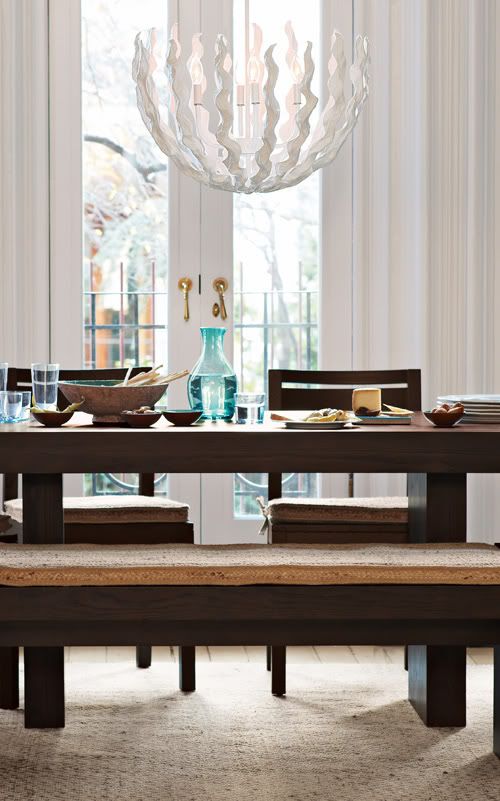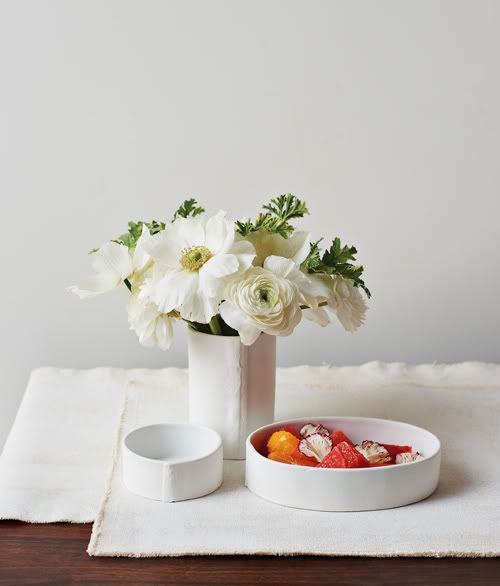 I also like seeing Tennessee-based husband and wife design duo Bill Pritchard and Jane Gray from Stray Dog Designs with a collection at WE as well because I've followed their work since 2006 and love what they are doing with papier-mâché and I think that in the right setting their pendant light is divine and a statement piece. I don't want to gush but by golly gee I love seeing what's coming out of WE lately… how inspiring. And the styling and photography – spot on!
(images: west elm)
Hello everyone! I hope your week is going well so far. I'm so glad to that it's officially springtime and feels like it where I live as well — the weather has been beyond gorgeous with lots of sunshine and temps around 60 which is perfect for March. I love the things that springtime brings, like clear blue skies, daffodils and aisles of amazing Easter candy in the stores over here – Germans really get into Easter let me tell ya! Man! I am amazed by the variety, quality and packaging. I also love the way the locals decorate this time of year — hanging branches adorned with ornaments (like eggs or painted rabbits) for instance…. And there is a lot of energy in the air because you can feel that everyone's spirit has lifted after two months of a very gray blanket and darkness falling by 3:00 p.m. which can really suck the life out of even the most positive person.
The grass is getting green, the birds are singing, there is magic in the air for sure. Yesterday was my birthday and so today I woke up into a brand new year of my life thinking of all that I will do and want to do. I am very pleased to welcome spring and equally happy to be experiencing my second spring abroad as I feel it is a genuine accomplishment, a milestone, I'm really making it in a foreign country on all new turf and so I have this extra confidence boost from the goals I'm reaching.
By the way, I'd like to share a random thought I had recently… It's amazing how the internet has brought so many passionate, talented, and sincere people into my life — your life — all of us really… I know I would not have met most of you without having a blog. It is likely that you are also blogging or using other means to network and so I'm sure you can relate. We're a lucky bunch, aren't we?
Back in a moment with a few inspiring posts for today!
(image: holly becker for decor8)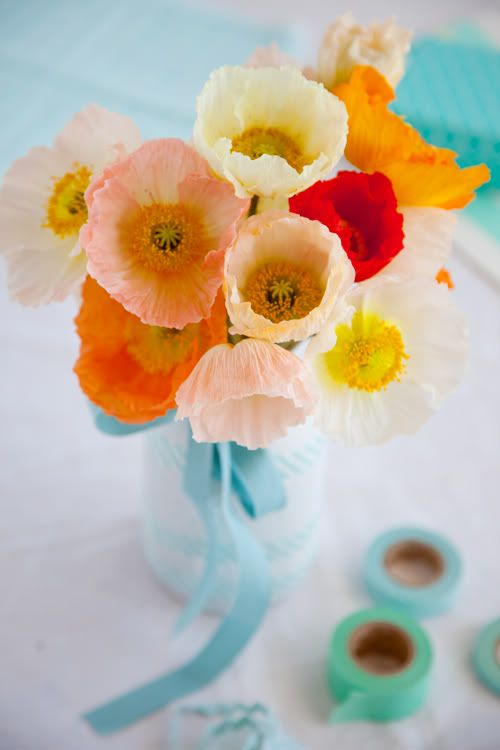 Hello friends, it's Leslie here with Color Me Pretty for March. With all the heartache over the last ten days I wanted to focus on spring with the sense of hope, creativity and new life it brings. I thought I would revisit one of my favorite palettes, which includes pale blue, watery aqua, minty green, and splashes of dark coral. To change it slightly I added some chalky looking lavender. I have been seeing this palette in various forms lately and thought you may enjoy it.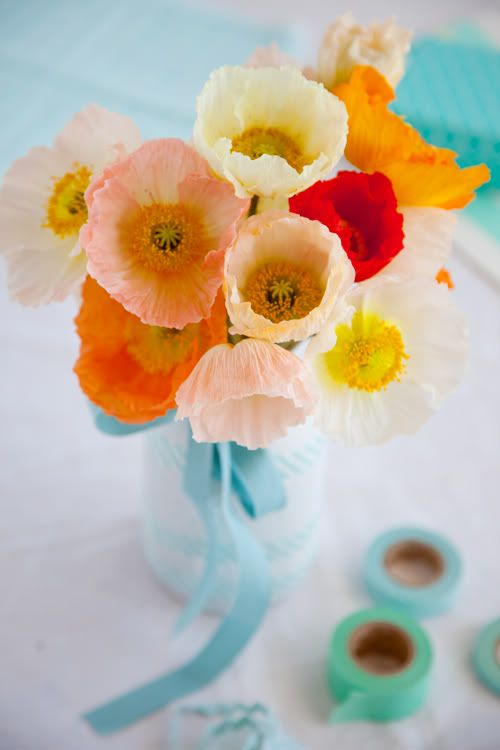 Cheerful poppies have been blooming in my garden and I decided to place these ones in a spray painted mason jar. I further decorated the jar with ribbon and a few strips of Japanese washi tape. Decorating some white floral containers with tape is simple, quick and adds a sweet handmade quality don't you think?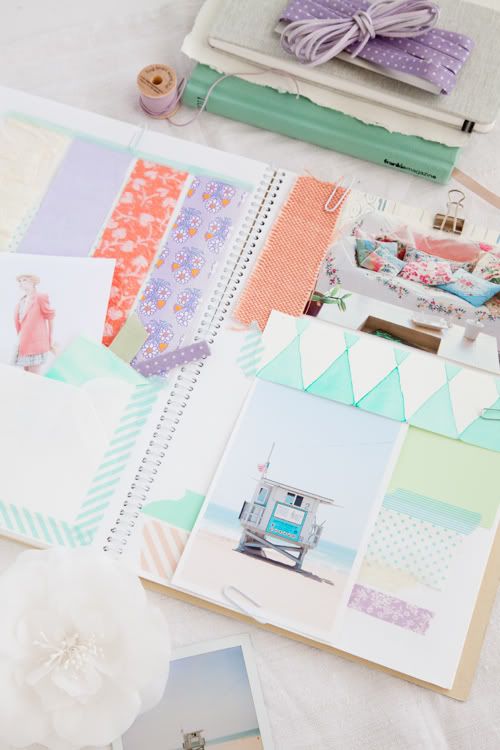 I was really inspired by the work of Thomas Campbell who Holly introduced me to in her post a few weeks ago. I couldn't help but get back to my sewing machine to sew more paper together. I made some interesting wrapping paper quickly as well as some larger pieces I may frame and use as wall hangings for my home. When I did not have the right color of paper I used watercolors to create the tones I needed.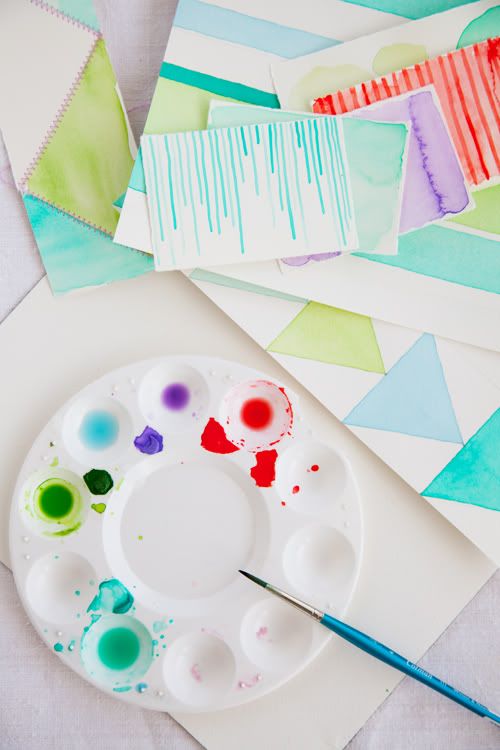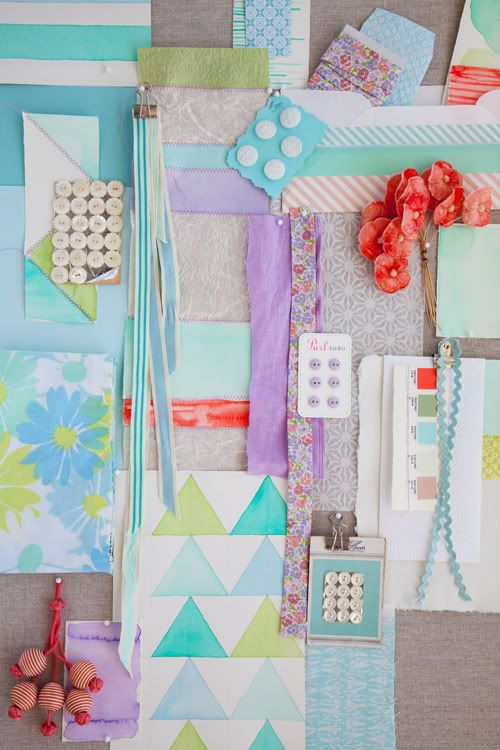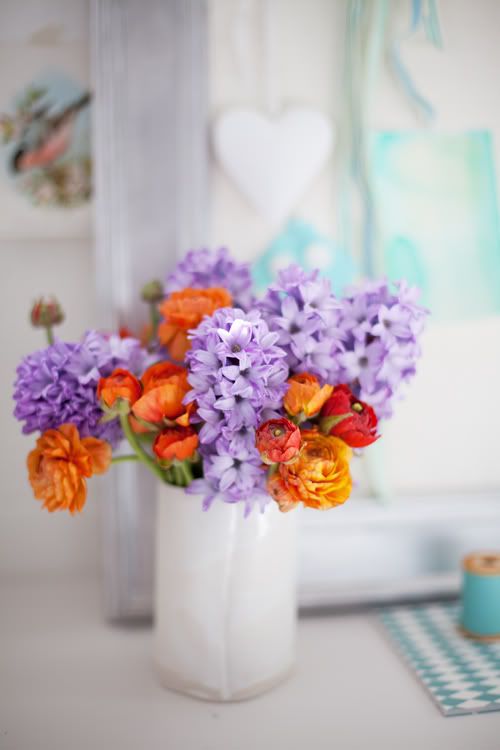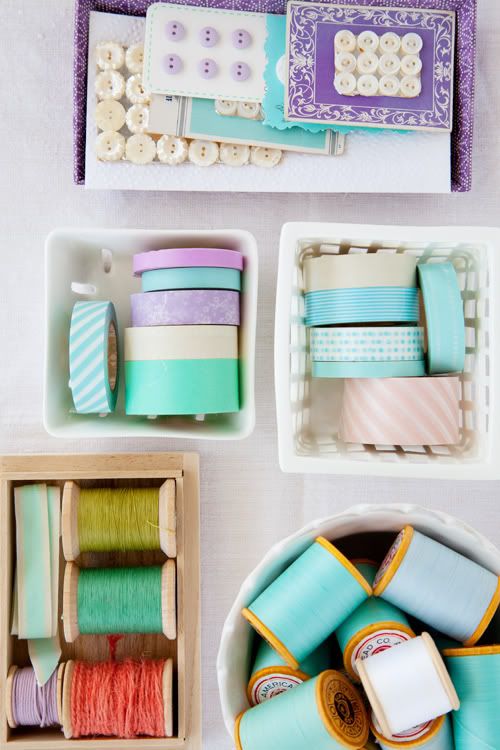 I filled my journal pages with pieces of freshly colored paper and photographs. I love having this record to go back and look at when I want to create something down the road and am lacking inspiration. My journals have always helped keep my visual ideas organized. They act as mini mood boards that are portable, easy to keep and refer to. Long after my tack boards have been cleaned off I still have my journals waiting neatly on the shelf.
I hope I may have sparked an idea or two for you to carry out in some of your creative projects. Please take a moment this week to stop and notice the flowers of the season. Even if they are just the ones on display at the market! I will see you back here next month, until then take good care and thank you. – Leslie.
(images: leslie shewring)
Leslie