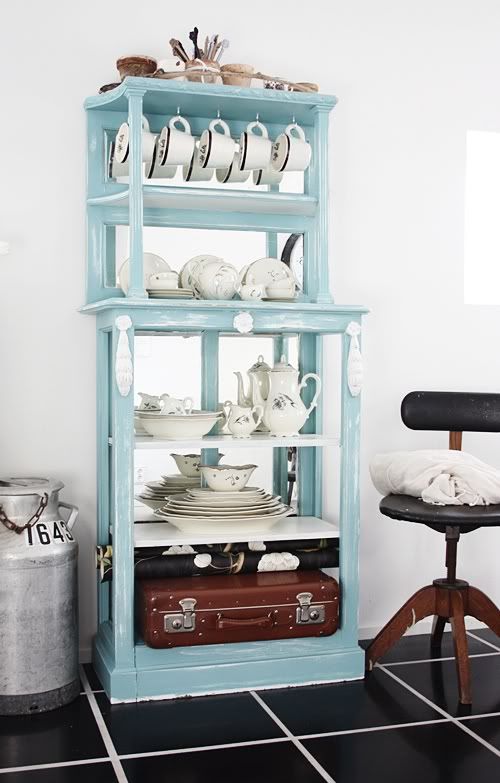 Hello everyone! This is Anna-Malin Lindgren from Helt Enkelt visiting decor8 today for my once monthly column, Handmade Home! This month I'm going to share with you one very special cabinet that I've used in three different ways in my home. A few years ago I was given this gorgeous old French cabinet by my dear mother. It's an antique but was already painted when I received it so I figured painting an antique that was already painted wasn't going to break any rules, right?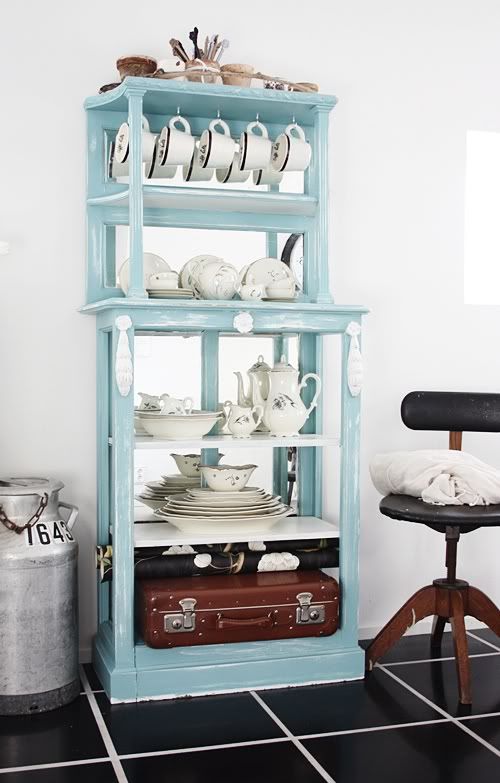 At the time it was a creamy white but after living with it for a few months I decided to give it some color. If you read my blog you know that I'm not usually drawn to using much color in my home but I thought that an aqua color would make it stand out a bit. At first I placed it in my kitchen, but then I got tired of it there and moved it to my bedroom instead.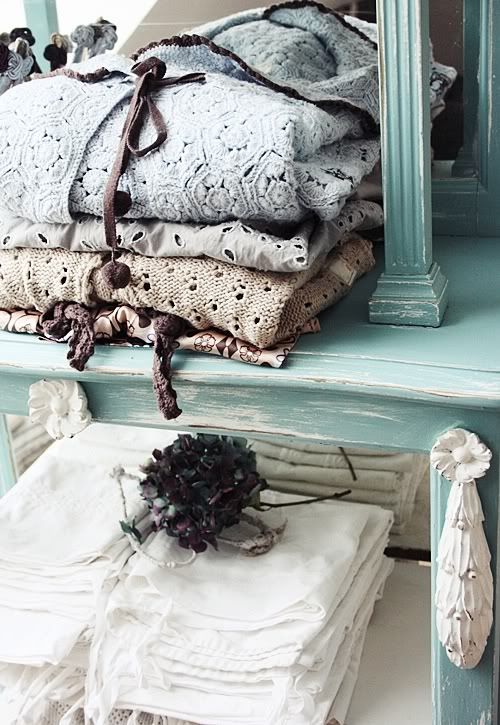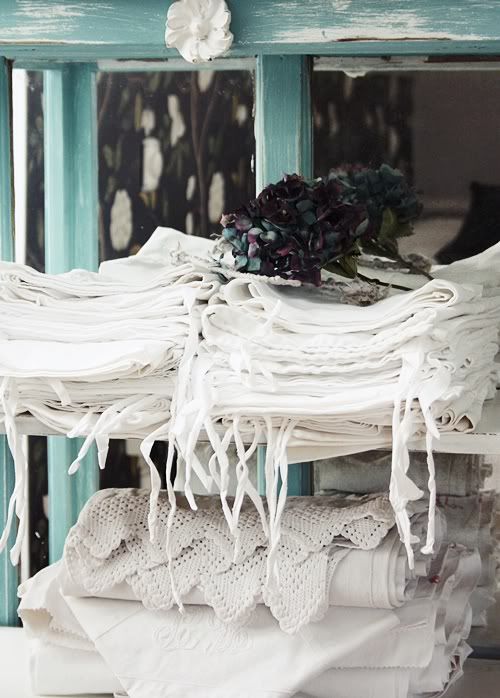 It looked really nice next to my bed — I placed vintage linens inside and some of my favorite cardigans. It stayed in the bedroom until recently when I decided just a few days ago to move it again into my…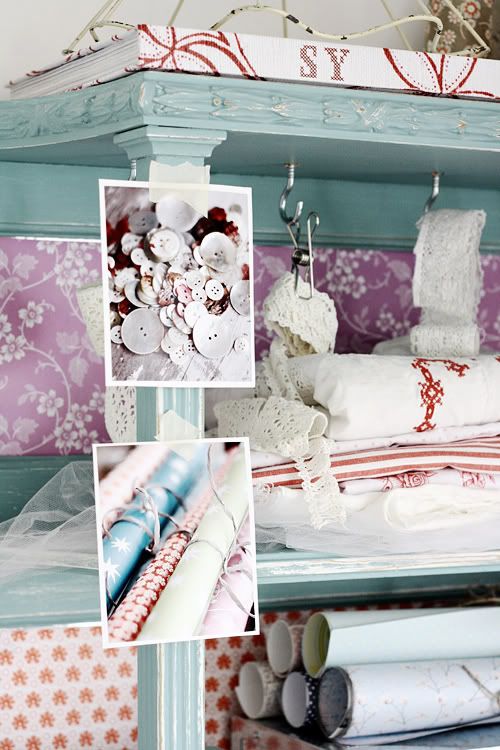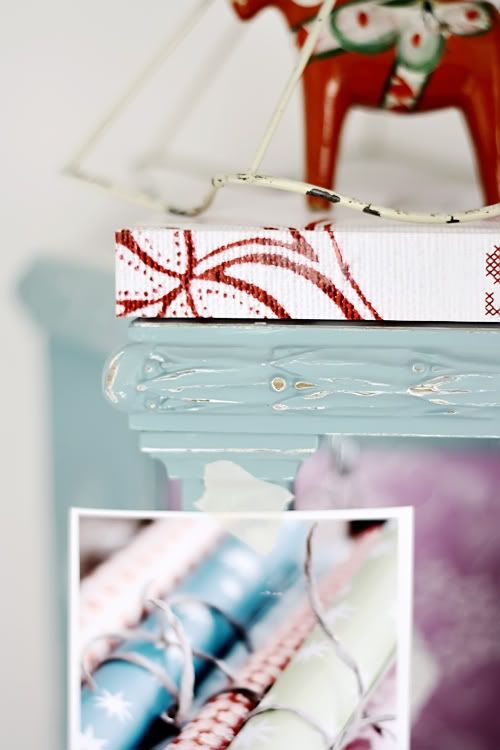 …Studio! Things move around all the time in my home so this is nothing new. :) Maybe you can relate? I thought to freshen up the cabinet that I would add some patterned papers in cheerful colors, placing them over the mirrors in the back of the cabinet. Out of respect for the cabinet (especially since it is antique), I used double-sided tape so that I can easily remove it when I decide to change things up again. As you can see, it is a perfect storage solution for my some of my creative stuff (and you can see Holly's book on the shelf, some rooms from my home are in her book since she was here last year to photograph it). Who knows… maybe when you see this cabinet again it will be in a new space and in a new color. Only time will tell!
See you next month with some more decorating ideas and inspiration from my home to yours. xo, Anna-Malin
(images: anna-malin lindgren)
Hello lovely friends and happy Monday to you! And a big Oh la laaaa is in order over the new Kate Spade website as it makes me feel so chipper today and ready for springtime. I'm redesigning decor8 currently and working with a new color palette and graphics and their site inspired to get my own blogging butt in gear so it's up and running with a new, fancy look soon too. Spring is all about growth and fresh new beginnings, isn't it?
I'm keeping my fingers crossed that someday the Kate Spade brand will grow to expand into interiors even more – I'd love to have Kate Spade tea towels, bath towels, a shower curtain, wallpaper, bedding… wouldn't that be so lovely?! I'm also hopping that they'll bring the brand over the pond and open a shop in nearby London or here in mainland Europe. A girl can dream but you never know do you!?
(image: kate spade)
I'm so happy to hear about the Selvedge Spring Fair in London on April 2nd but also quite sad as I'll miss it by only a week since I won't arrive in London until the 10th for my book launch party on the 13th. This news breaks my heart, especially since I love Selvedge magazine and because their official sponsor is Amy Butler (who is a contributor to my upcoming book). May I just add that I love London. I mean, hello! There always seems to be something super creative and interesting going on there especially when it comes to the arts and craft scene. I feel SO tempted to just fly over for the day to check out this fair and return home but I don't know… it does look lovely though, doesn't it? Oh my. Temptation calls.
Those who will exhibit at the fair are listed below, so even if you cannot make this event please visit their lovely links and shops below.
Les Soeurs Anglaises, Milla and Arti, Papa Stour, Parna, Noolibird, Grace Ink Design, Charlotte Macey, Bojo Childrenswear, Holy Smoke, Naomi Avsec, Claire Fletcher, Cath Ball, Catherine Hammerton, Becky Adams, Jam Tart, Rosie's Armoire, Emma Lamb, Emily Maude, Folk at Home, Ray Stitch, Emily's Ark, Biba's Tea Party, Makers Market, The Laundry, Jennifer Collier, The Natural Store, Blodwen, Charlotte Farmer, Beyond France and Cornelia O'Donovan.
The Selvedge Spring Fair will take place on Saturday April 2, 2011 at St Augustine's Church Hall, Langdon Park Road, London N6 5QG from 10am – 5pm. Entrance fee £2.50 and the cute little map above shows you where to go to find them. Enjoy!
(images: selvedge and their exhibitors)
I've known about this for awhile now but wasn't able to reveal it until today… but my source at Anthropologie has confirmed that I can announce this lovely news today… But this month they will launch a new decorator concept which will help customers carefully select products to fit their needs along with expert advice and assistance. These workshop-style decorator shops will roll out in twelve existing Anthropologie locations in the U.S. and U.K. (listed at the end of this post) and their website will mirror their offerings.
The decorator concept will share Anthropologie's aesthetic but it will be completely dedicated to, "delivering a unique experience that helps generate design ideas and support decision making," and the decorator shops in stores will have wallpaper swatches, rugs, curtains, printed information about products, and it will host regular workshops with design experts. Main categories such as curtains, furniture, hardware, lighting, rugs and wallpaper, will be helpful to decorators and the in-store shop will look a little different in each location and will serve as both reference and to spark creativity.
They will also have design books and magazines (a first for Anthro to stock magazines!) that will also be presented and I'm happy to say that my upcoming book, Decorate, will be part of the line-up of inspirational books so I'm very excited. I have to fly over to the states just to see it with my own eyes. :)
Online customers will benefit from the new "For the Decorator" section listed under Features, which will debut on March 17th. The section will be home to tips and tool, such as a wallpaper calculator, upholstery fabric and wallpaper swatch requests, and glossary.
The Anthropologie store locations that will launch the decorator concept on March 24th are: London, Atlanta, Beverly Hills, Chicago, Corte Madera, CA, Denver, Houston, Miami, Nashville, NYC, Wayne, PA and Westport, CT.
NOTE: In London, at their King's Rd location, two workshops are slated for March 27th: Meet Emily Chalmers, author of Modern Vintage Style and owner of hip Shoreditch boutique Caravan who will be offering one-on-one personal design consultations with customers. You can also meet Jemma Ooi and Nathan Philpott, founders of Custhom, will be screen printing individual postcards demonstrating their techniques which customers will be able to take home.
(images: anthropologie)