Hello Friends, it is Leslie here with Color Me Pretty for April. This time around I cannot stop thinking about travel and cafes. No, they are not colors but since I just came back from a quick trip to London and Copenhagen I find myself dreaming about the cafes I visited and where I may go next.
Yes, the travel bug was caught quite severely and that is why this image from Anthropologie became my source of inspiration for this month's Color Me Pretty. By looking at this picture, I was transported to an Italian café. This gorgeous photo shoot, which took place at Caffé Roma Pastry on Broome Street in New York, inspired me in a fury to create something in a similar palette for you.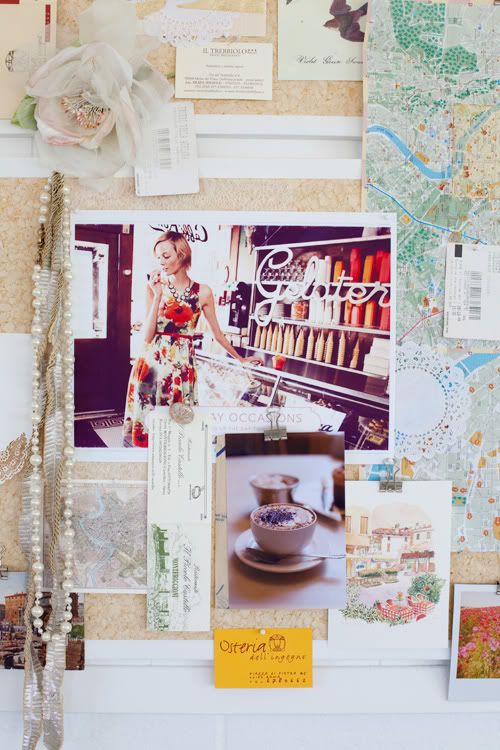 Splashes of dark tangerine, gold, sap green and Prussian blue mixed with light tan and milky coffee. This is a pretty palette for summer fashion, entertaining or decorating.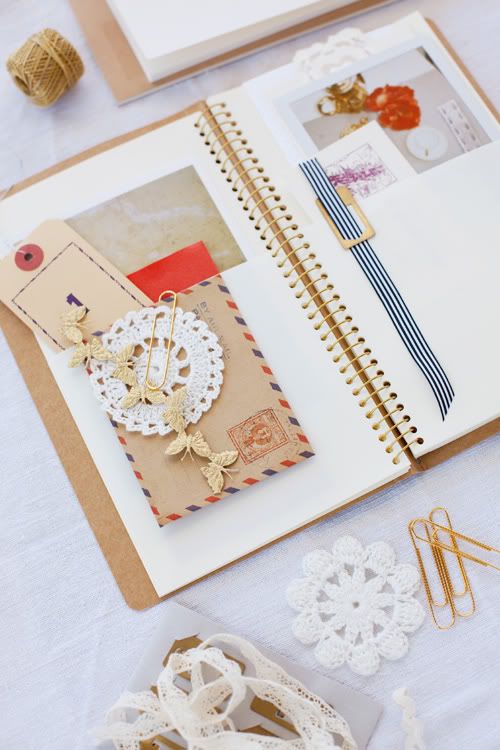 I printed out and pinned the first Anthropologie image from the set on my tack board and then created a mood board around the image. I grabbed old cards and tickets I had collected during my last trip to Rome, along with some post cards and my own photos. I tend to keep little bits of paper from wherever I go. Do you do this? I just love looking at business cards of where I have eaten or ticket stubs from an incredible site I have seen. I keep many of these bits and pieces in an archival box on my shelf or in journals I made upon return home.
Since Caffe Roma appears to serve some fine looking gelato I started thinking about ice cream, then, ice cream dishes and how they may make fun low floral vases for entertaining. I experimented with some little bouquets and the ice cream dishes worked well as they keep the flowers low enough to have a conversation over. You can find sundae, sorbet and ice cream dishes at restaurant supply stores online like this one.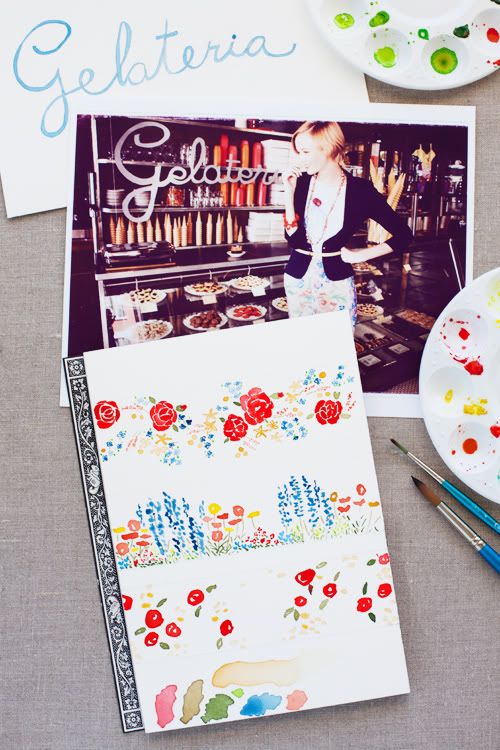 I couldn't help but doodle some watercolor flowers after looking at the fabulous En Plein Air Dress and Gladiolus Skirt featured in the photographs. The gestural floral patterns used in these two pieces have me thinking about borders for cards or patterns I could use in some other crafts. I also love bringing bold floral patterns into my home as accents and these two fashion items have my wheels turning.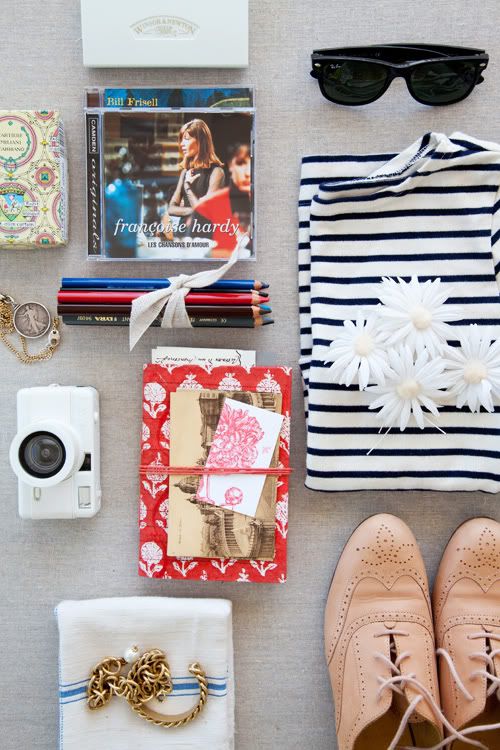 It is really fun to take a virtual trip somewhere and let it inspire some fresh creative ideas. Thank you for joining me here today on my little journey helped along greatly by the styling work and photography by the brilliant folks at Anthropologie.
See you back here next month, Leslie
(images: leslie shewring)
I decided to start four new columns on decor8, three that I'll write and another authored by a dear friend who will join me once monthly for a brand new styling column. Yay! I'll share them all with you soon but for today I want to get started on the first, my new once weekly post scheduled to run on Thursday called From Pinterest With Love. I know, I'm the queen of corny titles! But I was thinking… as I pin things over on the Pinterest site I see lots of themes in color palettes and vibes as I pin and find myself continuously inspired by the process of it all. However I am saddened at times because I want to do more than pin things, I want to point to the sources in an attempt to introduce you to the talented people + makers who created the beautiful images in the first place. And so with that, From Pinterest With Love has been created to highlight favorite finds with links to their sources so you can learn about new sources of inspiration running around out there. Here are my Pinterest Picks that I'm calling Soft + Pretty, for this week.
Do you spot a theme? I certainly do! Watercolors, cozy comfort, freshly picked hues, gorgeously soft and natural light and handmade touches. Ah, a soft and pretty springtime vibe.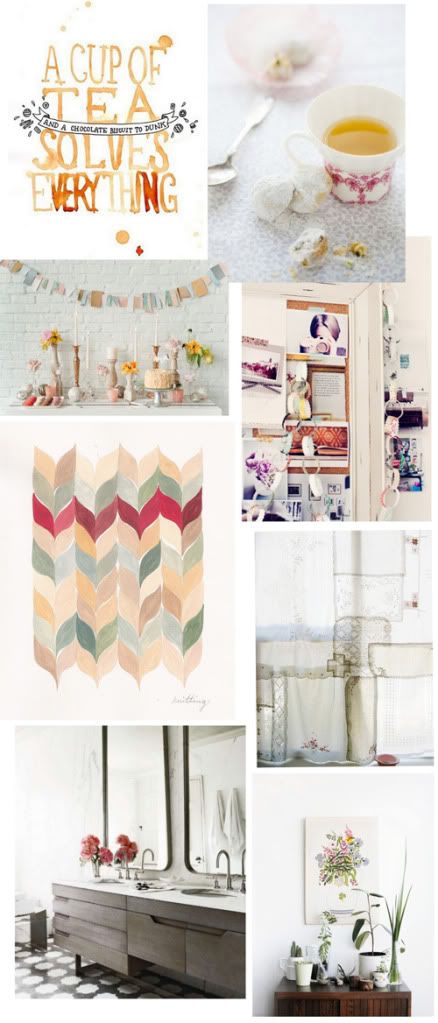 Nikki McWilliams, cannelle-vanille, Stevi Savage of Avery House, traveling mama, Sophie Allen, Dottie Angel, happenstance, Old Brand New.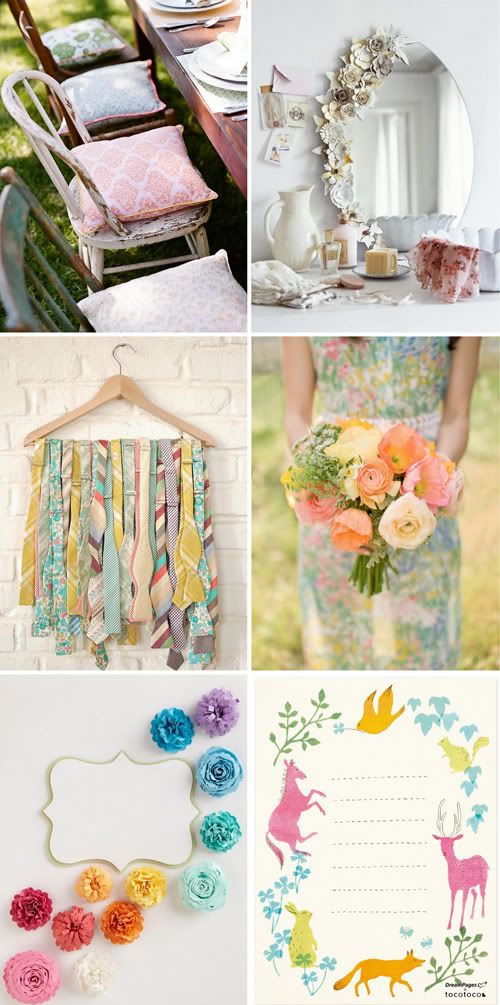 style me pretty, Marie claire idees, somethings hiding in here, steve steinhardt, scrapbooks etc, tocotoco.
Do any of these images inspire you? How about the colors? Patterns?
View April 28th Pinterest Board Here.
(images linked to their sources above.)
I was thinking yesterday about all of the candles that I own because I was organizing a cabinet where I keep my mini candle store (ha ha) and felt a bit ashamed of how many I have still unopened… And funny thing is, I was deciding what was missing from my stash so that I could restock. Sigh. The life of a candle addict. Funny thing is that I have mild allergies to fragrance so I'm careful when it comes to stronger scents, like lilac and jasmine, since they make me very sick. Did you know that until I was 25-years-old I suffered from chronic allergies to perfume, hair spray, candles, anything and everything seemed to trigger intense headaches and flu-like symptoms? Oh yes. I didn't wear perfume until I was 25! Then, one day, the allergies just vanished. Poof! I have no clue how or why that is even possible, but they did and that is when I went a little nuts buying everything scented that I could pack into my cabinets from cleaning supplies to shampoo. Sure, cigarette smoke still makes me sick, as does newspaper ink, certain paints, strong perfume, etc. but I'm pretty much a perfume and candle-aholic now though the scents need to be fresh, natural and certainly not heavy. I thought I'd share some candles that aren't obnoxiously strong that I love, 6 to be exact, that add a slight fragrance without overpowering me or my guests. I photographed my current 3 favorites at home today and listed the other 3 below as I need to replenish my supply so I couldn't take a picture of those.
1. Le Labo vintage candle (love the packaging!) that was a gift to me from Liberty actually and I love it. The scent is Santal 26 and is an, "aristocratic scent, at once gentle, smokey and leathery, that will fill your space and give it true personality." All I can say is that I'm already on my second Le Labo candle and I can't get enough. Great for couples, as it's a bit masculine and slightly feminine which I also love.
2. Bailey's Mown Grass candle. I love Mark & Sally Bailey's gorgeous creations for the home, this candle being one of them. My husband bought it at Liberty and as you can see, he's been using it in his office each night. It smells delightful, and it's at all over-the-top as some grassy scents can be. It's light and breezy, almost as if you woke up in your stone cottage, opened your windows, and took a deep breath as the gentle Spring air caressed your nose with the scent of green. In the states you can buy it online at Terrain.
3. Diptyque Feuille De Lavande (Lavender leaf) is so perfect for this time of year but I mostly burn it in the Autumn, early winter. I love the way it makes my home smell – so clean, but also how it makes me feel – so calm! It's worth every penny.
Not shown: 4. Jo Malone: Grapefruit (love this), 5. DayNa Decker Bardou (the wick crackles when you burn it so it sounds like a fireplace!), and 6. Candied Fruit Candle by L'Occitane. Yes, that one is very sweet and über fruity but in a big room it's quite delightful, especially when the sun is shining and the windows are open. I don't suggest burning it with the windows closed, it's a bit overwhelming!
What are your favorite scented candles? Now I'm wondering, do you even use candles? Are you allergic to fragrance? Were you once allergic and miraculously healed without reason like me?
(images: holly becker for decor8)