I'm a huge Lyn Gardner fan so naturally, I love browsing her decorating portfolio over at Gardener & Marks. Their business is so intriguing to me, Gardener & Marks, because it's a full service decorating and props firm in Australia and I think their work comes across as very relaxed and personal yet also with such care over the details that you want to examine everything you see.
What I admire so much about Lyn, aside from her wild and very big hair and quirky personal style is her decorating work — she is a very detail-oriented person and I love that. I delight in the details, I can get so hung up on them though! Are you keen on the little bits and pieces? The photos throughout this post are from Gardener & Marks and show homes that they've decorated, Lyn and her partner Amanda Hendersen-Marks (please read their bio here). So pretty!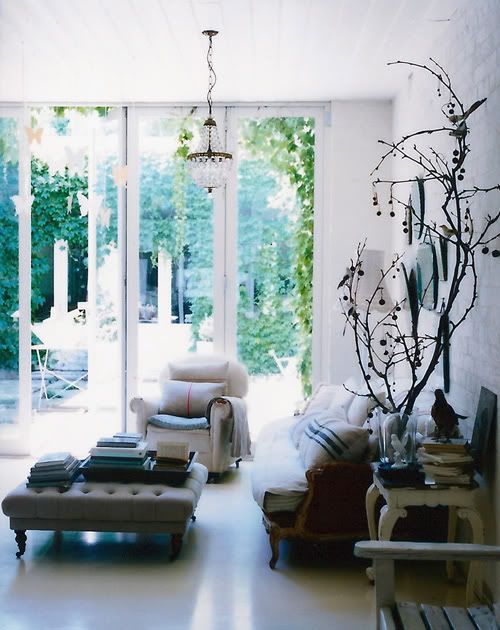 By the way, have you heard of The White House Daylesford? It's Lyn's amazing property that you can use as a location home OR you can vacation there — it's quite drool inducing — you simply must check it out here. As you are browsing, notice bedroom two with that gorgeous black and white toile wallpaper and hints of emerald green around the room – so pretty.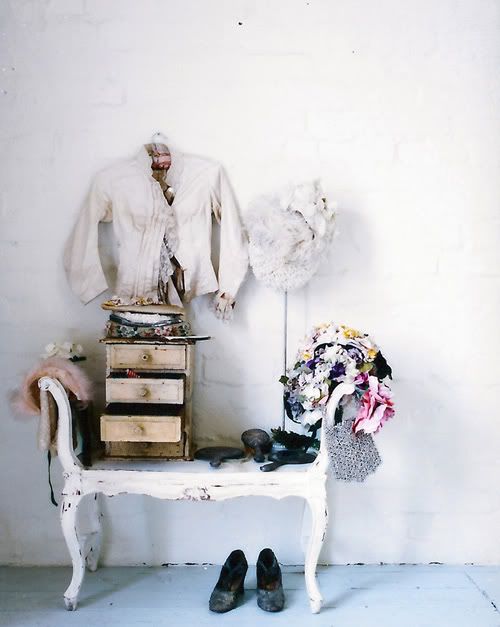 It's funny, because I'm very big picture which is why I was once a project manager. But I'm also creative and imaginative — I'm big on details and I notice every little corner and creation whether I'm shopping, staying in a hotel, riding on a train… I see it all. My friends often say that this is the writer in me – to notice things that most people breeze right by. And it's true. I can be with friends and they'll be chatting or zoning out on their iPods and I'm chatting and on the iPod too yet I'm also scanning the room, noticing every detail of what each person there is wearing – stripey socks, cuffed jeans, man who looks bored, woman who has lost an earring, boy with a chipped tooth.
You'll laugh at this, but do you remember that scene with adorable Matt Damon in the first Bourne film when he is in a roadside diner in France with German supporting actress Franka Potenta and he tries to "prove" that he isn't normal so he immediately starts to recite each detail about their environment while looking straight into her eyes – and he gets all of the facts right – he had memorized everything including how many people were in the room? Okay so he's an assassin, I'm not (ha ha), but I can relate to that scene so well as I can do the same thing when it comes to noticing everything around me. I don't always remember things that were said, I'm more visual I think, but I do remember things that I see or words that I can see on paper… In fact, that is what is helping me to learn German — not to hear it but to see it on signs and in textbooks.
When I shop, it's the same. I think lots of us creatives notice the details, from the Lyn Gardeners of the world to everyday people like me who love to decorate and write for a living. Perhaps you too? I see everything and often can scan an entire section, zoom in on what I'm interested in and disregard the rest — I'm not one to waste time as I know right away whether or not I'm attracted to something. I often got annoyed with this personality trait, to see everything, to notice the good and the bad, to be able to "weed out" things that I don't like or need almost instantly. In some ways, I had to get it under control in order to live a productive life. What I mean is that by noticing everything I'd often return home feeling absolutely overwhelmed by the sheer stimulation of it all. Or I'd be so overwhelmed by what I'm looking at in a store that I'd leave empty handed.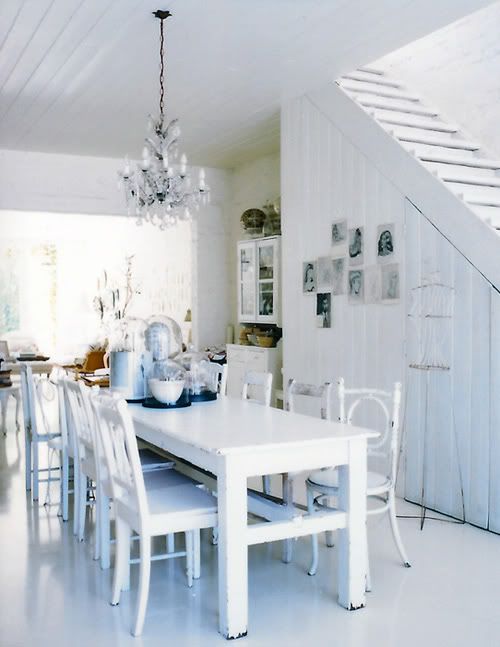 It took me years to modify my behavior so that I could use this sensitivity of mine to my own advantage, and now that I'm older I definitely can see a huge improvement and my life is so much better now that I can edit and sort ideas, sensations, emotions, external data, all of it — quite efficiently without draining myself. I have noticed that one of the best ways to curb over-sensitivity is to simply acknowledge it first of all and then use it only in situations when you really need it. I use it when it comes to projects, work-related tasks, etc. I've learned to ignore it (sometimes to forcefully ignore it) when I'm in the train and everyone around me seems to be drunk or acting obnoxious which I find often on the train when I'm riding at night. I have to forcefully flip the "off" switch whenever I see things that cause me pain, annoyance or anger – those are the details in life that I'd rather not pay attention to.
A darker side to this though is that I pay attention to details but I also miss other things as I'm so intently focused on something else that the other important thing slips off my radar. My husband laughs, I have a short attention span, I am like a golden retriever in some ways — I can be running after a stick and the moment I notice a cat off in the distance, I start running towards the cat forgetting all about what I was retrieving in the first place.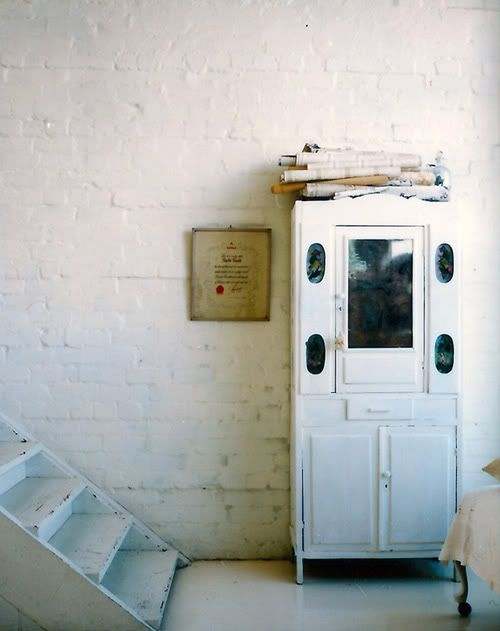 I wonder, do any of you notice the details, even to a fault, and how have you managed this? Luckily, I've managed well over the years and now I feel very confident to speak about it publicly and to use it in areas of my life where paying attention to details matters, like decorating and writing. Please share your views, I'd love to learn more about you and creatives out there in general who are very detail-oriented and how you edit, sort, disregard some date, absorb others, etc. It's a fascinating topic I think!
(images: gardener & marks)
Yes, it is Wednesday and my dear friends I am late again with my Etsy picks for the week. What is my problem, right!? Truth is, these round ups take hours and I often feel like I'm running out of time with the many projects that I'm involved in both on and offline lately (especially offline). I'm currently styling a quilting book for a Berlin-based author originally from England, working on the proposal for my next book, planning my US book tour (yeah!), revamping the template for decor8 and preparing a new website for Blogging Your Way, and preparing for the big Meet The Blogger event and book signing in Amsterdam on June 25th, planning a 10 year anniversary getaway with my husband, working on some writing projects, answering lots of emails, writing on Real Simple, Haus Maus, and decor8 and… I'm soon traveling up to Hamburg as I was hired as a consultant for one of Germany's top magazines to teach my Blogging Your Way e-course in-person before their staff in just a few weeks! I'm writing everything out and organizing my ideas — I can't wait to share all that I've learned about blogging with this magazine and look forward to it very much as it's my first official "job" in Germany since I relocated here. Yay!
Okay so enough about me and what I'm up to — how are you? Are you ready for some Etsy stores to enjoy for this week? Great, me too! Let's see who I found this week, shall we?
Everything from Every Eskimo melts my heart, especially these vintage chunky XO rubber stamps – fun! I love her handmade animals too.
More vintage goodness, this time from Sadie Olive – books, antlers, vintage photographs, everything and anything all curated expertly.
I'm loving House of Chintz! Okay, some of you may question my taste on this one but I'm seriously mad about these quirky lampshades designed by Kate Boyce, a surface pattern designer in England. To me, they look very Liberty London – I can picture them being sold there among all of their other quirky interiors items and furnishings.
How fun is Draw City? I love that you can even request custom illustrations of your favorite things. These are such cute prints, the tea tin is my favorite.
Lovely illustrated goodies in gorgeous colors from Jessica Swift, formerly the Jessica Gonacha shop but she got married (congrats!) and changed her name. I think her goal and intention kit is brilliant, I have to buy one and use it!
Did you enjoy today's picks!? Hope so! See you in a moment with more things to inspire you today…
(images linked to their source above.)
Ohhh pretty products are calling, do you hear them?! The cry is coming from Miratis, a new online shop offering contemporary products for the home. While I can't say contemporary is how I'd describe my taste, I definitely surprised myself when I found some gorgeous and tactile ceramics in their shop that made me drool in delight and imagine scooping up for my nest.
a.| large flower bowl b.| medium Chinese jug c.| oval vase d.|small torn bowl.
Miratis ("mirus" meaning wonderful/astonishing/wonderful and "artes" meaning the skill of art and craft) gives immediate access to a hand-picked selection of some of the most exciting designers and makers in Europe and beyond from textiles to glass, ceramics to metal — and more.
Curated by founder Lisa Harrison, all the featured designers in the store create items that are exclusive to the website, I love the ceramics by Emma Clegg and Janet Stahelin-Edmondson the most.
Aren't these pieces above just lovely? I can imagine grouping them all on a shelf with a few flowers in each. I love that large flower bowl as it reminds me of a vintage swim cap my grandmother Millie wore when I was a child. So pretty!
(images: miratis)