I want to pop in quickly (Hi!) to wish you all a wonderful weekend. It's a bank holiday in the UK and Memorial Day weekend in the US, so I think I'm going to take advantage of these days off to work on the shop window that I'm designing for the American Book Center in Amsterdam in preparation for my signing event there on June 25th. I also need to work on the story I'm pulling together for the premiere issue of Mowie Kay Magazine that will launch soon (go, Mowie, go!) so the extra day off shall be used very well. And you? What will you do this weekend? Do you have Monday off?
Isn't this illustration adorable by Kitschy Kitschy Kool on Etsy? It's quite fitting for Memorial Day weekend and since I'm American, I rather like it. :)
I'll see you on Tuesday… xo
(image: kitschy kitschy kool)
Hello Friends, it is Leslie here with Color Me Pretty for May. With summer just around the corner I cannot help but think about flowers in my garden, fun drinks with friends and family birthdays. All in a palette of white, peach, mint green, washed grey and a little raspberry.  Of course time for a few crafty projects in this summer palette would be great to. A girl can dream.
One quick project for entertaining is dressing up those white spray painted glass bottles with a little washi tape and a couple paper doilies. Nothing fancy, just apply the tape and doily pieces here and there. I cut a few flowers and sprigs from my garden and instantly a windowsill or a table is prettied up for a get together.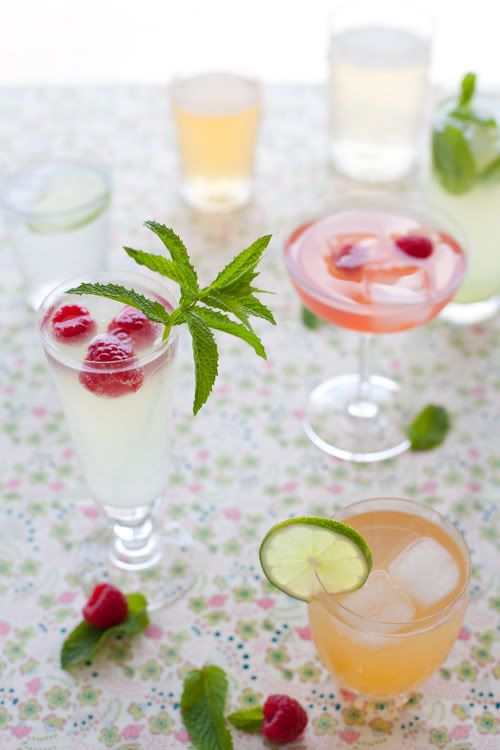 Summery garnishes can make a plain old lemon soda look rather elegant. I like serving something fun and nothing gets a little house party going like a feature cocktail. Fresh mint, a little lime or a couple raspberries can make any drink feel like a special occasion. It can also be interesting to use all different glasses even for the same drink. This way everyone can hopefully remember his or her glass!
Here is a little folding book I made from a couple pieces of scrap paper and some fuji instax mini photographs I took while putting this series together for you. I want to make more of these this summer. One could be of the kids while we are at the beach or another possibly of my mother's garden. They make a cute gift for the host after a weekend stay with friends or family.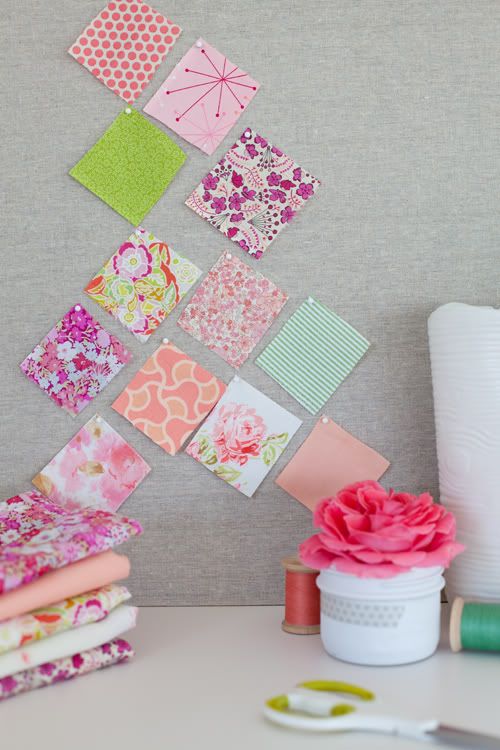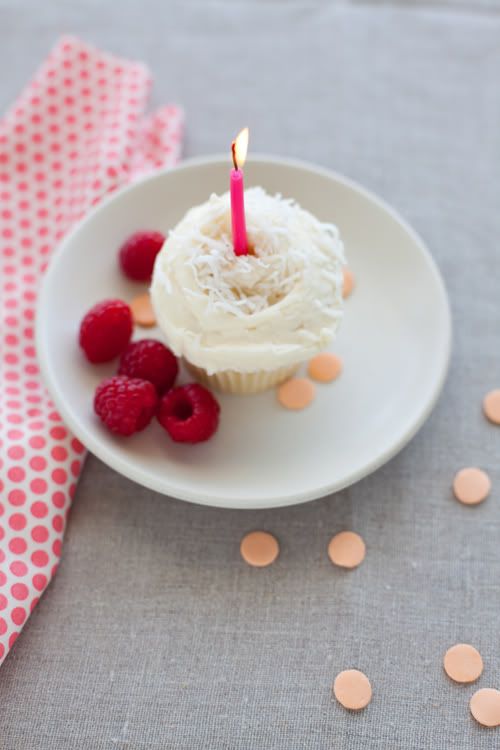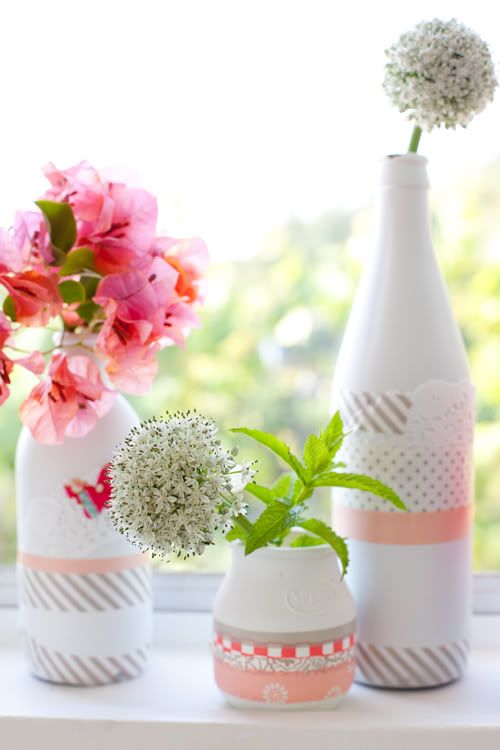 I hope you enjoyed this series and that it sparked a couple ideas for you. Do you have any plans for the weekend? Whatever you do take good care and do something just for you.
Thank you for having me here, see you next month, – Leslie.
(images: leslie shewring)
So it's time for my Thursday Pinterest column, though I won't continue doing it because some photographers are really against it and after my first Pinterest post, I got a lot of slack from a few people whom I featured and I really don't want to deal with that going forward. They were nice enough, but they seem to dislike sites like Pinterest (I loooove it on the other hand) so for now I'm going to just forget my idea to spotlight the finds I come across on Pinterest. My final "pinned" post is dedicated to quotes because I love them so much — a book without quotes, a magazine without quotes, I don't know… it's just not the same for me. I love little thoughts randomly scattered, quick bites of inspiration… So here are some for you. I bet at least one of them your mother said, in fact I bet you 10 bucks!
"Small things become great when done with love" by Because It's Awesome.
"To live is the rarest thing in the world, most people exist, that is all" – via Ms. Valo.
"I believe in pink" designed and sold by Elissa Hudson.
"Everything happens for a reason" by the Love Shop.
"Happy girls are the prettiest" via Ache.
"Be awesome today" – Lucius Art.
"Be kind, for everyone you meet is fighting a hard battle" by Wren Fern (no website).
"Don't forget to be awesome" by Super Swoon.
"Today is a new day." – Unknown, please tell me so I can linky link it. Found! It's from Erin Jane Art Prints (thank you Nicky!).
What are some of YOUR favorite quotes anyway? Do you have something to share that your mother always said? Go ahead, make me laugh. My mother was the quote queen you guys…. she was always telling me something she read somewhere — or heard from her very quotable mother. What a riot.
(images linked to their source above.)
I was thinking about what to blog today and all of a sudden I thought that perhaps you'd be interested in seeing a few of my favorite things that are in my work room and living room, which are two rooms near to one another, in my home. I love seeing the details in the spaces of others and know that you do to so perhaps you want to see a little glimpse into my life. These were not styled or shot very well as the lighting in here is rubbish with a storm brewing outside, but they are a genuine reflection of how I live and so I hope that you like them.
Okay so first, remember this post about looking for storage? Well, after posting that I decided to just buy the dream cabinet that I really wanted instead of settling on something that I didn't want only because it was a few hundred dollars cheaper. In the end, I'll end up selling or replacing the one I don't love so it will cost me more long term so I decided to buy a piece that I will have for the rest of my life. I contacted Lys Vintage and to my surprise, they still had the vintage cabinet from France in the lovely grey-brown that I like so much and even better news – they had a driver who could deliver it the next day. Talk about good timing.
When I got it home, I put lots of our favorite things in it that my husband and I collected over time. I asked him if I could use some of his antiques to display and he was very willing to share his prized collections, including many antique books – some handwritten dating back to the early 1600's in which he is very fond. I love all of his collections, combined with mine, and that I have some temporary space for some of my favorite design books. I'll move my design books into a larger cabinet with all the others still boxed up, but for now at least I have access to the best of the best.
The first door that you see tilted out slightly is a door and a window leading to the balcony. The other double door leads to a second room as large as this one but I've shut the doors because I don't want you to see the boxes that lurk there. I'm still furnishing my home, it's taking me forever, but at least I have some corners of my home together while I decide on what to fill all of this space with.
I wish I could say I cleaned up for your visit today, but I didn't. I have magazine files on the floor from a project I was working on and on the table, stacks and stacks again of paperwork and things. This room doubles as my dining room currently but we usually eat in here when we have guests, otherwise we eat in our other dining room. Yes, we have three places to eat in our home – a kitchen table in the kitchen, a dining area outside of the kitchen in our very wide hallway and then this room which is a formal dining room. I have to make roman blinds for this room shown above, and get a pendant for over the table, and get some new chairs… but you know, it is what it is and I'm not making excuses for it. I like my home. My windows are not as dirty as they look by the way, though our window cleaning guy is coming over on Monday (thankfully) so they'll be crystal clear soon enough. :)

Stacks of magazines and stacks of Japanese craft and interiors books… on an antique Swedish bench that I want to paint, I think I may paint the top a minty green and the legs a matte gray, and then do something else but that is a surprise. When I finish I will show you. My makeshift lighting is a vintage green glass jar from the flea market filled with odd bits because I'm quirky like that… and inside are some Christmas lights because I really like how they look at night.
I showed you my first wintergarten in this post, here is my second one above. I did very little to it, I have plans… I'll show you once I set those plans into motion. But for now, at least there is something in there so it doesn't look lonely. I always try to put something in a room until I am able to do what I really want to do in there because at least I can enjoy it for now.
I have lots of little stacks in my house – books and ceramics mostly – things that I'm obsessed with!
Above is a piece of furniture from IKEA that I have in my work room – it's going to have a facelift though as I'm bored with how it looks and I want to paint it and do something fun, including new "knobs" because the ropes are cute but I'm not in love with them as they are.
SO those are some imperfect corners of my home that I thought I'd share today. I love my home, I'm happy here and cannot wait to get it finished but as it is for now is okay with me until I can furnish it and do the curtains, etc. I can't wait to show you more as I continue to work on things!
(images: holly becker for decor8)