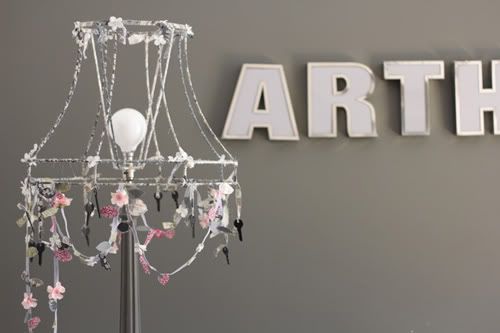 The next DIY that we've prepared to you taken from an idea to make a funky lampshade that we've called the Liberty Fabric Wrapped Lampshade because Liberty fabrics were used to make it that were selected in-store. I'm proud of this one because we had a really fun time trying to figure out what to put over the table (see table here) and at first I had envisioned stripped and wrapping three rice paper lanterns from IKEA in Liberty fabric then hanging handmade garlands from the bottom of their frames but then I thought that having IKEA products in Liberty may not be the best idea! So my friend Sania Pell and I thought to try something else — perhaps something vintage and affordable to inspire our guests, and as our ideas evolved a wrapped fabric lampshade was born. I love the evolution of ideas, collaborating with others, and pushing the envelope when it comes to ideas. This is a quirky shade, but it's fun and totally worth trying at home.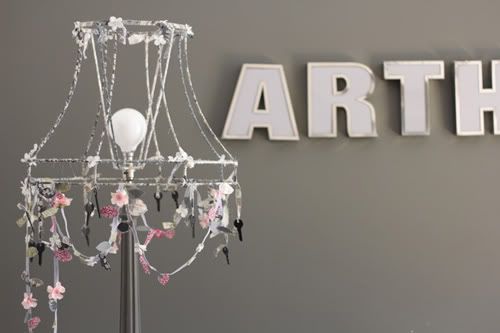 Sania made the one shown in this post to hang over our table at Liberty that we, along with Leslie Shewring, showed during my book launch party. So! Sania is back with a little inspiration for us again — this time, the fabric wrapped lampshade. You're up, Sania!
Hello it's me Sania again! This lampshade is the one we used at the Liberty demo suspended as a centrepiece over the table, with a mirror ball for a bulb and draped with the garlands and ribbons. Holly showed you how to make a similar version here so I won't go into too much detail for this DIY since she covered it already. But I will give you some styling tips in case you're wondering how to fit this type of shade into your own decor or at a party.
* Use several different patterned fabrics but all from the same colour palette.
* Double-sided sticky tape at the top and bottom of each wire rod helps attach the fabric quickly and easily.
* Knot the fabric strip when you get to the end of a rod, leaving little tabs and swatches of the fabric pattern sticking out. I consciously embraced the fraying edges as part of the overall look.
* For this shade, strips of fabric left hanging down with old (not antique) keys tied to them spray painted black formed a link with Decorate – which is a book about beautiful homes. You could try something similar, but with objects that you love.
* To finish it, add small silk flowers to varying places on the frame to provide a visual connection with the garlands (how to make the garlands here) and to add some detail.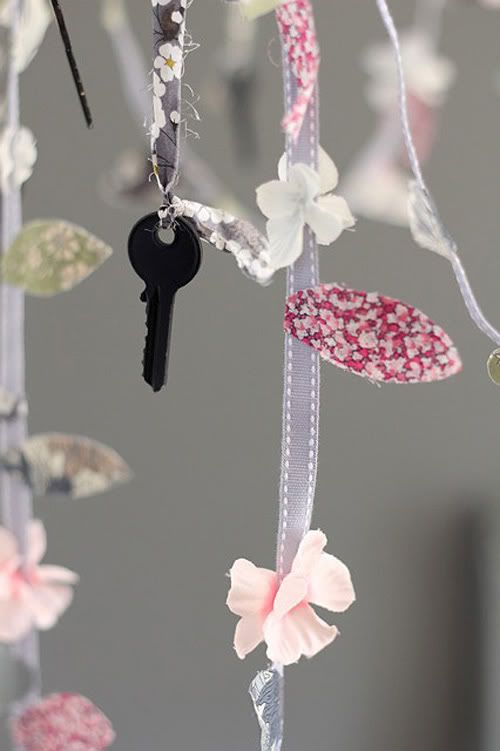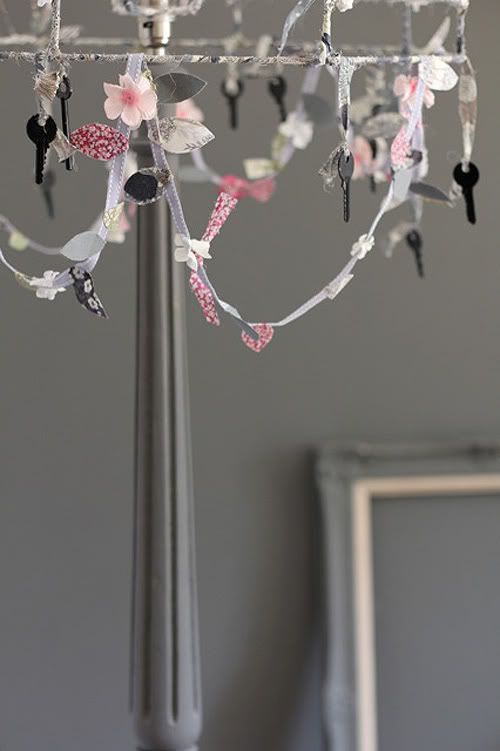 I thought you might also be interested in how I styled these photos. I used a lamp base, picture frame and wall all in a similar dark grey – one of my favourite colours – to ensure the pattern and colour of the leaves and the shade pop out in the pictures. The common element in all the Liberty fabrics we choose was that there was a subtle grey link between them so I know this colour scheme would work. It would look good against white too, prettier but less dramatic. I purposely chose to display the garlands on the graphic letters on my wall as a contrast against their organic shapes and softness. I also used my big mirror ball to reference the one we used at the demo, to add a bit of glamour and to pick up on the silvers and greys of the other props.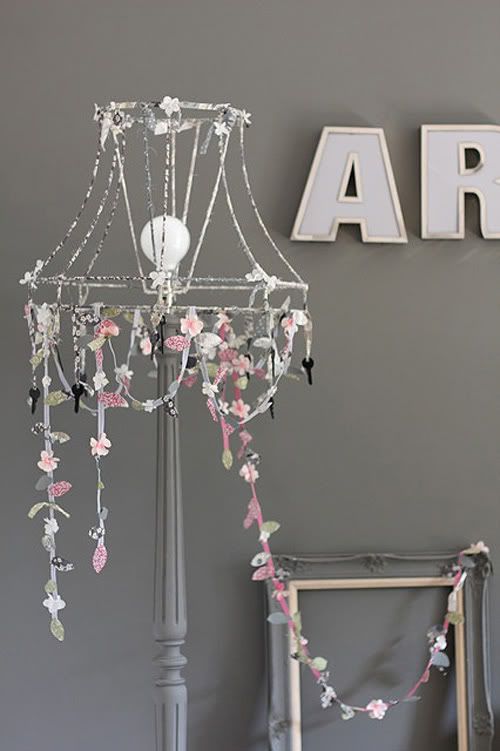 ll the props in these photos cost hardly anything, they were just painted, cleaned or customised. The lampshade came from a charity shop, the lamp stand, frame and mirror ball were from car boot sales, and we spotted the metal letters being thrown away when an old office building was having a new sign installed. We asked the builders and they let us have them for nothing. Hopefully it shows with some creative thinking and a little bit of effort you can create something stylish and personal for next to nothing.
I hope you've enjoyed this project and that it has inspired you to try something new. If you have any queries about this project please put them in the comments and I'll help if I can! In my next post I'll be telling you how to make the hanging house mobiles we had suspended above Holly's signing table. Thank you for reading and happy making! – Sania.
Caution: Fabric near a bulb should always be treated with a flame retardant spray. As this was just a display shade it wasn't necessary, but I will either treat it before use or unravel the area nearest the bulb to be on the safe side.
(images: sania pell)
Are you ready to be inspired by some tabletop DIY ideas? Today London-based stylist Sania Pell has so generously taken time away from writing her next book to join all of us on decor8 to share how to add handmade touches to your table. I have three posts from her that she so beautifully prepared to inspire your next party, from a wedding to a sweet and festive brunch at home amongst friends, all taken from the styling demo that we did at Liberty in London last month for the launch party celebrating my new book Decorate. Take it away, Sania!
Hello everyone, it's Sania here. I'm sure you have all seen Holly's post about the Decorate book launch and styling demo at Liberty last month. It was an amazing day and a pleasure to collaborate with Holly and Leslie and to meet everyone who came along. If you were there, I do hope you took some useful ideas away with you to use at home. If you weren't able to make it, then Holly has kindly given me the opportunity to share how to make some of the items we created.
I thought I would start by showing you how to make these decorative Spring garlands.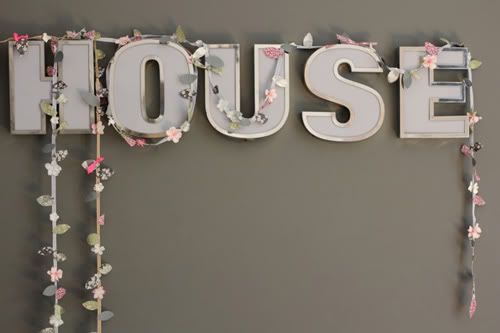 I love the way these garlands look like little Spring branches with new leaves and blossom – perfect for a Springtime party. The great thing about these garlands too is they are made so that they look equally lovely from both sides, so you can hang them as you wish.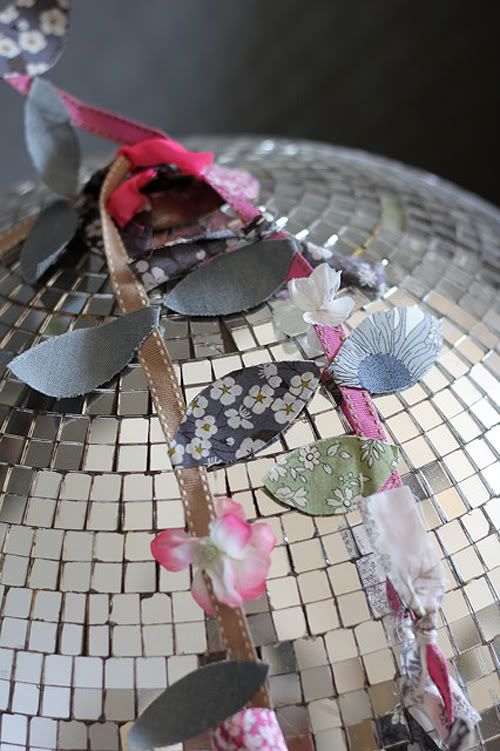 They are quite simple to make and although we used Liberty's own fabric designs. You can see a selection of their patterns on their website.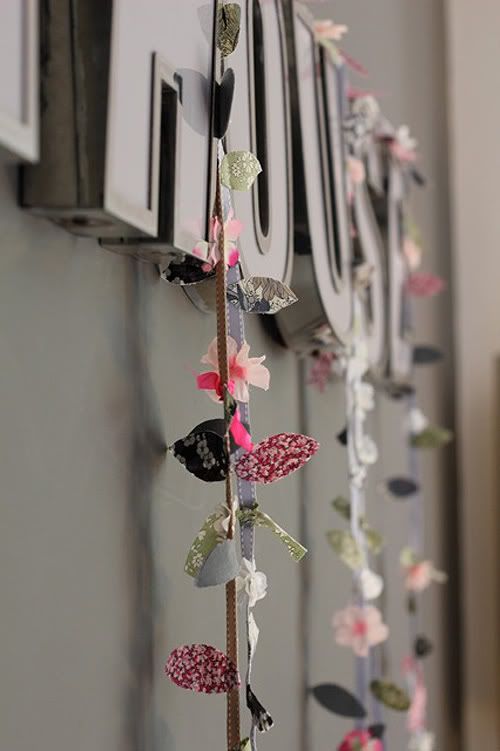 You could be thrifty though and make them using scraps of fabric and ribbon you already have at home or if you want a specific color palette you could buy some ribbon and fabrics to match. They don't use that much fabric, though it does depend on the length of your garland!
(Click HERE to download XL version of the above instructions.)

One of the things I talked about at the demo is that when styling , 'a little bit of wrongness' can make things right. It can make things more visually interesting and stop things looking too safe. We added a little bit of bright, neon ribbon to the garlands and overall table setting so that it didn't become too matchy-matchy and to add a pop of colour to grab your eye as you look at it. – Sania Pell.
Thank you Sania for breaking this down for us – gorgeous and inspiring just like you!
Readers: If you have trouble reading the instructions above, please click on the image and then save/print it out to refer to while you're making — or just drag and drop it to your desktop. Enjoy!
(images: sania pell, holly becker)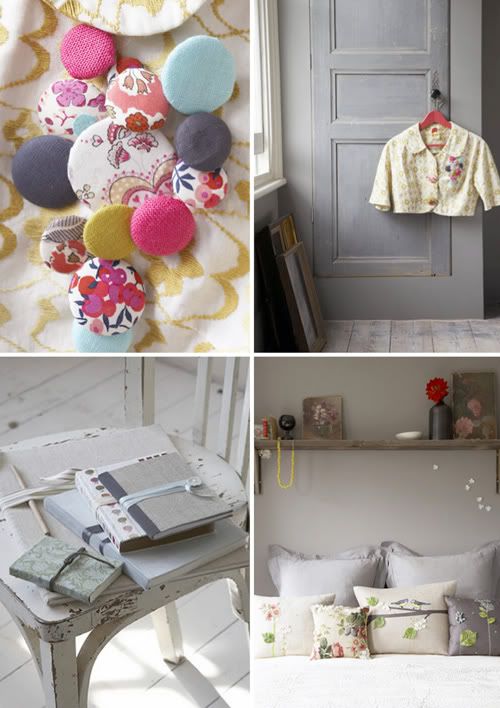 Good morning everyone! I hope that you had a delightful weekend. I must apologize for not giving you much notice last week but I left quickly on Thursday to travel to Hamburg, Germany for a consulting job at Brigitte magazine and was pretty busy or a few days. I spent a day in their offices beginning with a morning lecture followed by a Q&A about blogging and an afternoon "mini" version of the Blogging Your Way workshops that I typically teach online, only this one was tailored for a magazine staff.
It was a lot of fun to take BYW offline and teach in a corporate setting… as most of you know, I come from a corporate background and spent years teaching workshops to employees so it felt a bit like deja vu. This time, I was able to teach about something that I truly have a passion for, it wasn't that way in the past when some of my workshops centered around sexual harassment, new employee orientation and immigration law! Blogging was a topic that was fun and energizing! I had a nice time (the weather was amazing) and yes, I even fit in a little shopping which I'll share more on tomorrow.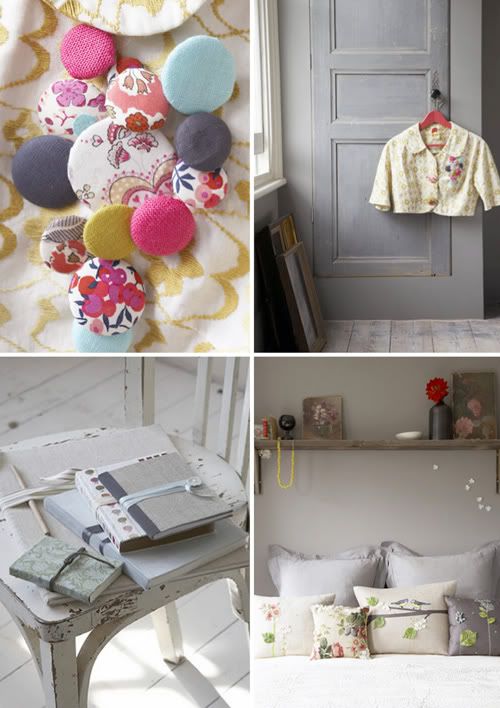 To get started today and with a new week of blogging, I thought I'd first welcome my friend, stylist and author Sania Pell in London, to the world of blogging! I know I've talked about her a million times on decor8 since she helped me so much to prepare things for the launch party for my book (details here), Decorate: 1,000 Inspirational Design Ideas For Every Room In Your Home, at Liberty last month… But did you know that before today Sania didn't have a blog? Oh yes, that's right. In fact, she just launched her new blog this very day and I'm so proud of her! That's why we have to give her a big round of applause for jumping in and getting started. She first found out that blogs even existed a year ago and has been plotting her "entrance" into blogging ever since and so today she rolls out her super shiny new blog called At Home that, thanks to her husband Mark and his amazing design skills over at his company MWA Design in London, it came out just beautifully. I do hope that you'll visit.
Speaking of Ms. Pell, she has prepared a few DIY projects for you taken directly from the table styling demonstration that we dreamed up for Liberty. She'll be back in a moment to visit us today with all of her gorgeous DIY photos and how-to instructions – you'll love it.
In addition to her posts coming up, I have lots of other great things to share and our monthly guest columnist, Anna-Malin Lindgren from Sweden is back with her monthly post too so stay tuned, Monday is going to be a great one.
(images: penny wincer, styled by Sania pell)
This app will delight the artist in you!