During the next few weeks on decor8, posts will be very light as I'm taking a break from writing to enjoy a mini vacation. I plan to read a few books, decorate my home, eat a little, drink a bit more than usual and be merry a lot.
I'll still post lightly during the weeks ahead but mostly visual inspiration with very little text and of course, some lovely links. My regular schedule of blogging will resume on Monday, January 9, 2012. When I return, I will have some great news to share as this winter will be a very busy time for me with lots of new projects to share with everyone. That's why I need a break to breath and organize before the big things start to consume my life entirely in the new year.
Much love and enjoy this most beautiful ending to what was, for me, a very happy 2011. With 2012 drawing nearer and nearer I wonder what it will bring for us all, don't you?
(Photo by Jamie Beck for the amazing Cup of Jo.)
I've shared the work of Savannah-based stylist Elizabeth Demos on decor8 for years now but haven't peeked in on her for awhile since I've been a bit consumed with projects offline… Seems I've been missing out…
After catching up on her beautiful blog this morning I learned that she no longer runs Vintage General in Savannah, a shop I had always wanted to visit, but on a positive note she is working as a stylist still producing work for magazines like Better Homes & Gardens in addition to planning and styling weddings for her clients and working on freelance assignments for large retailers like Anthropologie's wedding site, BHLDN.
Liz has a great eye and I love her use of color and pattern, always in perfect balance and her look is very southern which I love as I was raised not far from Liz over the border in South Carolina. These images show just a peek into her styling work — to view more please visit her website and blog. I enjoyed looking at these colors and fresh flowers — definitely not very "holiday like" I know, but I'm already dreaming of March, April and May! :)
Liz will soon be a Chronicle author too with her first book releasing in Autumn 2012. I'm so excited about this, I love watching the Chronicle Books family grow — Liz, many congrats!
(images: from the portfolio of liz demos)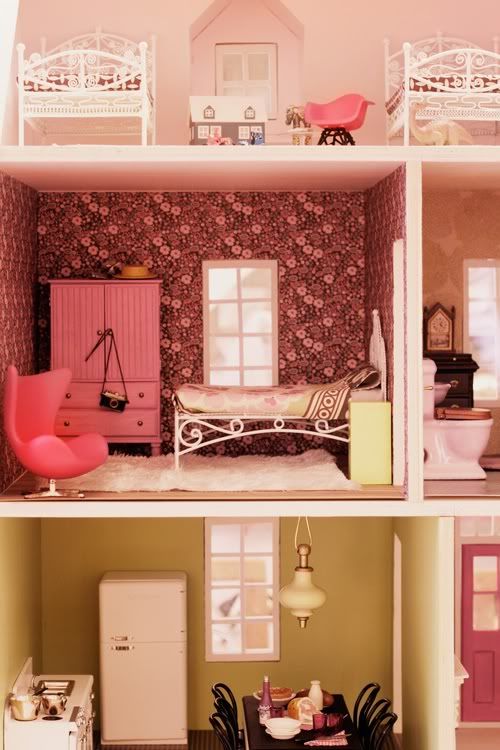 Nicole from Making It Lovely blew my mind last week with her amazing DIY dollhouse. Have you seen it yet? My goodness, it's amazing and I adore how it suits her personal style so perfectly. You don't want to miss the full project, so click here to see the entire thing and learn more about why she made it in the first place. Very sweet and inspiring in all of it's pinkness!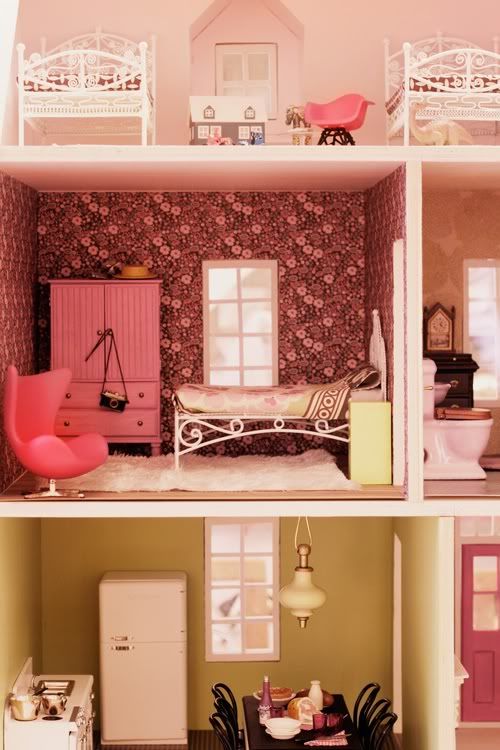 Another sweet thing that I found that Nicole also pointed us to recently are these winter bird tags below – you can find them in full size along with others on the blog of artist Rebecca Kallem so make sure you visit Rebecca's blog to download them for free to pop on your presents!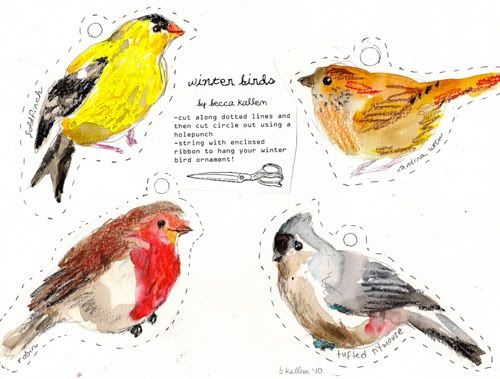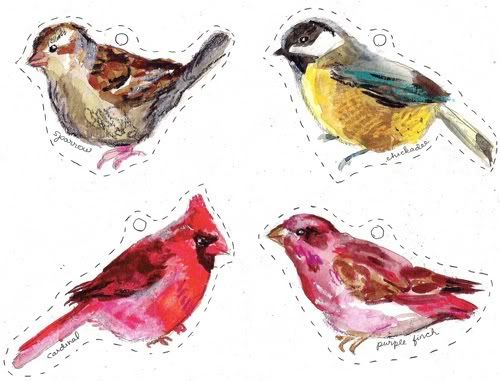 Again, you will find the birdies above in a larger size on Rebecca's blog (here) so you can print them out in color, cut around them, use a hole punch through the little circle drawn on each tag and then tie some ribbon, baker's twine or a 3/4 – 1″ wide strip of torn or neatly cut fabric through them and you have something pretty to top your gifts that didn't cost you a single dime. Tweet! Tweet!
Nicole you are such an inspiration and Rebecca, you too!
(images: nicole balch)
Hi Everyone, It is Leslie here with a little announcement for decor8 readers living in Germany, Switzerland and Austria. I am participating in a gift giving contest on the German Etsy blog today. Please help me select an Etsy gift for my step daughter Caitlin Sheehan from Admiral and Tea. You have until midnight (Central European Time) tonight to post your gift suggestion and then I will pick one gift that best suits her from your entries.
The winner of the day will be announced tomorrow. The competition runs for 3 weeks (Dec. 5-23), so at the end there will be 15 people whom Etsy will raffle off a 3 day trip to Brooklyn, NY (including visiting the Etsy office). The winner of the trip will be announced on Dec. 24th – fun! You can participate here and I can't wait to see what you can help me find for Caitlin! xo, Leslie
(images: caitlin sheehan)