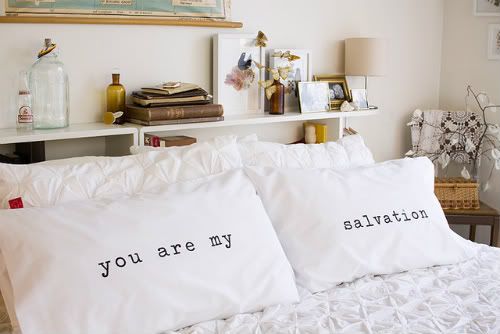 I recently wrote about decorating and shared a beautiful image of a bedroom that I liked from the home of Kirsty and so many of you wrote in to ask about the sweet pillowcases so I have to do a little show & tell! Okay so I am showing….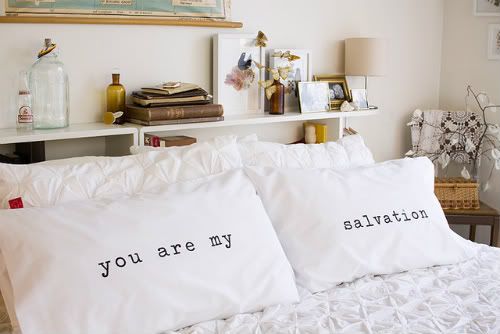 Now I am telling… these beauties are from Salvation Jane, a homewares company in Melbourne, Australia that is owned by Jane Hall who is an actor with a design background. Other cutie cases with hearts and crosses are available too and are shown below. I love how modern and crisp they are.
If you like what you see, you can shop for them (and more nice things) here.
(images: kirsty and salvation jane photos by mike baker)
Hello friends! First, I'd like to thank those of you who entered my gift wrap class (& etc.) at the Anthropologie Pop Up Cafe at  Barcomi's Deli in Berlin (posted here). I know many of you cannot make it because Berlin is no where near where you live, but I wanted to do something locally (to me) because I really want to support Anthropologie and their new German website – it's exciting to see them making their way into my new home country as I've really missed having Anthro stores nearby, especially after living in Boston for so many years. I hope these pop up events lead to a few stores in Germany down the road, I know they'd be a huge hit! But I digress… it's now time to announce the 8 winners so you can arrange your schedule to join us on Friday – because that's coming up quickly! And my 8 special guests will be…
1. Julianne, 2. Simone Haffner, 3. Anna Sterntaler, 4. Annie Raymond, 5. Ursula Markgraf, 6. Anja, 7. Toni and 8. Urszula Lotysz-Bossart.
If your name is above, I will contact you via email today with details and to confirm your attendance. If you cannot make the event please let me know today so I can select another winner and give them your seat. Cake, coffee, the class and the Anthropologie gift cards are only valid to those who attend on Friday so it's important that you show up!
If you entered the contest but DID NOT win, I invite you to stop by anyway between 4-6 p.m. because you can always observe our class and if there are extra supplies and a few spare seats, I certainly don't mind a few guests sitting in – though we cannot guarantee you a seat at our table – and you wouldn't receive the freebies, but please do stop by to see Barcomi's beautiful cafe in the "Anthropologie" style and of course, to say hello to me. I'd like that!
I'm really looking forward to this Friday! I'll see you soon Julianne, Simone, Anna, Annie, Ursula, Anja, Toni and Urzula! Oh and yes, a VERY special thank you to Cynthia, Massimiliano, Claudia and Anthropologie for making this event possible – I can't wait!
(images: claudia wünsch)
Hello everyone! I've been out and about today and enjoyed it so much! It felt good to get my errands done but above all, to connect with a very good friend of mine and to go shopping together in her store! Fun! I found some great Danish clothes and a pretty dress that I will wear to Berlin on Friday. It's always so nice to be with a sweet girlfriend – so energizing!
I came home home with sweaters, shirts, knee socks, leggings and a dress – and that post-shopping guilt, "Oh dear, I exceeded my shopping budget for like five years!". But they I realized that I did need the clothing but that I also supported two shop owners today who have sweet stores that they love and manage with such care – that really means something to me more and more. It's also a great way to ease the guilt (wink). As I was wrapping (and unwrapping!) myself in clothes all afternoon, I started to think about gift wrapping in general because that's all I see in stores everywhere right now – Christmas things. I thought it may be helpful to you to round up a bit of a best of series for you now featuring some of the most beautifully wrapped presents that decor8 contributor, photographer and stylist Leslie Shewring, has shown over the past few years.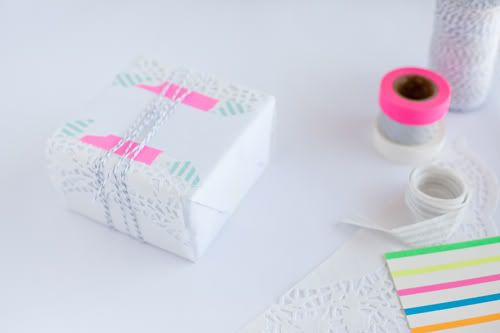 Try neon colors, paper doilies and baker's twine…
Use watercolors to paint your own gift wrap. Add sequins to a simple white gift tag.
Try different textures, velvet ribbon is nice.
A natural touch is always nice.
More watercolors in geometric shapes to dress up plain white paper.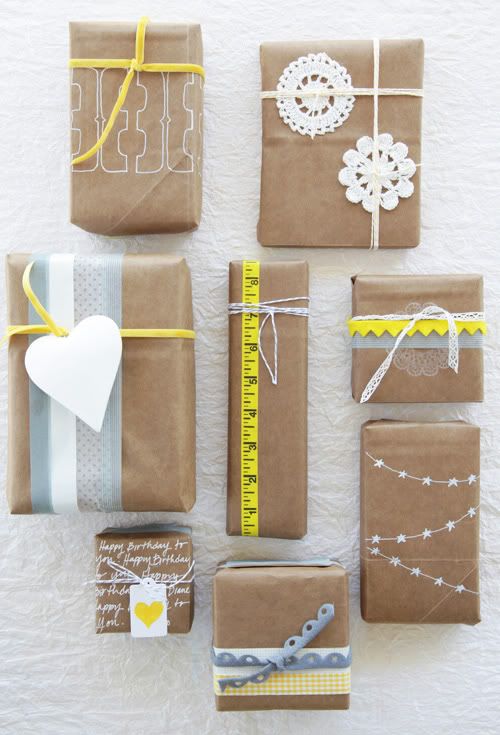 Kraft paper in brown with simple touches goes a long way.

Experiment with Japanese washi tape (masking tape).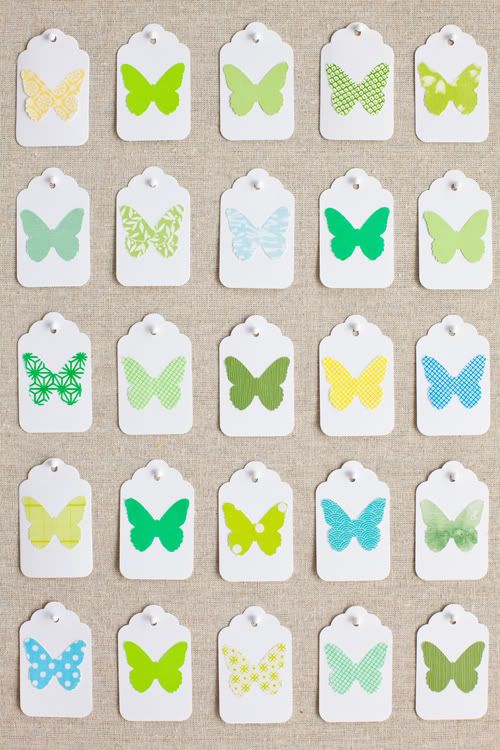 Combine a punch of your favorite shape (butterfly, tree, snowflake) and paper that you love to create a gift tag using a little glue.
Coffee filters, why not, right!?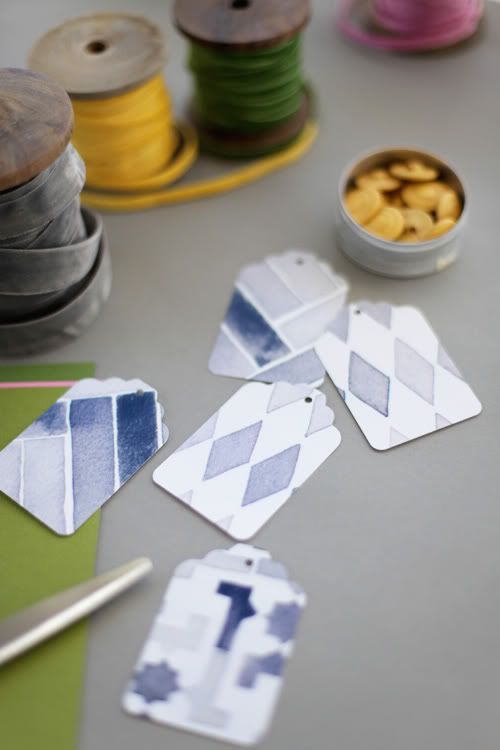 More watercolors on white tags that you can buy in packs from a store like Staples.
Less traditional ways to wrap gifts – from tea tins to a stack of books tied together with ribbon and topped with a handmade greeting.
And speaking of gifts, this little post is my gift to you today and perhaps it has inspired and delighted you. I hope so! A special thanks to Leslie for all of her inspiration over the years!
(images: leslie shewring)