Speaking of my dear friend Yvonne earlier (oh she's such a good, good girl to me), suddenly gave me the urge to pay her lovely blog a visit and wow, oh wow! What did I find? Great news for Yvonne! She is now blogging over at the IKEA Live website and I'm so proud of her because she's definitely fit for the job – Yvonne loves IKEA yet her house never ever looks like a copy of their catalog.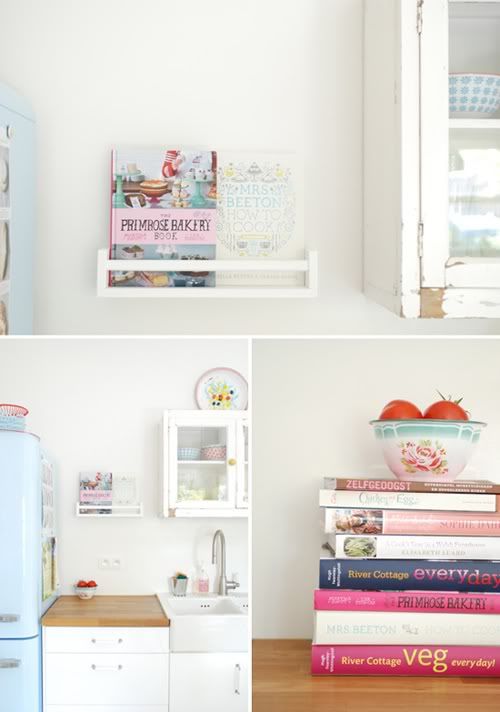 I love that about her decorating style, she can take something from IKEA and use it in a whole new way – add to it, take something off, paint it a funky color, customize it somehow, someway and BAM! it's perfectly perfect in Yvonne's special way. I want to tell Yvonne that I'm proud of her and love that she is being recognized for her hard work as a blogger, stylist and all around great lady who has inspired me so much over the years.
Congrats Yvonne on the IKEA gig! Yvestown Rocks IKEA and they will be better for it, yay! Go, girl!
(images: yvonne eijkenduijn)
London-based stylist and author Sania Pell rocks my world. She has become a good friend of mine and I am lucky enough to get lots of Sania time whenever I'm in London for crafting, shopping, chatting, eating and visits to other lovely friends along the way, like our recent visit with Emma Cassi that she so nicely arranged. I first met Ms. Pell online, thanks to my book review of her debut title, The Homemade Home, and shortly thereafter we met for dinner in London and it's been a great friendship ever since that lovely evening over a year ago now. TGFB! Thank Goodness For Blogging!
I'm so excited that in the Spring, her next lovely book will release, The Homemade Home For Children, though it is now ready to pre-order (yeah!). It focuses primarily on crafting for and with your children but even non-parents like me will buy the book and apply the 50 projects to things in my own home or use it for ideas to share with friends who have kids. Sania is nothing short of pure inspiration (magic!) to me and to her many fans.
You also have to visit her blog, At Home, because there she shares her own photography and many amazing projects that she posts each week. I love her recent posts on adding hand-painted fluorescent touches to flowers (brilliant!), hand crafting clay ornaments, and this gorgeous artistic panel she made using sheer fabric, some leather, thread and fabric.
What an amazing lady, do visit her and also pre-order her book because trust me… You will love it! I've seen a bulk of the projects in it (she showed them to me as she was making them for the book) and you are in for a huge treat. If you think her blog is amazing, the book will blow your mind.
(images: sania pell)
Hello friends! I've been thinking a lot lately about apps on the iPhone and how I can use them to fuel my creativity a little more. Today in the Blogging Your Way e-class that Leslie and I are currently teaching, we provide our students with a list of great iPhone apps and ideas on how and why to use them. One tip we gave is just too good to keep in class because I know lots of you great bloggers out there would love it and it's called Followgram. My most recent obsession is definitely Instagram. Do you use Instagram? If so, Followgram is an excellent companion. This is NOT an iPhone app but a website that gives you the unique opportunity to view your Instagram photos online. This site great because:
1. You don't always need your iPhone to see your Istagram photos.
2. You can share them with others, including friends who do not have an iPhone or who are not using Instagram.
3. You can also view the photos in three different ways: Diary (photos taken on specific dates), List (photos will appear one after the one, going down the page), or Grid (photos shown in blocks).
4. You can also create super duper photo albums to group your Instagram photos for quick reference or to even group them like you would on Pinterest to inspire you or to turn into a future blog post.
Here is an example of a Followgram page – this is my instagram account as seen on the Followgram website:
Another GREAT TIP is that with Followgram, you can now drag and drop your photos from Followgram directly to your desktop, open up your trusty photo editing program and create an interesting composition to save and share on your blog. Here are two examples of this:
Maybe you recently went on vacation and took lots of your travel photos using Instagram. But you haven't had time to connect your iPhone to your laptop to upload the images. Maybe you are using another computer. Just go to the Followgram website and drag and drop your images to the desktop on the computer that you are using and create a collage or something quickly and easily.
Here is another example, you may want to do a regular post on your blog showing a "Best Of October" collage of photos that you took using Instagram that you particularly loved during the month of October. Or you can roundup favorite photos from your home, for instance, photos that you organized under the "Home" folder that you created using Followgram. Smart, right?
Also with Followgram, you can access the photos of other Instagram users and share your favorite Instagram photos on your blog in the same way as shown above – just include photo credits!
Hope this was a fun tip for you to learn… I love finding shortcuts and creative ways to share the things that I love, don't you?
(images: holly becker for decor8)