Oh dear, this new radio from Orla Kiely is a must have. How cute. Does it make your heart explode from your chest, too?
This is the brand new Evoke radio and here's a little bit about it proving that it's not just cute but smart, too, "The exterior boasts a choice of prints, a mirror chromed folding handle, walnut veneered cabinet, cream fascia and a stylish leather tag on the multi colourway. It is packed with features too, including digital and FM radio, an input for your iPod/MP3 player, Intellitext and textSCAN, a striking auto-dimming OLED display, an alarm, a kitchen timer and a USB connector for future product upgrades."
This is now on my wish list in a really big way.
(image: orla kiely)
Dutch designer and fabric lover Rozalinde Innemee has a webshop called MondaysMilk where she sells beautiful Japanese fabrics alongside others designed in the United States by Eleanor Grosch and Melody Miller. Rozalinde also carries a few pieces from Japanese wooden toy maker Kiko+ who will exhibit at Maison&Objet in Paris this September.
I particularly love the extensive collection of nani IRO fabrics that she stocks designed by Naomi Ito. I always buy them at the big fabric market that travels around Germany which comes to my city 4x a year (blogged here) so I own some nani IRO prints and have used them to make bags, brooches, garlands and even most recently in a window display that I created in Amsterdam. They are light and breezy – so pretty – and their patterns so soft and painterly.
Watercolor painter and textile designer Naomi Ito has become a big inspiration to me, please visit her website for some inspiration of your own!
(images: mondaysmilk)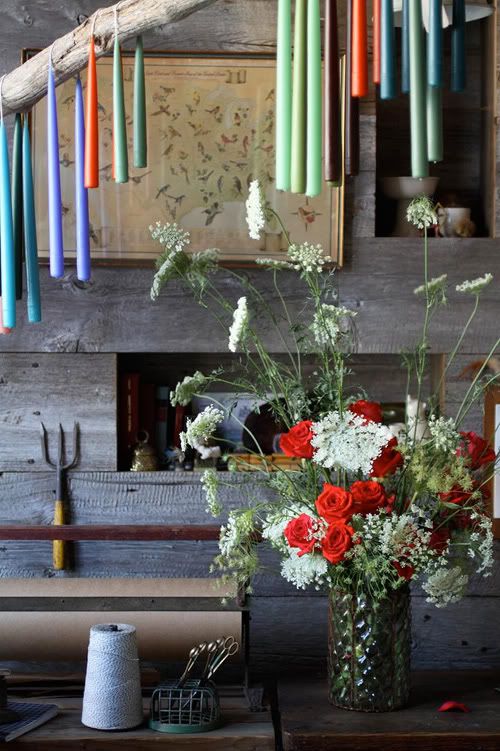 Talented floral designer Sarah Ryhanen is no new name in the blogging community simply because her company, Saipua, has long been an inspiration to so many in Brooklyn and beyond. Sarah and partner, Nicolette Camille Owen really inspires me — in fact her work just plain makes me happy, what can I say? I love her fresh eye, creative color combinations, perfect bits of texture, and her casual approach to arranging. Her work reminds me of my mother's own arrangements and floral still life oil paintings growing up. Mom instilled a love of flowers as art – either on the wall or in a vase – at a very early age resulting in a life long appreciation on my part. I can't pass by a gallery or florist without pausing, or going inside, and I certainly can't leave a farmers' market without a bunch of fresh blooms.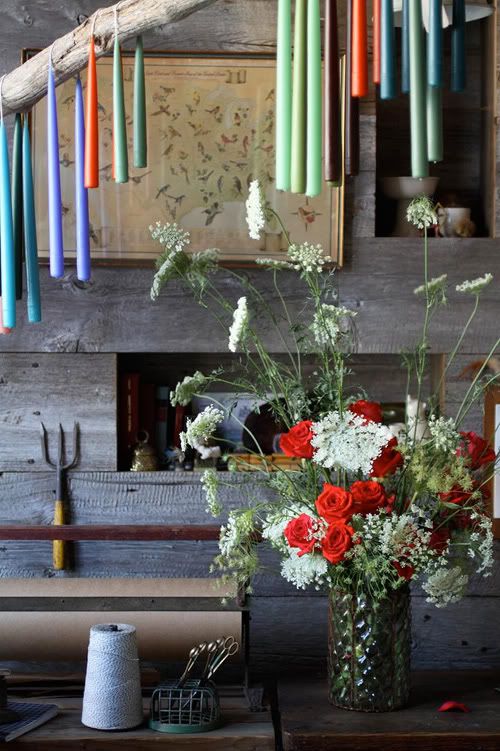 Sarah doesn't simply buy flowers in bunches at street stalls and haphazardly toss them in a vessel — she loosely, yet artfully, arranges them to create a fresh, living masterpiece. When I see a photograph of her work I often stop dead in my tracks and think that I'm looking at a painting brought to life. See for yourself… and while you're at it, look to some of these arrangements for a little Autumn color palette (and texture) inspiration.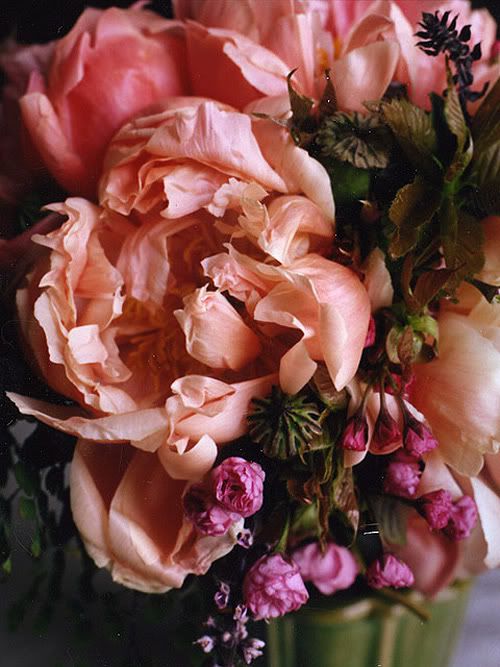 In case you were wondering, Saipua is a Finnish word for soap and that is also what Sarah and Nicolette do very well – they make wonderful soap that I've purchased in the past at Anthropologie and enjoyed immensely. You can also purchase their soaps and things online here. But that's not all – these ladies are also teachers! You can take floral arranging classes in a barn-like loft space behind their shop in Brooklyn and they call that their Little Flower School. How sweet! You may really enjoy taking a class with them — I would in a New York minute! How wonderful!
(Photographs: Sarah Ryhanen)