I'm happy to be able to share a fresh new shop tour today on decor8, this time in Paris, and the store is called Merci shot by fabulous Australian photographer Jillian Leiboff. If you've ever needed shop suggestions for Paris it's quite likely that Merci was suggested to you as an absolute go-to source for all things interior-related. As you scroll down, you'll soon see that Merci is a gem, the Liberty of Paris or so I've been told. But first, a little Merci history… Lots of us suggest is to friends but do you know much about it? I did some research and discovered that there is much more than beautiful things in a gorgeous environment, Merci has a beating heart – it's a store with a story and a soul.
Marie-France Cohen (who is sister of the late Annick Goutal from the prestigious perfume brand of the same name) developed concept shop Merci in 2009 after the success of her lovely children's brand called Bonpoint which has been around for over thirty years. In her sixties now, Ms. Cohen could have decided to keep everything comfortable after selling Bonpoint but instead, she decided to play a game of chance and open up shop again – only this time, a totally new concept and Merci was born
Merci has a cafe with walls of books to browse as you eat (you can buy them for between €3-10 each), a cafeteria, fresh flowers, clothing and lots of interiors accessories, furnishings and lighting. Merci is flooded with light, 1,500 square meters in size (around 15,000 square feet) with 10 meter high ceilings and loaded with inspiration at every turn. What makes Merci and shopping there even more special, in addition to the obvious beauty and selection, is that it is the only store where 100% of the joint profits are donated through a foundation to associations that help women and children in Madagascar, a country in which Merci and Marie-France Cohen has developed a special alliance.
Merci also works regularly with brands like Isabel Marant, Azzaro, Stella McCartney, Kris Van Assche, Paul Smith and others to create a unique piece to be sold there 30-40% less than in their shops.
A mix of old, new and commissioned work, Merci ("thank you" in French), is definitely on the top of my must-see list when I'm in Paris next month. When my friend, photographer Jillian Leiboff, was there recently on vacation, she photographed the store and so all of these pictures shown were shot by her to share on decor8 and I'm so grateful for her lovely work – thank you Jillian!

Isn't Merci just grand!? What are your favorite must-see shops and restaurants in Paris so I can visit some of them?
Merci is located at: 111 Boulevard Beaumarchais, 75003 Paris, Tel: 01 42 77 00 33, Métro station: Saint Sébastien-Froissart.
More beautiful photos of Merci (the store changes constantly so it looks a little different now as the photos above show.)
(images: jillian leiboff)
Hello friends! I have a Paris shop tour coming up for you but since it will take me a few hours to work through all of the images, I've decided to wait until Monday so that I have something prepared for you to look forward to next week! Plus, I've had a long week and I'm ready to start my weekend! It's after 7:00 p.m. now and all I want to do is prepare dinner and go to the local music festival to enjoy the night air, good tunes and some twinkle lights…
I can't believe that in exactly two weeks from now I'll be in Boston – I'm so excited to be flying back home for this (are you coming?)  I have a lot to do to prepare for my 13 day trip abroad to America so I imagine my schedule is about to go from tame to insane but who cares, this kind of thing only happens once in a lifetime so I'm totally going to enjoy the moment and most importantly, meet as many of you stateside as I possibly can!
How about you, what are you up to lately? I hope you happy, feeling inspired and motivated, getting some good work done, enjoying your family life, connecting with your friends and taking in the summer sun. It's a nice time of year to linger in parks, at the beach, in your backyard… We need a little lingering… some relaxation does us good because it inspires our work. We are better at what we do when we approach it with a willing spirit and positive energy.
See you on Monday!
(image: holly becker for decor8)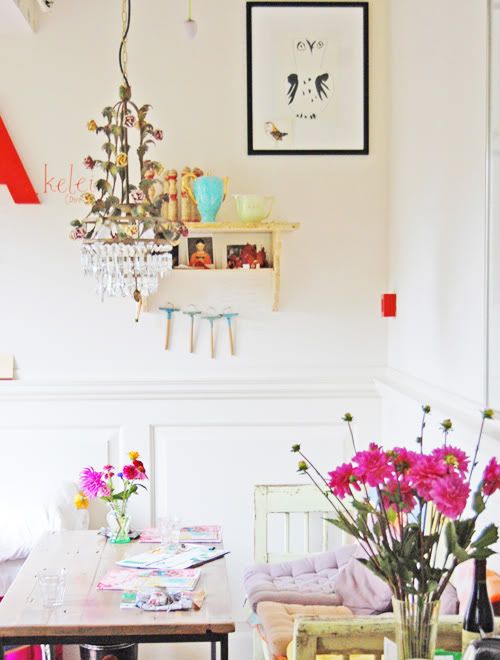 I recently had the delight of seeing Jane Schouten at Meet The Blogger recently in Amsterdam and she gave me some gorgeous postcards that I immediately came home to post on my mood board. Jane is such a lovely person, I've known her now for several years — in fact we first met three years ago in Amsterdam at a blogger meet up organized by Yvonne and I. Jane is known and loved by so many online for her blog and shop, All The Luck In The World, which I learned about way before I even met her back in 2008.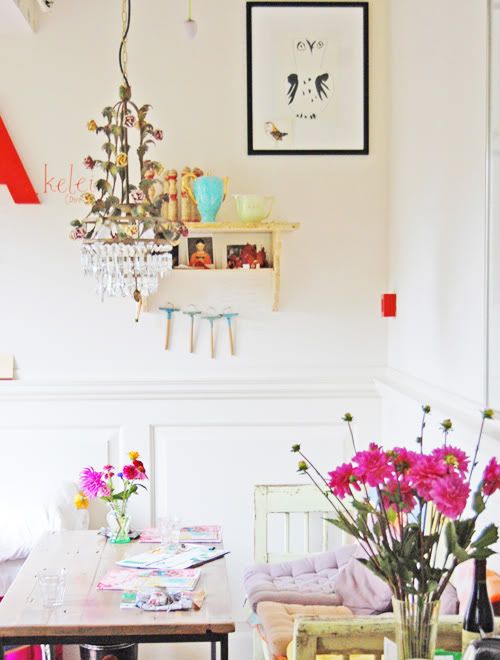 Photo taken at Villa Augustus, a place where I want to plan a girl's weekend this Fall. A mini escape is calling loudly lately!
Lovely Jane has been around online for awhile now and continues to inspire me with her fresh, quirky take on homespun interiors with an artistic point-of-view. Here are some recent photographs that she has taken in and outside of her home that I found so inspiring — and I'm willing to bet these photos will lure you over to Jane's world if you haven't already visited her on her blog or in her little online shop.
A DIY project where Jane shows you how to do something creative with a simple photo cube. This is something I've done in the past, using these cubes to display mini prints and little things from my forest walks, but I never thought to put them on the wall. Brilliant – you can find the project details here.
Isn't Jane's eye so lovely? What a nice way to begin a weekend, isn't it? With a fresh, creative open-to-anything mindset. Love it. This is what decorating should be – personalized, fun, original and a bit of who gives a damn. :)
(images: jane schouten)
If you are inspired by paper and the sheer versatility of it, from stationery to jewelry, artwork and beyond, then digital magazine Paper Runway is for you. Released online quarterly and packed with pages of inspiring images and ideas, easy DIY projects and gorgeous products, I appreciate their focused content (paper!) and how well it's edited with just under 70 pages so it's not overwhelming… Some of their spreads really appealed to me this month like these three below…
Don't miss Paper Runway, their new issue is on computers everywhere right here. You can also purchase hard copies on this page for just under $25 per issue. Enjoy!
(images: paper runway)