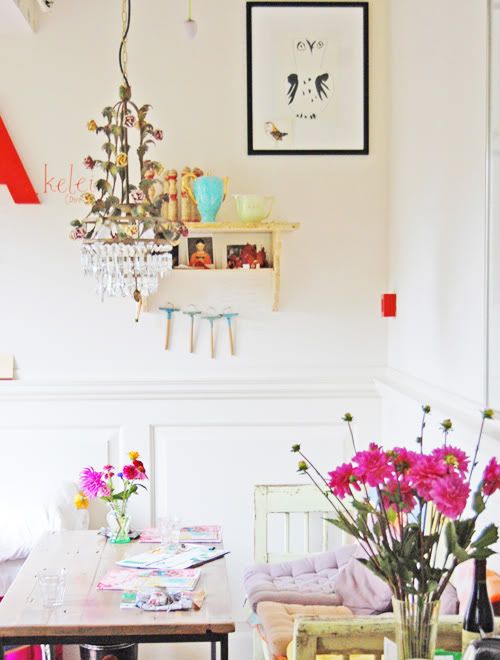 I recently had the delight of seeing Jane Schouten at Meet The Blogger recently in Amsterdam and she gave me some gorgeous postcards that I immediately came home to post on my mood board. Jane is such a lovely person, I've known her now for several years — in fact we first met three years ago in Amsterdam at a blogger meet up organized by Yvonne and I. Jane is known and loved by so many online for her blog and shop, All The Luck In The World, which I learned about way before I even met her back in 2008.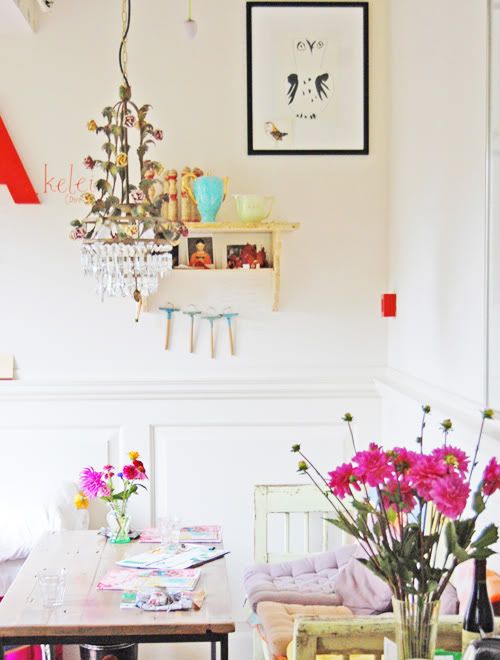 Photo taken at Villa Augustus, a place where I want to plan a girl's weekend this Fall. A mini escape is calling loudly lately!
Lovely Jane has been around online for awhile now and continues to inspire me with her fresh, quirky take on homespun interiors with an artistic point-of-view. Here are some recent photographs that she has taken in and outside of her home that I found so inspiring — and I'm willing to bet these photos will lure you over to Jane's world if you haven't already visited her on her blog or in her little online shop.
A DIY project where Jane shows you how to do something creative with a simple photo cube. This is something I've done in the past, using these cubes to display mini prints and little things from my forest walks, but I never thought to put them on the wall. Brilliant – you can find the project details here.
Isn't Jane's eye so lovely? What a nice way to begin a weekend, isn't it? With a fresh, creative open-to-anything mindset. Love it. This is what decorating should be – personalized, fun, original and a bit of who gives a damn. :)
(images: jane schouten)
If you are inspired by paper and the sheer versatility of it, from stationery to jewelry, artwork and beyond, then digital magazine Paper Runway is for you. Released online quarterly and packed with pages of inspiring images and ideas, easy DIY projects and gorgeous products, I appreciate their focused content (paper!) and how well it's edited with just under 70 pages so it's not overwhelming… Some of their spreads really appealed to me this month like these three below…
Don't miss Paper Runway, their new issue is on computers everywhere right here. You can also purchase hard copies on this page for just under $25 per issue. Enjoy!
(images: paper runway)
I know that you'll walk away feeling motivated and refreshed after reading this interview and seeing this quirky East London studio so I'm just delighted to share it… But first, a little background… I recently had the honor of interviewing Vicki Murdoch, the creative lady behind the Silken Favours brand who recently launched her first collection of scarves at the prestigious Liberty of London. I first found out about her via Liberty and this video, which made me want to learn more since I fell in love with her scarf patterns and colorways. I want to purchase one to frame or turn into a giant cushion for my sofa.
In her video, I caught a glimpse of her work studio and simply had to learn more, and see more, so I approached her for an interview and was delighted when she said her friend and photographer, Martin Zahringer, would be happy to take photos to share on decor8 that haven't yet been online before so I hope that you enjoy these views. Vicki is an inspiring young woman, just barely 30-years-old, this gorgeous talent is one to watch for sure! Would you like to meet her? Of course you would… so let's get started, shall we?
Hello Vicki, can you tell us where you are from, where you live now and what you do? Yes, I'm from Aberdeen, Scotland, live in London and I'm a designer.

How did you get into design? I moved to London twelve years ago to start a career in modelling, I was lucky enough to travel the world for a couple of years, living in Tokyo, Cape Town, Sydney and New York but then settled in London and went on to study textiles at Chelsea Art School. When I graduated I worked for a few companies but realised very quickly that I wanted to design for myself, so created 'Silken Favours' which started as a bespoke scarf service and I then went on to design my new range.
How did you get to work with Liberty on your collection? I went to their Best of British Open Day in April 2011. They give you three minutes to pitch your designs, they then give their expert advice, which I took, and added a dog scarf to my 'heart collection'. I was then told they would be in touch. Two weeks later I got an email inviting me back for a second interview and a week later they placed an order. So it all happened pretty fast.
What are you goals for the future regarding your pattern designs? Do you see them in interiors? I would love to design for interiors, For my final degree show piece I created an environment inside a 1960s Cheltenham caravan (photos above), which I named the 'Catavan'. Every print was cat-inspired – and I used over thirty designs – on upholstery, curtains, wallpaper, flooring, pillows and dresses. I did a short course on upholstery so I could revamp old chairs using my prints. Basically I would love to see my patterns on most objects.
What inspires you about your studio space? I live and work in a large, light-filled warehouse in East London which is shared with five other people.  I've been here for four years now. We are all creatives and lead busy lives and we each have our own studio space within the warehouse so there is always something going on.  It's not as noisy and party-filled as it used to be, through our own choice and the small threat of eviction.

What motivates you to work freelance? I love being freelance, I was a freelance fashion model for 5 years then a student for four years and now I'm a freelance designer. I don't think the structure of a 9-5 would suit me. I suppose I'm just used to being freelance so I get on with it. I know you have to put certain amount of pressure on yourself to get things done, but also not to beat yourself up and enjoy life when you can.

What do you do to find inspiration? I find a lot of my inspiration from nature, I had an epiphany once out running in Victoria Park, "All I want to do is dance and draw", I ran back home very excited and started drawing, the dancing isn't going as well.
What inspires you about living in London? Lots of things: my friends, Victoria Park, Kew Gardens, the markets, Hackney Farm, the V&A and small up and coming galleries.

What are your favorite interiors and fashion magazines? 1970s 'Ideal Home' and 'House and Garden', Nest, Wallpaper, Casa Vogue, Amelia and LOVE.
How does a designer get their line into a store like Liberty? The Best of British Open Day, the next one is Saturday, August 20, 2011.
What do you think matters most when it comes to working for yourself? Focus, Determination, Belief and Enjoyment.
What are some trends in pattern design that you find inspirational? Mirrored opulence, nature, animals and anything 1970s.
Thank you so much Vicki for this peek into your life and studio, I'm sure decor8 readers are all going to be big fans of yours now after seeing you in action in your fun space. Thanks again!
(Photographs: Martin Zahringer)
I have some brand new bedding for Autumn to share from Aura by Tracie Ellis, a Melbourne-based interiors brand that I have fallen in love with over the months due to their sumptuous bedding. I did a double take the moment I saw the Autumn "Ankita" bed linen collection, especially the chevron duvet shown below – I want, want, want that! Ankita is an ancient Sanskrit word that means 'marked for prominence,' but also Ankita is a rare, Indian-inspired beauty.
Their linens are inspired by faraway places and the colorways are meant to, "recall ancient cultures and quieter times," making this collection feel so inviting – it's meant to calm, transport, soothe and turn the bedroom into a sanctuary, "Ankita transports a bedroom into a past of spiritual ease." Doesn't that sound just lovely?
In addition to these photographs above, you can view the entire AURA by Tracie Ellis catalog online here in their flipbook where you will find more bedding in addition to table linens, cushions, fashion accessories and more.
Now to go to their website to check out that chevron patterned duvet… :)
(images: aura)