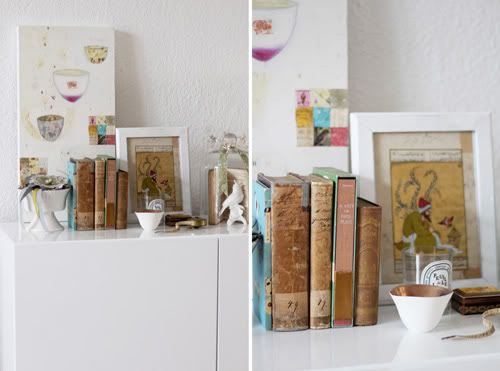 I like white things. I like gold things. I like new things. I like old things. What I don't like is the nagging voice that reminds me of what's missing. Here's a corner of my home that I stumbled upon this morning, paused, and said to myself, "I quite like that". Sure, I need to hang my art and get some wallpaper… but it's also fine just the way it is.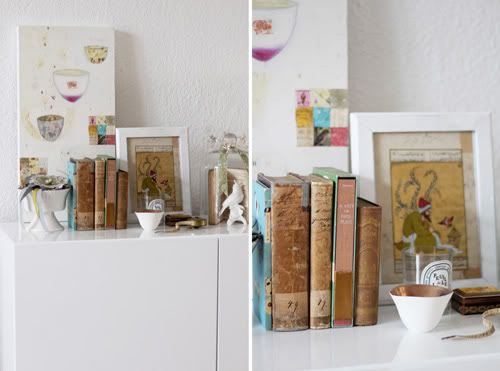 Sometimes we need to live in the moment and be perfectly content with what we have and forget about the projects pending, the ugly bathroom tile, the floors in need of a good scrub. It would do us some good to simply pause and say, "I quite like that," whatever "that" is, and just leave it alone, walk away, and feel good about accepting what is without worrying one bit about what it is not.
(image: holly becker for decor8)
I love it when creatives collaborate, the results are often fabulous! Take for instance the work of Little Owl (Bruce Wayland and Marcello De Simone) and Swarm (Leslie Oschmann). Perfect. These paintings on plates are so intriguing and unique and are part of the Altered Perspective series. I don't recall seeing anything like them before which is exciting and why I find Leslie, in particular, so talented — she really creates.
"Taking two usually separate objects [Paintings & Blue and White Transferware] each containing scenes, or 'perspectives', and through artful alteration produced unexpected new images from the combination of both. The juxtaposition results in something that becomes a conversation piece as the canvas of the painting merges with the printed images of the plates. A landscape painted in the Netherlands blends into an English country scene on the plate, and in the process a new image is made through the merging of both. The roughness of canvas from the paintings and the smooth gloss of the plates makes for an appealing contrast of surfaces." – Little Owl.
A new batch of one-of-a-kind plates just released, visit this page to see what is available. Quickly! They sell out fast!
(images: little owl)
Kinfolk is a new American e-magazine with a focus on simple entertaining available both online and in limited print runs. If you don't spend a lot of time and energy on the preparation of food, knowing the ingredients, or getting all hot and bothered when you find an amazing new food gadget, Kinfolk just may be the magazine for you. There is a big trend called eating in and it doesn't have to be complicated – it just involves sharing time with those you love. Here are four of my favorite pages from their debut issue.
"Kinfolk is a collaborative effort to encourage a more natural approach to entertaining. It's the marriage of our appreciation for art and our love for spending time with family and friends." This reminds me of my life in Germany where food is all about sharing time with family and friends – at home, in restaurants, in beer gardens, in parks, on the lawn — people really spend quality time and linger over meals and I love it. It's not uncommon for neighbors to put a table and benches on the sidewalk and eat together in the summer months. In my new culture, there is even a daily cake and coffee hour at 4:00 p.m. and Sunday is still considered the day in which to prepare a big family meal. It's this Gemütlichkeit that I love the most about living in Germany and being at home with friends here.
How do you spend time at home with your family? Do you have a meal schedule? Do you wing it? How often do you entertain? Do you have a day of the week in which you prepare a special meal? Do you do fish on Fridays (my grandmother always did)? Do you cook a large meal on Sunday or another week day?
Tasty!
(images: screenshots from kinfolk mag)
Okay so here is the designer in London that I told you earlier about — I am so completely inspired by British textile designer Victoria "Vicki" Murdoch of Silken Favours right now! Seriously, the lady walks on water. Do you know her? She creates hand-drawn silk scarves inspired by nature and they are available exclusively at Liberty. You have to watch this video, she is positively lovely!
I'd love to buy a ton of them (I wish!), sew them together, and create a gorgeous curtain for my guest bedroom or stitch them on top of a quilt for duvet… Imagine? But I think I may just buy one and frame it for my bedroom…
Her designs could so easily work in the home — throw cushions, shower curtains, I see a big future for this lady! I love the cushion that she made for one of her clients shown above. So sweet!
Here is a great article about her as well in the Daily Mail and this video shows her modeling for L.K. Bennett as part of their real women campaign. Gorgeous!
(images: silken favours)