Rosemary Milner has the most beautiful screen printed wallpaper, books and fabrics! She is a delightfully talented surface pattern designer from England who recently graduated from art school and clearly has a huge future ahead of her, evident the moment you visit her website. She loves traditional methods of printing and production and craft so she's keen on things that most of us love — like hand stitching, hand etching, silk-screen printing and lino illustration. Rosemary's current collections are inspired by flora and fauna with historical narratives.
Her woodland animals, British birds and botany, alongside her own fresh interpretation of them, are quite sweet and charming. There is almost a fairytale-like quality to them, they remind me classic books, picnics in the park and freshly picked daisies. Her embroidery collection and wallpapers are my person favorite. I love the tactile element – stitched fabrics and papers, vintage notions, found items and hand stitched motifs — all things that I absolutely love.
Rosemary is available for commissions and is even open to the idea of extending her designs for the mass market into linens and furnishings. I'm excited to see where she lands someday — such a great future ahead for Miss Rosemary, I'm sure.
I so like, like, like this! Quick someone, I need a like button! :)
(images: rosemary milner)
It's time to explore a stylish space but not in New York, Berlin or Los Angeles, but in a country town in Poland! It's a modern, natural style home outside of Warsaw together we'll get to know the home owner and some decor trends over there. After writing recently about my desire to see homes in places that aren't in your typical hip metropolis, I decided to do some research to see what I could find in Poland of all places. We're only about 3 hours or so from the border and we pass license plates on the autobahn quite often from PL and I wonder what it's like over there, I really have no idea… And then I heard that my book will be translated into Polish next Spring… so my interest is definitely piqued so let's take a little trip, shall we? How are some people decorating in Poland today?
This gorgeous space belongs to Joanna "Asia" Gwis and her husband Seba along with their fur kids Fika the dog and four cats Antek, Koksik, Koko and Paproszek. [Are those not the cutest pet names ever?] Asia and Seba have owned their old wooden home for about four years and live 30 minutes outside of Warsaw in the countryside. Asia is an illustrator and graphic designer who works on freelance projects for magazines and book publishers and she authors her own decorating blog, Kavka while also running her small online shop under the name Oh Kavka where she sells her illustrations and a few handmade dolls.
The layout of the house goes something like this — the ground floor is one big room so it's an open space with a separate bathroom – so they have their living room, dining area and kitchen more or less together. Then, on the first floor, there is another big room where they have their office, bedroom and master bathroom. So that's the lay of the land. I thought I'd ask Asia a few questions about her inspirations, Polish trends and people there who inspire her so her thoughts and links are below.
How do you develop your creative eye? I love traveling. Visiting new places is the most inspiring thing because you can learn something new and also it can change your everyday views. You are able to see many new and interesting things during your travels but then once you are home you can look are your own objects around you in a new and interesting way!
What inspires you about living in Poland? Nature, folk art and little, forgotten places like this house or this one which I took at this open air museum in Tokarnia. I prefer the Polish countryside more than urban landscapes.
What are your favorite Polish interiors magazines and blogs? To be honest, I don't have any favourite polish magazines or blogs. I buy Dom & Wnetrze or Polish editions of Elle Decoration (it's not as good now as it once was) from time to time but I prefer international magazines because there is a little fear for Polish magazines to show "real" spaces, the way most of us here are living, without expensive furniture and designed by a well known interior designer etc. I prefer to see places like that over the flashy, expensive homes which is why on my blog I have the, "Visit with Kavka" series, which shows homes with a personal touch, mix of furniture and styles, etc.
What are some trends in interiors in Poland at this time? I don't personally follow trends as I've been very faithful to my own style for years but I can show you what trends I've observed lately in magazines here so you can catch a glimpse into what is hot in Poland.
Who are some Polish stylists or designers that you love? I absolutely love everything made by the stylist Basia Dere?-Marzec, whom I wrote about on my blog not to long ago. You can also see her online portfolio here. I also like Ola Wasilkowska who is a young Polish architect with great talent and vision.
I also like the spaces by designers Agnieszka Kossowska and Katarzyna Baumiller from Baumiller Kossowska because they are tasteful and accessible.
I hope that you enjoyed this peek into Poland today and thank you Asia and Seba for the warm welcome into your ultra cool home.
(Images: Joanna "Asia" Gwis)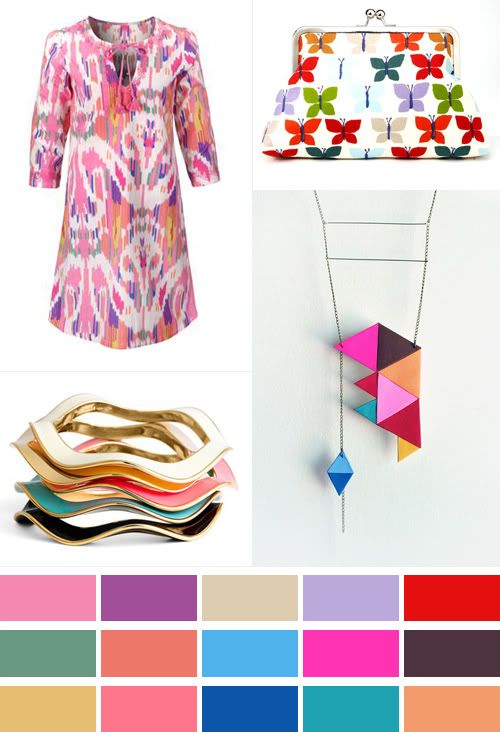 Do you love pink but have a hard time using it at home? Do you find it tricky to know which colors to pair it with in order to avoid an over-the-top Hello Kitty loves Barbie fest? Well, are you familiar with designer Emma Lamb? If you've been reading decor8 for awhile, I'm sure you are — I've mentioned her before and find her crochet work so nice — especially if you are into the ever popular homespun style that is taking over the internet at the moment. Emma's blog really caught my eye lately because of her color boards and the more I see them, the more I'm reminded to feature them on decor8. Like most of you, I like peeking into the imagination of those working in creative fields to see what their starting point is for a design. On Emma's blog, I particularly enjoy her color palette series and though she has tons more on her blog, here are five of my favorites at the moment, all layouts below are by Emma and images are individually linked below.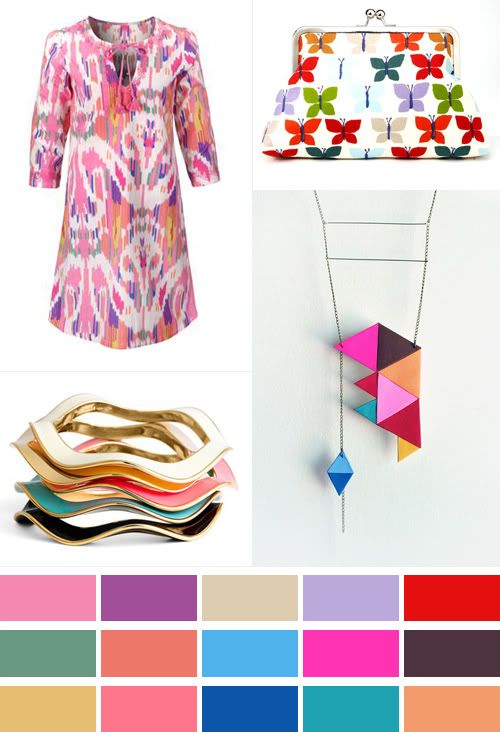 1: GEMSTONE: A bold, almost neon pink paired with other jewel tones is so pretty. These colors make me think instantly of Kate Spade! Images: 1. Cath Kidston, 2. Penny Royalty, 3. Lepidoptery, 4. Kate Spade.
2: MINIMALIST AT HEART: This looks very Scandinavian mixed with a Japanese touch — all rolled into a minimalist, clean aesthetic. The black makes this palette work so well. I love how pink is almost bubblegum but looks so grown up alongside the "hot" colors and the very cool grays. This palette reminds me a bit of the most recently Chloe collection. Images: 1. Conni Matta, 2. Retro Villa, 3. Wu Guanzhong, 4. In Queue.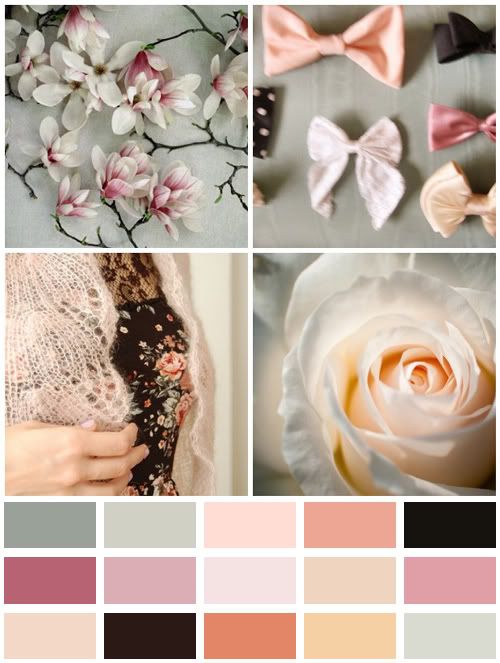 3. ENGLISH COUNTRYSIDE: This is a romantic, cool palette using various tones of pink which gives this palette a lot of depth – it's subtle, layered… sweet. Images: 1. Alicia Bock, 2. Sarah Wynne, 3. Derya Davenport, 4. Tetsu-FMR.

4. AUTUMN FEVER: Pink here is used in various tones with a variety of brown, yellow and some orange-red to warm it up. This is a great alternative to the typical Autumn palette that so many stores throw at us with the normal brown, orange, red and copper colors. Mix in some warm mustard, apricot and fuchsia for a kick! Images: 1. Marisa Peterson, 2. Violet May, 3. Hip & Clavicle, 4. Ruti's Roots.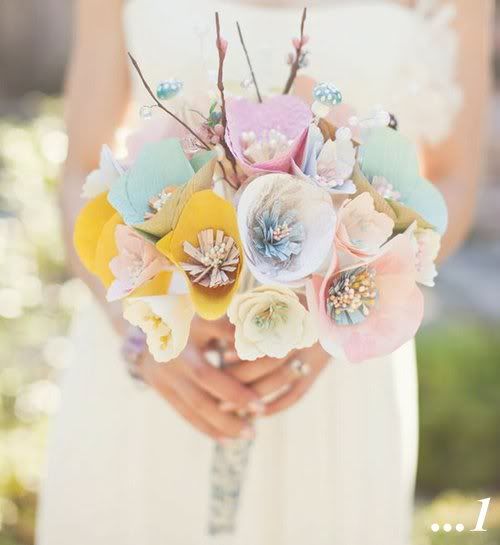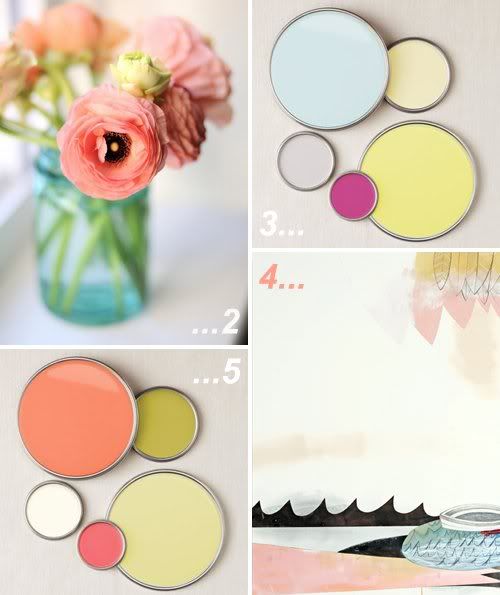 5: FRESH PICKED: This is an enticing use of pink for the summer – for a wedding, patio decor, tabletop styling, even a pretty summer outfit. This is very J.Crew, isn't it? Lots of blue, yellow and green tones here. You could wear white linen pants with a colorful top with lots of these colors in the pattern, a solid tangerine handbag and gold sandals to pick up the warm yellows in this palette. Here, pink is very retro modern and has zing. Images: 1. Style Me Pretty, 2. raehein, 3. Better Homes and Gardens, 4. Eva Magill-Oliver, 5. Better Homes and Gardens
Out of the color groupings above, which one caught your eye? What do you like about it? How would you like to use it? Did this inspire you to think outside of the box when it comes to pink? It doesn't always have to be super sweet and girly?

Gorgeous palettes, Emma – we're all so inspired by these mood boards you've done!
(images linked above to their source, collages by emma lamb)
Hello friends, it is Leslie here with Color Me Pretty for July. I just got back from Tokyo so I thought it would be fun to share some of my color inspiration from the trip. Similar to last summer, I noticed a wide use of fluorescent colors in home décor items, fashion, stationary and even crafting supplies (read Neon Pink here). Small blasts of color can really liven things up. I have gathered a few ideas that I hope will get your creative wheels turning.
If you cannot imagine anything permanent in your home with such electric color, try introducing a tiny bit on a mood board. I made a little garland using tape and beads in fluorescent pink, yellow and orange.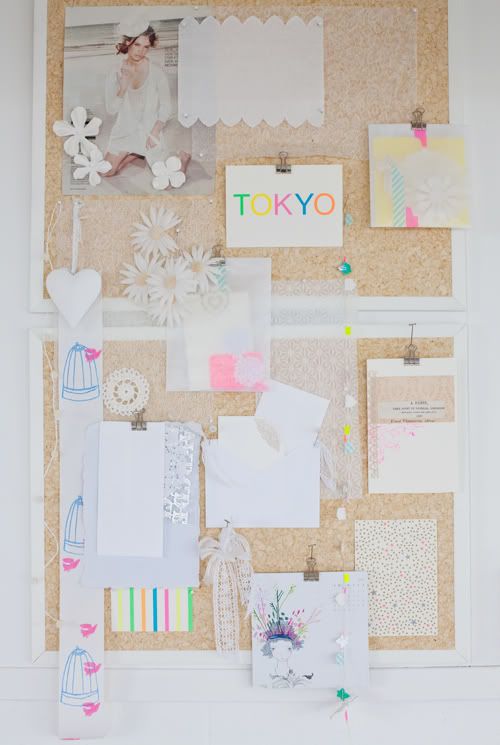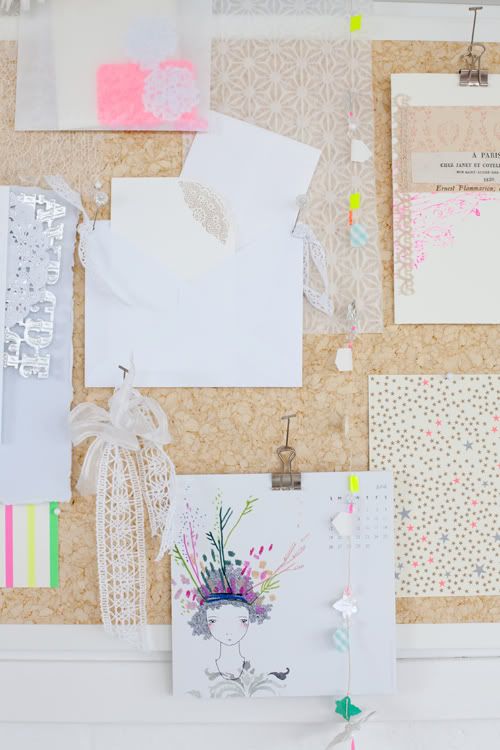 I also found a beautiful card by Emma Cassi that has a perfect fluorescent pink and a calendar card by Catherine Campbell brings in a few more bright tones. Mixing these flashes of color with a sand and white backdrop really speaks to me about summer.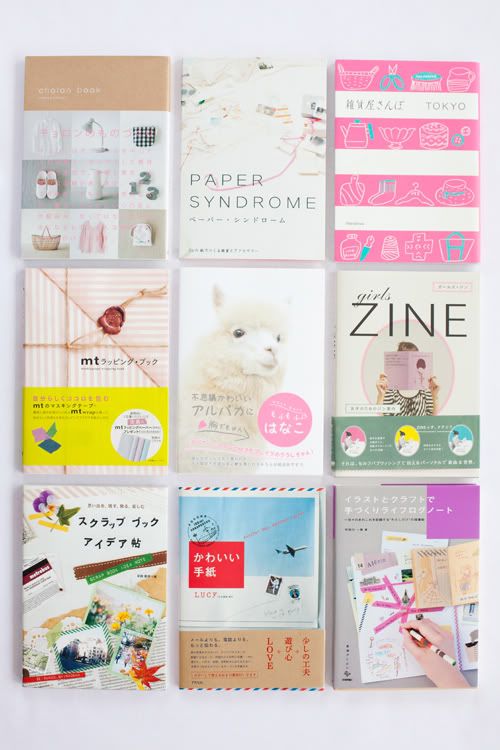 Every time I go to Japan I cart back a bunch of books. It is fascinating to examine how they approach collage, journaling and home décor. I also love seeing what is the current "kawaii" or cute obsession. Pandas are always big, however, this time I noticed a lot of lama (or alpaca) motifs. Yes, lama motifs adorned books, stickers, fabrics, calendars and t-shirts. Who knew? I wonder what will be next?
Little fluorescent touches to party décor (i.e. balloons, candles, streamers), make your own cards, photo album embellishing and gift wrapping are fun ways to experiment with these colors that you may not normally use.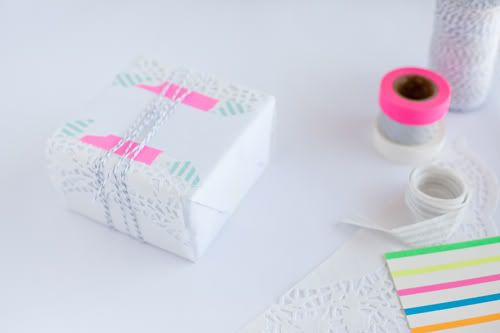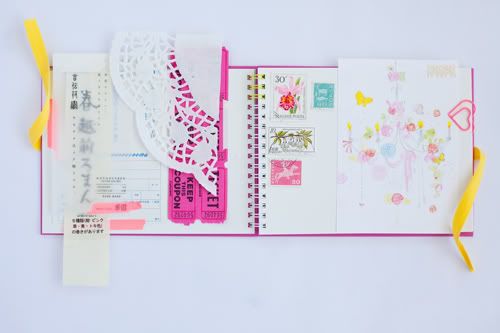 As is brightening up an area around your desk with a little fluorescent tape on some of your favorite images. These rolls of Pro Tapes look like they could be good for these kinds of projects.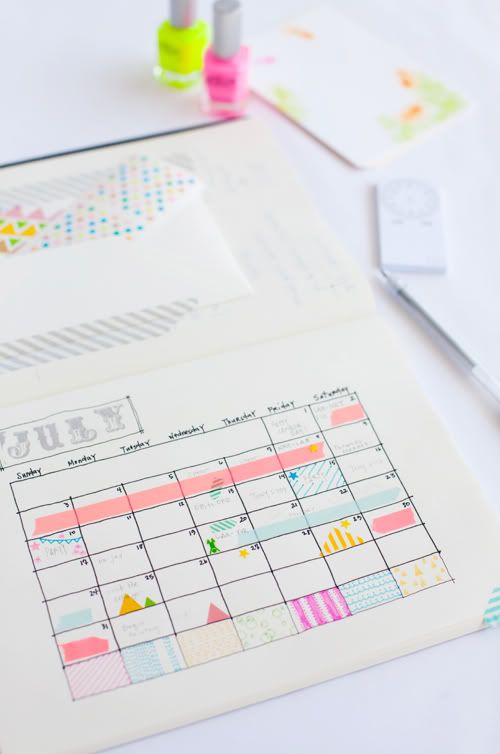 Lastly, you could always decorate your day-timer. Why not add some bright colors to make your schedule seem a little more playful? We are all busy these days but do we have to be so serious? Come on, try painting your toe nails fluorescent and add some teen spirit to your calendar. :)
How do you place to add a little neon to your life? Any ideas to share?
I will see you back here in August. –Leslie.
(photography: leslie shewring)