I will forever have a place in my heart for Liberty, not only because I've loved their fabrics for years and years, but because they threw me a splendid book launch party in their gorgeous store back in April which is one big way to launch your first book! But this post isn't about that, it's about another book – their upcoming title, The Liberty Book of Home Sewing, and I can't wait to sink my teeth into it!
Written and produced by the fabulous Lucinda Ganderton (I own several of her books) and published by Quadrille Publishing — this title has me quite excited!
(UK jacket shown above.)
Sure, Liberty-inspired books have been done before, my most recent favorite being by French author Alice Marceau called En toute Liberty (also available in German under the title Ganz In Liberty – you can see my copy here), but I love seeing a more quirky spin on Liberty prints and this book will feature plenty of them!
"The book is divided into three chapters – Essential, Organisation and Luxury – and contains projects ranging from practical fold-up shopping bags to elegant cushions, through handy display boards and book slipcovers to indulgent kimonos, beanbags and throws. Variations and alternatives are included for many of the projects so that the core collection is in fact an inexhaustible resource of ideas."
(US jacket shown above.)
And… if you love the idea of sewing + Liberty fabrics, then why not combine the two and take their Frilly Pinny class at Liberty in London on either September 18th or the 25th with sewing instructor Nicole Wilson who will show you how to create your very own apron (frilly pinny) using Liberty fabrics and the design from the upcoming book! Fun!
Just added this one to my wishlist!
(images: quadrille publishing)
Oh la lovely! It's time to share the decor8 blog of the week once again, a tradition that I've held since 2006 as a way to share with my dear friends and readers all of the blogs that catch my eye that I think could be a great source of inspiration for each one of you as they are to me.
Today the tradition continues over five years later as I diligently update my blog of the week with the same passion and intention as before – to spread the love and play it forward because bloggers supporting bloggers, at least blogs we connect with and believe in, is important. This week, Le Dans La, is the featured blog and my my my I just love it. If you cannot read French, open the blog in Google Chrome and click "Translate" in the toolbar and you will have a better understanding of what Le Dans La is all about.
Le Dans La is written by Zooey, a French stylist and I just love her casual, fresh aesthetic, her home shots, outdoor photos and her darling child with the golden ringlets in her hair… And of course, how can one not love the gorgeous shoes that she co-designs and has made by hand in Mexico for women and children that she sells in her shop called Albert et Henriette, named after her grandparents who were linen merchants and in the millinery business. Her life in France reads as both idyllic and intriguing and combined with her gorgeous photography, well, I have to say Le Dans La is quite a fantastic little gem.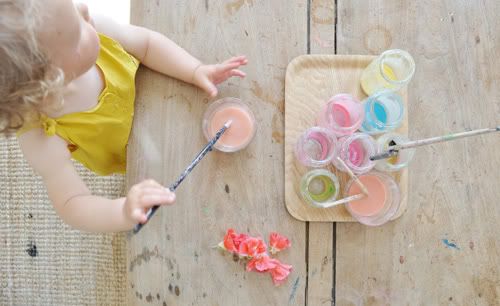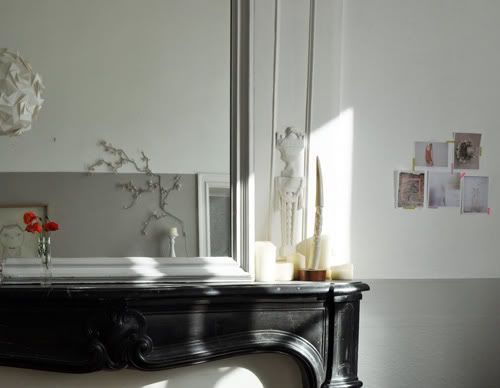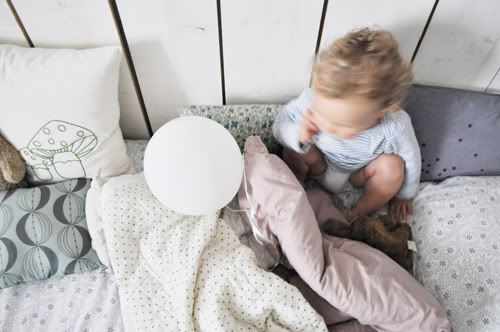 I hope that you enjoy Le Dans La this week and thanks to Sharon Smith on Pinterest for pointing me indirectly to this blogger.
(images: le dans la)
Hello everyone! Are you in need of a little Monday inspiration? Don't worry, you can depend on me to get your week started off on the right foot because I'm inspired by so much and am dying to share with you what's on my radar currently Ready? Okay so first on the agenda this week… let's talk about love and design. Liebe (lee-ba) may be the German word for love, but Liebe was once a Prime Minister in Denmark back in 1920 and today, Liebe is also the brand of Susan Liebe, owner and founder of this gorgeous storefront in Copenhagen known for interiors items and jewelry, ceramics, Liberty London textiles transformed into pretty cushions, and more.
I'm really smitten by Susan's aesthetic and products; I simply must see her shop. I like Susan's trained eye for pattern, texture, and color. I find her color palette quite soothing and modern but also very coastal in pale tones of blue, pink, green… So pretty.
My friend Daniella sells Liebe products in her store around the corner from where I live at a shop called Sommerflugl, but for the rest of you try visiting the Liebe online shop to make a purchase. I'm currently liking the Liebe heart earrings – I want to own several pairs in different colors – especially the yellow ones to pair with a yellow-cream blouse that I have with tiny black polka dots on it.
I'm also inspired by the preview of her work studio (see below) and home in this Japanese magazine with a focus on 19 Scandinavian spaces – so pretty! Susan is a true artist, her style is such a part of her life from the way she decorates to the things that she makes – there is a golden thread that runs through everything she puts her hands on and I love that defined style which is so uniquely her own. Finding your personal style is quite a challenge for many, but so worth it once you do define yours because then their is this lovely cohesive quality that binds together every fiber of your life and it really makes a different in how you approach each day, idea, adventure, goal… I could write a book on this, but it's a topic in which my passion runs deep.
What do you see that catches your eye in the images above? And by the way, happy Monday everyone! Cheers to a brand new week. :)
Oh and do you like what you see? The Traveling Mama posted a review about her visit to Susan's shop in Copenhagen with pretty photos, click here to see more.
(images: liebe)