You are going to love this home + lifestyle brand from the Netherlands! I wrote about HK Living over the winter since I first found them during a business trip in Hamburg at that time, but they've since launched gorgeous new products and offered to give decor8 readers an exclusive first peek – so here you go my friends! Drool like a fool along with me! :)
As you may have noticed, the whole industrial ethnic chic vibe is huge over in my part of the world. My home has touches of this trend as well. How about where you live?
I personally LOVE all of the natural materials combined with gray and black with shots of bright color, ethnic touches, and the overall relaxed vibe. It's so inspiring, global and attainable. What do you think? See anything that you like from the photos above? What is missing in a collection like this that you'd like to see more of?
(images: Isabella van Reeuwijk for HK Living)
It's no secret, Berlin is the creative capital of Germany. While Hannover may have just been voted the greenest city in the country with 20% being parks, forests and gardens (we have the largest natural city forest in all of Europe behind my house), Berlin definitely has earned its reputation as an international city where creatives work and play. It's an inspiring place – gritty and pretty in some parts – eclectic, quirky, etc.  The cost of living is still relatively low compared to other cities in Europe, especially for the types of living spaces that you can rent in comparison to say, Hamburg, London or Copenhagen. It's nice to be able to actually afford to live nicely while still pursuing creative interests and even starting your own business. Right!?
So many love Berlin for many reasons, but for me, I feel inspired when I'm there surrounding by its 180 museums, stores, quirky districts, flea markets, Turkish market, exhibitions, random art galleries sometimes hidden behind buildings, music fests, cheap eats… That is why in mid October I will co-host yet another creatives & bloggers meet up there in collaboration with some incredible people and sponsors so we can make it happen – inspire each other, share, learn and create a positive energy that will motivate all to leave with a good feeling of community and support. We need that. I'll post more about the event as plans are confirmed.
Loved this video of Berlin-based fashion designer Esther Perbandt, her clothing is amazing and I like how she collaborates with others who inspire her to create her collections. See her workspace here.
Great room divider idea!
Fun, quirky table
If you are curious about Berlin and the types of people living there then you have to check out "online interview magazine" (or blog), Freunde von Freunde. I've talked about them before, but they have lots of new content and they are even taking their concept to London and Paris to spotlight creatives living in those cities as well. I was selfishly hoping we could keep FvF for ourselves in Germany, but that's okay, their goal is to open eyes and share what's happening all over Europe and so by creating new city spotlights on their site, they are able to reach more people. Good for them.
I must admit though, major cities get plenty of press when it comes to who is living in them and how they live and work — there is no shortage on the web of inspiring homes in Paris and London. Same goes for print publications as well. But most of the world isn't really in the know when it comes to what Berlin is like, or even Germany and the creative indie scene here for that matter as in who lives there, the cost of living, what people do for fun, what people are creating and where. Before I started visiting in 1999, I had no idea what was going on in this part of the world when it came to design and art. With so many in this country working hard to make a name for themselves (and for their country), there has been a lot of change in the last decade so definitely visit FvF to tap into what is going on in Berlin — a fascinating, creative German city.
My hope though is that instead of focusing on London and Paris because those places get plenty of attention, that FvF will share the way people live and work all across Germany and German speaking countries — not just Berlin but in Hannover, Hamburg, Munich and over to Vienna, Zurich, etc. And of course, cities that don't get so much "love" outside of Germany like random towns in Belgium or even parts of Poland. I mean hello, who wouldn't love to see how creatives live and work in Warsaw with English text so the rest of us can learn? Sign me up. I'd love that. There are plenty of us with interesting lives who live in un-hip cities that may even be called boring cities — but we are still doing creative work so I'd love to see more diversity online and in print when it comes to showing how and where people live. But Berlin is a great start, and while it's a massive city, it's still underexposed to the rest of the world so I'm all for FvF and their mission in opening eyes to what's happening there. Great stuff.
(images: FvF)
When I was in Amsterdam recently at our blogger's event, Meet The Blogger, I met Desiree from the Vosges Paris blog through her friend Karine Kong from online design shop Bodie & Fou. Intrigued by Desiree because she was so enthusiastic, personal and friendly, and since she had reached out to me long before the event, I decided to chat her up a bit. She is quite a passionate decorator! Once back home after the event, she wrote to me about her home and shared some lovely photos of it that got my attention – you'll see why in two seconds…
Desiree lives in Amsterdam in an 85 square meter small ground floor apartment with a little garden next to her living room. The building is about 23 years old and was built when the city of Amsterdam started to revitalize the eastern docklands. She is happy to be surrounded by water and history and says, "There are plenty of old warehouses and during my daily shopping I find myself often in former warehouses… I also live very near to the city center which is A+." Her children are grown and have left home but she is close with her neighbors and colleagues and has a beloved cat called Mister Cheese. She is inspired by Amsterdam and her life there roaming the city, "I love to bicycle through my city… ideas for my home can pop up any moment — from seeing a beautiful piece of furniture to finding an old piece of wood or seeing a bare wall," explains Desiree.
She also loves to find inspiration through reading blogs, interior magazines and books, "You will find them (magazines/books) in every room of my home". In fact, the decorating idea for her studio came to her one day while considering her vast collection of magazines and how much she enjoys displaying them. Around the same time, she noticed that her local post office was throwing out old tables and she got the idea of displaying her magazines on them. She even found an industrial cart (see image below) outside of the post office destined for the trash that she grabbed and brought home. Score!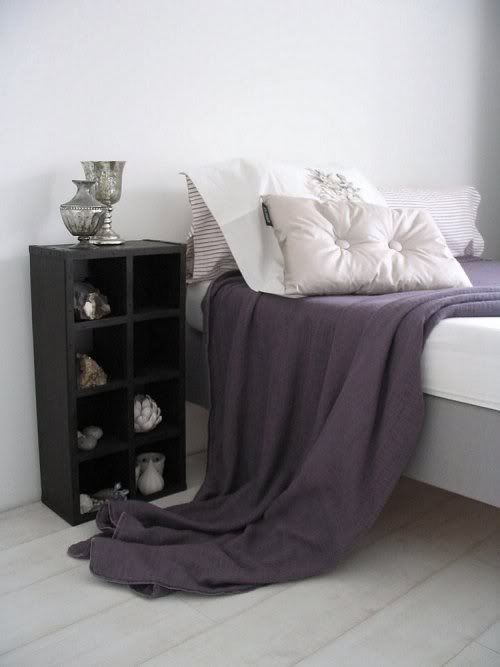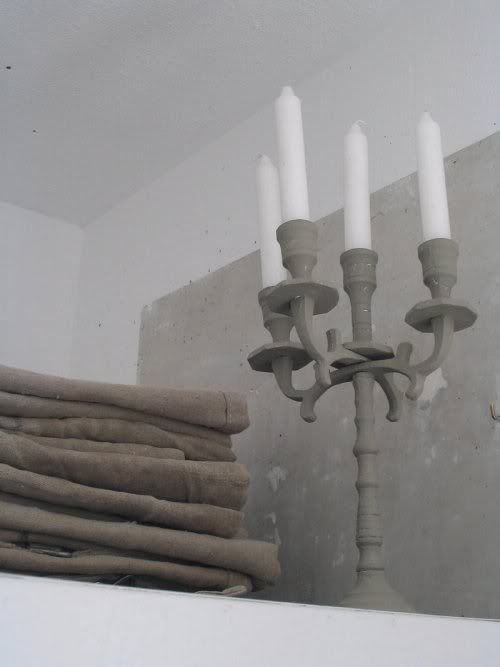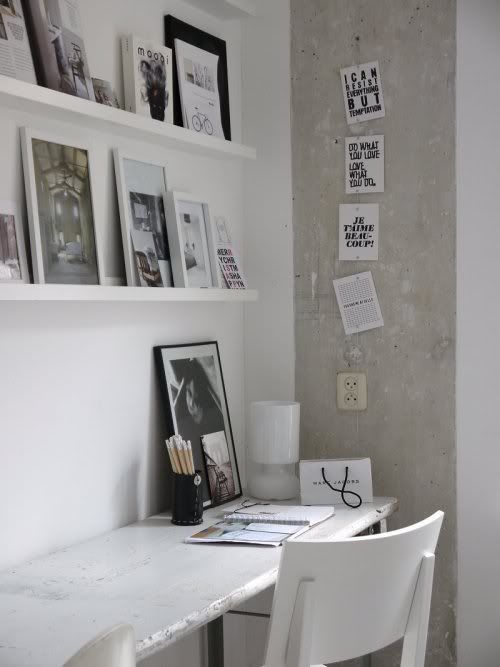 While she loves design, her day job is in a very important, meaningful profession as a social worker where she is not able to decorate but to reach the heart and change lives in a different way. Decorating and blogging help her to use her creativity outside of her important role in helping others in her community. Her life has a good balance that works for her. When it comes to decorating, Desiree doesn't do it professionally but as a hobby. She simply loves experimenting. "I like to try things out. I can display a set of posters on a wall and leave them there for a few days and then if I still like them I may frame them and give them a permanent spot and if not, I'll simply remove them and move on," Desiree says. No stress! Just fun!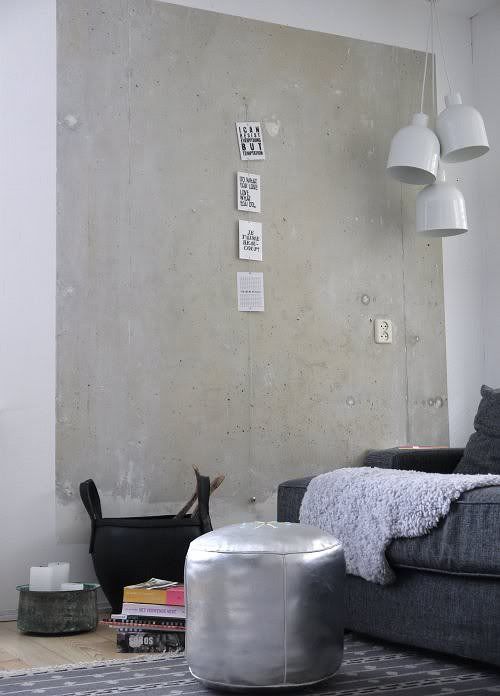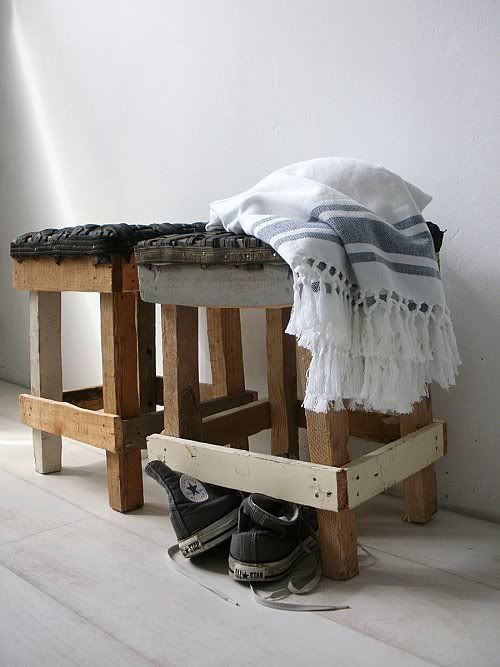 On the wall in her living room she has installed lots of different things in a single hue since finding a common theme among different objects unifies the collection. "Your home does not need to be too serious. I add things and change them very easily. Someone once told me when I was thinking way to much about what color to add that, "It's just paint!", so you can change it again if you don't like it," which helped Desiree to not take decorating so seriously.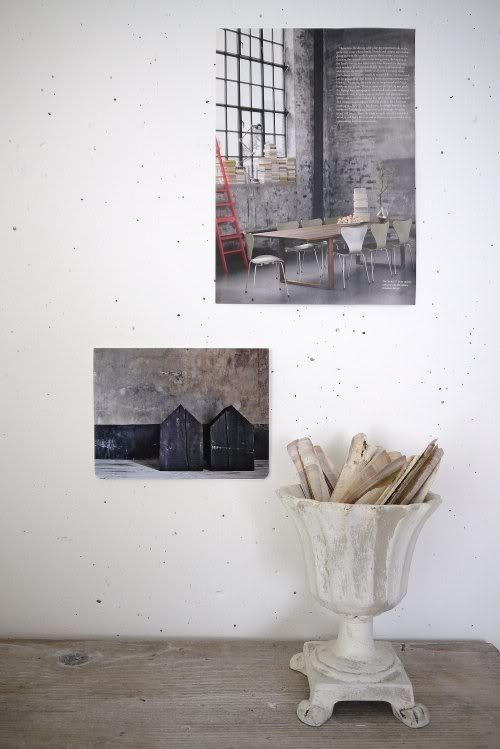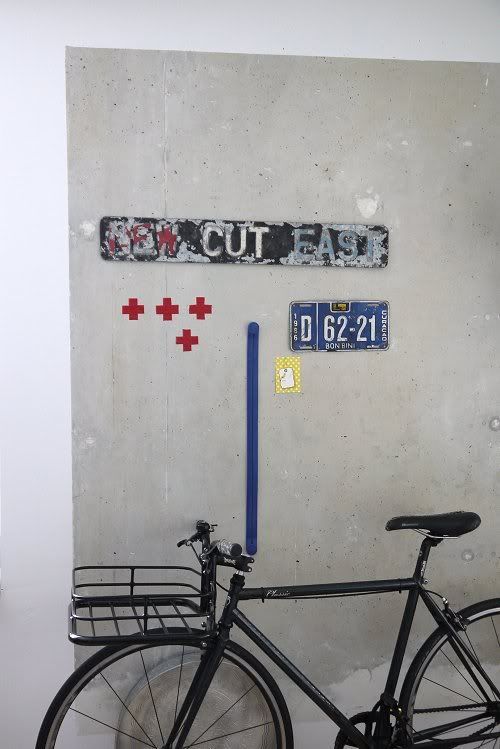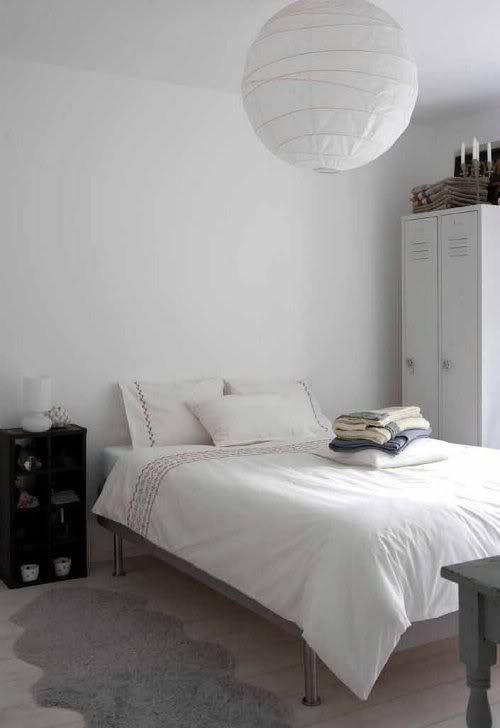 This creative lady loves her home mainly because the atmosphere is calm — something she needs after a long day as a social worker which can be quite the opposite! She likes how the rooms flow from one to the next visually, and to do this she keeps the foundation colors the same. Each room has white walls and a concrete focal point. By repeating certain colors and textures, yet using them a bit differently in each room, she is able to create this calm flow throughout the home.
With her color palette being so limited, you may wonder why her home doesn't feel cold. The secret to making a home that has so much gray, white and black into a cozy abode is to use various shades and finishes (glossy, matte, etc.) and to use lots of texture and mix in natural elements. You can spot everything in her home from recycled rubber to natural wood, vintage wood, fur, glass, concrete, metal, recycled wood, metal and paper — all add texture and life — and is a smart way to inject warmth into an otherwise cool palette. Great trick!
What a lovely apartment in Amsterdam! Thank you dear Desiree for sharing it with us!
(images: desiree and ikea family at home)
I'm so excited to share the news that I'll be a keynote speaker alongside Oprah's own Cristina Ferrare at The Creative Connection in St. Paul, MN on Thursday, September 15th — I'll be speaking during the welcome dinner to share my story, talk about blogging (the ups and the downs), business, tips on blogging & networking, living a more creative life, taking risks… and of course lots of inspirational ideas for you and your business too. I can't wait!
When I taught blogging and decorating in Morocco last year, Jo Packham, who is the founder of both Where Woman Create and Where Woman Cook magazines, attended my workshop/retreat there and we became good friends. I really bonded with all of my students, I loved teaching an ACE Camp and can't believe how many others are doing camps now with ACE, it's awesome. But yes, Ms. Packham has been such an inspiration to me over the past 10 months since we met in person in Morocco. She even came to London to be there during my big book launch party at Liberty. When you connect with someone who has years of experience on you, it's a great feeling because there is so much for her to learn from me and vice versa. As I get older I've come to value connecting with people who are successful in other fields outside of my own as I think there is so much to learn and one can really limit themselves if only socializing with those who do the same things that they do.
I am happy to know Ms. Packham and so when she told me she was planning the second Creative Connection event and that she wanted me to be a keynote speaker (eep!), I accepted immediately – no questions asked! That means that very soon on Thursday, September 15th you can come hear me speak and meet and hang out afterwards with me and all of the other wonderful, creative people at this event because I'm staying at TCC all week. I'll even be at the book signing cocktail party on Friday night. It promises to be a wonderful, creative journey and week for me in St. Paul and to be speaking alongside Oprah's friend, well hey — that is quite an honor. The ladies from Blogher are sponsors so they will also be there speaking during another time slot along with tons of teachers and panelists who will be joining TCC to share tips and advice and to motivate YOU!
If you are creative and looking to network, learn, and most of all — to be in an environment where everyone is special and made to feel included and welcomed this THIS IS THE event for you. If you are not creative (well, everyone is but perhaps you've not tapped in yet) then this is also the event for you because the more you hang around with those who are it's a bit like fairy dust — the magic sprinkles around and you can't help but catch the energy of it all. TCC will be inspiring yet professional and great for all levels of business owners from newbies to pros — and for those who are still experimenting with the "what if" of pursuing your own path. It will also be very diverse and meant for all ages and types of women (and men).
Here are a few of the successful folks out there making it happen who will be there with me to share their knowledge, teach classes and/or speak on panels (click on links below to sign up for their classes/panels):
Heather Bailey, Leslie Shewring, Janine Vangool from UPPERCASE magazine, Leigh Standley from Curly Girl Design, Lilla Rogers, Kelly Rae Roberts, Matthew Mead, Ashley English from Design Sponge, Diane Cu and Todd Porter, Publisher Melanie Falick, Kim Stoegbauer, Julie Cove, Betz White, The ladies behind French General, Tara Gentile, Crafty Chica, Lizzy House… And many more amazing people and topics. What a diverse audience, I love it.
Then there are the Pitch Slam experts, I mean how cool to have a chance to sit with publishers and industry experts with a chance to PITCH YOUR BIG IDEA. Very cool…
Oh and I almost forgot, there is going to be a Marketplace event where you can shop handmade and meet the makers. Weeee!
SO! If you want to join me and all of these wonderful friends at The Creative Connection in St Paul in September then sign up and come out. I can't wait to meet you!
(images: TCC)