It's no secret that I recently wrote a book with interiors writer Joanna Copestick that, thanks to you and the work of my publishers, is doing so well – it's thrilling! I started out like most of you, using a blog to communicate my ideas and connect with like-minded people with the ultimate goal of writing for magazines, but I didn't think I'd have a book, events, signings OR a window devoted to my book — here is a glimpse of it.
For those of you who ask me about how it feels going from blog to book, well it's quite nice though I'm not leaving my blog anytime soon. In fact, I feel more inspired to blog than ever before. Having a book is a privilege and I feel so honored and part of the design community now more than ever before. I've been connecting with readers both near and far, in person, and being part of your "in person" life has been wayyyy more meaningful than even I thought. I've gone back to my hotel room after some events and felt so happy-emotional, completely humbled by the things you may have said, your warm hugs, all of the happy smiles, the kind cards and sweet gifts some of you bring to my signings.
I've really cherished meeting so many and soon as I embark on my US book tour (I'm excited and scared because I'm traveling alone for 13 days), I look forward to meeting more of you in person. This isn't about book sales or fame to me, to some it totally is about that, but to me it's a nice excuse to go out there and meet you guys because now I have something to really share, an extension of my blog in many ways. I think this book tour will, in many ways, change my life because after the few events I've had so far I feel an inner shift… there is something very heartwarming about meeting you in person, it's hard to put into words, but it makes blogging even more personal to me whenever I finish an event and start typing on my laptop. I can see so many of your faces as I write — Iro, Arianna, Will, Danielle, Yvonne, Illaria, Karine, Desiree… I think every writer in the world feels deep joy when they are able to meet those people who follow their work because it's an absolute honor beyond words.
When I give lectures publicly, I always tell my story but if you've not heard it, well…  I'll tell you now. It's a bit cheesy but hey. Okay so when I was a little girl I would hand make books and write/illustrate about 10-15 copies of each story and then hold a book signing in my bedroom and sign copies for my dolls and bears. This wasn't a one time childhood occurrence but a frequent one that went on for years. Writing a book has been a dream but signing books, oh my goodness, I never imagined I'd be doing this for actual people. Often when I'm seated at a signing table I'm transported for a few seconds to that little white desk in my bedroom when I was so little holding a signing for my stuffed animals. It's this glimpse backward that makes me so grateful for the reality of all of this today. It feels awkward to confess that publicly, but you are worth telling it to regardless of how embarrassed I feel as I type… I think the biggest part of all of this, that needs to be said, is that this would have never happened if I didn't write this blog and if you, especially you, didn't read it and support me as friends.
I'm grateful to all of you for supporting me with Decorate, for listening to me talk about it from time to time because I'm simply happy about it, and for coming out to the events that I do because it makes this whole process of writing and putting myself REALLY out there (in print) very rewarding, emotional, often a total roller coaster! And to all who are leaving feedback on Amazon.com and Amazon.co.uk as well as on other websites, and to those reviewing it on your blog, thank you a million times over. Especially for the Amazon feedback, I feel so weird asking people to leave it but it really makes a difference.
If you wonder what these photos are in this post, I've taken apart a slightly damaged copy of the book and created a store window display in Amsterdam at The American Book Center located in the city center at Spui 12 and it will be there on display until mid July so I hope that you'll take a moment to walk by and visit it if you're in Amsterdam. I'm pretty excited about it, it's my first window display ever and I created it out of my work studio at home using torn fabric, ribbon, book pages, a circle cutter, fabric that I stamped words on like Mood Board and Lamp, bookmarks that I made for each book, paint swatches here and there… I was so excited to install this recently on one of the busiest streets in Amsterdam. They carry the book inside so please pick up a copy if you are there; they have limited availability. (You can see more photos of the window here.)
I hope you like it! Now I want to decorate more shop windows, I have the bug now and I'm thinking to ask local businesses if I can do some shop windows from time to time for their products and things. That would be a fun creative past-time for me. So friends, that's all for book talk this week… I'll be back in a moment with more inspiration from my little work desk to yours.
P.S. Thank you Signe for helping me install the display in the window!
(images: Thorsten Becker)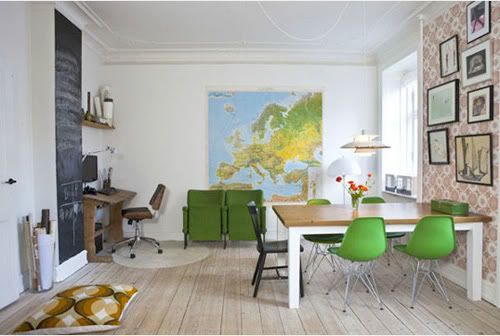 Hello, how are you doing today? I hope you're well and enjoying summer so far because I sure am. The weather is warm and sunny now (it was horrendous last week, I was becoming a bit blue by the grim temps) but it's all good now… Everyone is out and about shopping and chatting it up on the streets. My neighborhood is very cozy and friendly, we have a pedestrian only shopping street that is one mile long and filled with a variety of shops and restaurants and there is a weekly farmers' market and festivals from time to time, too. There's also lots of street musicians and ice cream shops. I think everyone had a cone in hand today and I'm inspired by the buzz outside because people energize me along with sunshine. I needed the boost that this gorgeous weather has brought. Now that I'm home it's time to blog and share with you some really nice things to inspire you so here with go… the first post of the week.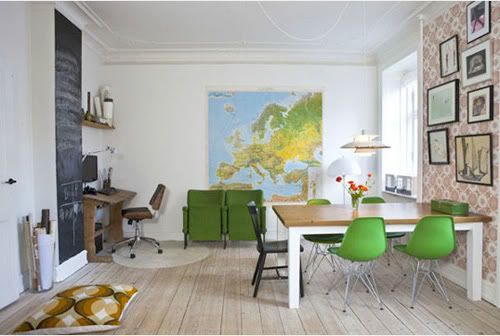 Photo: Mari Eriksson /Stylist: Johanna Flyckt
First up is Svenska Stylistgruppen which means Swedish Stylist Group. They are a group of talented stylists, photographers and journalists who specialize in fashion, interior design, beauty, food and gardening and work on a freelance basis for newspapers, advertising agencies and publishers. This group is a strong one with a good range of styles to choose from. In this post, I've outlined a few of my personal favorites noting both the photographer and the stylist so please click on all of the links to see more!
Photos: Per Ranung /Stylist: Tina Hellberg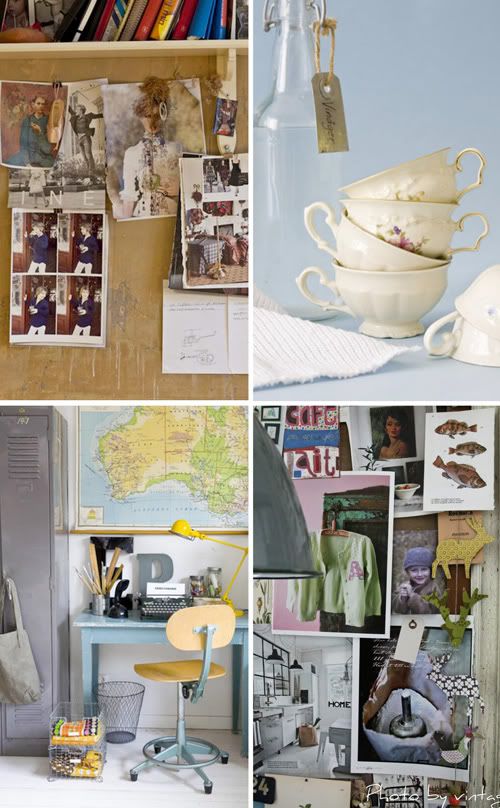 Photos: Mari Eriksson /Stylist: Johanna Flyckt
Photos: Clive Tompsett /Stylist: Marie Delice Karlsson
Photos: Karin Foberg /Stylist: Anna Mård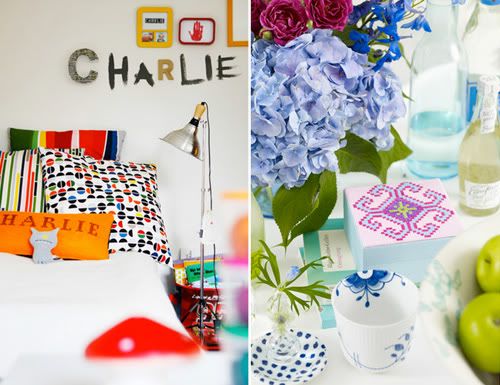 Photos: Johan Sellén /Stylist: Ann Charlotte Ridderstolpe
Really nice, right? I love creative people, such a breath of fresh air. If you are looking for stylists, writers and photographers the Svenska Stylistgruppen is a good start!
(images: via svenska stylistgruppen)
I'd like to wish each and every reader out there, well friend really, a wonderful long weekend! I say long because in the U.S. it is our 4th of July holiday and though I live abroad I still keep very much to the holiday schedule back home so for me this means a long weekend. I'll be back to blogging again on Tuesday, July 5th.
I wish you a lovely weekend – I'll be playing around in my craft studio, decorating my work room, and taking some photographs for Dutch magazine 101 Woonideeën who will publish photos of my work room in an upcoming issue along with a four page interview about my life and book that one of their editors just had with me while I was visiting Amsterdam. I'm very excited to see how it comes out and I can't wait to show you. A big thanks to Janneke Romijn for setting this interview up in the first place.
UPDATE: The Decorate Blog Book Tour is in full swing. Here is a list of all of the blogs my book has visited with this week and surprise, Chronicle is so generously giving away copies of the book so below you can find a list of all of the places online where you can win a copy RIGHT NOW by simply commenting and being a little bit lucky. You can enter on all of the blogs if you like to increase your chances, but you can only win once!
Oh Joy! – No giveaway but a lovely review from one of my favorite bloggers ever.
TomKat Studio – Giveaway and review right here – 232 entries so far!
Chronicle Books – Giveaway on their blog – 178 entries!
Plush Palette – No giveaway but a fab review from Rue's own Crystal Gentilello.
Bloesem – Another favorite blogger giving away Decorate, thanks Irene so much! 166 entries so far!
Tulips & Flight Suits – A lovely, heartfelt review and a giveaway of the book – 21 entries so far!
Hooray – Another beautiful review and a chance to win Decorate – 23 entries so far! Go, go, go everyone, win some books!
Oh this makes me so happy, seeing all of these blogger collegues of mine on this book tour with me. Thank you Hooray and everyone for your participation this week!
See you on Tuesday!
(images: holly becker for decor8)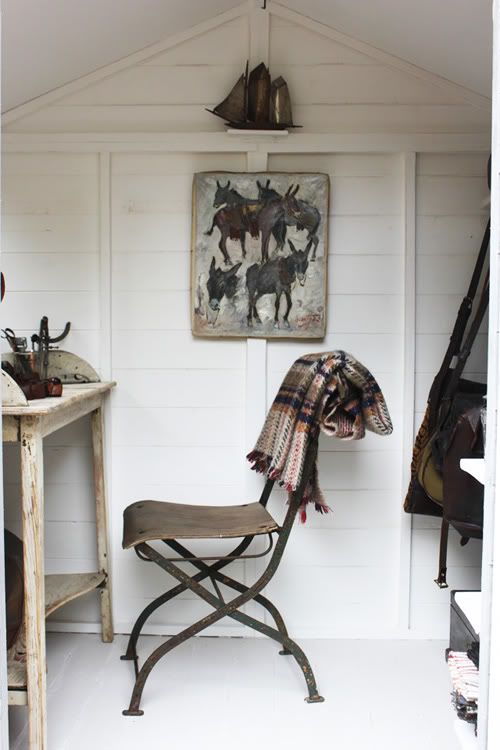 It seems like whenever I read a success story some idea was formed in a shed or a garage. Have you noticed that? It's a riot. From computers to candles, I imagine garages and sheds all over the world with this glow around them and little light bulb moments by the millions happening every second. I was telling my husband just yesterday that I need a shed! And we had a good laugh about that. But it's so true, when one has a space of their own to go a bit wild in from a creative standpoint, so many cool things can result.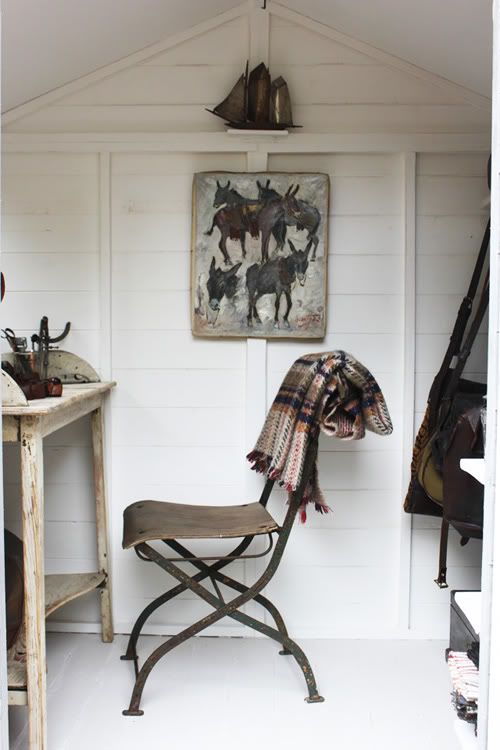 I guess that's why I love what Artemis Russell and her husband Nao Utsumi have done to be creative at home. Nao is from Japan but has lived in England since he was 18 and his wife, Artemis, is from the Isle of Wight. They live in England and write the lovely blog Junkaholique but that's not all…  They spend their days collecting and gently restoring vintage things from the UK and France to sell in their online shop (THE BUCKET TREE) but they also make gorgeous jewelry that they also sell online (RUST) — all created in their individual workspace – sheds! Not one but two sheds! Artemis sews and weaves and makes things in her crafty shed and Nao does his work in his cool shed too. I mean, hello – how inspiring is this?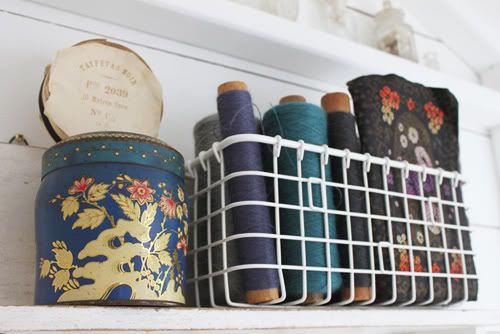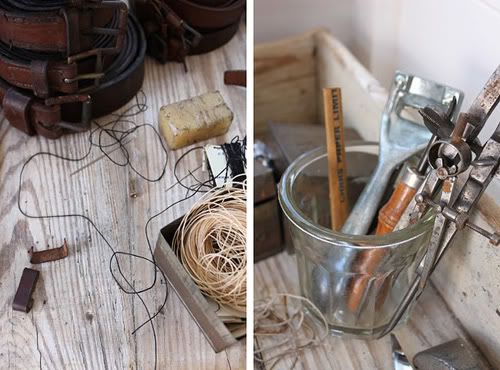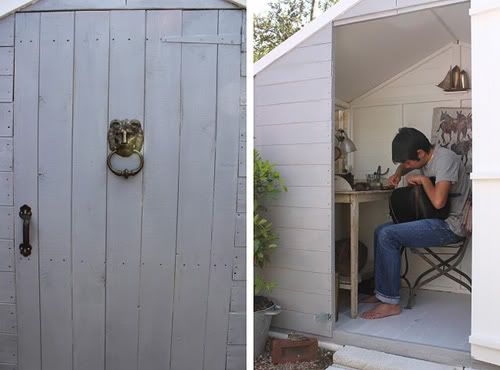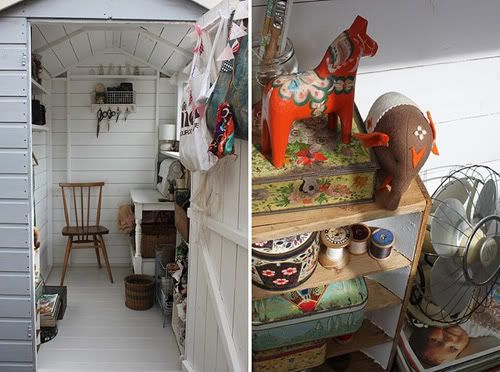 In our home, my husband has his own creative workshop – it's a room where he has his computer, instruments, photo equipment, collections, books, everything he loves is in "his room". And then I have "my room", a large light-filled workspace with a massive table for spreading things out, crafting, hosting girly nights, stuff like that. And then we have our bedroom and other common areas where we mix and share the space. I am a big believer in sheds, garages, attics, basements or spare rooms (even corners of rooms) where a person carves out their own space that their partner doesn't interfere with – so in my husband's room I don't influence any decorating decisions and I certainly let him have his privacy and I never touch his collections – I never walk in without knocking first – it's his space and I respect it. As a result, he is very creative and happy and in there he composes music, takes photos, writes and then of course does his "day job" as well. It works so nicely.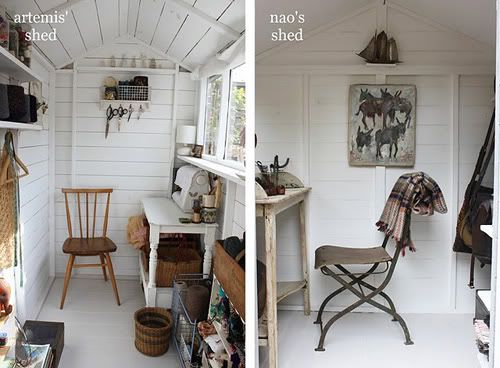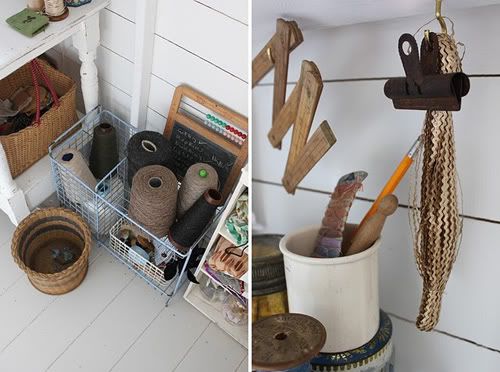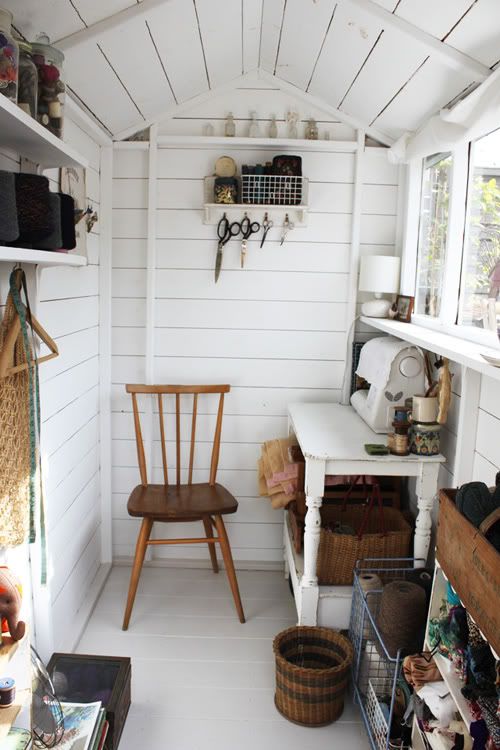 When we are little children, if we don't share bedrooms with our siblings, we normally have our own bedroom. That's where we dream, create, work, explore, imagine. Then we grow up and get married or partnered up and we're expected to merge everything into one space and it's hard! We do it because it's part of being adults we reason, and because the more rooms you have the more expensive it costs to live, but often there is one partner who really wishes that they had their own space and from the homes I've worked in on decorating projects, it's usually the guy who sacrifices so his partner can have her sewing room. This is very generous, and though some guys just don't care to have their own "zone" I think many wish they did — and I imagine it's really hard to not have a room to be creative in especially if a person is naturally curious and creative.
Everyone has different needs, of course, but it's good to see if your partner has those needs for a corner or room to use just for them because it's assumed, sadly, that, "Most men just don't care" and I believe some really do – at least most men I've met love the idea of having a media/computer room or a place to display their collections, etc. An "escape" from the rest of the family is good sometimes!
In my house, we both need our space. We had to pay more to find a place to live in with enough rooms to accommodate both of our needs for creative workspace, but it's worth every penny because we both get so much more done than if we didn't have these rooms to work and dream in. In our rooms we even invite over our friends and often my friends hang out in my room and vice versa, he'll have the guys over a few times a week and they hang out in his room and watch films, talk, listen to music, etc. which is nice for me because then I have the whole house to myself. I think this comes from how we were raised though, my grandparents always had their own space. My grandmother had her room with her piano and my grandfather had his photography room upstairs. My other grandparents had their own space too, my grandfather converted an area below his barn for his projects and my grandmother had her room for sewing, etc.
I love when couples have their own space to be creative if they require it – and I'm all for using whatever you have to make it work, even if that means building little sheds in your backyard or carving out a spot in the basement or even in a closet like Gregory Han has in LA. It's really important to do whatever you can to be creative and to make space for that. Creative people who are involved in making, creating, doing work they enjoy – even hobbies after work – are some of the happiest people on earth.
See more photos of Artemis' shed here.
Photos of Nao's shed.
Their jewelry shop and their Japanese blog (so cool).
Their vintage wares shop.
Do you and your partner share workspace or do you each have your own nook? How does it work for you? Does your partner ever express a need to have their own space to do things they love? Thoughts?
(images: Artemis Russell)