Goodness! I have so much to write about this week that I almost wish I had a team of writers that I could just assign all of these stories to because it's hard to cover all of the stuff that I've been finding lately. I'm so inspired by a lot at the moment, my cup is flowing over. I think it has to do with summer and all of the people I've been meeting on my recent trips  – and even here in my own city there is so much to explore and do that keeps me energized to write. I'm going to keep you busy for the next few months with all of my finds so I hope that you enjoy what I have to share in the weeks to come. Are you ready to drool over this amazing business idea and these great flats? Because the company I'd like to share is called Creative Flats and the concept is brilliant.
Though these flats are only based out of Montreal (too bad I don't visit there each year as I once did when I lived stateside), the idea of having creative, beautiful resting spaces on vacation, a home away from home, isn't a new idea but also isn't so common even despite all of the traveling that creative people do to promote their work or to simply gain inspiration.
The idea behind Creative Flats, which launched 11 years ago, is to serve style conscious clientele who want to stay in high-end beautiful apartments vs. cracker box ho-hum hotel rooms for the same price. Creative Flats is owned by decorator Nathalie Bouchard and stylist Annie Horth and together they bring that Nathalie/Annie charm to each apartment for a stylish, authentic and even home-y feel. I love how they mix objects from different periods and how detail-oriented they are. They're a little Domino meets Vicente Wolf which is the best of the best really. Clean, modern, fresh.
I just stayed at a hotel and though it was nice, there was no attention to detail, security or comfort. I think the idea of Creative Flats is a great one – you have your own apartment, you can enjoy space to spread things out, everything is taken care of for you so you are completely comfortable. The more I travel, the more I crave comfort and convenience. I want extras, in fact, I expect them if I'm paying a good amount for the room. I want to enjoy beautiful surroundings but even more, I want to feel secure and taken care of and though it seems odd to say this, I want to feel like I am a special guest – I like that.
What do you look for in hotels and apartment stays away from home? Have you ever stayed in an apartment vs. a hotel? I have a few times, and some were hits and others definite misses or shall I say, "Run Screaming!" misses because they were that horrible. I wonder what your travel experiences have been most recently at hotels and apartments? Care to share?
(images: creative flats)
You'll love this… I can almost promise! Okay so I can't recall how I found this amazing furniture company in the Netherlands but here is something to really feast your eyes that will no doubt spark your creativity and imagination. The company is called OUD NOW! and is just so cool, I love these fun pieces and find them so unique and daring even. I also am inspired by how some European designers are constantly challenging us to push the envelope and move away from being safe and mass-market friendly. Sure, not all European designers are challenging themselves or their clients, but I seem to find way more who are not ashamed or scared to play around with new concepts than ever before.
Dutch designer Theo Herfkens created this mash-up of traditional meets modern furniture using vintage cabinets and new construction. All pieces are one-of-a-kind and numbered, making them special works of art that are also practical for the home. From what I gather from my travels it appears as though the more edge or shock value something has the more people want to know about it and in some cases, own it. I just love this spread in VTWonen magazine above showing a OUD NOW! cabinet in-situ, it's gorgeous and spirited!
Do you like these cabinets? Would you own them? I'm not sure how or where you can buy them, but Tuttobene Designshop seems to be a good start…
(images: oud now and vtwonen)
I wasn't sure what to call this post since I'm writing about two French companies with names that are too long for a proper blog post title. As I thought it over, the word charm just kept popping into mind along with quirky as I think lots of the French design that I see is very charming but also quite quirky, which is a very positive thing as I am quirky myself and tend to like things that are unusual way more than the typical stuff you can find in any store. It seems that French design, as least their more homespun stuff, is so delightfully charming that you often sit in your chair thinking, "How is it that that hasn't become a global trend yet?" because it's just so, well, cute and almost in a contagious way.
Since the French seem to be big on torn and shredded fabric, making things by hand and flea market finds, as am I, I thought I'd share two companies with you who have me really charmed today. The first is Desaccord which means disagreement in English and I'm thinking they came up with that name because their products are very untypical and even disagreeing with what is out on the market as they are anything but normal. They partnered up with Les Petits Bohemes, another French business that specialized in vintage furniture, to do some lovely photo shoots together mixing their products (mostly handmade knits and sewn things like animal heads) with Les Petitis Bohemes' vintage finds that range from antique carriages to old metal beds from France. I'm so glad that I visited the MILK website today and found both of these shops because seeing these products made me feel very energized!
I love the branch wrapped with fabric – I tried this for my shop window in Amsterdam before even seeing this but I couldn't figure out how to get the branches to Amsterdam so I decided not to do them. When I got home and saw this I was reminded that I have to try it again, perhaps just for a home installation above a window or my guest bed. I would spray paint my branches white though and wrap more fabric around them but the idea is along the same train of thought.
I love the marriage of hand craft with vintage finds along with that element of forward thinking, for instance a knitted cable cozy for a light cord, because then you have old, traditional and innovative design rolled into one product which is an amazing joining of things in my opinion. Aren't all of these products in this post just delightful? Oh, Oui, oui! If you see anything that you like, please also visit their big cartel shops below and support these small companies because I imagine the people behind them are just sooo creative and wanting to make more and more things so by supporting them, we can continue to see this creativity and to become inspired by it.
Desaccord – online shop
Les Petitis Bohemes – online shop
(images: desaccord + les petits bohemes)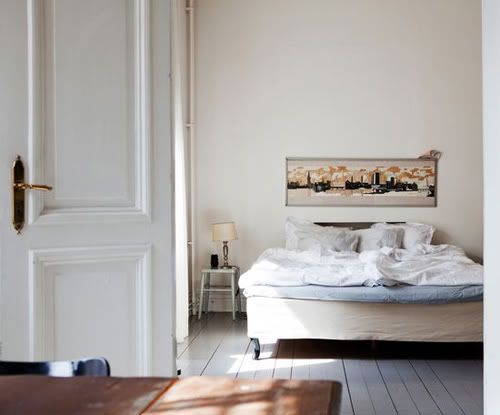 I had a chance to meet the founder of the Nordic Design blog recently, Catherine Lazure-Guinard, and she was so nice but her blog is also gorgeous since she is a talented curator with great vision. Catherine is a public relations and communications manager by day and a blogger by night who is from Quebec, Canada but now lives in the Netherlands and writes a blog about Scandinavian style. Hey, good for her for being so open-minded to change and new culture! Love it! Here is just a glimpse of some of the things she shares on her blog…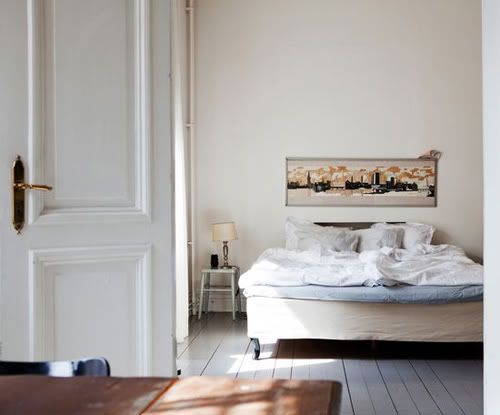 How sweet is this bedroom with those gorgeous painted wooden floors, the wonky lamp on a stool near the bed and that messy bed? This is so typical Scandinavian to me, casual but something to envy.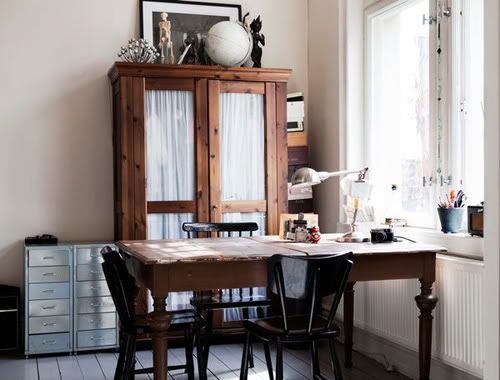 I like this messy work area that I'm thinking, doubles as an eating space or perhaps a client meeting area. The mismatched chairs in lacquered black are simple, understated beauty along with that vintage table.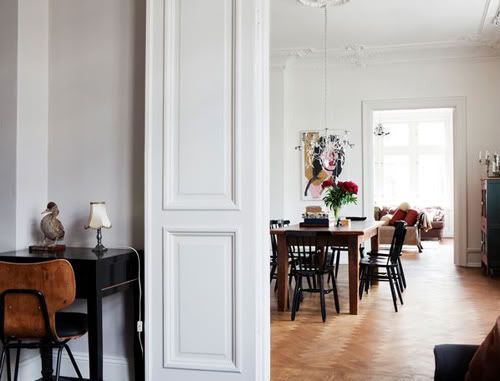 Another wonky little lamp, this time with some taxidermy – a duck! I like the openness of this space and how welcoming it feels.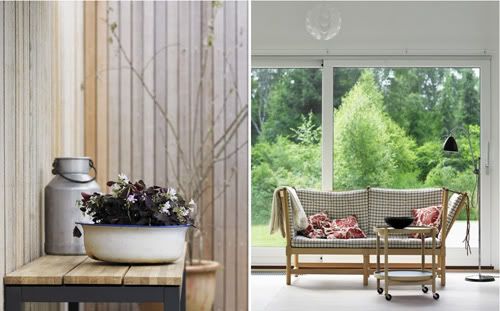 With Catherine's strength being in corporate branding and public relations, I can see why her blog is so well laid out and designed. Catherine is obviously drawn in to the homespun charm that Scandinavian design embodies — something so many of us love — and that is all about hygge – the Danish word for cozy, acceptance, well-being. I think that's why when you see a Scandi home, you can smell fresh rolls, flowers, see magazines laid out on the table, a sweater draped over a chair, a casual lived-in elegance that is imperfectly perfect as I always refer to these casual styles as being on decor8.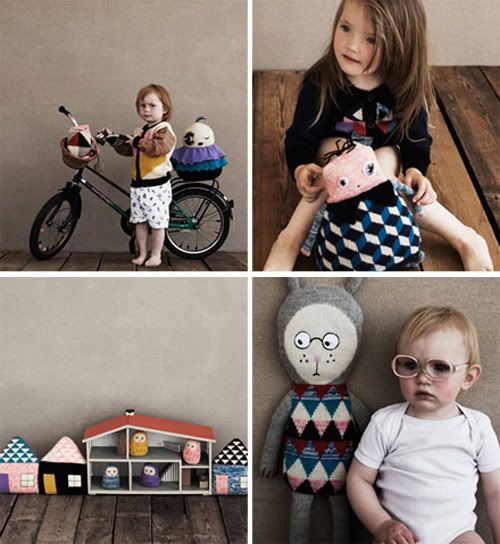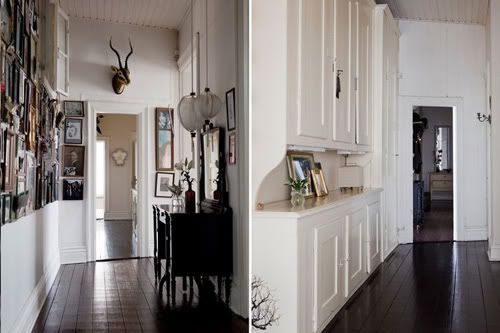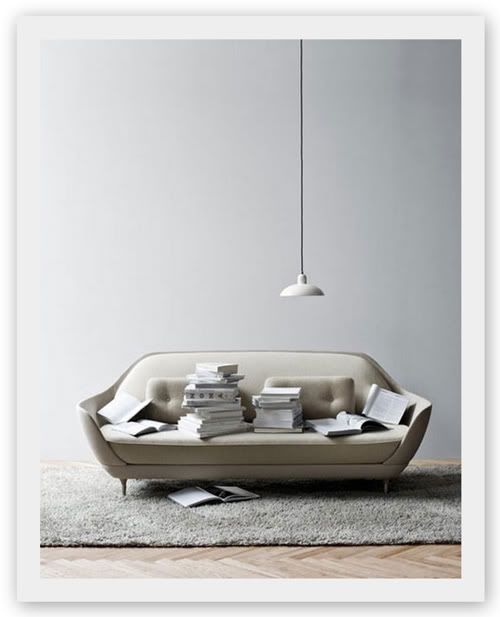 I hope that you'll visit Nordic Design and check out Catherine's finds today – it's the decor8 blog of the week so enjoy!
(images: femina, lucky boy sunday, Mikkel Adsbøl and stylist Katrine Martensen-Larsen, Fritz Hansen and Bolaget.)