Hello everyone, it's Anna-Malin here with Handmade Home and a quick office nook transformation to inspire you today. If you recall, I'm the "new girl" on decor8 who writes once a month about handmade living and little creative projects that I do around my house to refresh my decor on a budget. All of the decorating that I do also lifts my spirits and keeps me creative! Here in Sweden we are enjoying the most wonderful spring and with spring comes creativity. So this time I would like to show you how I redecorated my workspace.
First, I moved the turquoise cabinet (Remember? It's here and shown below) to the garage, and now it is waiting for me to find a new place for it. I placed the desk where the cabinet was and got started on my office nook transformation.
Before (above)
After (above)
I wanted to bring more pictures of things that inspires me so I thought a moodboard on the wall would be perfect. I started by printing some of my favorite photos and then I put them on the desk to see how they would work out together. I also used color swatches in different, subtle colors and then I started to build a large collage on my wall above my desk using masking tape.
Then I bought a wooden shelf for storing some of my brushes, interiors books and other inspiring stuff. I had some wallpaper and other beautiful paper that I've collected over time so I decided to hang them on a wire and I placed the rest into a zinc basket on the floor.
I really like my newly decorated work place. It feels personal and so "me". Here are some views of my kitchen and you can find other things that I've done recently to decorate my home here.
I hope that you have enjoyed seeing my new workspace. Thank you for having me and I'll see you again in June!
xo, Anna-Malin
(photos: anna-malin lindgren)
This post comes with a warning: If you live outside of Belgium you may become very annoyed by what I'm about to show you. Essentially this post is about seeing things that we cannot have, and it's the canary before the cat I know, but I still have to share this with you. I recently learned about a very limited collection from IKEA called Annorlunda, meaning Different (maybe that's us so we don't get it where we live?), of ethnic modern finds curated by their designers and on offer in only TWO select stores in the whole wide world (no, I'm not using tone or 'tude, okay maybe a little) and I'm dying to know what you think of it and the whole concept of pop-up IKEA collections in random places? I mean, I want to say Bahhhh they are mean to tease, but when I see these things I think that at least they are trying to keep the Belgium people good and stylish (like they need help) while the rest of us looks on in pain with fingers and nose pressed firmly to the glass — seeing what we cannot have.
Have I managed to depress you yet? On the up side, I think this whole concept is quite brilliant though I hate to say that but I really am extremely jealous happy for my Belgium friends that they can go to their Zaventem or Anderlecht stores and find all of these amazing things… I almost want to drive over just to see what's left because I spy a few pieces that I'd love to put on my three season porch like the turquoise chair (which could easily be spray painted into black and put in a living room). I think this collection would do great in so many other countries, like Germany (hint, hint), the UK and the US. Maybe this is one of those test things big companies do to avoid taking too much risk, so they dip in their toe to see how well something goes before doing a grand roll-out. Perhaps we'll see Annorlunda in Annorbyneighborhood real soon.
I find it interesting how this collection came to be. IKEA basically sent five of their designers on a plane to hand pick inspiring objects that they wanted to turn into a limited collection with a ethnic vibe. The result is a line of products that are very global, fashion-inspired (I see lots of runway trends in these pieces, don't you?) and still budget conscious which is what IKEA is all about. Plus, it's what Scandinavians are all about as current trends up there are all about mixing in ethnic influences because those influences have crept over the border into Germany and people here are into ethnic touches as well, though they always were but the ethnic touches in brightly colored paint are much fresher than the originally teak variety that are floating around in most "ethnic shops" locally. My vote is on brightly lacquered furniture, baby!
There are so many products being designed today, our selection is so diverse compared to the choices our parents once had, and I think we are so lucky to have access to things from so many corners of the globe. So what do you think of limited edition pop-up collections put on by the big blue box?
(Found via: Lise at Urban Style Vibes. Photos: IKEA)
I thought I'd introduce you to my new online friend, Anita Schytte, who is the Tine K Home sales and brand manager in Denmark. She lives in the port town of Korsør which is not far from Odense so she's close to the sea and lots of lush, green forests. Anita also write articles about interior decorating for Danish financial newspaper Borsen in their Friday magazine about glamorous villas, castles and manor houses. She also speaks Danish, English, Hungarian and German! It really is true about Europeans, most over here do speak several languages fluently. Yes, it's intimidating as I'm still learning German!
Anita is such a sweetheart, I'm sure if I met her I'd love her. I'm sure you've had that experience with different people that you've met online – you just click! I really like Anita and after she sent in some photos of her home I thought showing a glimpse of it would be such a treat for those who love a clean, simple home that is well edited and fresh. It's a delightfully Danish home I think. But I'll let you decide…

I love her white Tine K Home lamp.
(click on above image to enlarge)
I like the sofas, chairs, pillows and lighting in her living room, don't you? They're all from Danish brand Tine K Home and I find them just so lovely! I want two of those chairs for my own living room and the lamps too! I have to put in an order soon, I have a bit of a procrastination problem at the moment I think!
(click on above image to enlarge)
I love the shelving in her kitchen to the right and those huge windows. What a nice spot for cooking. If you look over to the left you can see her living room so you can see that it's very accessible to the living space.
Okay that dog is too sweet, right? Look at that cutie on the Fatboy with the bone motif on the side. My goodness, what a show stealer that little dog is.
Gorgeous Tine K Home glasses also work nicely as tea light candle holders.
I love that table to the right of her sofa in green. I have this mild obsession for Thai furniture at the moment painted in fun colors like turquoise but I also love certain pieces in lacquered white or striking black. I've actually been into it since I saw a few pieces in Tine's house last year when I was visiting her to style her home. She had a lovely low bookcase that I couldn't take my eyes off of in white and to this day, I've been unable to find anything like it.
(click on above image to enlarge)
This bathroom is so modern and lovely, it reminds me of bathroom styles in Germany that are very common. Clean, modern, high end gorgeous bathrooms Love the skylight and that deep tub. Imagine taking a bath there by candlelight in the evening as you sip champagne and look at the stars? Oh yes.
Here's another angle of the gorgeous master bathroom. I love the shower stall – it's perfect. I dream of having a shower stall completely free of of tile – just a stone shower. That would suit me very well – I love how natural and simple it is.
I thought I'd ask Anita a few quick questions about her home to wrap up because seeing photos isn't always enough for me, I like to know a little bit more about the person who occupies the space – their passions, favorites, inspirations… So let's learn a little about Anita.
What do you love about living in Denmark? Both of my parents came from Hungary back in the 50's and found their new home in Denmark. It is close to their homeland and I'm close to all other European countries which are just around the corner. I have always felt home no matter where I am, and I could quite easily move, except that my family and all my beloved friends would not move along… so the best part of living here is my relationships with so many dear people! I also live next to the sea and the forest and enjoy the northern light from all windows in my house.
What do you love about your home? The size – I love the space and all the possibilities! I get to live out my crazy decorating ideas (I'm an interiors freak!) day and night and my house is constantly evolving.
What makes a house a home? Collections of personal things – constantly changing things around and welcoming new possibilities within the borders of money of course! Also to have your kids tell you never, never even think of moving anywhere else – then you have the right place, that is what makes a house a home so I think I stay where I am.
What do you like to do the most at home? On Sundays I'm constantly walking along the kitchen table – all day long – making and serving everything from roasts to baked goods. All day I'm cooking, baking, blending, mixing and lining all of the ingredients up in beautiful bowls. After having cleaned and redecorated my house that is – I cannot relax and enjoy a Sunday meal  until housework and decorating is finished!
What inspires the way that you decorate? I have a long time passion for design, preferably Northern style such as Arne Jacobsen and Poul Kjærholm but I mix many designers and periods with eclectic accessories in my home. One day I'm interested in pink acrylic and another, loads of natural materials – or soft dark velvets. Then perhaps I'm interested in Tricia Guild and lots of color… I could go on and on because I have no particular references as I consider myself to be quite open. Right now I am dreaming of Dutch style and chalky matte paint on walls (I wish I had an old manor house to paint!).
What are your favorite Danish interiors blogs? Danes have no tradition of blogging – like the way the rest of Europe does.
What is one dream item for your home on your wish list? I would love to have an old big greish cabinet in my dining room to contain my plates, dishes and all of my favorite glassware.
What is your favorite thing in your home and why? I love the design of my Thomas Pedersen Sting Ray chair. That will never leave the house – but also the lamps of Danish designer Birgit Østergaard that look like pillows (you can see them in the kitchen). Also my XL TineKHome lamp is an absolute favorite and the table made of old Balinese teak wood (from a hut) to the because it looks like a tremendous piece of driftwood and I love to pile all my interior design books on top  of it.
(images: Anita Schytte)
I'm so happy to see more Anthropologie stores moving into other parts of the world. I know my Australian friends are begging to have one down under, and that little me here in Germany cannot WAIT for one to open in hopefully Hamburg or Berlin at some point – my fingers are crossed! And then the Canadians… tempted right over the border for so long, poor things! They waited long enough so now that Anthro has moved into the land of the infamous "eh?" I am so happy for my friends there.
This is their fifth store in Canada and Vancouver was a great choice because my friend Julie Cove lives nearby and I know she'll keep them in business. ;) Seriously, so many stylish people live in Vancouver and neighboring areas, like Vancouver Island, that I'm sure they are just tickled pink having a new Anthro shop nearby. I know blogger and photographer Amanda Gilligan from Mocking Bird is. In fact, she asked me if she could shoot the store on opening night for decor8 (and for her own blog, of course) and I told her to go for it! Would you like to see some glimpses of the store?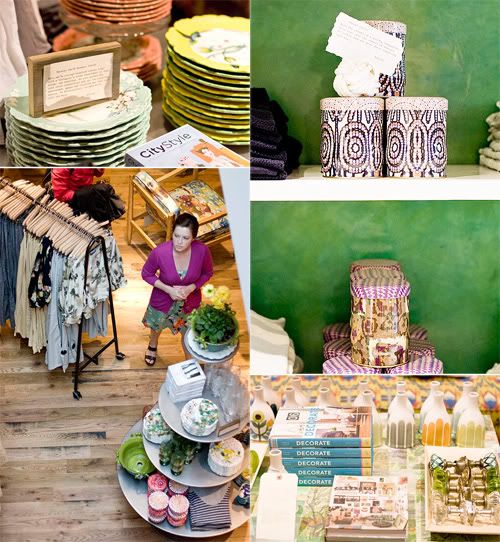 I love that bold kelly green wall color…
Aren't those wooden pendants the best? Anyone know who designs them? I also love the tabletop, it looks like a painting and so I wonder if it's a table design by the amazing Leslie Oschmann of Swarm in Amsterdam? Hmmm.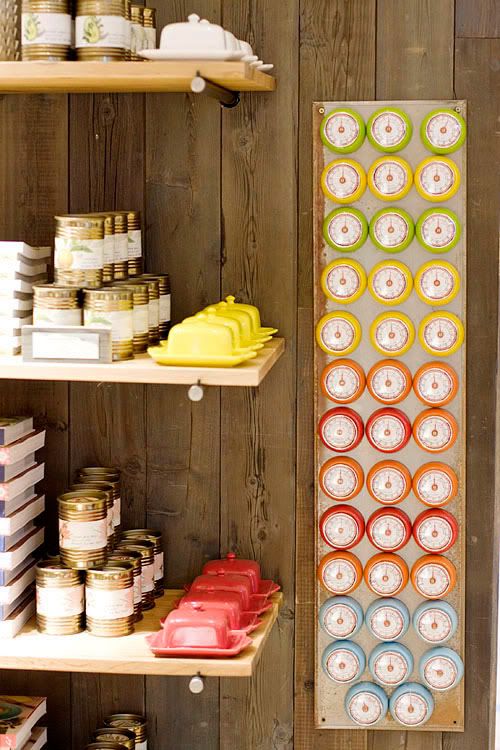 I love seeing magnetic timers-as-art. Fun!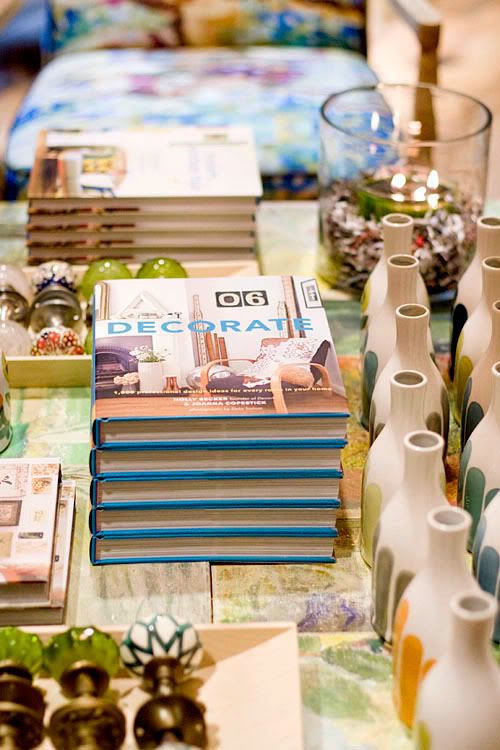 By the way, Amanda took lots of shots of my book, I know, but I swear I didn't ask her to – in fact, when I got her email with the photos I thought it was really sweet of her because I really do love seeing it in their new Vancouver store on opening day! Yay! Thank you Amanda and I hope you'll visit again in the future with other nice shops that you've photographed.
(images: amanda gilligan)