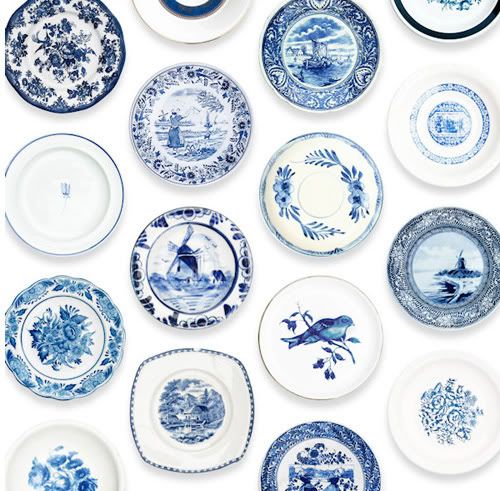 This wallpaper is inspired by vintage blue tableware and has a uniquely Dutch vibe, doesn't it? It's designed and printed by Studio Ditte in the Netherlands and sold in stores worldwide, I found it today over at Catkin Collection. I've blogged about Studio Ditte before (here) but this is their latest pattern and I just love it — it's so fresh and clean.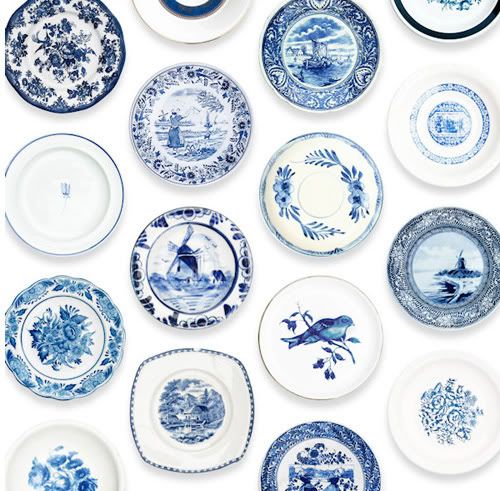 I fancy the different scenes and also the various shades of blue, don't you? The birds and the windmills are very sweet. I find it so interesting to see products that stick to very limited color palette yet look amazing and inspirational. And I often wondered why that is – how can a product that is basically just blue (and white) be so captivating? If you were to create a blue and white room, would it equally charm you or?
After much thought I've come to realize that is really has to do with tints and tones of that color and how well you use them. It's not about using a single tone – say indigo blue – and mixing it with lots of white and putting a room together. In a room, there is also lighting and texture that come into play to create a gorgeous space with a limited palette. But it's really about using different tints and tones of blue, often ranging from light to dark, to add visual interest, depth and of course, personality and life.
Lots of people fear a limited palette – it's almost suffocating to them to imagine using only a few colors in a room. Everyone is different, and since decorating is subjective, it's all about what works for you personally. Some people like to put labels on others and feel that if they don't use tons of color they really don't have a good understanding of color or are "cop outs", meaning they are just using it as some strange excuse for being unable to successfully marry colors into a environment for a cohesive look. Like they can't — so they just fall back on white or beige because they don't know how to work with color, for example. I don't buy into that. We decorate using colors that we love – even if that means using color in small doses. We are all so unique, some can live in neutral spaces and others simply cannot, there is no wrong or right.
Wait.
There is a wrong – wrong is when you decorate according to what you think others want you to express or share or pretend to be and not according to who you truly are, so wrong decorating is to deny yourself the freedom of displaying your authentic expression of self in your home – no matter how "white" or "neutral" or "colorful" or "pastel" that is may be. It's your home, your way.
I don't find a limited palette suffocating, in some ways for me it is total freedom because the less visual stimulation in my, say work space, the more the images and ideas in my head can rise to the top and be freed and transformed into actual work.
When my surroundings are too stimulating with tons of bright, energetic colors and patterns all around, my brain freezes and I can't accomplish much. I was never the kid that thrived in primary colored classrooms. I thrived in art class with the white walls, art wall with taped works pinned up, smell of clay and paint (very earthy and exciting to me), the large wooden work tables, the potter's wheel in the corner… I still remember each art room that I had at school since grade school with absolute clarity. I thrived in such spaces where we had less clutter around us, when everything was in its out container, and where color and pattern was placed in very specific locations and not scattered everywhere but then when you did find that location, it was a bit chaotic — randomly tacked and taped things on walls, for instance — but altogether on a single wall. Which made me realize that I thrive under situations that could be described as organized but also chaotic – but mostly organized chaos. I wouldn't want everything neat and in a row, paints can all be thrown into a big bucket without rhyme or reason, but they still all need to be in that one big bucket.
Something about a lot of white space around, or neutrals with splashes of color here and then, definitely works for me in my home office as an adult, too. However, a wallpaper like this one shown above would be fun in a dining room on one wall (or on the ceiling with deep indigo walls and crisp white moldings!) or in the kitchen — because in those places I'm social and I want to feel energetic so strong graphics as a focal point – for instance a wall with this paper behind my stove, could be absolutely perfect, quirky and fun.
I wonder if you think like I do when you see things that you are naturally drawn to – do you intentionally try to figure out what about it works or where in your home you could imagine enjoying it, or do you simply like it but could never imagine living with it? For me, I love the blue porcelain plates wallpaper by Studio Ditte and could absolutely use it in a small dose somewhere in my home but definitely not in my office space!
(images: studio ditte)
This amazing press kit just arrived in my mailbox and I can't stop thinking of the things that one could do with a product like ixxi! This hasn't been blogged anywhere yet so I'm so proud to give everyone a first peek at this amazing new product. I have to thank my friend Yvonne for sending it to me, she has been working on this ixxi project for awhile now and it's finally been released and I love it. Here is glimpse to whet your appetite. I. LOVE. THIS.
Dutch company, ixxi, is so innovative and I love the things that you can do with their x's to connect their cards that you can either upload and design yourself OR find images in their online image bank to create your own art, wallpaper and room dividers. Here are a ton of gorgeous visuals that will no doubt get your wheels turning – I adore this idea and can't wait to try it out with some of my own photographs.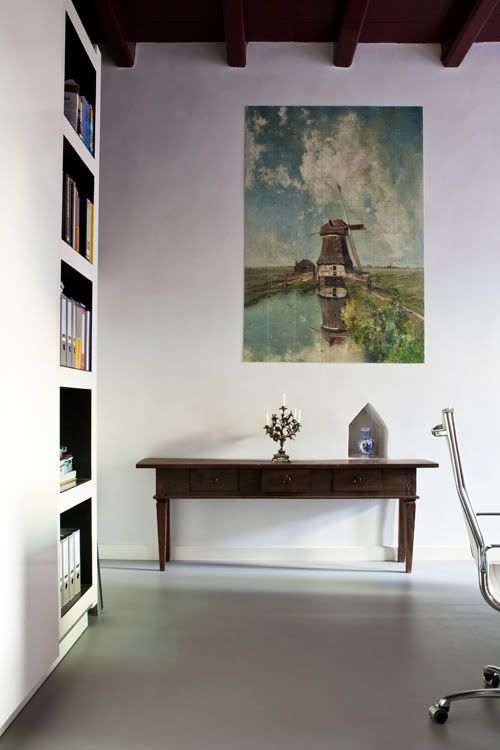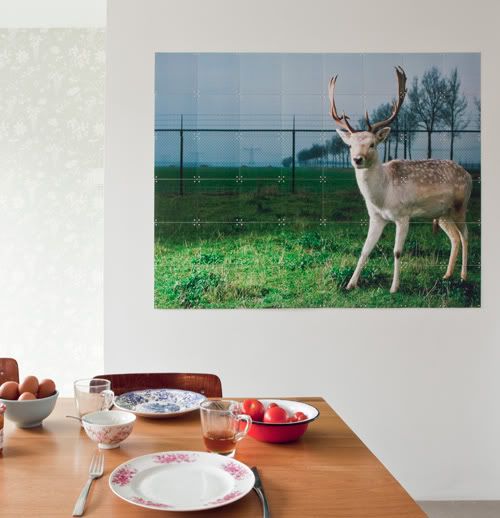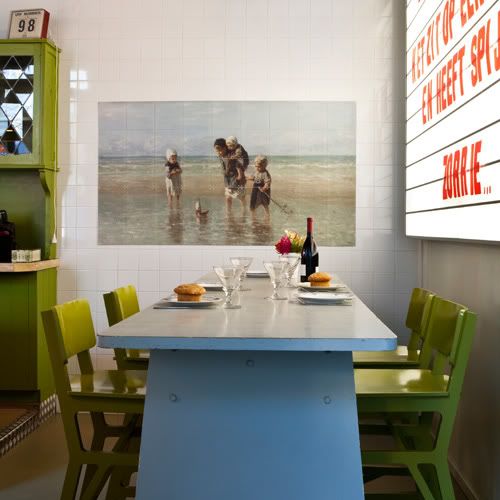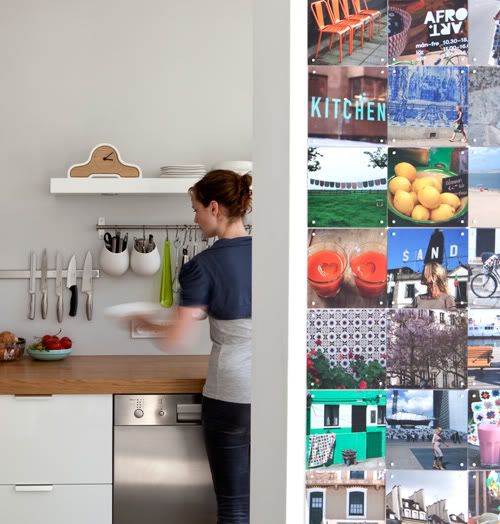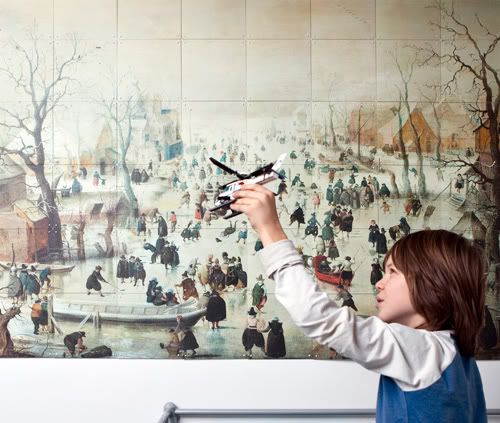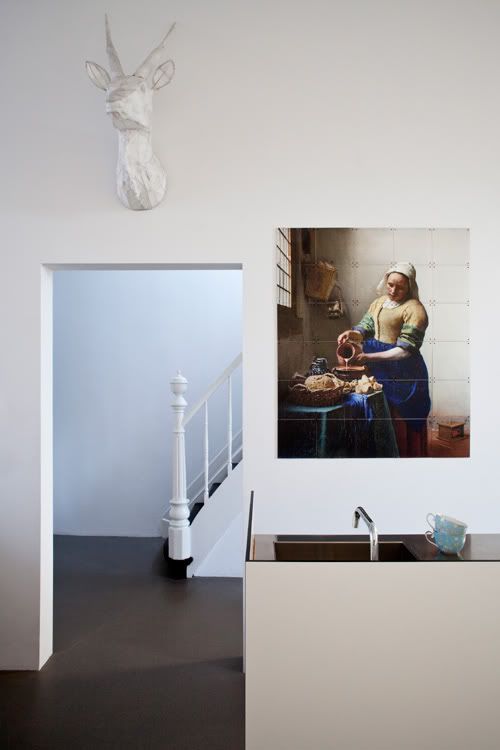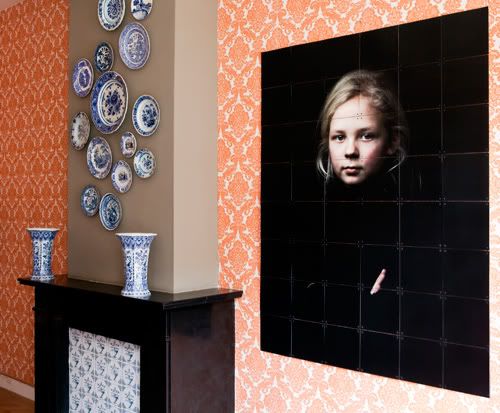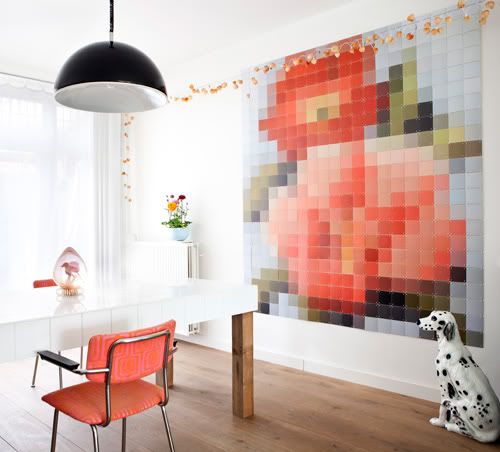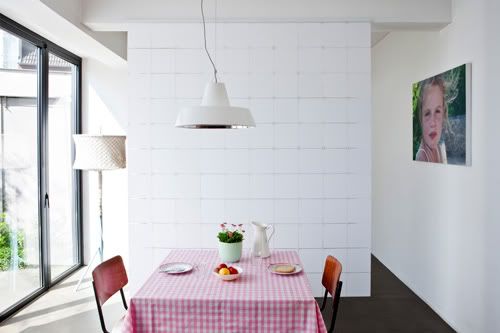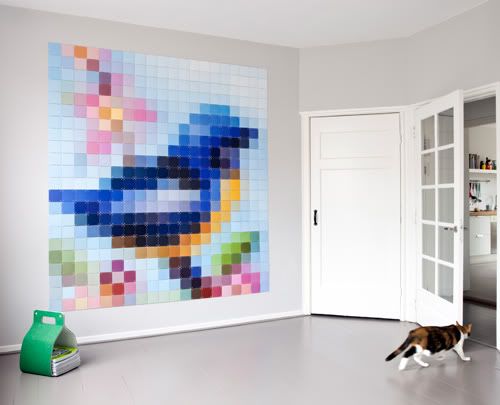 What is ixxi? "ixxi is a modular connecting system. With x's and i's you can make your own photo enlargement or photo collage in any format possible."
How do I ixxi? "Create your personal ixxi using the easy online module, or select an image from the ixxi imagebank (art and photography). Upload your photos and choose how large your photo enlargement or photocollage should be."
Does ixxi offer cutout patterns or something transparent, for instance? Yes! "ixxi has designed a collection of (interior) products with the use of alternative materials, modular patterns and graphic imagination."
Does ixxi also work with companies on projects? Yes, yes, yes! See examples here.
…And — THEY SHIP WORLDWIDE — so no one can get upset at them! Or me! :)
(images: ixxi)
Hello! For those of you just tuning in, I asked London-based author/stylist Sania Pell to drop in today to share some inspiring DIY projects for your next party, wedding, or really any decorating scenario because all of these beautiful things could be used in so many different parts of the home from a kid's room to a kitchen. I hope that you have enjoyed meeting Sania today and that if you haven't seen her posts yet that you will visit them, as shown in order from the first to the last, below.
Spring Flower Garlands (shown in examples b and f above).
Liberty Flower Napkin Rings (e and d), How To Button Covers (d) and Sequin Glamour (a).
Little House Mobile (c).
Thank you again Sania for joining me today on decor8 and I wish you loads of luck on your new blog and on everything else you do going forward with all of your creative energy and cheerful can-do attitude. You made my launch party in London such a success thanks to your enthusiasm, friendship, support and hard work and I'd like to thank you for all of it — including your hospitality, good laughs, and endless bottles of wine and yummy treats in your kitchen. You are such a doll!
Readers: Can you do me a favor? Can you visit Sania's blog and leave a comment for her over there, she is working in her craft loft all day and I want her to return to her computer with a big, warm surprise waiting from her with your comments! Thank you so much. I remember how it felt to start blogging, how scary it was, so your comments will make her day! I'm going over there now to do the same so please join me.
(images: sania pell)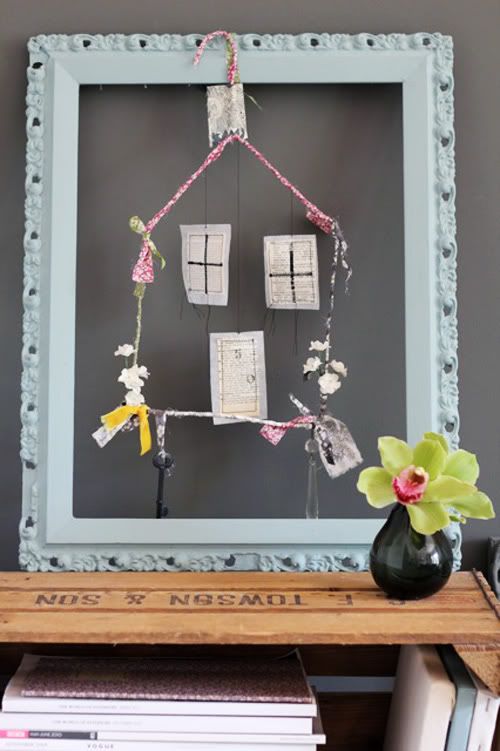 Hello again everyone, it's me Sania Pell. Following my last posts about how to make lovely Liberty garlands, flower napkin holders and fabric wrapped lampshades, next I'll be explaining how to make the hanging house mobiles that we suspended above Holly's signing table as a little visual eye-catcher away from our main table setting.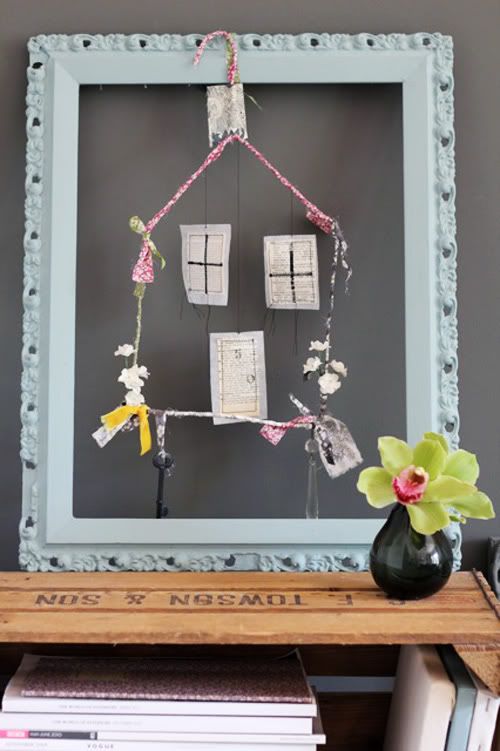 As the party was to celebrate Holly's book launch, I had the idea of creating a hanging mobile that linked to the theme of her book – decorating! The flower and leaf garlands were very much about Spring but these mobiles are all about houses and homes. Here is how to make your own little house mobiles.
(Click HERE to download the steps in XL size.)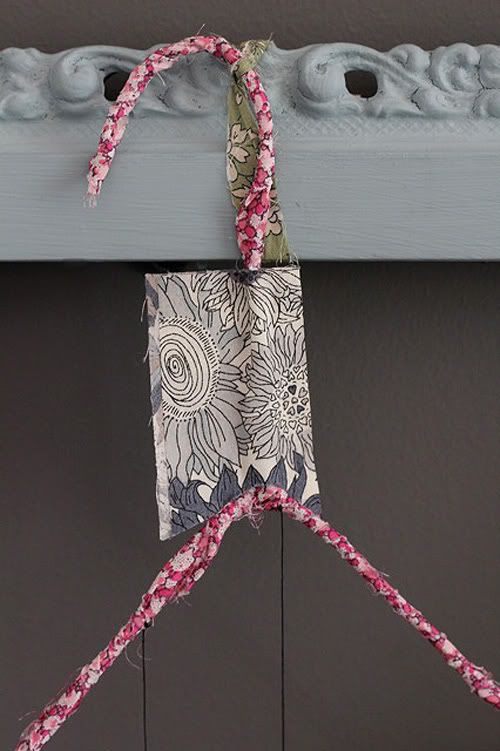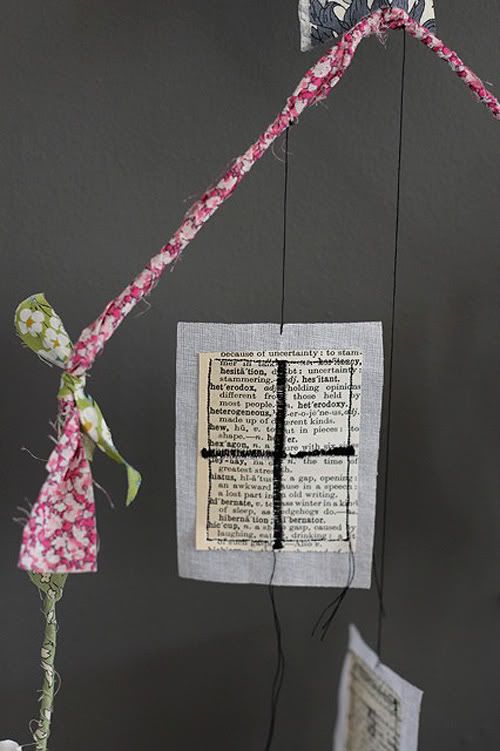 We made three variations of this house and suspended them close together at slightly different heights. At home you could hang it on the wall using the hook of the hanger or use fishing line or cotton to suspend them from your ceiling and watch them moving around. The doors and windows spin independently in a breeze.
For my photos I opted to 'frame' the little house by hanging it on an old picture frame I had painted duck egg blue and simply propped it against the wall.
This is another little project that costs next to nothing and can easily be done with things you may have at home already. I do hope you've enjoyed this project and that it has inspired you to try something new. If you have any queries about this project please put them in the comments and I'll help if I can. And if you tried making your own Spring garland or wrapped lampshade after my last post, let us know how you did in the comments, we would love to hear about it! Thank you all again for reading and happy making! – Sania x
(images: sania pell)