This app will delight the artist in you!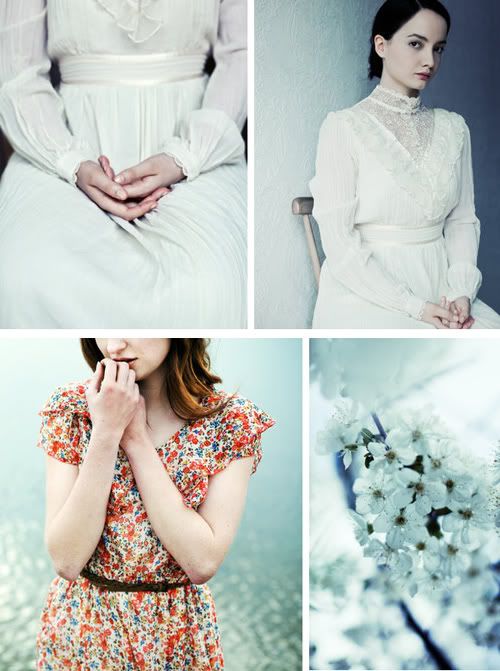 I was recently wasting time doing research over at deviantART and stumbled across German photographer Andrea-H or Andrea Hübner, who also goes under the name Quadratiges (or Square in English) and my, my, my how brilliant she is! It was love at first site the moment I laid eyes on her stunning portfolio.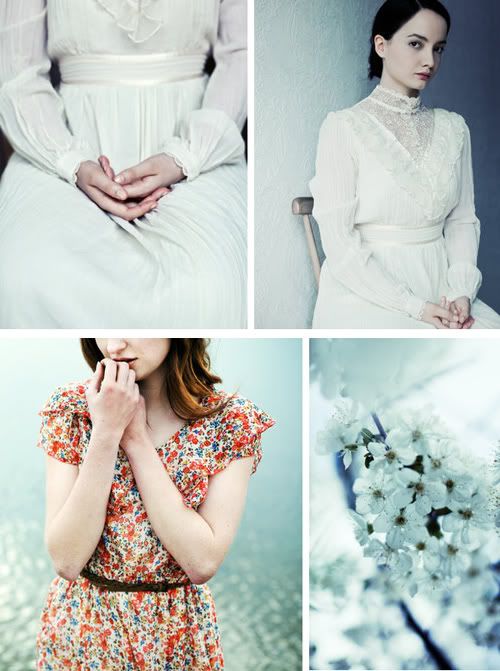 Andrea's photographs radiate such emotion because her gorgeous composition and use of natural light is breataking but also her wistfully thoughtful models are quite intriguing too. I feel bathed in peace and quite relaxed just looking at each photo. I appreciate that so many are in square format (hence the name Quadratiges) or diptych as both styles really appeal to me currently. The best part about Andrea's work though is that you can purchase it so this is not merely about having a one-time dose of inspiration but instead it is an opportunity for you to own some of her work to enjoy at home.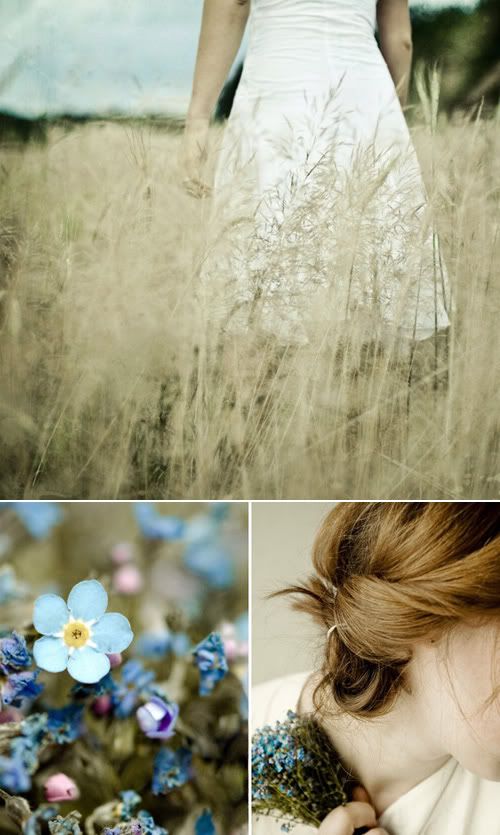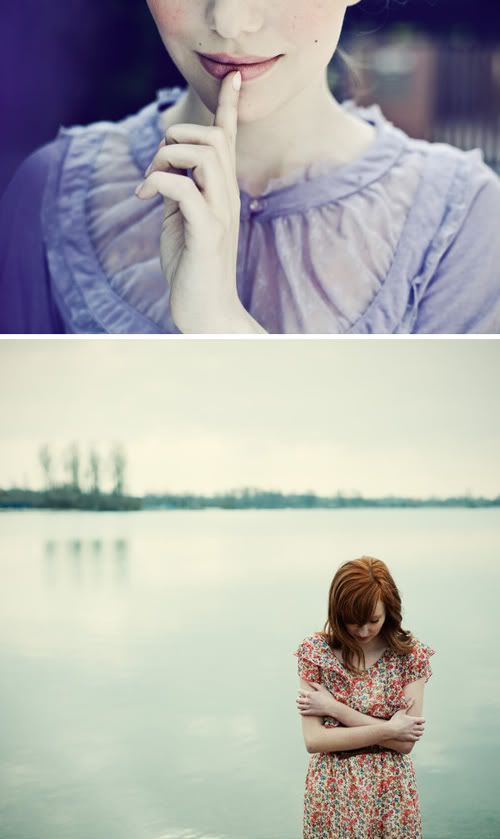 All  photographs above as well as many more are sold here and ship worldwide – I have my eye on several that would work beautifully in my home. What about you, do you see anything that you like? She even has a beautiful calendar available for 2011 that you simply must check out and she designs CD and book covers on request… I can totally see her work on novels!
(images: andrea hübner)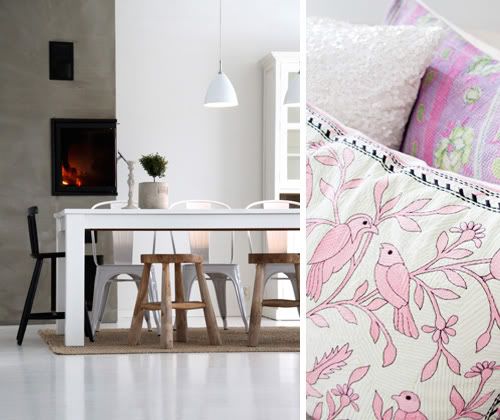 Don't you love how spoiled we are? We can sit before our screens and travel to faraway places in seconds, free of charge, to peek in on the life and decorating styles of others. I mean, it's amazing and whenever I start feeling sick of the internet I remind myself of how valuable it really is and how I really couldn't live or work without it.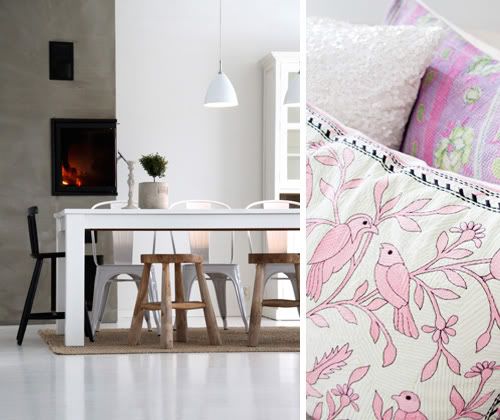 I'm fascinated by trends in other parts of the world and love to see how people decorate and thanks to blogs, there is no end to the inspiration that exists online. In fact, I spend most of my time on blogs that I cannot even read because they are in French, Swedish and Danish for example. Today I came across a beautiful blog called Rosaliga (which seems to translate into English to mean Pink League) in Norway and wow, it's so pretty!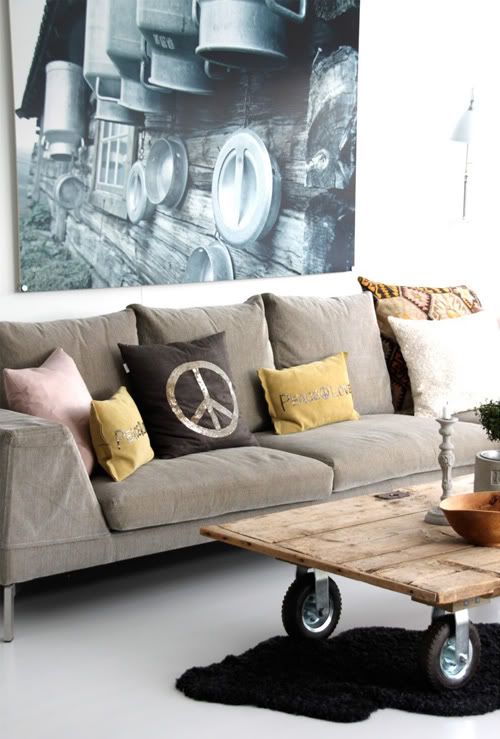 Blogger, passionate decorator and jewelry designer Randi Andreassen (her things are sold in her Epla shop — Epla is like a Scandinavia Etsy.) created her inspiring blog and on it, she shows many photos from her home, travels and of her interests from the magazines that she reads to the decorating projects she undertakes.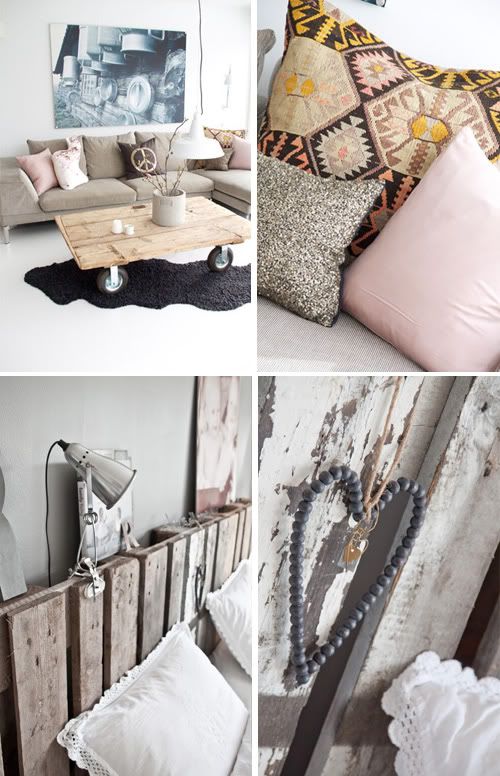 Love this wall color and these trees-as-coat hangers designed by Swedish design firm Swedese.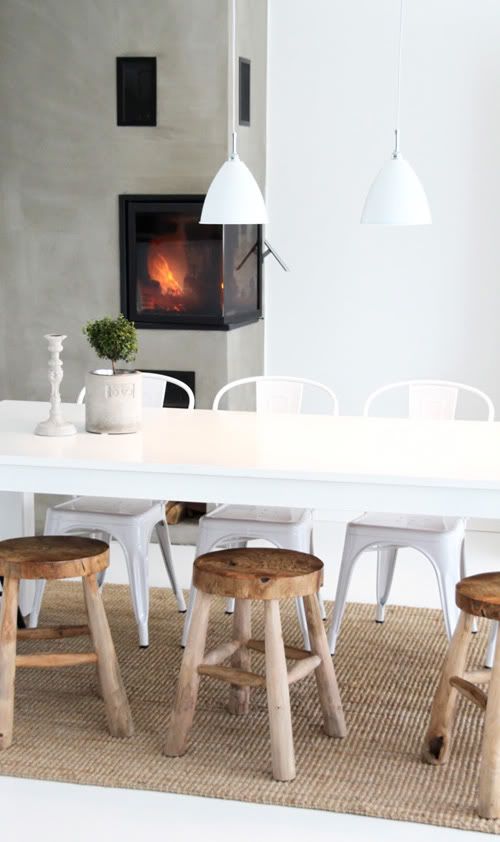 Randi has such a great eye and I spot lots of things in her home from some of my favorite designers like Tine K Home and Rie Elise Larsen.
Amazing, right!? So many ideas to use from this gorgeous home from the handmade wooden headboard to the wooden coffee table on wheels and the hints of pink here and there to be girly and still grown up. She has many of the same things that I have – like the IKEA natural rug in her dining room and the white metal chairs around her table, so it's fun to see how she is using them differently in her space vs. how I use them in mine. Do you do that? Look for similar pieces in your favorite rooms to see if you could try taking something from one room to use in another to create a new "inspired by" look based on your favorite image? Try it sometime, it's fun!
(images: randi andreassen)
Lots of people ask me how to create a mood in the home. It's very, very easy. Turn on some music! In addition to food (cooking makes the home come alive), cozy nooks, lighting, including candlelight, and dimmer switches (a must!), music is another instant way to add a special vibe to your home. Think about it: when you are in a cafe with great music, doesn't it feel better to be there? When you're shopping say, Anthropologie, don't you feel more inspired because of the sounds floating through the air and into your ears? I do. Music sparks imagination and definitely puts me in a better frame of mind if I happen to be in a rather bleh mood.
Lately, I've been listening to these cd's shown on my table above and below. I also found another favorite, a Dutch jazz singer (not shown), who I'm a bit obsessed with at the moment and her name is Caro Emerald and I love her song Night Like This. You can see a video and listen to it here.
In addition to lovely Caro Emerald, these are the tunes I have on rotation in my office linked below. I hope you find some new music in my collection to inspire you at home, on the road, etc. You'll notice half of it is in German. I listen to German music because 1) It's good! and 2) I'm studying the language and it helps me while I'm living here to connect more to the culture and language. If you like diversity in what you listen to, want to be transported to another place, or simply want to brush up on a foreign language I also encourage you to listen to foreign language music or even music in English from different parts of the world like Australia or the UK. It's inspiring to hear what people are being influenced by outside of your home country. I started listening to French pop when I was around 12 years old, thanks to that store Limited Express,  now called Express. Do you remember it had a distinctly French flair at one time? I would buy their French pop music compilations along with my clothes! It was great and I felt very international. For a young girl living in South Carolina at the time, I felt quite international and chic. :)

Shown above: Hurts (great song/video), Charlotte Church (Welsh singer, in English): Watch this video to get a feel for her vibe, Adele, Swedish House Mafia (from Sweden music in English), Pixie Lott (English pop singer) and Katy B (also English pop).
Clueso (German – love his chilled out sounds), Lisa Bassenge (German), Lena (German pop star from Hannover where I live but she sings in English), Frida Gold (German – watch this video to get a feel for what she does, love it!!!), Annett Louisan (German, you must check out her brilliant website, some clippings below – but don't miss THIS VIDEO – interiors eye candy all the way!!!), Anna Depenbusch (German), Sia (from Australia), Chapel Club (from England), Lenka (from Australia).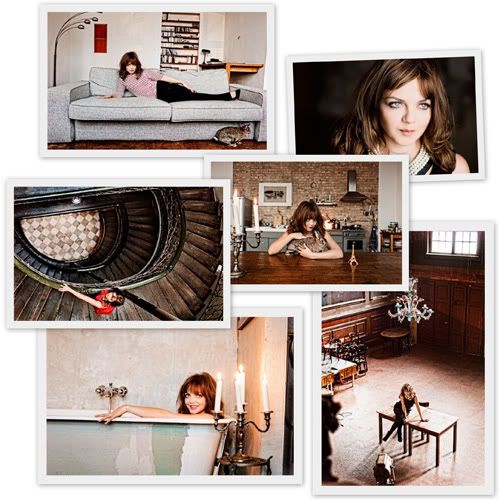 Photos of lovely German singer Annett Louisan who lives in Berlin.

What are you listening to for inspiration lately?
(images: top three: holly becker for decor8 bottom: annett louisan)