Some of Sweden's most prominent designers have made products for your home for Save The Children, and one of my favorite designers, Lisa Bengtsson, has a new collection of wallpaper, textiles and posters created especially for their design shop. The sweet doggy patterns that you see below are from the Tillsammans collection (which means Together in Swedish) and shows dachshunds from around the world.
As mentioned, these products are in cooperation with Save the Children and show six illustrations depicting dachshunds from around the world with hats and hairstyles to symbolize different nationalities. The illustrations are exclusively designed for Save the Children and are available only in their design shop. I like to know that when I buy something beautiful for my home that I am supporting such a worthwhile cause — to protect and save little ones against violence and sexual assault and to invest in their future by ensuring that they receive a proper education in Sweden and in other parts of the world.
I love seeing good design being used to promote and support something so important and to own something that I know supported children in need makes the item, for me at least, so much more valuable and gives me a genuine emotional connection to it. Design with heart. With soul. With intention that goes beyond personal gain.
I believe that our possessions should have positive associations (or else what's the point in owning them?) and any design item created for such a worthy cause would definitely make it even more cherished and special in my home. Do you agree?
Thank you Helena from Room and Serve for writing to me about this today!
(images: lisa bengtsson/save the children)
I thought I'd post lightly for the next few days as I'm still feeling under the weather and need to take it easy so I can spring back soon! How are you doing? Are you well? I certainly hope so. Seems though that lots of people are sick right now, at least many of my contacts online seem to have kids or partners who are battling the same strange cold that I have that doesn't seem to go away like all of the others. Boo, cold! I thought though that I'd pop in to share with you another inspiring shop tour from Australia photographer, Jillian Leiboff, who pops in to decor8 quite regularly to share the shops that she loves from her home country.
I wish I had a pro like Jillian camping out in every corner of the world shooting shops (and/or homes, everything inspirational!) to share on decor8 because I really enjoy seeing what stores are like in certain places that I don't get to visit too often (or in this case, never ever as I've not been to Australia before – have you?). Anyway, today's gorgeous shop tour shot by fabulous Jillian is located in Sydney and belongs to the famous ceramics company Mud. Would you like to take a peek?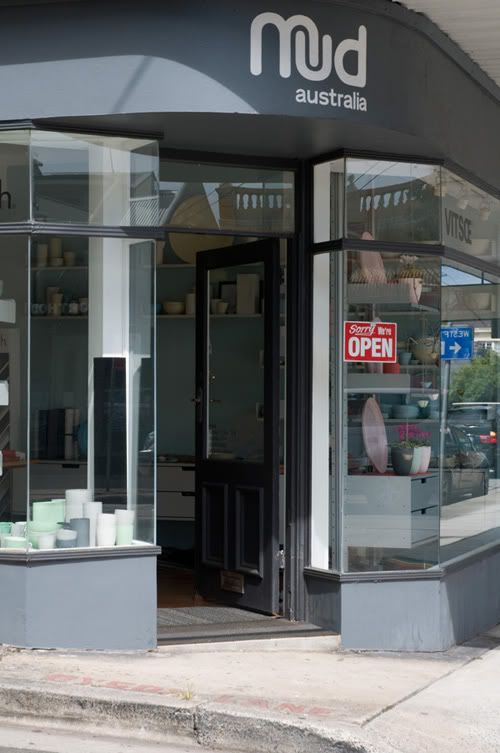 Notice the sign in red, it says something you may not expect… I love fun little details, don't you?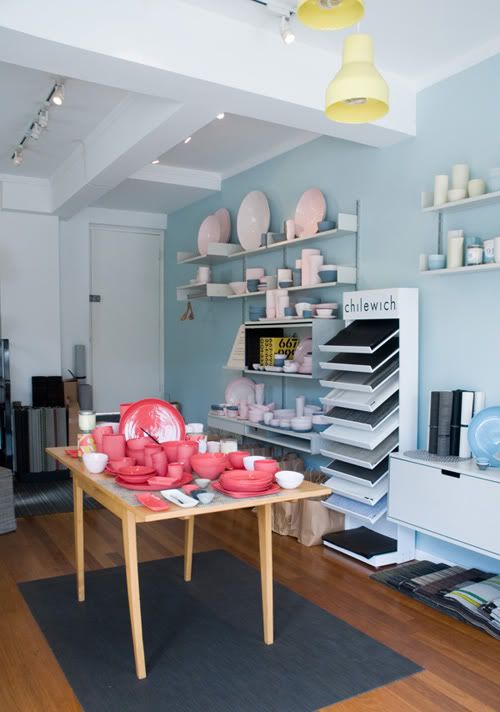 For as long as I've been blogging, I've been in love with Mud products — I mean, who isn't? Their smooth matte finishes, dreamy pastel colors, yummy grey and white tones — it's a playground in this store for any lover of tactile, quality goods and a full-on amusement park for the senses if you also happen to adore ceramics and collect/use them regularly. I think we would all love to own Mud ceramics – I can't seem to locate a dealer near to where I live but perhaps in the future… Do you own anything from them? I know they are a favorite of food stylists, for good reason…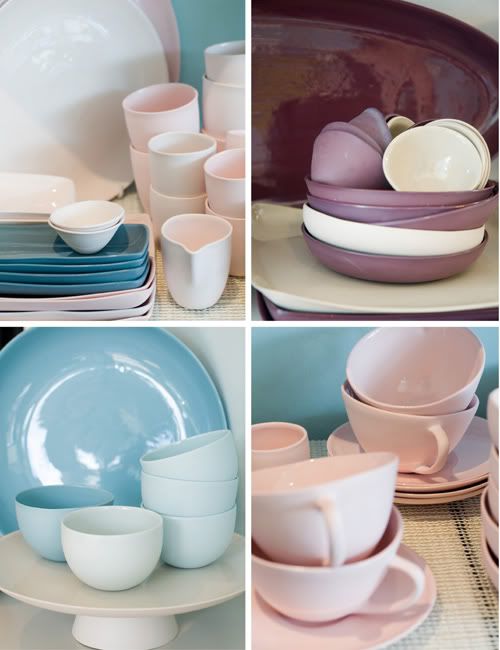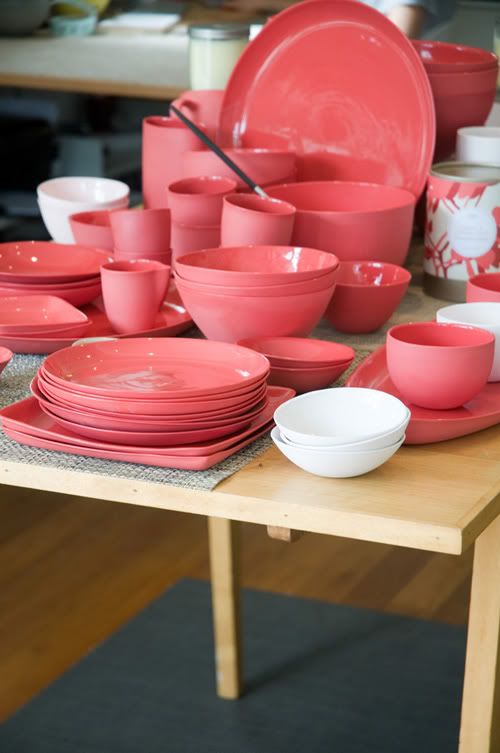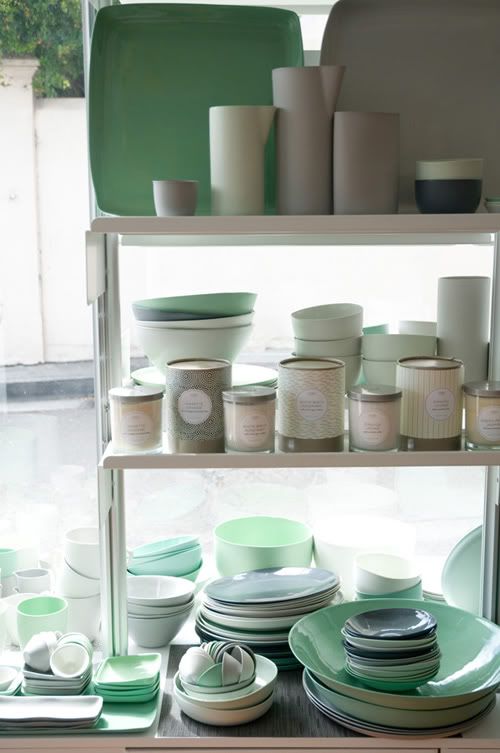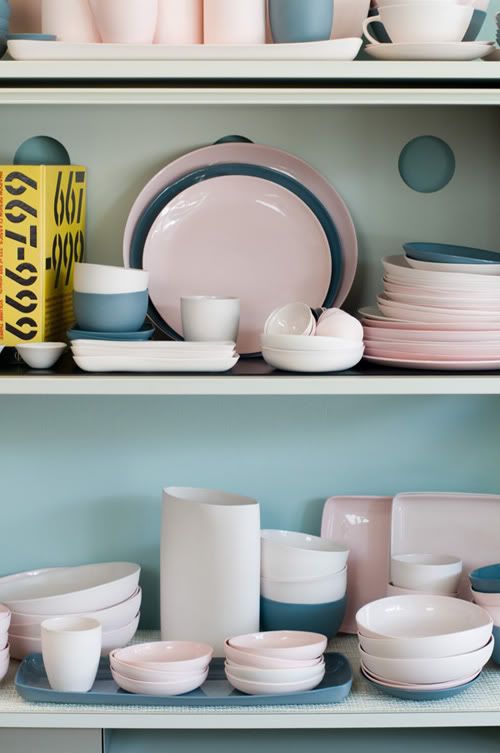 Note: Mud at 134 Edgecliff Road in Woollahra (shown above) is closed for renovations until June 1st.
A special thank you to wonderful Jillian and of course, Mud owner James Kirton for permission to share these images on decor8.
(images: jillian leiboff)
Hello my dear friends! I'm quite ill at the moment, lots of chicken soup and long naps — so I'll be back in full swing again soon. I hope you don't mind that you'll be a bit on your own until my return. I was working yesterday on location as a freelance stylist and had so much fun, then I got home and wham-o — this massive headache hit, then cold chills… so to bed I went and slept for 12 hours —  got up at 5:00 a.m. with this yucky ache all over so I'm resting until I'm better. Bleh. I am simply giving in and taking care of myself.
I miss you though but I'll be back very soon, in fact I'm hoping for Wednesday or Thursday. But until then, I'm going back to my little warm nest where there is a stack of magazines, Angry Birds on my iPhone, lots of tea and warm soup waiting for my return. xo
(image: holly becker for decor8)
When Anke and Sanne, two stylists and a photographers from The Netherlands, wrote to me about StyleCookie I knew I had to share their new e-zine with you. They launched StyleCookie (yes it is also one word, it is considered trendy in the Netherlands and Germany to combine two English words into one it seems) as an inspiring space online in the form of an e-zine and a blog about decoration and inspiring products for the home that changes biweekly.
Their latest theme is Paper, in Dutch it's called "Papier en Vliegwerk". Since mother's day is coming up, they created a delightful mother and daughter theme woven into their 8 pages to inspire women everywhere. They have lots of products made from paper and also some DIY decoration ideas to make at home. Here are some images that Anke and Sanne sent to me to share on decor8, I hope that you feel inspired after seeing them and that you check out their site for more beautiful things to feast on.
Don't you just love the Dutch! I do, I'm such a fan of everything they do with interiors – products, displays, books, magazines, all of it is amazing. I'm constantly in awe by their eye and talent for thinking out of the box. I remember when I attended Dutch Design Week in 2006 on assignment for Domino magazine, it was my first time at the Design Academy Eindhoven and I was completely blown away by the talent. I remember walking through the exhibit halls looking at the products each student designed feeling absolutely stunned by everything. I remember talking to a student who said that the current goal of young Dutch designers was to reinterpret "grandmother's things" into modern wares for modern times without losing their sense of place and culture. You really can see this as a theme in many designs coming out of The Netherlands and I love it. The nod to history is respectful, but the need to update is vital.
I'll be back on Monday, so have a lovely weekend friends and meet me back here then for another week of decor8ing fun!
Also, a big thanks to InStyle magazine (US) for the very special mention about me and my new book. I really appreciate the huge press love! :)
(images: stylecookie)