I love pretty crafty things, don't you? Sometimes just being in a craft supply store can make me feel creative even though I'm simply browsing. I like to look over each object wondering what I could do with it or how I could apply another item to it to create something more personal. Though I find most craft stores to be a bit boring display-wise, I'm lucky that where I live in Germany we have some interesting stores that display crafts and some of the ideas aren't bad at all… they often are a springboard for me as I examine the projects on display and wonder how I can make them different. I find crafting rewarding, good for the self esteem and particularly helpful for relaxing. I also find that when you give handmade things that you are often cherished even more so by your friends because of the work that went into your creation. Even simple crafts, which I'll show you below, can be a personal reflection of your style as well as a generous gesture when shared with others. For instance, if you received a business card tucked into a tiny vellum bag inside of a greeting card from a friend, and it was wrapped like this… Welllll….
…Would that not make you smile? Would you like to receive a business card in a tiny vellum bag (also called glassine) embellished with cute things? I've not received anything like this before which is why I thought that maybe I should think of some easy ways to give my cards a handmade vibe.
All you need is permanent glue, scissors, scrap papers, Japanese tapes, fabric bits, small vellum bags, string or ribbon, and other little things that you can adhere to your bags and when you are finished, you can slip your card inside. Keep a few in your desk drawer so that the next time you send a gift or card, you can tuck inside a business card that is in a sweet little bag.
They need not be fancy or elaborate, but if you are in a creative field and want to show your crafty side, why not have a little fun and create artsy bags of your own? I think these days, especially for creatives, you have to seek opportunities to set yourself apart and to also show your personality. I may not hand these to business contacts in the corporate world, but to present your cards to friends, family, and others who you know will admire them then why not give it a whirl?
While you're at it, you can use the same materials and add some cardstock or vintage wallpaper, and hand cut and create your own greeting cards. Here are a few that I made recently below using wallpaper, pages from a vintage dictionary, tapes, and other sweet embellishments. Each card was tucked into a transparent paper sleeve that I made and left beneath the silverware at each place setting for the Liberty launch party tabletop demonstration.
You can even pretty up plain paper notebook covers with the same materials, here are some notebooks that I made that could be a nice source of inspiration for you. I used lots of Japanese tapes for these and they came out very nice.
AND using the same elements, you can even add some charm with a few garlands that you can use for a party, at weddings, at home, anywhere you'd like really.
The idea is to try to use your things in many different projects in order to stretch them a bit farther and this exercise helps you to challenge yourself a bit to think of alternate ways to use what you have – one idea springboards to another idea. I love to make things, though I don't always make time for it as I should — you must be able to relate! It's fun to get crafty, don't you think!?
(images: holly becker for decor8)
Hello lovely friends, I'm on a roll with posts today so you'll have to forgive me… :) I thought that since I am a contributor to the Matthew Mead Summer Issue that I'd help him spread the word and yes, I know that I already shared a huge sneak peek of the issue with you already (here)… But because I've already seen the entire spread of stories and noticed that everything is so nicely done that I think you may enjoy a few more glimpses of what he has in store for you with his second issue. As I told you already, Leslie Shewring and I teamed up to produce a 3 page story about creativity that you will find in this issue which is quite a delight for us to have our first collaboration in print. We hope that you like our story!
To purchase Matthew Mead Summer, please click here.
Congrats Matthew to another winning issue!
(image: matthew mead)
I have a few shop tours to share with you, one today and another for Monday, both shot by brilliant Australian photographer Jillian Leiboff who photographed this inspiring Sydney shop shown below called davidmetnicole (yes, all one word). I love a good shop tour and davidmetnicole is certainly a place I'd love to visit and rummage through one day so I simply must take you virtual shopping with me! C'mon, let's go!
Husband and wife duo, David and Nicole Page, are the creative minds behind this gorgeous shop which specializes in items for the well dressed home and according to David and Nicole, that means everything vintage from furniture to lighting, accessories and more. Each piece is well considered, curated, and quality pieces can be found from the UK, France and America with vintage and antiques ranging from the 1850s – 1950s.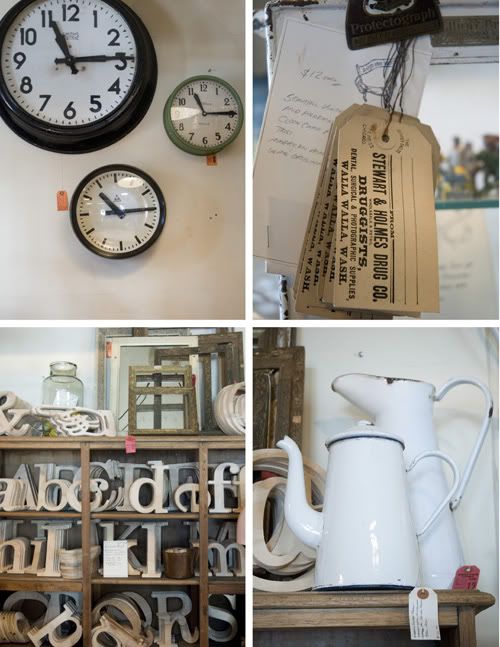 Old clocks, tags, letters, enamelware – what's NOT to love in this place.
This fun shop is always changing and is both intimate and charming but also, "with a bit of theatre as every good retail store should be," says owner Nicole. I personally love all of the textures and how each piece seems to have a story hidden within.
I love the crisp black storefront, it calls to me… "Come, spend money, leave happy…"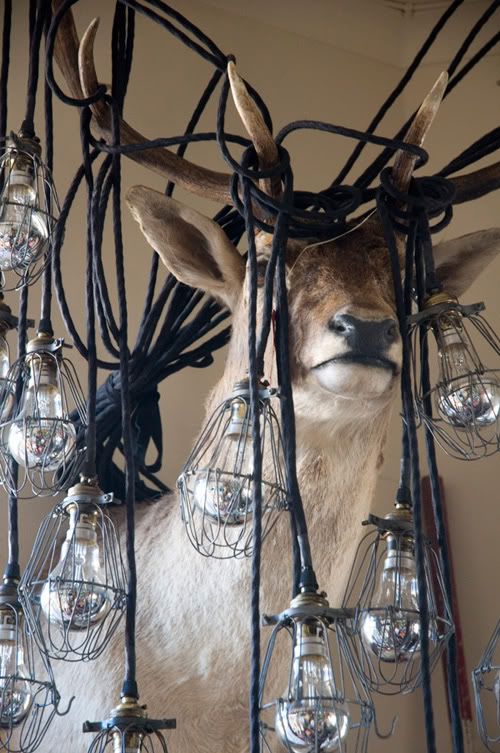 More bulbs for your buck? Sorry, bad joke. And psst did you hear, wire frames are all the rage.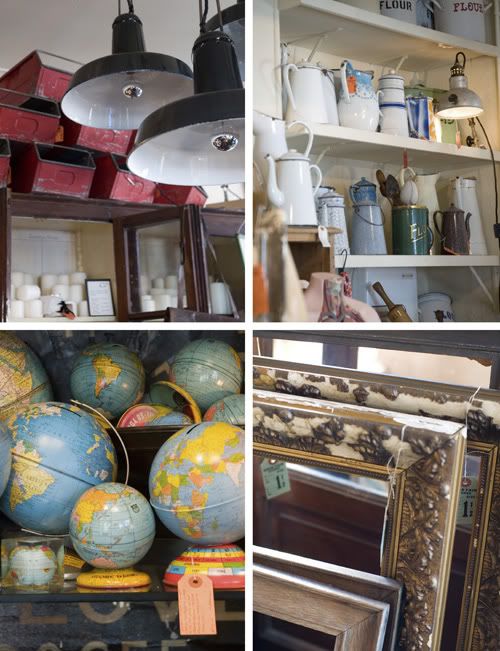 Industrial pendants (a huge trend of the moment), globes, frames that you can paint or just hang as they are, shelves of delicious vessels for flowers, cooking, collecting…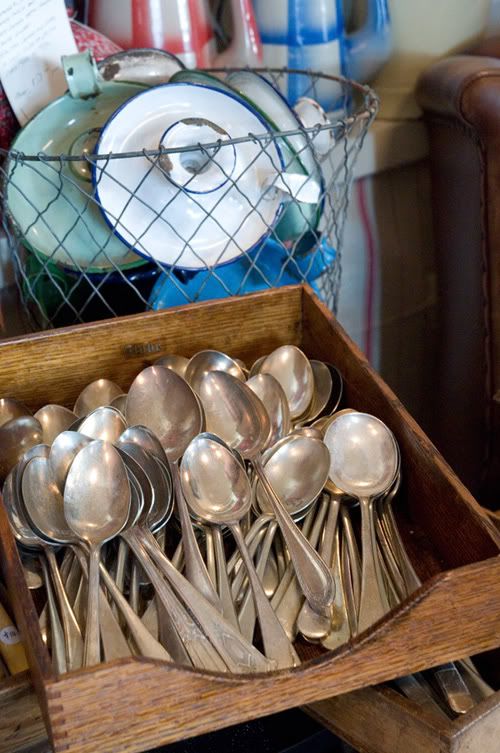 I love mismatched vintage silverware. There is nothing prettier in my opinion and in some cases, it's super affordable.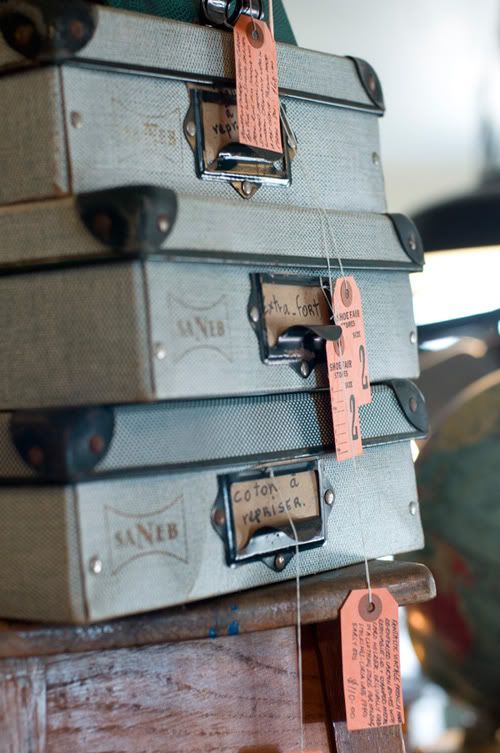 Suitcases, especially vintage and antique ones, are also a huge trend item right now but they will no doubt stick around for awhile because they are both practical and beautiful. Stack them as your bedside table, place them on top of your cabinet for storage, put them in your little boy's room to store legos and things…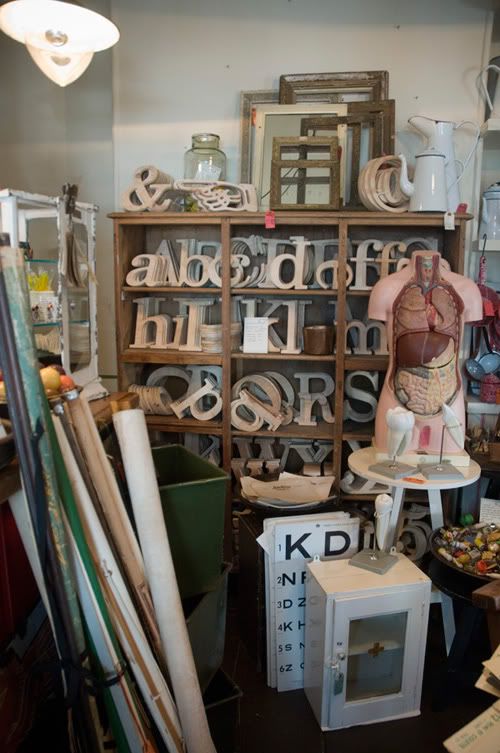 Thank you Jillian for these lovely images that for me, inspire a whole slew of decorating ideas. I love looking at each photo and imagining how I would use the item either as is in my own home, or as something else – repurposing things is so much fun as it presents an exciting challenge I think. Jillian photographed another gorgeous shop that I'll show you on Monday so stay tuned for that. A special thanks for giving me the permission to share your store on decor8, David and Nicole – it's amazing!
(images: jillian leiboff)
Hello Friends, it is Leslie here with Color Me Pretty for April. This time around I cannot stop thinking about travel and cafes. No, they are not colors but since I just came back from a quick trip to London and Copenhagen I find myself dreaming about the cafes I visited and where I may go next.
Yes, the travel bug was caught quite severely and that is why this image from Anthropologie became my source of inspiration for this month's Color Me Pretty. By looking at this picture, I was transported to an Italian café. This gorgeous photo shoot, which took place at Caffé Roma Pastry on Broome Street in New York, inspired me in a fury to create something in a similar palette for you.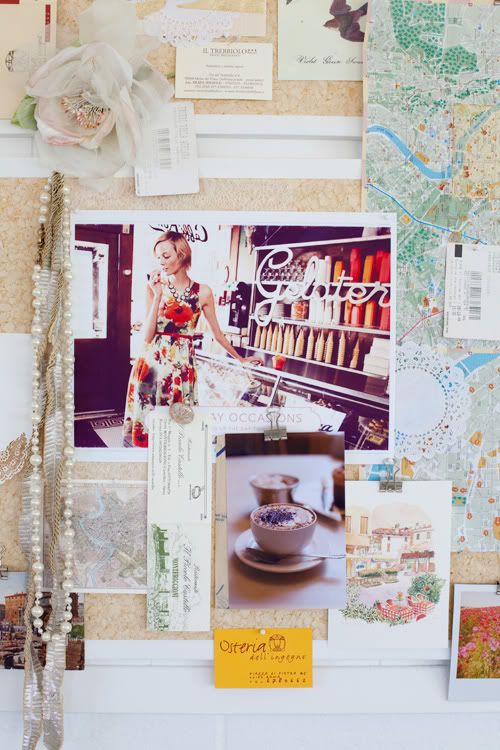 Splashes of dark tangerine, gold, sap green and Prussian blue mixed with light tan and milky coffee. This is a pretty palette for summer fashion, entertaining or decorating.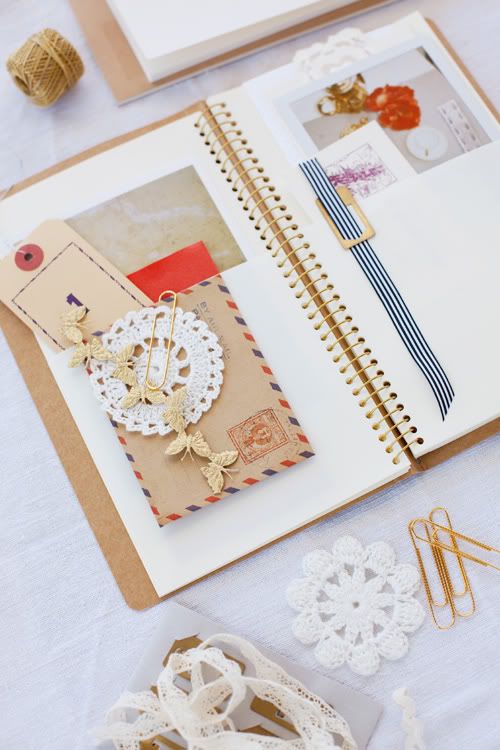 I printed out and pinned the first Anthropologie image from the set on my tack board and then created a mood board around the image. I grabbed old cards and tickets I had collected during my last trip to Rome, along with some post cards and my own photos. I tend to keep little bits of paper from wherever I go. Do you do this? I just love looking at business cards of where I have eaten or ticket stubs from an incredible site I have seen. I keep many of these bits and pieces in an archival box on my shelf or in journals I made upon return home.
Since Caffe Roma appears to serve some fine looking gelato I started thinking about ice cream, then, ice cream dishes and how they may make fun low floral vases for entertaining. I experimented with some little bouquets and the ice cream dishes worked well as they keep the flowers low enough to have a conversation over. You can find sundae, sorbet and ice cream dishes at restaurant supply stores online like this one.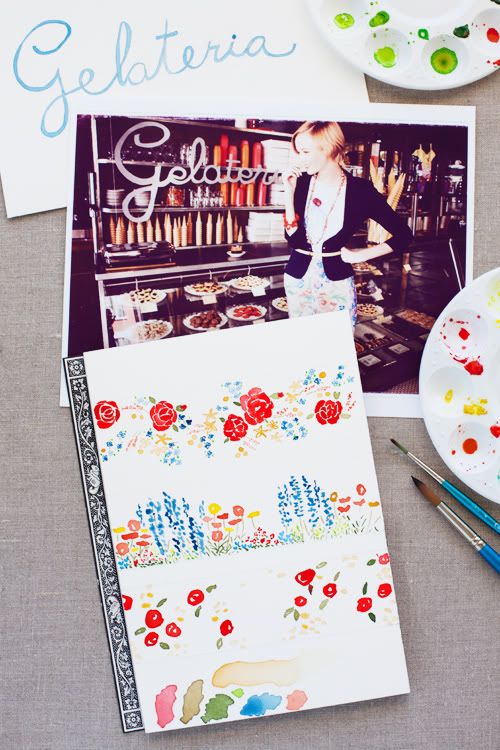 I couldn't help but doodle some watercolor flowers after looking at the fabulous En Plein Air Dress and Gladiolus Skirt featured in the photographs. The gestural floral patterns used in these two pieces have me thinking about borders for cards or patterns I could use in some other crafts. I also love bringing bold floral patterns into my home as accents and these two fashion items have my wheels turning.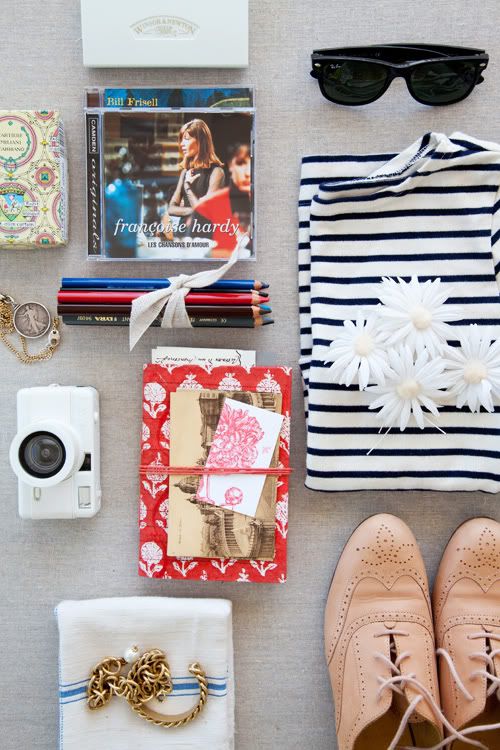 It is really fun to take a virtual trip somewhere and let it inspire some fresh creative ideas. Thank you for joining me here today on my little journey helped along greatly by the styling work and photography by the brilliant folks at Anthropologie.
See you back here next month, Leslie
(images: leslie shewring)