Well my dear readers and friends, it's time for me to hop on the plane and go to London for my official book launch party + signing on Wednesday, April 13th at Liberty London. I'm so excited that I'm about to burst — and I promise photos and a recap! I can hardly believe this is really about to happen and I'm very, very excited about it. Here is my schedule for the week in case you're interested. I'll be tweeting from the road all week so please follow me on Twitter if you'd like to follow along. :)
Today I'll arrive in London and then work with Sania Pell and Leslie Shewring to run through our demo together and do a bit of crafting. Can't wait to be with Sania + Leslie again — such dear, sweet ladies!
Tuesday: I'll be tied up at appointments all day, including a meet up over at Liberty to give merchandising our display that they'll need to install before Wednesday. Fun! On Tuesday evening, a dinner with friends.
Wednesday: I'll meet Leslie and Sania and we'll pick all of the flowers that we need for our demo from the gorgeous Liberty flower shop on the first floor. Then it's time to prepare the table for our demo and do the flower arrangements. At 4pm I have a private press event followed by a video that Liberty will shoot of me in their store. After that, I will do a customer talk at 6:00 to a private group as well. Then at 6:30 in the new Liberty Dining Room on the 3rd floor I will be there with Sania, Leslie and anyone who would like to join us to present a 20 minute styling demonstration along with some decorating tips. After the demo, there will be a signing and my co-author Jo Copestick will be there as well along with a mix + mingle until the store closes! Come one, come all! Lots of bloggers will be there so I'm very excited to meet many of my colleagues.
Thursday: I will return to Liberty again since they decided to add a day to my schedule to accommodate more of their customers and friends of decor8, so at 5:30 pm and at 7:00 pm I'll do two more talks and signings (but no styling demo) so you're welcome to attend either event but you'll need to email my publicist, Liz Somers, to get on the guest list for Thursday ([email protected]). Come if you can!
On Friday, well… I can't tell you much about Friday yet but I'll fill you in on Twitter – fun stuff for sure! And on Saturday I'll be in Notting Hill to shop and then returning back home in the evening. A very full week.
If you are coming to the Liberty launch party + demo on Wednesday or to the special talks at Liberty on Thursday, I can't wait to meet you and share a special evening with you and so many other lovely Decorate contributors who will be there including photographer Debi Treloar. I can't wait to see Virginia Armstrong, Emily Chalmers, Debi Treloar, Selina Lake, Abigail Ahearn, Yvonne from Yvestown and some others who contributed to Decorate. It will be a memorable occasion for sure. See you at Liberty!
Book fan page – Links to reviews, event dates, etc. I'll be going on a mini US tour in July to Boston, New York, Philly, Atlanta, Chicago (may
Order on Amazon.co.uk
Amazon.com, Anthropologie (online and now in stores nationwide and in the UK like Selfridges), Barnes + Noble online, Chronicle.
The book just released in the UK on March 25 but Anthropologie has an exclusive on it so only they can sell it in advance of it's US release date on April 20. That means you can go to your nearest Anthro store and pick up a copy now in the US and in the UK. After April 20th you can find it in stores in the states and online where books are sold.
I can't wait to see you at Liberty on Wednesday and/or Thursday — and if you cannot make it, I'll be in the states in July so perhaps I'll be able to meet you then because I'd love that. This is a very exciting time in my life, I am thrilled, scared, excited, emotional (very emotional) and I'm really savoring each moment of this. We all have those moments in life, whether it is launching a book, having a baby, buying a home, getting married… they are all very big events so you must be able to relate to the emotions I'm feeling right now – it's a crazy mix for sure. I can't wait to be "in the moment" this week and to meet so many who have been such an inspiration to me — and of course, I will share lots of great photos the moment I return. Enjoy your week… I'll catch up with you very soon again.
xo, Holly
(images: holly becker for decor8)
Good morning readers and happy Monday! I have a morning flight to catch in a moment, but I wanted to jump online and share a space with you in southern Germany owned and decorated by blogger and married mother of two boys, Nadine from Herz Allerliebst. She is inspired by the brightness and easiness of homes in Northern Europe but also love ethnic touches from places like Asia and Northern Africa and a good mix of old and new. She loves a simple, clean style with mostly white and a hint of color along with bold black so the look doesn't appear too sweet. Some of the best designers working today swear by adding black (or a dark gray) whenever you notice your palette has become a bit too soft – it definitely works.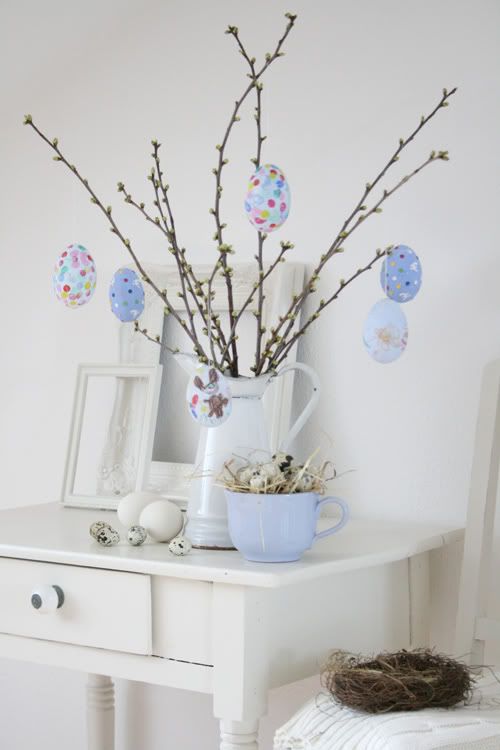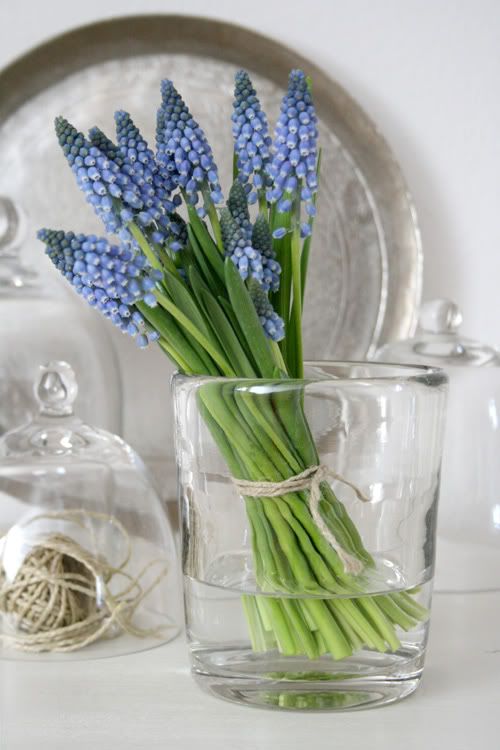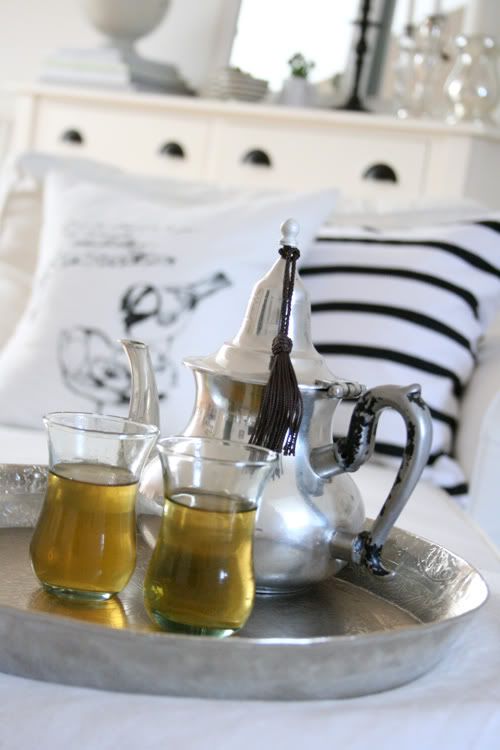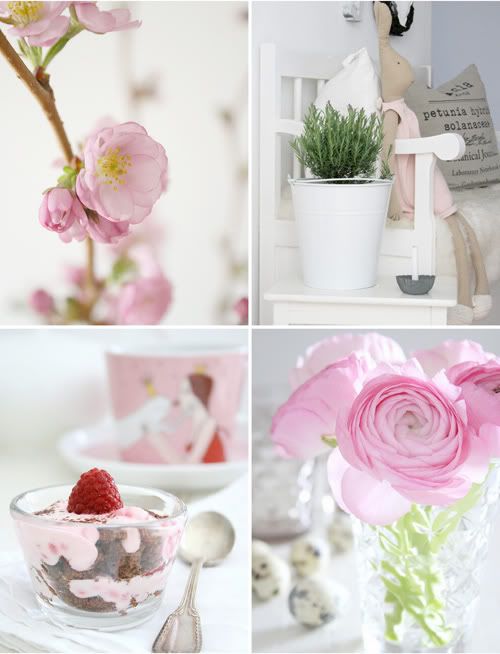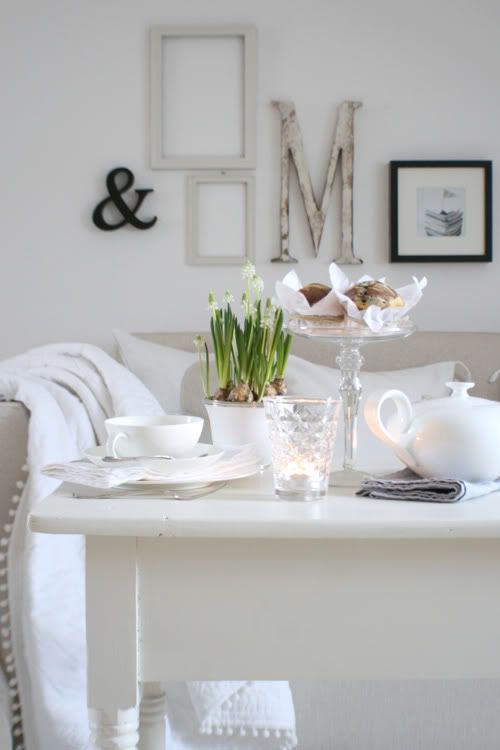 It's important that we decorate our home with heart and when it comes to the homes of others, while we have opinions, it's not our place to judge them as being "good" or "bad" in my opinion — unless they are asking for advice of course and then it's always kind to use tact and motivate them to decorate from the heart a little more. But this "decorating from the heart", what does that really mean, anyway? To me it means to avoid the ever popular "all or nothing" mentality — try to avoid feeling a rush to get everything finished the moment you embark on a decorating project. Decorating should be an organic process, it takes time, just as falling in love with a person takes time. You have to learn how you'll use each room, see where you tend to gravitate to the most, what you use the space for (it can change according to the season), etc. Allowing our home to grow along with us and our unique personality and needs is so important. Decorating with heart means that you want to infuse your space with your life and passions and not simply copy what you've seen elsewhere or buy everything from a single catalog or store. It's curating, collecting, cherishing, editing, upcycling, recycling, and most of all — being kind to yourself and have confidence in your decisions because if you are overly critical about your choices you can quickly lose the joy that should go into decorating.
Nadine loves to decorate and is inspired by other blogs, magazines and books on the subject, "There are so many wonderful ideas which inspire me but I'm also inspired by my boys (they like painting and tinkering and I like decorating our home with their work), nature (each season has its special items and it is wonderful for me to fill our home with nature) and my mum (we are both a bit crazy about decoration)," says Nadine. I asked her a question though that I always love to ask home owners, what makes a house a home, and she told me, "When you can feel that the people living there put their thoughts and heart into it and this has nothing to do with style or money. It is important to feel comfortable with your style." Ah yes, feeling comfortable with your style, in other words decorating takes confidence. That is a great reminder, Nadine!
What does decorating with heart mean to YOU?
To see more of Nadine's home, visit her blog and enjoy!
(images: herz allerliebst)
I received the most beautiful little package on my door step yesterday from the Kindergallery. It's a darling book called Tucked In written by Meredith Gaston who is an Illustrator/writer, and published by Penguin Books. It even comes with it's own bookmark "tucked" into the jacket of the book. Brilliant! Would you like to see a glimpse? This should come with a warning though: scroll down and die of the cuteness, which will result in purchasing the book. But that's okay, Meredith would like that and someone with her talent should be supported so she can keep making more books that we can cuddle in our beds at night with a cup of chamomile tea with honey in hand….
About the book, because it says it all so nicely, "Bed needn't be a place just for sleeping. Whether you are young or old, nimble or wobbly, tucked into bed on the doctor's orders or on your very own whim, you can use your time in bed to explore your creativity and heal your soul. Meredith Gaston, artist and passionate lover of all things bed, encourages us to discover that our tucked-in time can be as creative as it is restorative, enriching our days and bringing joy to our lives. We learn how to analyse our dreams and find out what our sleeping positions reveal about our personalities, as well as creating our own tucked-in haiku poetry, comfort foods and dream catchers. Simply snuggle back, relax, and be guided through a world of tea cup cosies, shadow puppets, favourite bed socks and eclectic sleepy facts. The perfect gift for the bedbound or balm for the world-weary, Tucked In is sure to uplift, soothe and inspire."
This book promises all that it says it will – and more… The illustrations made my heart leap and I've referred to it a number of times already in the past 24 hours since receiving it — it's so darling and such a pleasure to read as the text is delightful, but the color and whimsical illustrations are the cutest! I want to buy several copies to give to friends as I know it would be a hit. I love the tips as well because I think it's important to have bedtime rituals and to sleep well because without restful sleep it's hard to wake up with fresh ideas and a good spirit. Having a good spirit invites good things to happen to us – it attracts the right opportunities and the right people our way, so it is only smart to sleep well and dream sweet. In fact, this is something that my husband has said to me every night since 1998 since we were dating, in German the expression is, "Gute Nacht, schlaf schön und träum süß" or "Good night, sleep well and dream sweet."
(images: holly becker for decor8)
I've been a busy bee this week! In addition to planning for the Liberty event in London on Wednesday night (we're making lots of pretty things for the tabletop and a special installation to go above the table), I was asked if Where Women Create magazine could shoot my work studio this week and of course, since I'm a keynote speaker at their special upcoming Creative Connection event (alongside Oprah's own Cristina Ferrare) in September, I said yes! It worked out really well because I was able to work with my husband, who shot the story, and I styled the shots which was fun — it definitely made me miss working on the road last year styling my book Decorate! Here is an outtake from the shoot of my desk area. You can see the entire room in their next issue!
Above my desk I have this very quick and easy DIY mood board/art display. I made it up myself – hey, decorating isn't rocket science! What I did was cut a piece of linen and secured it to the wall with 5 nails. I then disguised the nails by looping some simple ribbon around each one. I let the linen drape because it looks more natural than if I had pulled it extra tight across the wall. It looks more casual and soft this way. I have tons of prints that I've purchased over the years from Etsy and I can't properly frame all of them so, using Japanese craft tape which sticks so well yet can be easily removed without tearing paper, I "tacked" everything to my mood board/art wall. I can swap imagery whenever the spirit moves me. I like that because the spirit moves me quite often! In fact, changing a mood board regularly is a trick that helps me to stay out of creative ruts. The moment I feel one coming on, I edit my mood board and the fresh perspective helps energize me. With the "Holly" mood board, you only need a little less than a meter of linen, 5 nails, and some ribbon and of course Japanese crafting tape and some art, tears from magazines, etc. and boom! you are in your creative zone in minutes.
I had some major déjà vu moments working on this story for Where Women Create and definitely feel like I need to do more of this in the future along with books and anything else that I can continue to do to combine imagery and words to communicate what's inside of me to all of you. I love decor8, so the blog will always be front and center, but side projects are so meaningful and rewarding and it's good fuel for me to have them as they also feed my creativity so that I can blog with more passion. I have come to realize over the past five years that blogging with intention, with heart, with passion is always my goal — it is so much more rewarding over simply tossing up posts for the sake of writing something. For me, a blog is a place to communicate feelings, a vision, talk about inspirations, ideas, goals, dreams… I think that is what makes a great blog, well, great. What do you think?
(photo: thorsten becker)