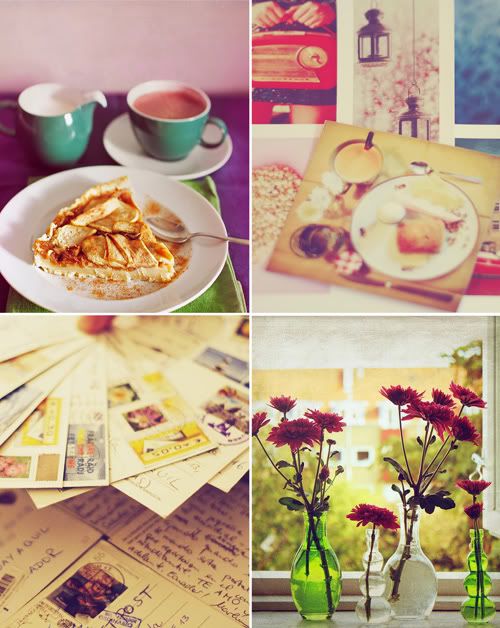 I recently came across the work of 27-year-old graphic designer and photography Julia Dávila in Madrid. Julia is so talented and I love how she finds inspiration everywhere – from her travels, on the streets where she lives and in the subtle way she uses flowers and other objects to tell a story in her home. Julia is a contact of mine on Flickr and I find her photographs quite transporting and so I asked her if I could share them with you today to inspire you.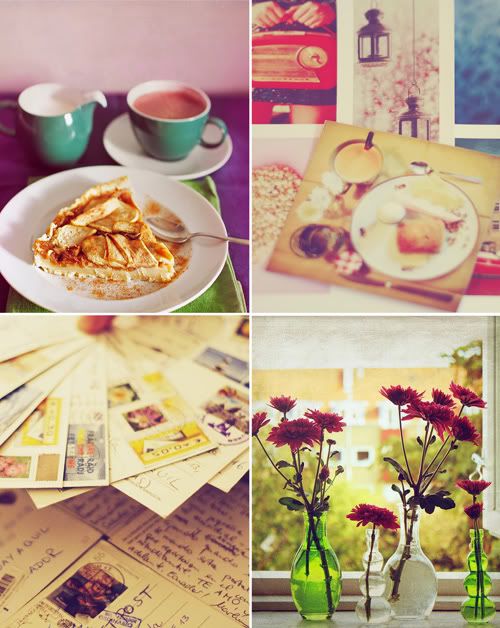 I think it's important to be on the look out for inspiration no matter where you are. The details are there, you just have to look for them and if you have a camera or even a camera phone, capture them somehow and see where those captures lead. Perhaps after seeing these photographs you will feel motivated to take more photos. I have to make a point of it more myself so today I plan to go out and grab a few bouquets from the farmers' market for myself so that I can photograph them at home tomorrow. I'm dying to see what is selling at the market now that spring has sprung!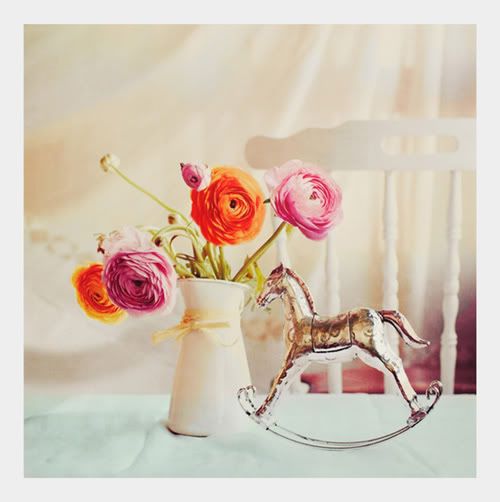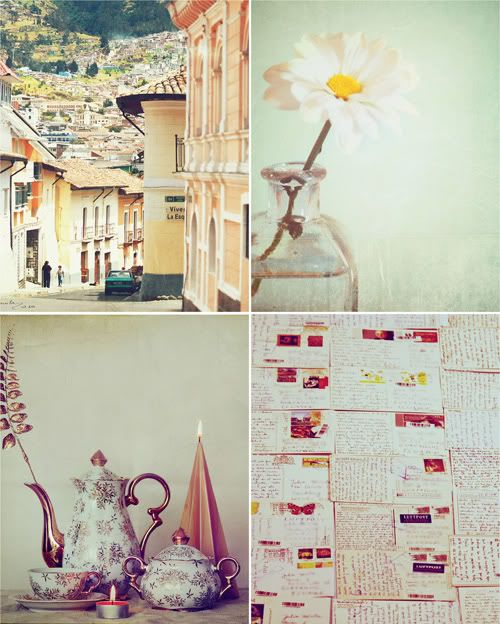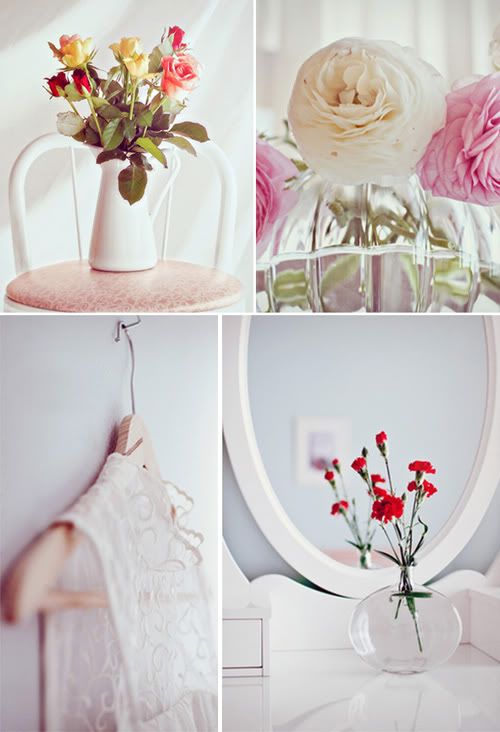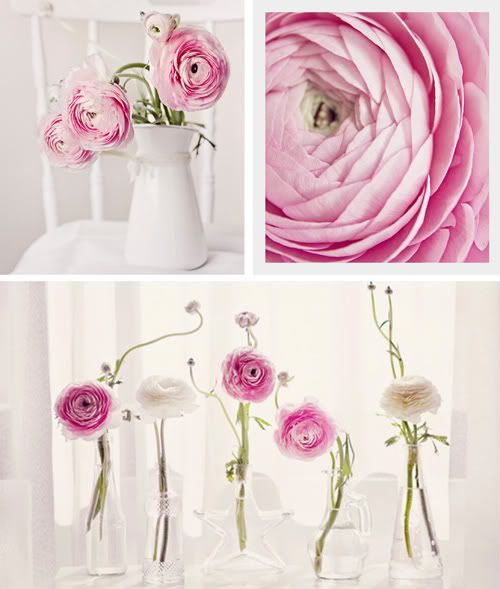 Julia told me that her source of inspiration comes from the changes in nature as the seasons unfold with new flowers and colors in the nature environment around her. She is also inspired by the many marvelous photographers out there who, "Capture the wonders of nature with great finesse," and their work plays an important role in the progress of her own. Julia dreams to someday cover the walls of her home with her own photographs and also put flowers of all kinds on her walls (I must admit that sounds quite avant-garde and intriguing) as part of a beautiful installation to inspire her work further which instantly made me think of this photo showing tons of silk flowers in a dining area.
Beautiful!
(images: julia dávila)
This weekend is my big Spring cleaning weekend and it's funny but I can't wait to get started! I'm ready to donate a bunch of clothes and buy some plants for my balcony and get my home ready for the season. Also, my goal for Spring is to get a better system in place when it comes to organization. Today I was in touch with Manostiles, a Danish company that designs home items, and found their boxes to be quite lovely and perfect for storage. The key to good organization is to have specific places for everything and if you are using boxes like these, to have a good labeling system so you know what is inside of them. I have a few boxes similar to what you see below that are covered in Indian prints and I think Leslie and some others online have similar boxes too — I've seen them around the web in mostly people's home offices, so they seem to be a storage solution that many enjoy. I guess it's hard to resist pretty boxes with things tucked inside!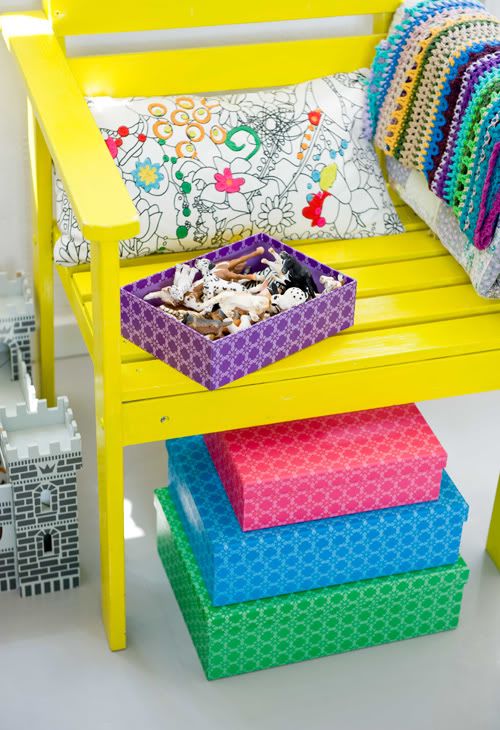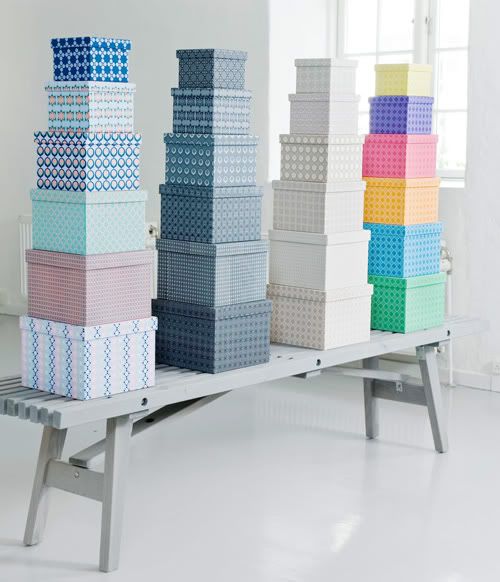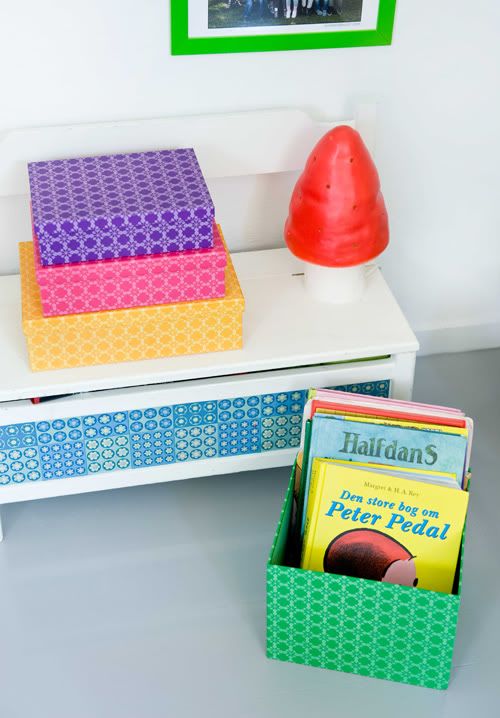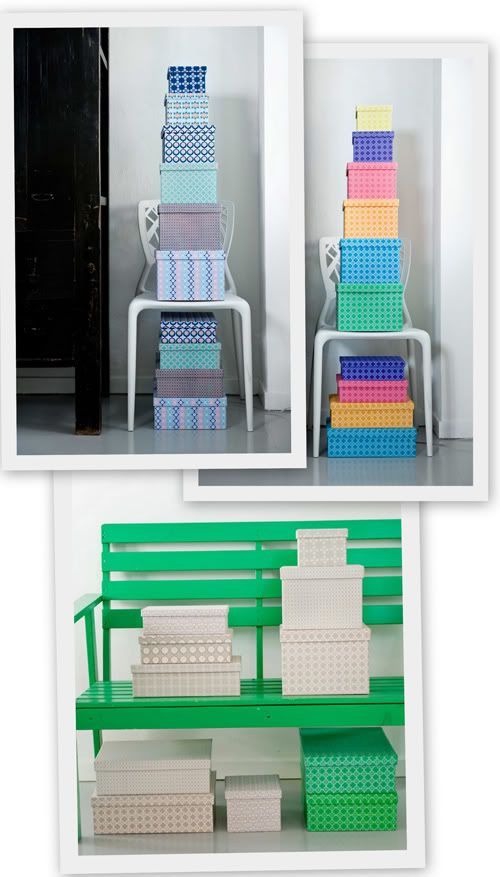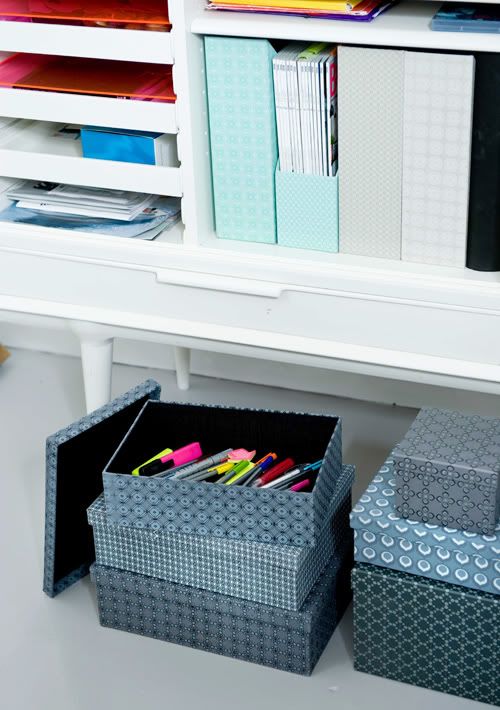 If you would like to order these great boxes, you can purchase them online at Cahetu, they ship worldwide and I imagine rates would be okay since these boxes are very lightweight and many can fit inside of other ones… Manostiles will begin selling them on their website in April if you want to order directly from them.
I personally love the magazine holders and the clear shoe storage boxes that could store anything really. I particularly like seeing the clear ones stacked in a work room or above, as shown by a bed doubling as a bedside table which is clever and budget-friendly. But back to those magazine files, I can never get enough of gorgeous magazines and since I refer back to them so frequently, having them tucked away in pretty holders nearby my desk is practical and inspiring. I love to be surrounded by things that spark my creativity!
(images: manostiles)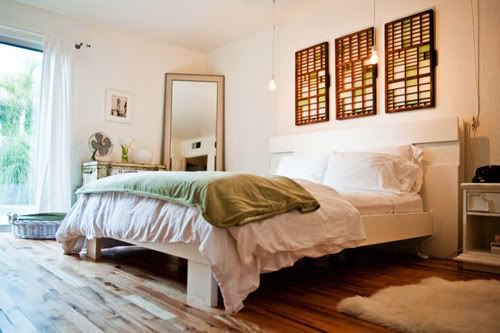 Love green and white? Need bedroom decorating inspiration? Looking to give your sleeping quarters a spring makeover? I have a great budget bedroom to share with you today that decor8 reader Marlise Kast-Myers wants to share with you. She wrote in from San Diego to tell me about her recent decorating project — her five bedroom home! When you think about decorating such a large space, you instantly imagine investing thousands of dollars and going wayyyy outside of your budget, don't you? Think again…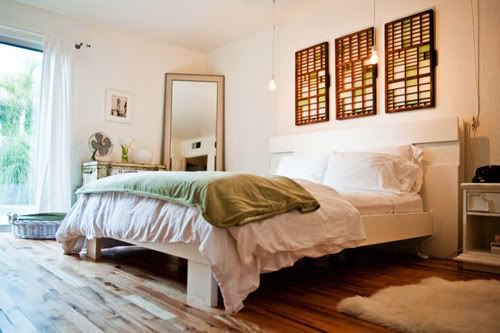 Marlise was determined to stay within budget so she was smart about it — she did a lot of her own work alongside her husband, graphic designer Benjamin Myers. Together, they installed floors from Lumber Liquidators, made their own light fixtures, Benjamin made the framed art and the work above the bed. They also handcrafted their bed frame and headboard and sourced for furniture at antique/vintage shops and craigslist. For a personal touch, because every room decorated from scratch needs a few items that connect you with cherish people or memories, Marlise incorporated a special trunk given to her by her parents to serve as both functional and beautiful storage. The entire renovation of their five-bedroom home was under $4,000 and their bedroom was less than half of that!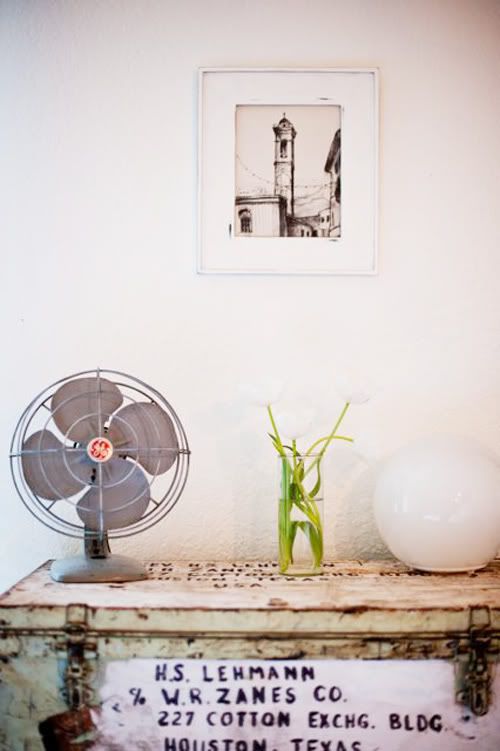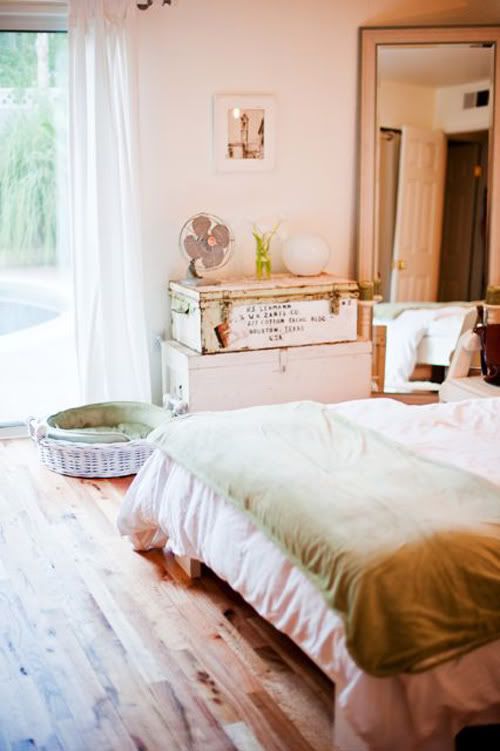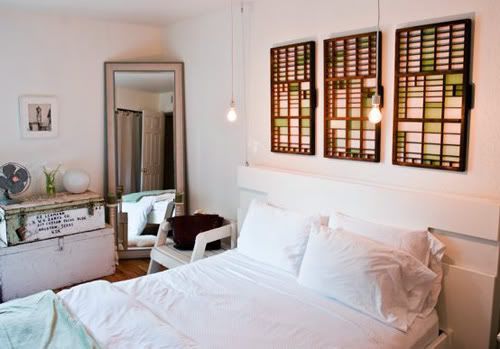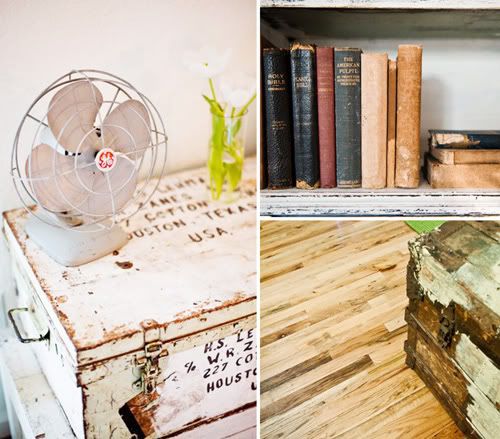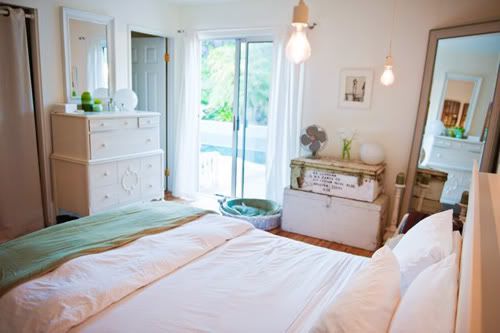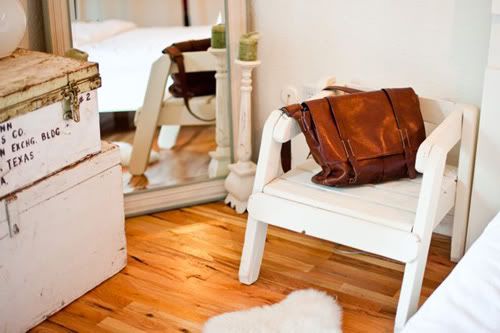 Going for a vintage modern vibe, Marlise explains her jumping off point for her bedroom, "Our inspiration came from the boutique hotels we have visited around the world. Ben is naturally artistic so sometimes it is difficult for me to see his vision until it all comes together. I sort of go along for the ride! He loves the clean fresh look of white with only a splash of one other soft color so we tried to keep the room somewhat minimal so that the design could speak for itself." It's not surprise that Marlise has stayed in a lot of hotels — she has co-authored several travel books including many Fodor's guides!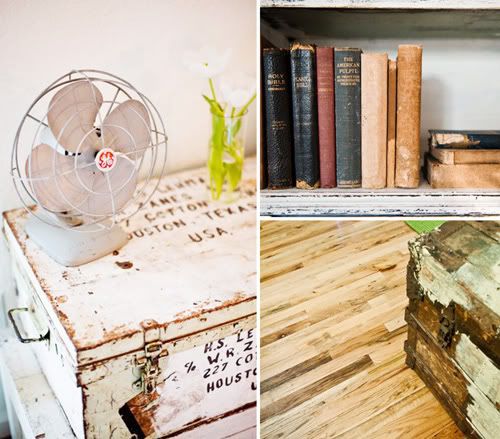 One her favorite pieces in the room is the mint green metal steamer trunk that carried her grandparent's belongings when they migrated from Africa to the United States, you can see a peek of it above. I love the patina. The antique tiered dresser is gorgeous too and I like how they cleverly used vintage printing press drawers as statement art over their bed. Her husband is a fan of green so he opted to paint some of the squares in the drawers in green to tie in with the trunk. An old metal fan, other shabby worn trunks with handwriting on them in black ink, sheep skins from IKEA, candles, and soft flowing drapes give the room a warm, tactile feeling. The various tones of white that are used range from pure white to cream so the room is not at all stark but warm and inviting. This budget bedroom looks lovely and proves that you don't have to sacrifice style to stay within your budget. Beautiful!
(Images: dna wylie photography)