I'm so excited to share this wonderful news with you today! The official launch party for my book Decorate will be at Liberty in London on Wednesday, April 13, 2011. I am thrilled to have such a gorgeous store so generously supporting me and my first book but equally happy to be able to invite you to this special event so we can meet and share a fun evening together. I do hope that you can attend! It will also be a great networking event as I have some lovely friends who will be there, including book photographer Debi Treloar, fellow bloggers, stylists, designers… even a few of the homeowners who are in Decorate will be celebrating with us. There will be a fun styling demo as well that I'll be doing with my two dear friends, Sania Pell and Leslie Shewring.
Liberty will have copies of the book available for sale that I will sign and they'll be a few special things happening that evening. First, from 4-4:30 p.m. I'll be speaking about the book and answering questions at an exclusive press event. Space for that is limited and you need to be a member of the press or a blogger to attend.
Next, at 6 p.m., I'll be speaking again to Liberty customers and those interested in learning more about the inspiration behind Decorate.
At 7 p.m. I've invited two book contributors to do a styling demonstration along with me in the brand new Liberty Dining Room, stylist Sania Pell (whose home is inside of the book) and stylist, photographer and decor8 columnist, Leslie Shewring (her daughter's bedroom is in the book too). Together we'll show you how to lay a lovely table with a personal touch using beautiful things that we've collected from the inspiring Liberty store. I'll also do a book signing so you may purchase your book there. I can't wait to mingle but please do arrive on time as these events can fly by and I want to be able to meet each of you and have enough time to chat. Come prepared to be inspired and have fun!
To recap:
4-4:30 p.m. Meeting with the press. Please RSVP to: [email protected] with Decorate Press Event in the subject line and in the body of the email please indicate the magazine, newspaper, blog, etc.
6 p.m. I'll be speaking in the Heritage room. Please RSVP to [email protected] with Decorate Talk in the subject line. Only a limited number can attend so please confirm your attendance as soon as possible.
7 p.m. Reception and book signing along with a styling demonstration in the new Liberty Dining Room, please RSVP to [email protected] with Decorate Demo/Signing in the subject line.
If you want to attend some or all of the above events, please put the event name in the subject line so we have an accurate headcount and RSVP separately to each event that interests you.
I can't wait to see everyone there, I'm so excited to meet you! Yay!
See you soon! – Holly
It's time to shop handmade with me today at Etsy! Here are my top five shops for the week, I hope that you find some new and lovely things to pad your nest or give to your friends.
Diem Design Photography is so lovely with a vintage modern touch. Relaxing… I can see these framed in a bedroom.
Martha and Ash in South Carolina makes custom pillows, drapes, dog beds and even some sweet little heart coasters that I think are absolutely darling.
Tilt shift photography is a favorite photo trend of mine right now so I naturally love Etsy seller Petit Paris who miniaturizes such a lovely city into the sweetest bites.
Be Happy Now in Israel makes me feel happy now… I find her work really intriguing. I love this photo and this tiny video to go along with it. It made me feel good inside. I want to see more animated photographs like this with hand drawn illustrations on them. Imagine seeing them in digital magazines on the iPad? Oh my. That would definitely inspire me…
Lamp Shade Designs makes custom shades in modern graphic prints. One would look great over a white Saarinen tulip table in an eating nook.
(images linked to their sources above.)
Today is a very happy day! I just found out that Anthropologie has an exclusive on my book, Decorate, which means that only they can sell it before it officially launches in the states on April 20th so starting today, you can order it on their website and find it in stores nationwide. I nearly died when I found out this exciting news and of course, did a happy dance when I saw it online.
I can't put into words the enormously gratitude that I feel for their support as well as the many small, independent boutiques and even large book sellers who will stock it. I've been feeling emotional about this all day really… as people are receiving their review copies from around the world and emailing me with notes of thanks and joy — I don't really know what to say except how grateful I am that I registered my blog years ago and started writing online after quitting my corporate job in search of living a more creative life doing work that I love that also happens to make other people happy and feel more creative, too. Well, it happened but the funny part of this whole journey is that it took a village to make this possible — and I have all of you to thank and I did so in the dedication that I wrote in the book to each and every one of you.
On another note, I was recently notified by a buyer at Selfridges department store in London that they'll also start stocking the book this month on March 25 (a few days after my birthday) and during the first week of April my book will be on a special "premiere" shelf in-store. How exciting this all is… I can't believe all of this is happening.
I must pause for a moment though to say that I know that I'm going to sound a little self absorbed over the next few months but I'm not at all trying to be. I'm excited and happy and so, so appreciative that you just may have to listen to me talk about this book a lot. I want to have a giveaway too and I was thinking that maybe some of you would like a book plate for your book that I can sign and dedicate to you and then you can have it for your copy. Would you like that? I have to figure out how to do this, but once I do I'll let you know because so many have asked for signed copies and I honestly gave this part little thought because I only thought the Kelly Wearstler's and the JK Rowlings of the world sign books – but I love the idea of dedicating a book to you personally so if I cannot sign your copy in person then perhaps a book plate will make you happy. Let me look into this and I'll let you know more soon…
By the way… if you live in India you can order the book from Infibeam.
Also The Book Depository in the UK who will ship worldwide for FREE! Yes, really! But they won't ship it until after March 25 and it's the UK version written in British English.
I have more news to share with you soon concerning the UK book launch party on April 13 in London — I'll talk about that later this week!
P.S. Decorate has a fan page on Facebook if you want to "like" it or "friend" it or whatever. I know, I know! ha ha! Too funny, right?!
(images: anthropologie)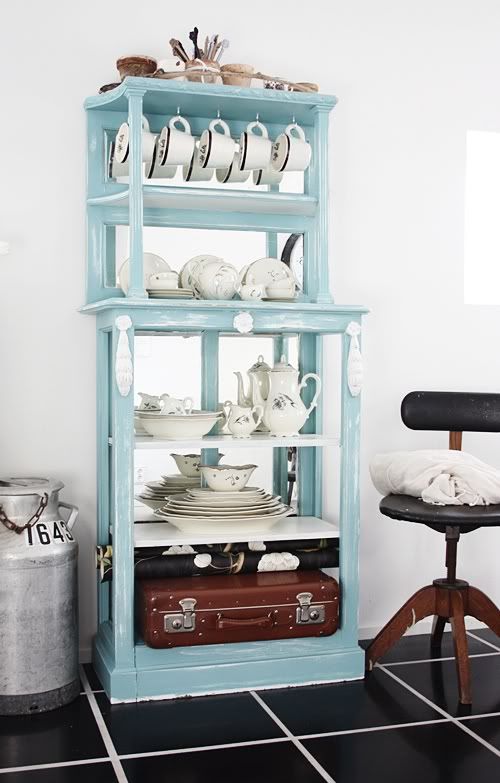 Hello everyone! This is Anna-Malin Lindgren from Helt Enkelt visiting decor8 today for my once monthly column, Handmade Home! This month I'm going to share with you one very special cabinet that I've used in three different ways in my home. A few years ago I was given this gorgeous old French cabinet by my dear mother. It's an antique but was already painted when I received it so I figured painting an antique that was already painted wasn't going to break any rules, right?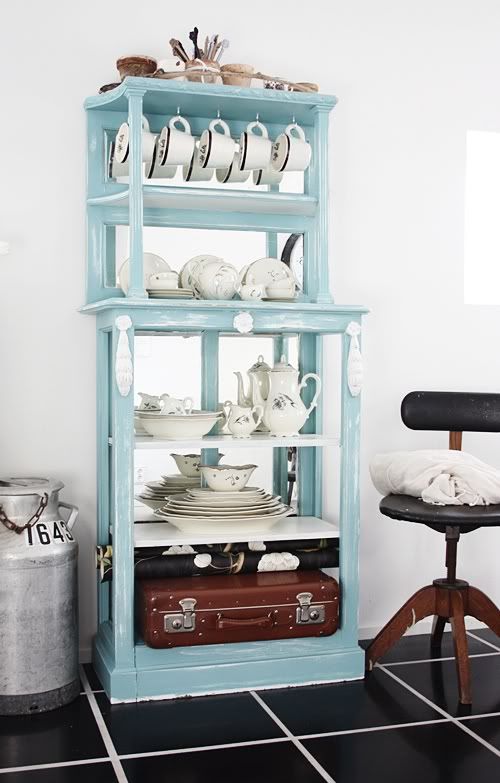 At the time it was a creamy white but after living with it for a few months I decided to give it some color. If you read my blog you know that I'm not usually drawn to using much color in my home but I thought that an aqua color would make it stand out a bit. At first I placed it in my kitchen, but then I got tired of it there and moved it to my bedroom instead.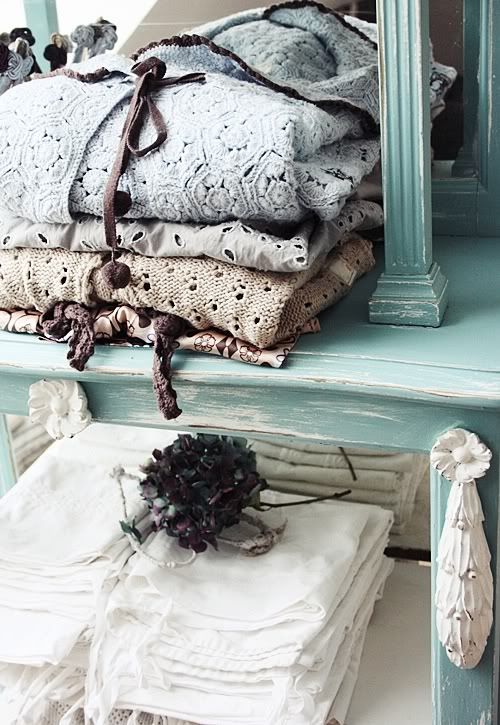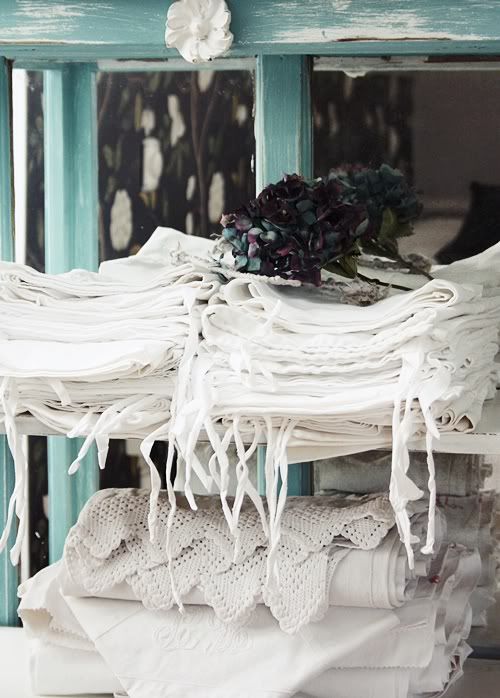 It looked really nice next to my bed — I placed vintage linens inside and some of my favorite cardigans. It stayed in the bedroom until recently when I decided just a few days ago to move it again into my…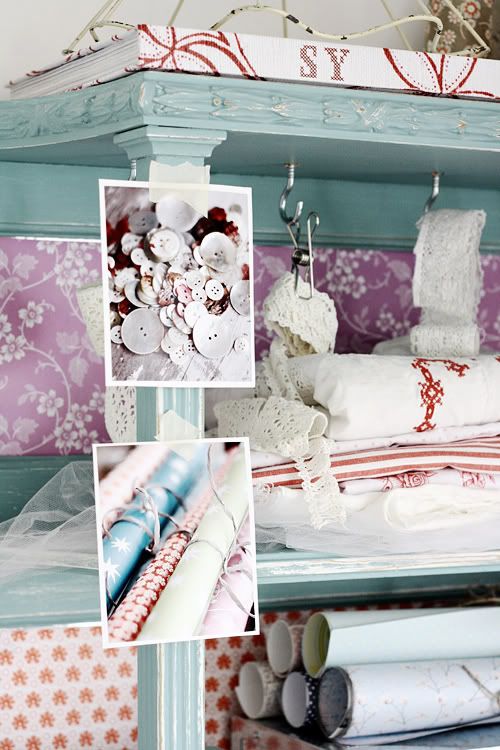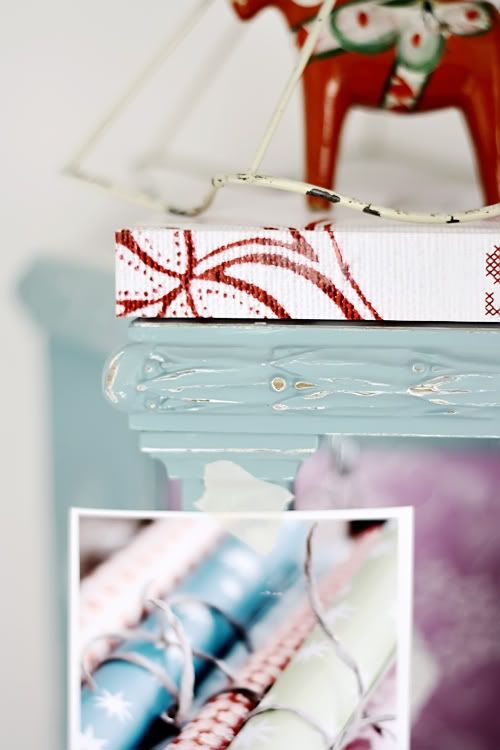 …Studio! Things move around all the time in my home so this is nothing new. :) Maybe you can relate? I thought to freshen up the cabinet that I would add some patterned papers in cheerful colors, placing them over the mirrors in the back of the cabinet. Out of respect for the cabinet (especially since it is antique), I used double-sided tape so that I can easily remove it when I decide to change things up again. As you can see, it is a perfect storage solution for my some of my creative stuff (and you can see Holly's book on the shelf, some rooms from my home are in her book since she was here last year to photograph it). Who knows… maybe when you see this cabinet again it will be in a new space and in a new color. Only time will tell!
See you next month with some more decorating ideas and inspiration from my home to yours. xo, Anna-Malin
(images: anna-malin lindgren)