West Elm contacted me last week with their latest offerings for spring (wowie zowie, so pretty!) but I've been a bit behind this month since I'm also teaching a huge class online so I'm reviewing this a bit late (eep!). I know that it's been hopping around blogland already but I feel inspired by it so I'm posting anyway since I'm a huge David Stark fan, I know who isn't, and the David Stark Collection for West Elm is gorgeous!
David was inspired by the Mediterranean light and the clear blue sea along with his own roots as a painter — so he decided to combine raw canvas and gesso to create baskets and bottles wrapped in artist's canvas and porcelain soup cans that can be used as vases. I love his dinnerware splashed with gorgeous blue tones with that painterly vibe to them — it's a treat to see this! Blue and white is such a great palette for warmer weather, I always feel so invigorated when I view various blues that resemble ocean water, they can range from moody blues to exhilarating blues. Paired with white along with modern lines and lots of natural texture and the look can suddenly become quite nautical chic with a more high end Greek resort vibe.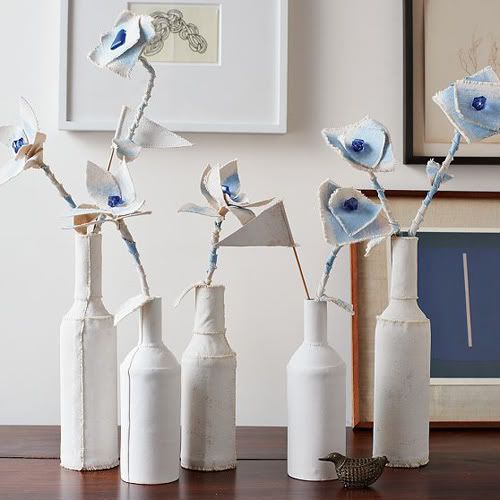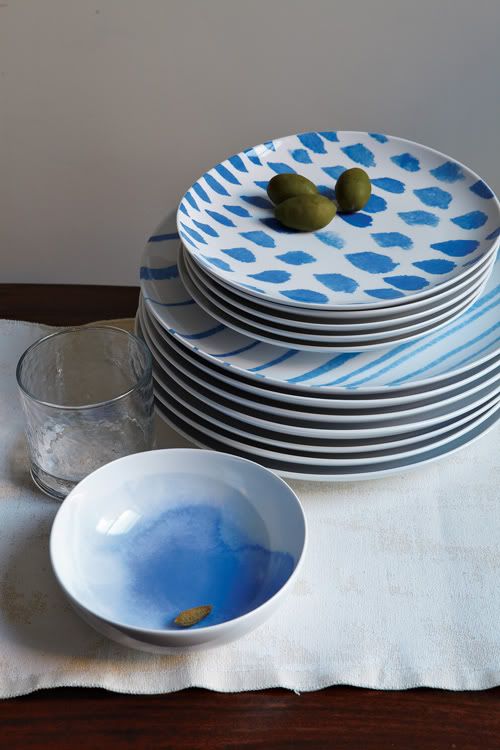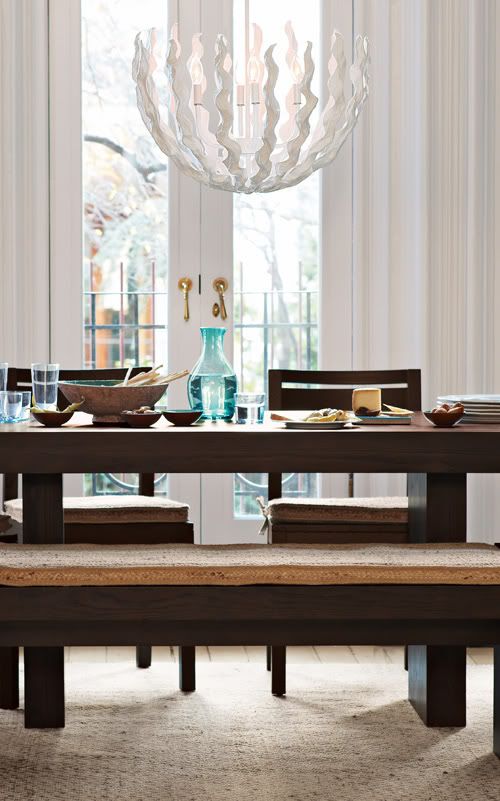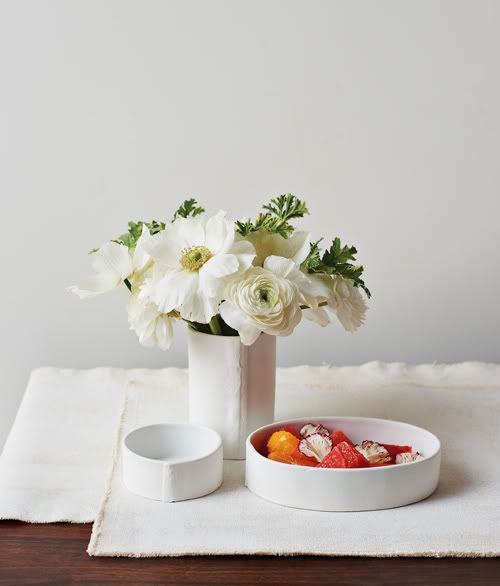 I also like seeing Tennessee-based husband and wife design duo Bill Pritchard and Jane Gray from Stray Dog Designs with a collection at WE as well because I've followed their work since 2006 and love what they are doing with papier-mâché and I think that in the right setting their pendant light is divine and a statement piece. I don't want to gush but by golly gee I love seeing what's coming out of WE lately… how inspiring. And the styling and photography – spot on!
(images: west elm)
Hello everyone! I hope your week is going well so far. I'm so glad to that it's officially springtime and feels like it where I live as well — the weather has been beyond gorgeous with lots of sunshine and temps around 60 which is perfect for March. I love the things that springtime brings, like clear blue skies, daffodils and aisles of amazing Easter candy in the stores over here – Germans really get into Easter let me tell ya! Man! I am amazed by the variety, quality and packaging. I also love the way the locals decorate this time of year — hanging branches adorned with ornaments (like eggs or painted rabbits) for instance…. And there is a lot of energy in the air because you can feel that everyone's spirit has lifted after two months of a very gray blanket and darkness falling by 3:00 p.m. which can really suck the life out of even the most positive person.
The grass is getting green, the birds are singing, there is magic in the air for sure. Yesterday was my birthday and so today I woke up into a brand new year of my life thinking of all that I will do and want to do. I am very pleased to welcome spring and equally happy to be experiencing my second spring abroad as I feel it is a genuine accomplishment, a milestone, I'm really making it in a foreign country on all new turf and so I have this extra confidence boost from the goals I'm reaching.
By the way, I'd like to share a random thought I had recently… It's amazing how the internet has brought so many passionate, talented, and sincere people into my life — your life — all of us really… I know I would not have met most of you without having a blog. It is likely that you are also blogging or using other means to network and so I'm sure you can relate. We're a lucky bunch, aren't we?
Back in a moment with a few inspiring posts for today!
(image: holly becker for decor8)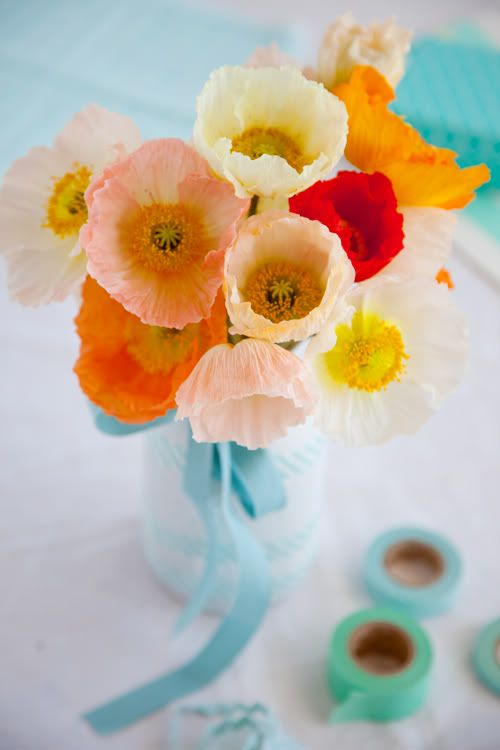 Hello friends, it's Leslie here with Color Me Pretty for March. With all the heartache over the last ten days I wanted to focus on spring with the sense of hope, creativity and new life it brings. I thought I would revisit one of my favorite palettes, which includes pale blue, watery aqua, minty green, and splashes of dark coral. To change it slightly I added some chalky looking lavender. I have been seeing this palette in various forms lately and thought you may enjoy it.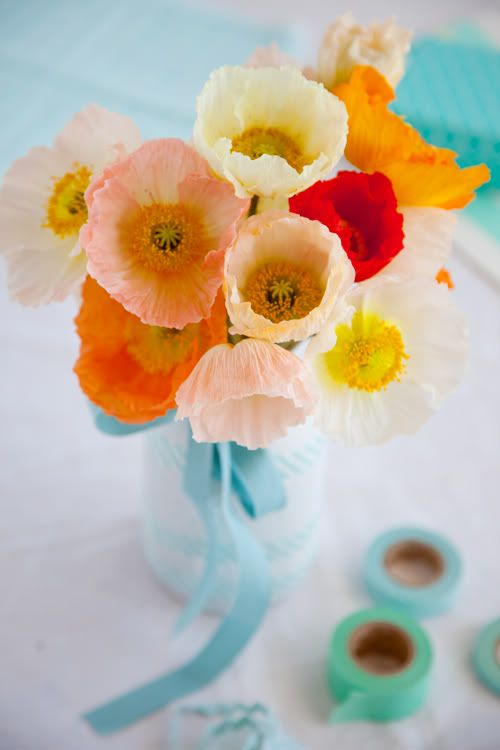 Cheerful poppies have been blooming in my garden and I decided to place these ones in a spray painted mason jar. I further decorated the jar with ribbon and a few strips of Japanese washi tape. Decorating some white floral containers with tape is simple, quick and adds a sweet handmade quality don't you think?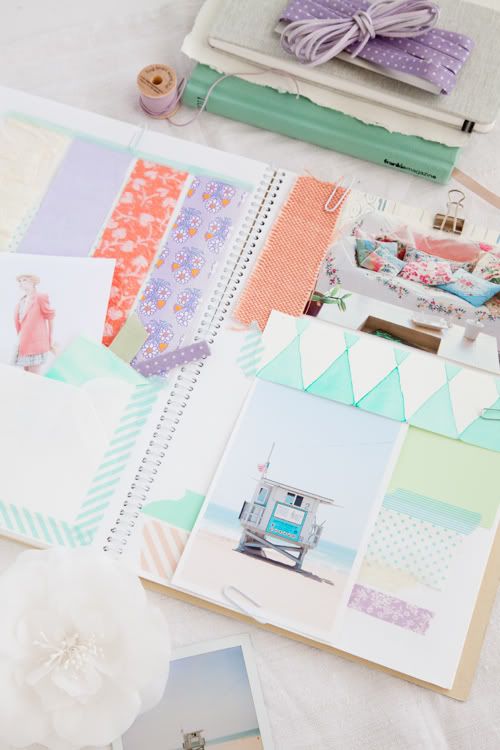 I was really inspired by the work of Thomas Campbell who Holly introduced me to in her post a few weeks ago. I couldn't help but get back to my sewing machine to sew more paper together. I made some interesting wrapping paper quickly as well as some larger pieces I may frame and use as wall hangings for my home. When I did not have the right color of paper I used watercolors to create the tones I needed.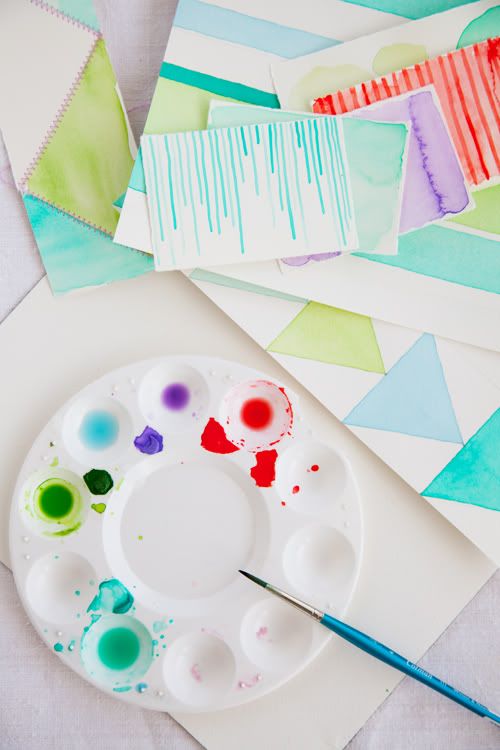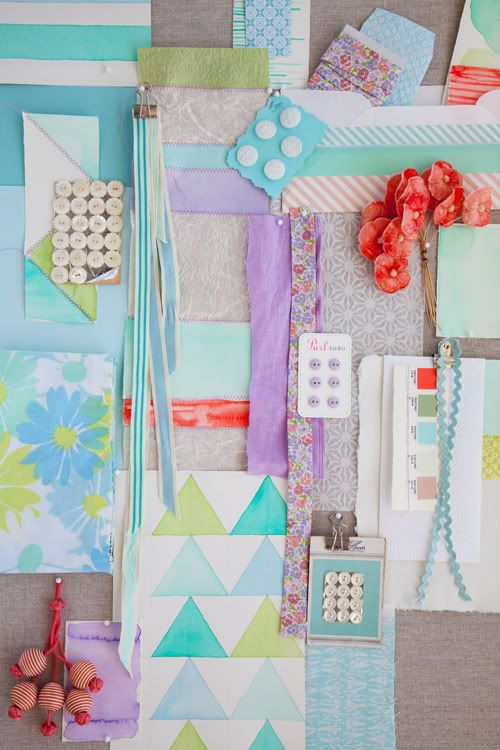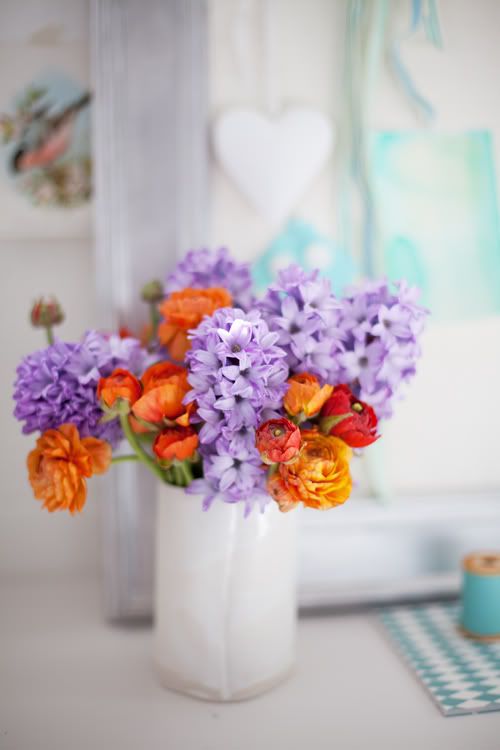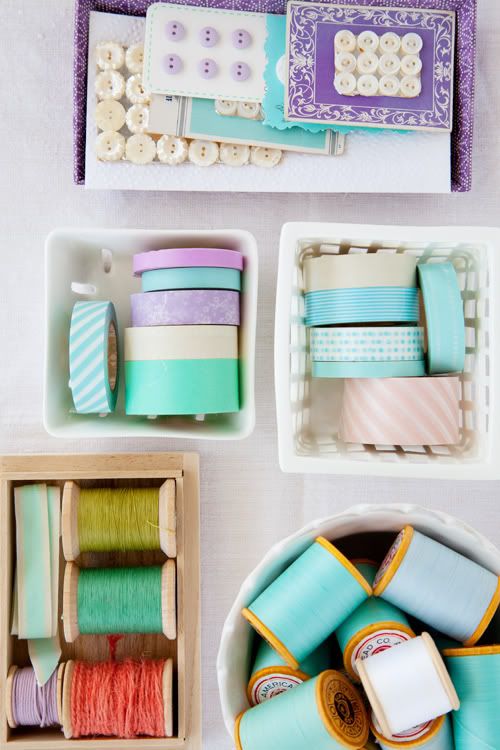 I filled my journal pages with pieces of freshly colored paper and photographs. I love having this record to go back and look at when I want to create something down the road and am lacking inspiration. My journals have always helped keep my visual ideas organized. They act as mini mood boards that are portable, easy to keep and refer to. Long after my tack boards have been cleaned off I still have my journals waiting neatly on the shelf.
I hope I may have sparked an idea or two for you to carry out in some of your creative projects. Please take a moment this week to stop and notice the flowers of the season. Even if they are just the ones on display at the market! I will see you back here next month, until then take good care and thank you. – Leslie.
(images: leslie shewring)
Leslie
Wishing you a happy Friday sounds so out of place right now, doesn't it? So I've decided to wish you a peaceful weekend. I've been working a lot offline lately so excuse me for being a bit distracted from my blog this week but I'm happy to be here today, just briefly at least, before the weekend begins. How are you doing? Are you well? I've been counting my blessings a lot this week, particularly when I watch the news because my heart aches for Japan but also for those affected globally by this tragedy – particularly ones with family in Japan like dear Leslie — my friend and Color Me Pretty columnist.
Leslie is half Japanese, her mother is from Japan, so they have family living there and visit frequently. In fact, Leslie travels over at least once a year so her connections there are strong. If you have time today, please visit Leslie's blog and leave her a message of hope + peace if you can. She's had a tough week absorbing all of this as you can imagine and what a sweetheart… she still found time to push through her feelings and work on a gorgeous color story for you that I'll run on Monday morning that will be so uplifting to see. I've had a glimpse and it's gorgeous.
And are you holding up okay? I've felt a little uncomfortable writing on decor8 this week — it's hard to get excited about furniture and decorating when people are suffering and that won't end soon because then, a massive rebuilding will have to occur in certain places and that can take years to complete. This will be a long journey for Japan and my heart breaks for such a dear culture. It's hard to rah rah about products and pretty things and "home" in general when for some, their home has been carried out to sea or is abandoned with belongings spread for blocks – belongings that may not be reunited with their owners ever again.
I put together some gorgeous photographs taken of cherry blossoms for you today, most are from various etsy sellers and they made me feel very peaceful to look upon them. Cherry blossoms (Sakura) are indigenous to Japan with over 200 cultivars found there. Whenever I see them, I think of Japan. In Japanese culture, cherry blossoms can symbolize clouds but are also a metaphor for the ephemeral nature of life and the concept of mono no aware. Do you know much about mono no aware? If not, this is quite a fascinating read if you have a moment, click here. It is the belief that, "Awareness of the transience of all things heightens appreciation of their beauty, and evokes a gentle sadness at their passing." Cherry blossoms also symbolize affection, love, and represent spring. The images above can be found and most of them purchased here in the shops of some of my favorite etsy sellers: shaded memories, fly with me, thorsten becker, green zinnia studio, amanda raek, shaded memories, becca c fowler, born barefoot and humboldt street. I love each of their photos, they give me a feeling of peace and joy just to behold them.
I'll be back with some positive thoughts and posts next week but for now I'd like to encourage you to stay positive, donate to a reputable charity or help where you can, and spread love, peace, be supportive of one another and care about those around you. Do what you can to go out of your way to show love. I'm learning more and more from my dear friend Laurie, an American living nearby, about "mindfulness" or being present  — really "in" the moment… Just recently we were at a cafe and she explained that being mindful means to hug your friend and really smell her perfume, taste the coffee as you sip it, enjoy the texture as you chew a freshly baked brownie, to notice the sights and sounds around you and to be present and to allow this presence to give you energy, peace, balance, joy and to help you to appreciate life's details. It's a gift to learn this and we can practice it more and more until it becomes second nature. Being mindful can do so much to make us appreciate every little thing in our life and to drink in every moment — and this can help us through some very hard times. The Japanese people are very mindful as a culture, and at ease, and they strive for balance and I think that this is why they still remain so calm despite this tragedy. There is so much to learn from others who are often much stronger than we are.
To wrap up the week, perhaps we can approach spring (which falls on March 20th this year) with a fresh outlook — to practice being more aware, to be mindful and to enjoy what we have. Really enjoy the magazine that you plan to look through for inspiration. Feel the warmth of your kitty at your feet, purring loudly. Hear the sound of the clock ticking on the wall. Take in the sights and sounds around you as you commute home on the train. Connect. Be aware. We are alive, so many of us have peace, and abundance in our life — let us be mindful of that fact and appreciate it and to then take what we have and share it with others.
I wish you a peaceful, mindful weekend – be grateful for everything… And I'll see you dear friends again on Monday for a fresh beginning as we welcome the good things that Spring can bring, together.
xo, Holly
(images linked to their sources above.)