Love to order goods from giddy London but hate paying the $30, $40, $50+  that it often costs to ship things over to the states or mainland Europe? Well my friends, you won't be paying a single dime for shipping in this lovely shop for the next week…
Do you recall my recent post about Lisa Stickley and her fabulous new bedding? Well, news travels fast and guess what? She was so pleased to be featured on decor8 that she asked if my readers in North America, Europe and the UK would be interested in FREE SHIPPING on everything offered in her web shop. Well of course we would! This means huge savings starting now for one full week so open those wallets and cha-ching your way to shopping bliss!
Please, take advantage of this wonderful exclusive deal for decor8 readers. Simply fill your virtual shopping carts and if you have a shipping address in North America, Europe or the UK your shipping fee will be ZERO. I'm thrilled because I want to place an order for a few things myself. This offer ends on March 16 and you need no special code as they know to expect you in their online shop so please take advantage of it soon!
By the way, the Lisa Stickley store in London just did a little shuffling around and their new shop interior looks so beautiful that I thought I'd share it with you above. It's also a nice chance for you to see some of her beautiful wares in situ. Tempting, eh?
Enjoy your big fat freebie my lovely friends! xo
(images: lisa stickley)
I thought that by approaching Monday with a positive "let's do THIS" attitude today that it might help me to get through my painfully long task list this week. Gulp! I've got a lot on my plate but I wouldn't have it any other way because the truth is that a busy schedule invigorates me if I'm busy doing things that I like. You must feel the same!
[Affordable furniture from UO: mint green bookshelf, gold chair, patchwork chair, metal storage shelf, birdcage hanging lamp and the concert folding chair.]
Truth is, I've been thinking a lot about my business lately and some new project ideas which has me very inspired and motivated because I believe that you have to be in the right place emotionally at the right time in order to put certain plans into motion — I believe that I'm ready for taking on some new (but still decor8-related) projects and as I go, I'll certainly tell you about them.
We evolve as people and so does our decorating style, interests, friendships, even where we live and the foods we eat — life is really about knowledge, growth, change, improvement, working hard to make our life better and to help those around us amongst many other things. I think that when you begin a week on a positive note and view it as a way to evolve and grow – by Friday you will have learned a few new things and quite possibly found an illuminating realization or discovery along the way.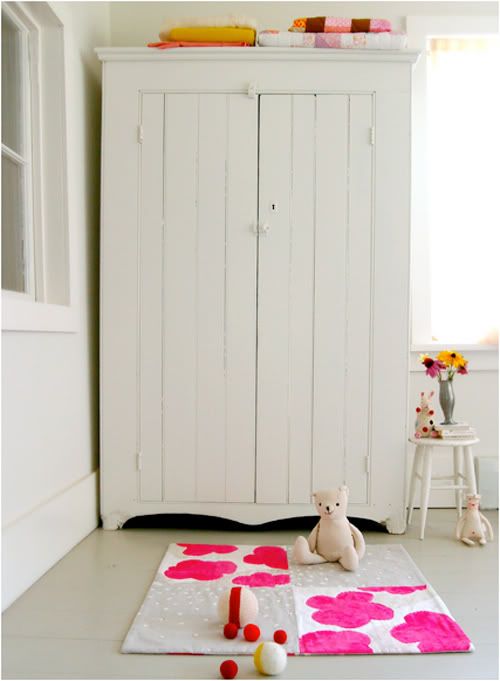 [I love this cabinet because I want one just like it for my office to store props and supplies in. This is from Purl Bee.]
[I'm inspired by how this book was wrapped in white paper and then decorated with Japanese masking tape as shown in German magazine Living At Home.]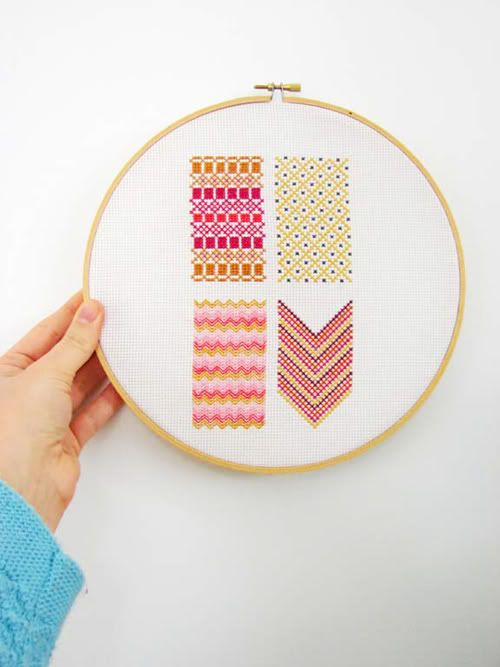 [I love these patterns from Abbey Hendrickson.]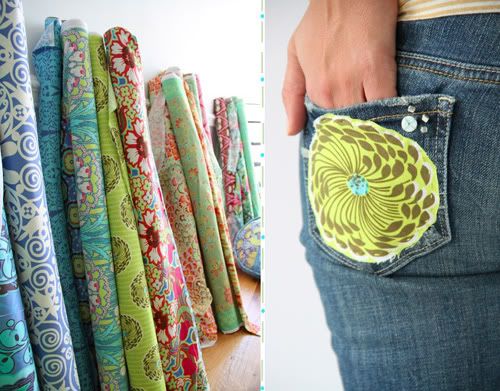 [Bolts of gorgeous Amy Butler fabric and a patch on a jeans pocket. Patches in general are inspiring me currently.]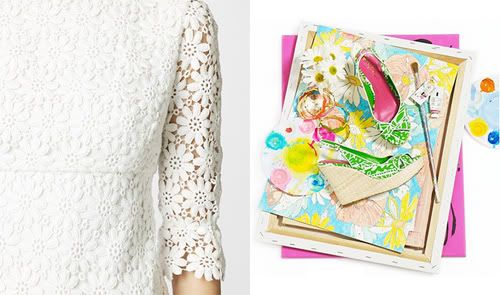 [The 60s vibe of this white dress and the gorgeous details and these fresh colors from Lilly Pulitzer.]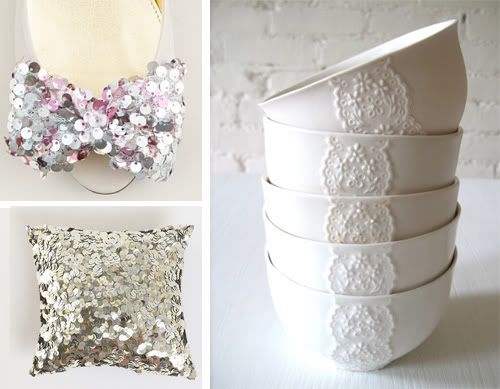 [Sequin-toe shoes from J.Crew, lace bowls by Hideminy, Orla Kiely candles, sequin pillow from Urban Outfitters.]
Let's face, you can't have an "A-ha!" moment unless you are out there surrounding yourself with what you help you to connect the dots. Work, people, family, going outside of your comfort zone, pushing yourself a little hard, testing your ideas… Monday is the starting point to a new week and a new change to go out into the world to gather and give.
To begin the week on a positive note this post contains inspiring finds from around the web. Please click on the links under each image above to see more. It's a nice way to begin the week – to share what is currently inspiring me with the goal to inspire you as well. Enjoy!
(images linked to their sources above)
I got up this morning and felt so inspired to begin a new week… and I'm starting to feel really excited about my book launching on March 25 in the UK — I can't wait! I have a Facebook fan page for Decorate and I'd love it if you would join because I'm not only sharing book contributors and their websites each day until the launch, but I'm also going to start listing upcoming book tour dates. So far, I have a book launch party secured in London on April 13 (I'll tell you where soon) and a book signing and blogger meet up scheduled in Amsterdam on June 25.
I'll also be speaking at the Blogher/Creative Connection event in St. Paul (please come if you can!!!) on September 15 and doing a book signing there that weekend, and on Sunday, September 18th I'll be in Berlin speaking at a huge event for small business that Etsy is hosting called Hello Etsy. It feels good to be booking dates to get out there and meet lots of you – I can't wait.
To stay in the loop please join the Decorate Facebook Page and if you'd like, the decor8 Facebook page too — I'm posting stuff regularly on both fan pages for the book and the blog. :)
Here's to getting out there to mix +  mingle and sell some books – yay! These are exciting times for sure.
P.S. Thank you Casasugar for the great review!
(image: holly becker for decor8)