I can't resist showing some of the colors that are part of the palette for Danish fashion brand Noa Noa for Spring 2011. Their shop around the corner from me never ceases to provide a spot for instant inspiration — I just walk in and enjoy being immersed in their dreamy world of cool colors and warm textures.
Seems they are right on the mark with their colors, at least according the Pantone Spring color forecast for this year. Yum. I'm looking forward to seeing how this translates into the world of interiors in the months to come.
You can allow Noa Noa fashion to inspire you to dream up a bedroom color scheme, some new pillows for your sofa, the wrapping paper that you'll use to gift a friend, the outfit that you will wear to a lunch date with your honey…
(images: noa noa)
Hello everyone! It's time for Etsy Take Five Tuesday so today I'll share five etsy sellers who rock my world. From fashion illustration to poufs for the living room floor, perhaps you will find a few favorite things of your own. Enjoy!
If you love fashion illustration in dreamy watercolor pastels, then Cate Parr is the artist for you. Her work drips with gorgeousness and oozes with style. Original art, mini paintings and prints — she offers many choices and they are all breathtaking. You can also request a custom piece, wow, imagine that!
F2 Images has touching photography that I'm sure you'll like. I especially love this antique oval framed pink walking stick with the green velvet ribbon. It would be perfect displayed on an art wall.
If you adore tiny stuffed little bits of cuteness then Stitchface is for you. Based in Toronto, these one-of-a-kind animals are lovely to adorn a shelf or to place in something like this.
If you love gorgeous, handmade and super affordable poufs then lacasadecoto in Barcelona is definitely the shop for you. She is really into color but also makes poufs in light gray and does custom work if you want something more sophisticated for your home. But if it's playful you love, then you have a rainbow to choose from. I can't believe how stunning they are for the price — wow, you can scoop up several and support an artist while simultaneously sticking to your budget.
It's been awhile since I wrote about my talented friend Marisa from Creative Thursday. I'm always amazed by how quickly she can paint the whimsical little characters in her head and how they radiant such joy. I love how she uploads what is in her heart onto paper…
(images: linked to their sources above)
There is so much joy bursting from the online portfolio of Confetti System, owned by artists Julie Ho and Nicholas Andersen, that I have to show these beautiful handmade works to inspire you today. What a fantastic color explosion! You may recall seeing their window installations in J.Crew stores nationwide around the holidays… or around the web last year when I first found out about them. In case you have no clue what I'm talking about, then feast your eyes my friends on these shiny, happy things.
I love these gorgeous, festive installations and imagine being able to decorate a huge room with them for a party as traditional party supplies can be quite tacky and dated, don't you think? I mean, how many more themed party supplies can stores manage to pump out? Furthermore, why is it so hard to find stylish streamers and other gorgeous things to pin, hang and toss around in the first place? Confetti System doesn't mass produce their wares, it's true, so they may not be an answer to our party decorating prayers yet — but perhaps someday we will walk into a shop and find party supplies that look like this. If that ever happens, I just may faint.
I've been on a big "silver leather" obsession for a year now, I was sourcing it in Morocco last year and am always on the prowl for it as it's lots of fun to use in my own craft projects. I loved seeing Confetti System incorporating leather into their blindfolds.

There is some light at the end of the tunnel though in case you WANT to purchase what you see above. You can! Confetti System has an online shop and they can also make decorations to order if you contact them directly. You can also find a limited collection of pinatas and blindfolds created for Bergdorf Goodman — but only for the winter season — so quick, hurry to BG at 745 5th Avenue in NYC if you want to grab a few for your next shindig.
If you want to learn more about Confetti System you can read an interview and see photos of their work studio over at Sight Unseen and The Selby where Todd took some amazing shots.
Oh…. My…. I can't stop looking at these shiny things…
(images: confetti system)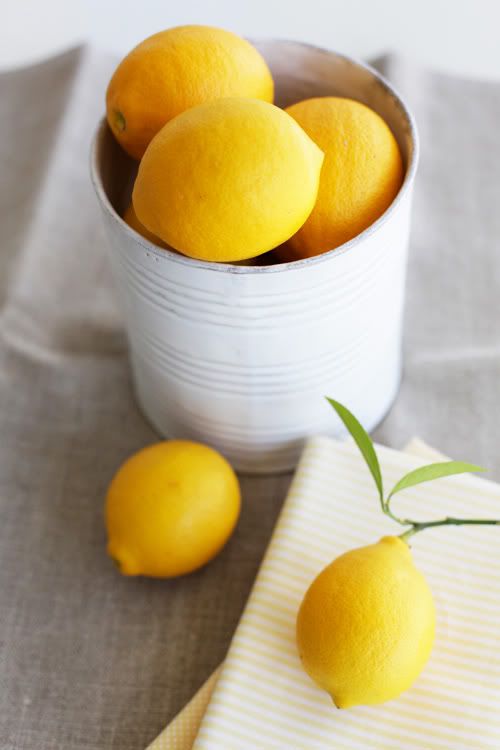 Hello Friends, it is Leslie with Color Me Pretty for January. This month I have been thinking about lemon yellow since all of my little lemon trees are dripping with fruit here in southern California, however I was not sure what I wanted to pair with it for this column.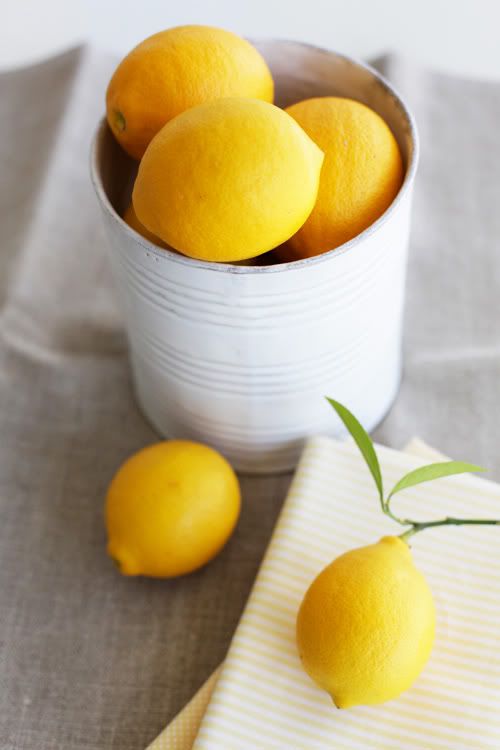 Then I saw Holly's post on Shane Powers work (his website is here) and I got inspired to pair yellow with craft paper brown, some gray and a little black. Here is the image that sparked some creative projects in my studio…
I printed it out and tacked it to my moodboard and started to think of ways that I could inject a little yellow into my life. Here is my moodboard with Shane's work as the focus.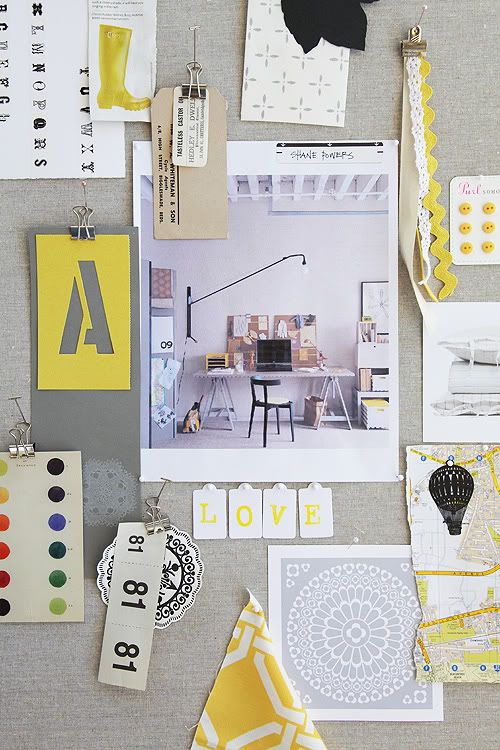 After posting Shane's image on my moodboard along with other bits of inspiration, I looked to it as a visual guide to help me pull this palette in to my life. Here are a few small ways that I turned an inspiring photograph and a pretty palette into something tangible in my own home to enjoy.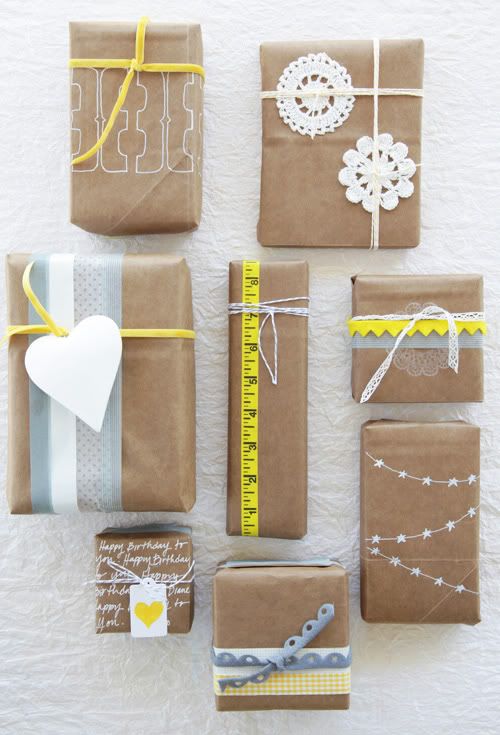 Over the holidays I wrapped many of my gifts with Trader Joe's paper grocery bags. I loved the white hand drawn looking illustrations they had printed on them. Since I have lots of these bags leftover I decided to continue using them for gift-wrap but just turned the paper around so that the holiday illustrations are no longer showing. Even if the outside of the bag may have slightly faded, the inside is that nice craft paper brown. I had fun using an opaque white ink pen to draw, stencil and write on some of the gifts.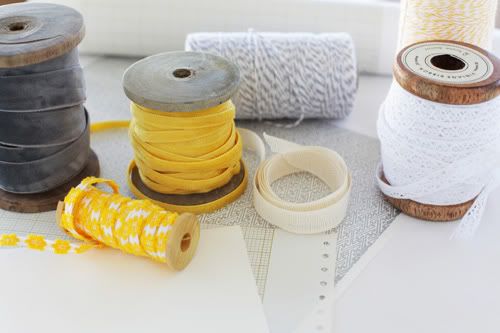 I also used Japanese washi tape and some ribbons I had to further decorate my little packages.
I wrapped a container with the paper from the same bags and placed in some of my favorite flowers to further bring sunshine into my home. This is shown on a shelf in my crafting studio.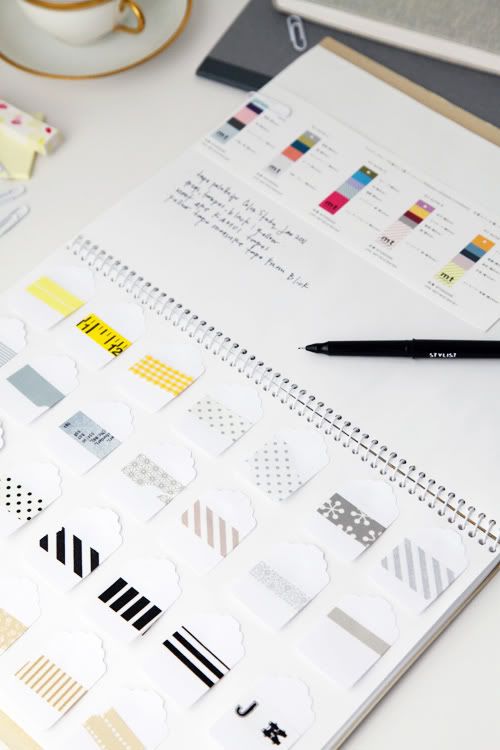 I decided to add this palette to my inspiration book using some fancy tapes that fit the scheme. Now I can refer to it as a jumping off point for a future project.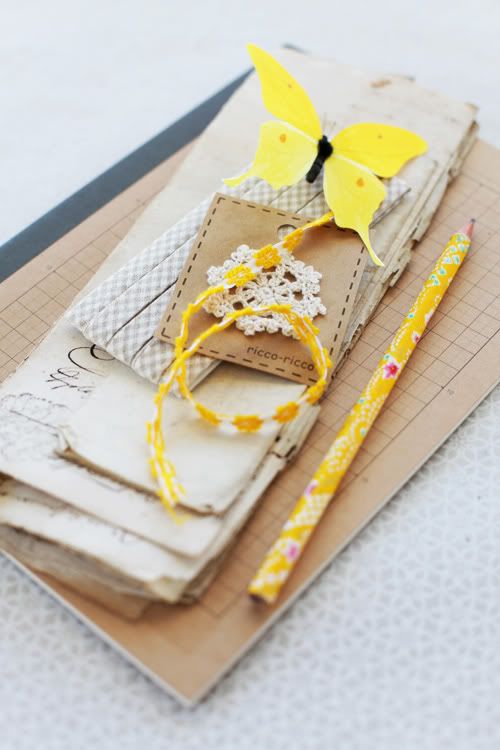 I even collected some things that I found in drawers and bins in my studio that fit this color scheme and stacked them on my desk to give me further inspiration.
When combined with pretty yellow fabric napkins, fresh flowers, a gray vase and a crisp white table cover this palette looks sophisticated for a patio lunch or if it's not warm where you live, an indoor lunch with a touch of Spring.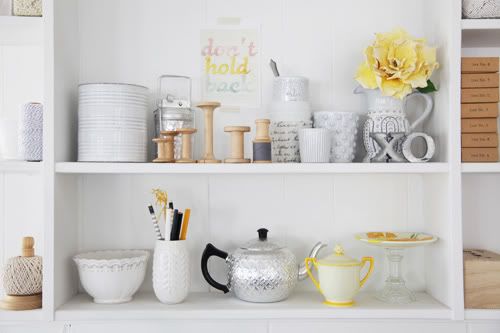 My studio shelves were rearranged to bring in this palette. Some of the books were wrapped in the paper from the bags and labeled them to identify their contents. The "Don't Hold Back" print is by artist Nan Lawson.
I thought it may be interesting for a few of you if I shared some of the art projects I do with my four-year-old daughter since she is often dancing around my studio when I am trying to shoot my posts. It is enjoyable for her to work in the colors I am working in and since it was all about yellow, I laid out some supplies for her to use. You can see her work above. A while ago I came across these two really interesting posts about occasionally setting palette constraints for your children in order to teach them more about color and composition. You can read more about this concept from Uniform Natural and Shin + Sons — let me know what you think and if you have tried this before and with what results.
Don't you think this color combination is a nice transition from winter into spring or even from late summer into fall? It is warm and fresh at the same time. I like working in color combination's that I have not used before because it is a great way to understand new possibilities for projects to come. I hope you enjoyed this series.
Thank you for having me and I will see you next month. – Leslie.