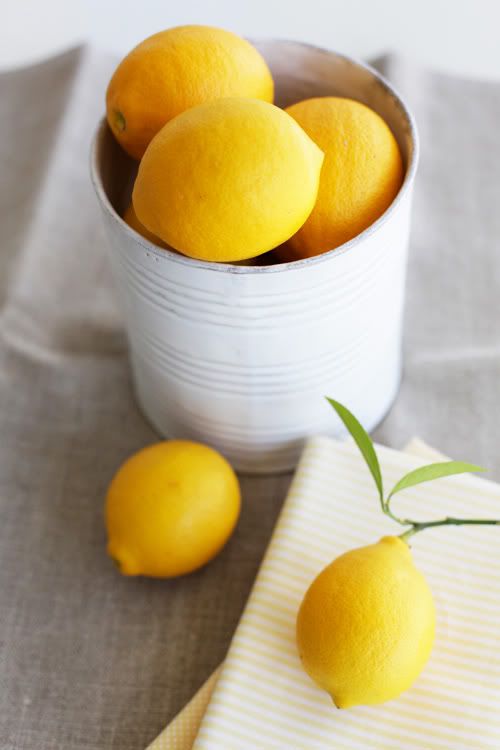 Hello Friends, it is Leslie with Color Me Pretty for January. This month I have been thinking about lemon yellow since all of my little lemon trees are dripping with fruit here in southern California, however I was not sure what I wanted to pair with it for this column.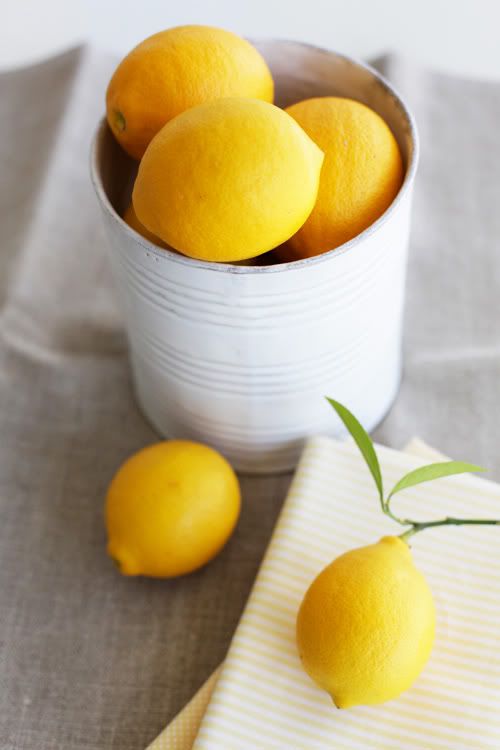 Then I saw Holly's post on Shane Powers work (his website is here) and I got inspired to pair yellow with craft paper brown, some gray and a little black. Here is the image that sparked some creative projects in my studio…
I printed it out and tacked it to my moodboard and started to think of ways that I could inject a little yellow into my life. Here is my moodboard with Shane's work as the focus.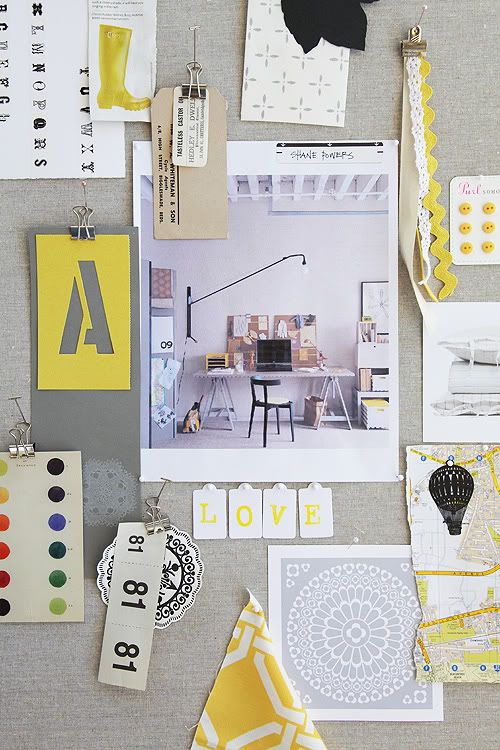 After posting Shane's image on my moodboard along with other bits of inspiration, I looked to it as a visual guide to help me pull this palette in to my life. Here are a few small ways that I turned an inspiring photograph and a pretty palette into something tangible in my own home to enjoy.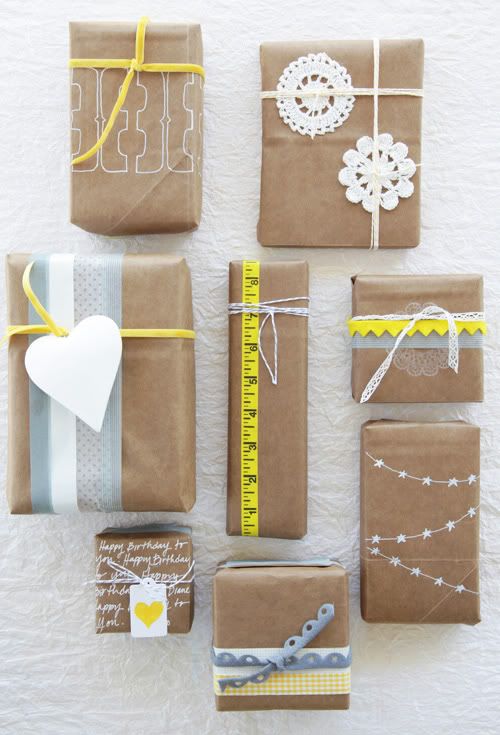 Over the holidays I wrapped many of my gifts with Trader Joe's paper grocery bags. I loved the white hand drawn looking illustrations they had printed on them. Since I have lots of these bags leftover I decided to continue using them for gift-wrap but just turned the paper around so that the holiday illustrations are no longer showing. Even if the outside of the bag may have slightly faded, the inside is that nice craft paper brown. I had fun using an opaque white ink pen to draw, stencil and write on some of the gifts.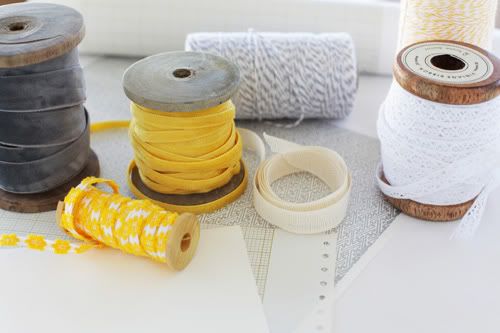 I also used Japanese washi tape and some ribbons I had to further decorate my little packages.
I wrapped a container with the paper from the same bags and placed in some of my favorite flowers to further bring sunshine into my home. This is shown on a shelf in my crafting studio.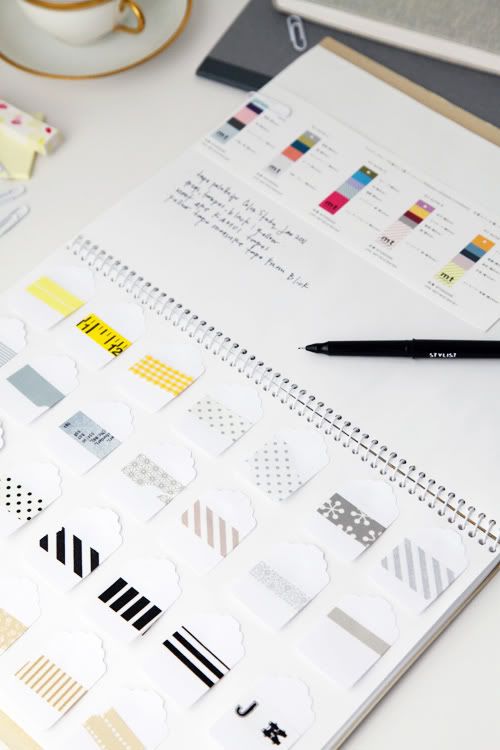 I decided to add this palette to my inspiration book using some fancy tapes that fit the scheme. Now I can refer to it as a jumping off point for a future project.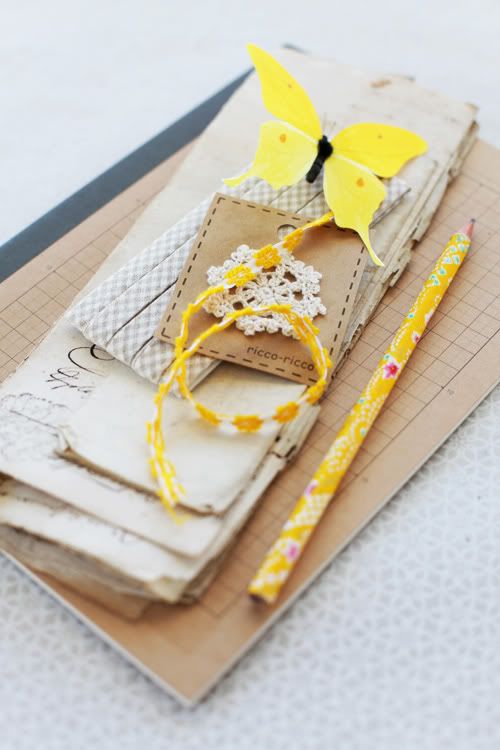 I even collected some things that I found in drawers and bins in my studio that fit this color scheme and stacked them on my desk to give me further inspiration.
When combined with pretty yellow fabric napkins, fresh flowers, a gray vase and a crisp white table cover this palette looks sophisticated for a patio lunch or if it's not warm where you live, an indoor lunch with a touch of Spring.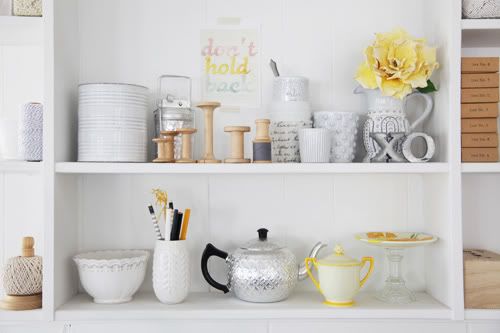 My studio shelves were rearranged to bring in this palette. Some of the books were wrapped in the paper from the bags and labeled them to identify their contents. The "Don't Hold Back" print is by artist Nan Lawson.
I thought it may be interesting for a few of you if I shared some of the art projects I do with my four-year-old daughter since she is often dancing around my studio when I am trying to shoot my posts. It is enjoyable for her to work in the colors I am working in and since it was all about yellow, I laid out some supplies for her to use. You can see her work above. A while ago I came across these two really interesting posts about occasionally setting palette constraints for your children in order to teach them more about color and composition. You can read more about this concept from Uniform Natural and Shin + Sons — let me know what you think and if you have tried this before and with what results.
Don't you think this color combination is a nice transition from winter into spring or even from late summer into fall? It is warm and fresh at the same time. I like working in color combination's that I have not used before because it is a great way to understand new possibilities for projects to come. I hope you enjoyed this series.
Thank you for having me and I will see you next month. – Leslie.
Hello friends! Before I sign off for the weekend I want to direct you to the site of Lígia Casanova, an interior designer with an inspiring kitchen + dining room in her online portfolio. I know that the photos are quite light, that is how they appear on her website so there is unfortunately not much I can do to Photoshop them — but they're still very inspirational.
Lígia Casanova obtained her master's degree in graphic design back in 1987 and went on to work in advertising and design until she found her true calling in 1995 as an interior designer. She wants to, "Make Room For Happiness" in all that she does. I feel happy looking at all of the little details in the space from the appliqued curtains to the multi-colored chairs, lighting over the table, pillows on the floor, crochet rug and the lovely art wall in the dining area.
I hope that you, likeLígia, will find ways to make room for happiness this weekend. I can't wait to visit with you again on Monday when Leslie will be back with her monthly dose of Color Me Pretty to inspire your creativity for January — she is shooting in her studio this weekend so prepare for gorgeous results on decor8 Monday morning! Much love to you all. xo
(images: lígia casanova)
When you're an American living abroad in Europe, you have so much to learn in addition to a new language and culture — you also must learn about things like curtain installation and the best paint suppliers. Even if you're an American living in another city or state, you have much to adjust to. When I relocated, I didn't give much thought to not being able to walk into a home store and know exactly what everything before me was made to do. When I walk into German stores, especially the big DIY chains equivalent to Lowe's, it takes me five times the effort to locate exactly what I'm looking for because the brands are so unknown to me.
I'm not complaining, it is quite fun when I carve out the time to take a trip to a home improvement store because I often find things that I never knew existed. For instance, I recently discovered some amazing curtain rods that effortlessly clip into the frames of your windows so you don't have to put a single hole in the frame or wall. Genius!
Beige on walls with crisp white trim is becoming more and more popular, I see it frequently in German design magazines. I love this look.
The one thing I'm not finding in Hannover so far is really good paint. I understand that my city is quite small compared to the giants like Berlin and Hamburg so naturally I won't have the same access to products as larger cities… I sometimes wish we had a Flamant in Hannover because their paints are amazing and we could use a little more diversity. (Which reminds me, I really need to visit Cafe Flamant again, that is such a great place to chillax after a long day of shopping.) We have plenty of paint in local home stores but the colors don't wow me as they did when I rummaged through the thousands of paint chips at Lowe's or Home Depot. I am a big Benjamin Moore fan and had many of their colors committed to memory because I knew they'd always work – my "no fails" as I referred to them.Without Ben Moore and other brands that I relied on for years, I am forced out of my comfort zone and you know what? I'm okay with that. Sometimes. Certain days I'm not so okay because I'm human, but then I think of what a privilege I have to simply be living on an entirely different continent exploring new things and I feel embarrassed for getting annoyed by things like the lack of Target, Method products and owning a car (my choice).
Speaking of paint, I also love Farrow + Ball colors, which we can get but not so easily and they are very expensive. That is why when I came across two brands from the Netherlands recently – PTMD (which I purchased in Hamburg last week) and Histor, I had to learn more. I'm hoping Histor has presence in Germany so I have to do some research… but I find lots of great colors on their website and in their magazine which you can see scattered throughout this post.
Martha Stewart Living paints always captured my interest but you won't find them in Germany. But again, that's okay because I want to explore and find some great stuff on this side of the pond. I don't believe in living in the past or pining for what I left behind — what's the point!? Sometimes I miss certain things because I learned to rely on them and knew what I was buying, there were no hidden surprises, but the past is a different life, right? It's important when you live outside of your home country that you really embrace what you DO have and to also go on a wild and crazy search for more because there is plenty to unearth that may even be better than what you had before. I think I told you this before, but I attended a meeting last Autumn for women who live here in Hannover that are from all parts of the world and the group leader asked everyone to write down what they love about their expat life in Hannover because she said expat groups can quickly become negative because people automatically start talking about what they miss, not what they have.
This made me think, what is it about human nature that nudges us to see the bad before the good? To compare things that shouldn't even be compared in the first place? How can we manage these feelings whether we are living in another town or another country — missing what we had? How do you deal?
(images: histor paints)